Research In Motion is quietly working on a smartphone which is expected to be a game changer for the company. This smartphone will debut with the BlackBerry 10 operating system and has been codenamed – BlackBerry London. CrackBerry has grabbed a photo of BlackBerry London and called it RIM's super phone that will run BlackBerry 10 OS. RIM plans to launch the BlackBerry 10 OS running BlackBerry London sometime later this year.
RIM is working hard on the next generation BlackBerry 10 (previously BBX) operating system and the new breed of BlackBerry smartphones. The new image of the BlackBerry London smartphone depicts immense improvement over its previously released image.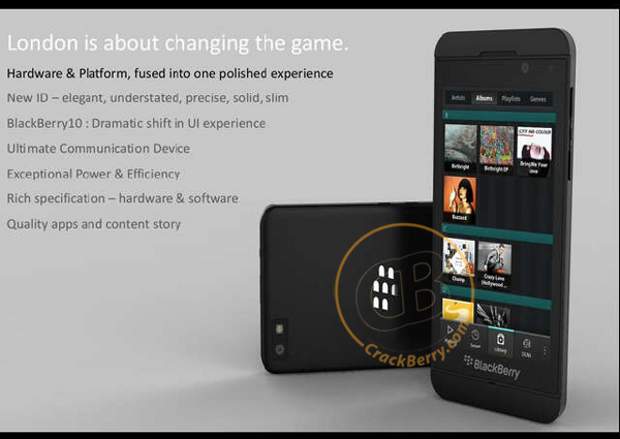 The image appears to be from a presentation and makes bold promises such as rich hardware and software specifications. BlackBerry London looks slimmer and bears full black profile and seems to have a large display. Two important aspects of the BlackBerry10 based London will looked upon – number of apps available and power efficiency.
Under the slim form factor, BlackBerry London will have dual-core mobile processor which will be either Texas Instruments OMAP 5 series processor or Qualcomm's new Snapdragon S4 chipset. That is because the company as usual plans to launch two different versions of same handset – GSM and CDMA for multiple regions.
RIM is expected to show the BlackBerry 10 based London later this year for the UK market but there is no time frame fixed on its arrival. Hope for no delays like the one happened with the BlackBerry PlayBook.