BlackBerry India has announced price revision for three BlackBerry smartphones offering Qwerty keyboard. As per the new prices, the BlackBerry 9320 is now available for Rs 9,990, BlackBerry 9720 at Rs 11,990 and BlackBerry Q5 at Rs 13,990.
BlackBerry 9320
BlackBerry Curve 9320 features a 2.4-inch display that supports 320×240 pixel resolution. It houses a 512 MB ROM and 512 MB RAM to make the BlackBerry 7.1 OS run smoothly on it. For additional storage, one can add up to 32 GB memory card. In terms of design, it looks quite different than the Curve 9220 and comes with metallic bezel on top and the bottom with curved edges.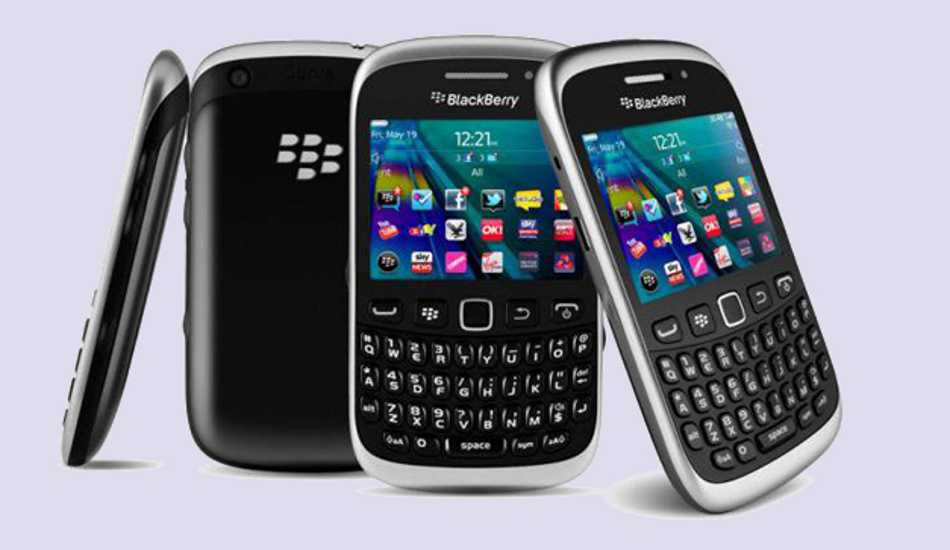 The Curve 9320 supports HSDPA data speeds of up to 7.2 Mbps and also offers WiFi support. This Curve 9320 features a single button access to the BlackBerrry Messenger without opening the menu. Also it features the GPS for geo-tagging and using location based services like Wikitude. BlackBerry has also armed it with a 3.2 megapixel camera with LED Flash and image stabilisation feature for photography. Other features of Curve 9320 include Bluetooth 2.1, accelerometer, stereo FM with Radio, and 1450 mAh battery that promises continuous talk time of 7 hours. Launched at Rs 15,990, the BlackBerry 9320 will be available at a revised price of Rs 9,990.
BlackBerry 9720
BlackBerry 9720 features a 2.8-inch touchscreen with 480×360 pixel resolution. Besides, it has a full 35 key Qwerty keypad as well. The handset is powered by an 806 MHz Tavor MG1 processor, 512 MB RAM and 512 MB of internal storage. The storage can also be further expanded to another 32 GB via a micro SD card.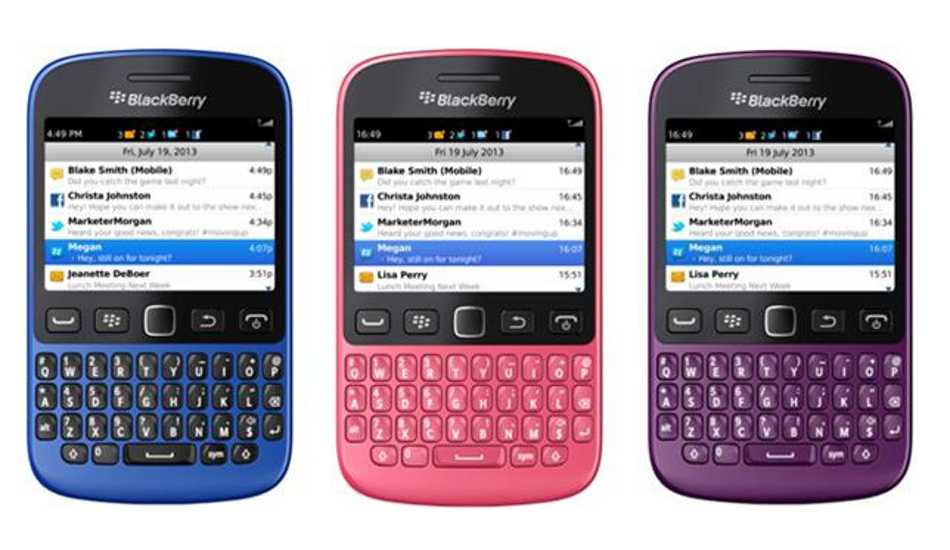 The BlackBerry 9720 also comes with a 5-megapixel camera with flash; the camera has been labelled as EDoF (Extended Depth of Field) which we believe comprises of better optics for greater depth. Along with that the camera also gets LED flash and software image stabilization as well. BlackBerry has loaded a 1,450 mAh battery in the BlackBerry 9720 which, as per claims, provides up to 7 hours of talk time and 18 days of standby time. For connectivity the smartphone has support for quad band HSPA (3G) and EDGE (2.5G) networks along with Bluetooth, WiFi and GPS connectivity but it does not have NFC. BlackBerry 9720 was launched for Rs 15,990 but now will be available for Rs 11,990.
BlackBerry Q5
BlackBerry Q5 has a 3.1-inch touch display with 720×720 pixel resolution and it is powered by a 1.2 GHz dual core processor. BlackBerry has packed 2 GB RAM to make the BlackBerry 10.x OS run smoothly on it. It comes packed with 8 GB internal storage and 32 GB micro SD card slot. The Q5 has a 5 megapixel main camera along with a 2 megapixel front facing camera.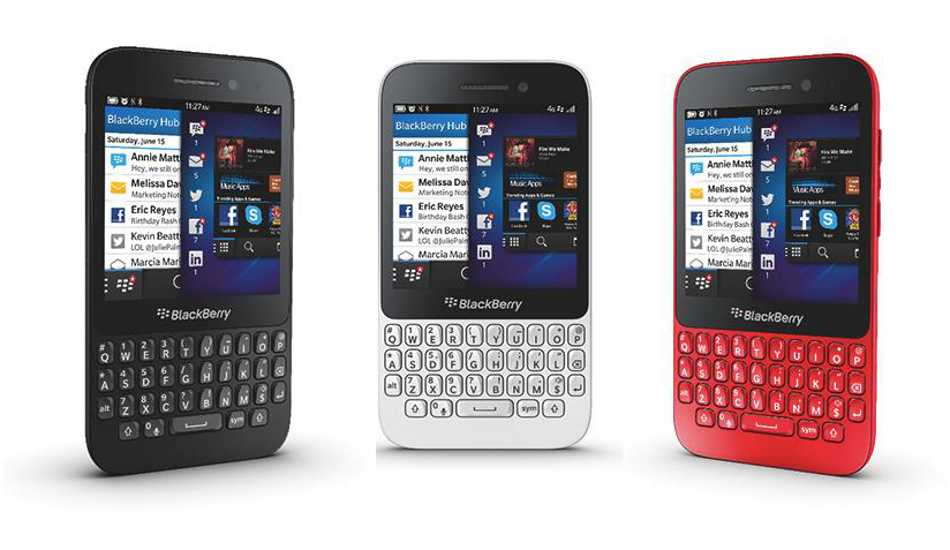 The BlackBerry Q5 features a flatter design compared to the Q10 and packs 2180 mAh battery.