Last month before Diwali, about 19 different smartphones were launched in India. Though there weren't that many this month, we did see some new high-end smartphones. This list is for you if you want a smartphone that can do everything, including looking really good. All these new smartphones are priced above Rs 20,000.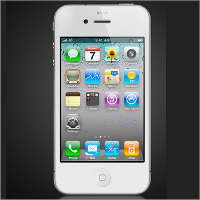 Apple iPhone 4S
Several users ceased purchasing iPhone 4 in September-October and waited for the iPhone 4S instead. With a distinctive virtual assistant feature, the iPhone 4S is an improved version of iPhone 4 in terms of specs. Packing a dual-core Apple A5 SoC mobile processor, the iPhone 4S promises twice the processing power its predecessor had.
Apple has put in an 8 megapixel camera with LED flash which is capable of capturing high quality images and 1080p HD video at 30 frames per second. Also, Apple's iCloud storage service is also accessible using iPhone 4S and offers up to 5 GB of online storage. The device runs iOS 5.0 with several new features.
With the same 3.7 inch retina display screen, the distinctive feature of the iPhone 4S is Siri, the virtual assistant that is voiced by a lady. Indian consumers will have to struggle with the voice.
The Apple iPhone 4S will be available in India at Rs 44,500 for a 16 GB model, and Rs 51,000 and Rs 57,500 for a 32 GB model.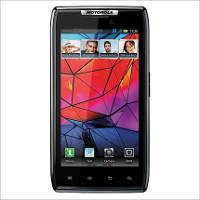 Motorola RAZR XT910
Motorola revisited its slim line of smartphones with the new RAZR XT910. Featuring a big 4.3 inch Super Amoled display with qHD (960 x 540 pixel) resolution, the new Motorola RAZR XT910 is 7.1 mm thin. Its display uses Gorilla Glass to make it sturdy and scratch resistant. The Kevlar fibers at the back too add to the tough look. The smartphone has a dual-core 1.2 GHz mobile processor to power Android 2.3.5 Gingerbread, which can be upgraded to Android 4.0 Ice Cream Sandwich when it arrives. .
At the back of the phone there is an 8 megapixel camera with LED flash that is capable of recording video at full HD, or 1080p, resolution. There is also a Backside-Illuminated Sensor (BSI-2) that helps in clicking better quality images in poor light. The front facing 1.3 megapixel camera for video chat is also HD capable. Samsung's new MotoCast App that debuts with the phone allows wireless content streaming.
For better audio response the handset features a 1780 mAh battery that promises talk time of up to 9 hours on 2G networks.
Motorola's legendary RAZR smartphone indeed is chic, svelte and powerful enough to open apps quickly, run games and multi-task.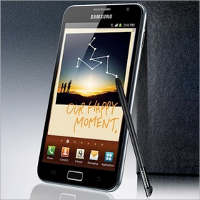 Samsung Galaxy Note N7000
Samsung's new Galaxy Note GT-N7000 despite appearing like a mini-tablet, is actually a large-screen smartphone. The perfect mashup of a smartphone and tablet, the Galaxy Note is a modern day digital assistant with new S Pen stylus which is extremely useful for taking quick notes, drawing/sketching, signing and even navigating through menus. Galaxy Note has a 5.3 inch Super Amoled HD screen with native 720p HD resolution. We had the chance to try the Samsung Galaxy Note at its launch.
The Samsung Galaxy Note comes with a dual core 1.4 GHz processor that powers Android 2.3.x Gingerbread with TouchWiz UI and Live Panels layered on top. Galaxy Note has an 8 megapixel camera with flash that can record full HD videos. After that you can edit videos on Note itself. The bigger display might look a bit cumbersome but in fact it is amazingly helpful while taking quick notes or working on something important.
Samsung Galaxy Note is priced at Rs 35,000 which does sound a bit heavy on the pocket but is actually quite reasonable if you consider its features and powerful 2500 mAh battery.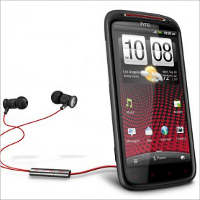 HTC Sensation XE
HTC's new Sensation XE has been quietly made available in India through retail channels though the smartphone is yet to be formally launched. This smartphone running Android 2.3 Gingerbread features a 4.3 inch touchscreen display and houses a dual core 1.5 GHz processor. Apart from its qHD (960 x 540 pixel) display, the Sensation XE has an 8 megapixel camera that is capable of recording full HD 1080p video at 30 fps.
Sensation XE is the first handset for India that features Beats Audio profiles pre-loaded on the handset alongwith Beats earphones. As soon as you plug in the earphones, the pre-configured audio profiles enhance the music. That's what HTC claims though we are yet to test this claim.
HTC Sensation XE comes with a 1730 mAh battery that makes it last longer than usual high-end Android smartphones. Of course, this handset is capable of running Android 4.0 ICS update which will be released when ready. HTC Sensation XE is being sold at a rough retail price of Rs 32,400 which might be a bit expensive but might be worth it for those who love music and HTC's Sense user interface.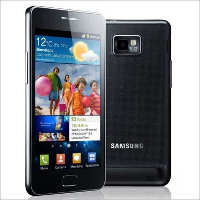 Samsung Galaxy S II
Samsung's flagship device Galaxy S II GT-i9100 continues to be a popular high end smartphone. This handset's most noteworthy feature is its large 4.27 inch Super Amoled Plus touchscreen that supports 800 x 480 pixel resolution. Galaxy S II runs Android 2.3 Gingerbread with the new TouchWiz 4.0 user interface. The mobile operating system is fast and smooth, thanks to its dual core 1.2 GHz Samsung Exynos 4210 SoC processor.
The phone has 16 GB of internal storage which can be taken up to 32 GB using a memory card. There might be no need to expand the phone's memory though, because it has a USB on-the-go port that can read flash drives with more than 4 GB capacity.
Featuring an 8 megapixel camera, Galaxy S II can record full 1080p HD videos and delivers brilliant images, and its front facing 2 megapixel VGA camera is great for video chats.
While new phones pour into the Indian market, it is about time to put your bargaining hat on and get the smartphone you always wished for.