Smartphones are no longer different from PDAs and are a step closer to becoming powerful computing devices in the pocket. Today, the best smartphones are available at a price almost matching a basic configuration PC or laptop. However, smartphones are more personalized devices and the reason for buying a smartphone differs from person to person depending on usage.
In the last six months, handset makers have launched a number of smartphones and here is a selection of the five best devices in June and July. BlackBerry Bold gets a special mention for the many BlackBerry users.
All these handsets cost above Rs 20,000 in India:
Samsung Galaxy S II GT-i9100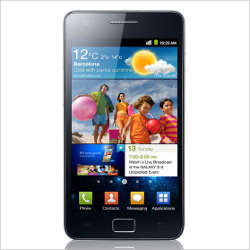 Samsung's flagship device Galaxy S II GT-i9100 is the most popular and hot selling high end smartphone. This handset's most noteworthy feature is its large 4.27 inch Super AMOLED Plus touchscreen that supports 800 x 480 pixel resolution. A small number of early adopters initially found the screen too big. Now almost all Samsung Galaxy S II owners are happy with their device's performance.
Galaxy S II runs Android 2.3 Gingerbread with the new TouchWiz 4.0 user interface on it. The interface is really fast and smooth thanks to the dual core 1.2 GHz Samsung Exynos 4210 SoC processor inside. The phone has 16 GB of internal storage which can be taken up to 32 GB using a memory card. There might be no need to expand the phone's memory though, because it has a USB on-the-go port that can read USB flash drives with more than 4 GB capacity.
Featuring an 8 megapixel camera, Galaxy S II can record full 1080p HD videos and delivers brilliant quality images. To add icing to this smartphone's cake, the front facing 2 megapixel VGA camera is great for video chats. Other high end features include 3G network support, Bluetooth 3.0, WiFi (802.11 b/g/n), FM radio RDS, a 3.5 mm audio port and GPS.
Enthusiasts often tweak and tinker with their Galaxy S II to make the best of the hardware.
Competing closely with the Apple iPhone 4, the Samsung Galaxy S II currently retails for about Rs 30,500 and if you're lucky you could get a better deal.
Apple iPhone 4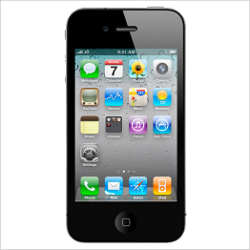 Apple iPhone 4 has a gorgeous 3.5 inch Retina display that supports 960 x 640 pixel resolution. Competing closely with the Samsung Galaxy II, the Apple iPhone 4's display supports higher resolution. iPhone 4 runs Apple's own A4 SoC processor under the thick glass chassis with metallic antenna along the side rims. In the brutal iOS vs Android war, loads of users prefer the iPhone 4 because of the large number of apps on Apple's App Store.
Despite having only 512 MB of RAM, relative to the 1 GB that Galaxy S II uses, Apple iPhone 4 delivers a flawless iOS user experience with a variety of apps. Also, it promises support for the upcoming major update iOS 5.0 and for the iCloud service. The phone has a 5 megapixel camera capable of recording 720p HD video.
Offering a great OS and user experience, and a large number of applications, iPhone 4 remains a top choice for many users. The phone is officially available in India at Rs 34,500 for a 16 GB version and Rs 40, 900 for a 32 GB version from mobile operators Airtel and Aircel.
HTC Sensation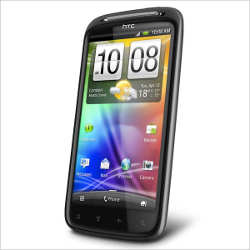 Despite the alleged 'death grip' and sluggish touchscreen issues, HTC Sensation does remain one of the top smartphones. We did not experience any issues with the review unit provided to us. It is possible that only specific variations of HTC Sensation suffer from the problems mentioned above. This device gives close competition to Samsung Galaxy S II, with similar features and a better body.
HTC is known for its premium chassis and finish, and Sensation is its best example. The new Sensation has a 4.3 inch Super Clear LCD touchscreen with 540 x 960 pixel display resolution. The phone houses a dual core 1.2 GHz Qualcomm MSM 8260 processor coupled with 768 MB of RAM and 1 GB of ROM. This smartphone features the new HTC Sense 3.0 user interface over Android 2.3 Gingerbread.
Sensation has an 8 megapixel camera with dual LED flash and is capable of full 1080p HD recording. It has a front facing VGA camera that supports video chats. The handset makes up for its less than perfect display with 8.2 hours of talk time over 2G and 6.4 hours of battery life on 3G networks.
Its active lockscreen and social networking ticker tape features certainly draw many users.
HTC Sensation currently retails for about Rs 30,000 and is the best choice for people who like HTC's Sense UI.
Xperia Arc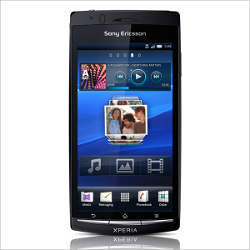 Sony Ericsson started this year with the slim 8.7 mm Xperia Arc smartphone. The device has a massive 4.2 inch capacitive LCD display featuring a Sony Bravia mobile engine and 854 x 480 pixel resolution. On the front of the device are three physical buttons that help users navigate through Menu, Options and Back. Xperia Arc has a slightly arched back and hence its name.
Running Android 2.3 Gingerbread by default, Sony Ericsson adds the zippy Timescape user interface on it. Inside the body rests a 1 GHz Qualcomm MSM 8255 SoC processor coupled with Adreno 205 GPU chip. The phone has 512 MB of RAM and packs an 8 GB memory card in the bundle.
Shutterbugs may get lured by the 8.1 megapixel EXMOR R image sensor but picture quality fails when compared to that of the Galaxy S II. We hope that future updates will take care of this. With a 1500 mAh battery pack, this smartphone promises 7 hours of talk time on 2G or 3G networks.
Sony Ericsson currently offers Xperia Arc for about Rs 28,000 but the price may vary from region to region.
LG Optimus 2X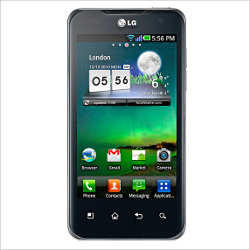 Korean giant LG's Optimus 2X is the under dog of the list. Though it is the first smartphone to feature a dual core 1 GHz Nvidia Tegra 2 SoC processor, it lags behind in several areas. To start off, it comes with Android Froyo 2.2. With the Android 2.3 Gingerbread update up in the anvil, this phone does have the potential to make it big.
LG Optimus 2X features a 4 inch Nova IPS display with Corning's Gorilla Glass technology. It supports 480 x 800 pixel resolution. The phone has 512 of MB RAM and 8 GB of onboard storage. Optimus 2X has an 8 megapixel camera with LED flash that is capable of recording 1080p HD video. Also, the front facing 1.3 megapixel camera comes handy for video chats.
With a variety of multimedia codecs, the handset also has an HDMI out port in case it needs to be hooked to a larger display.
A Gingerbread update would certainly give a big push to this handset, which lags behind due to its last generation Android OS. Optimus 2X offers 7.5 hours of talk time and a 1500 mAh battery.
LG Optimus 2X can be purchased for about Rs 26,000 from the market, but it is possible to get a better deal online.
BlackBerry Bold 3 9780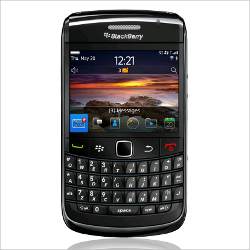 RIM's BlackBerry Bold 3 9780 is a really high end device with a comfortable keyboard and 2.4 inch display. Though it has a slow 624 MHz processor, it works just fine with the BlackBerry OS 6.x running on it. The 5 megapixel camera with LED flash is good enough to capture quality images or video.
BlackBerry OS supports DivX and XviD formats. The operating system has a charm of its own and features good email as well as messaging support. Apart from the email support, this BlackBerry phone has nicely laid keys that are good for messaging via the BlackBerry Messenger.
Bold 3 9780 is the best BlackBerry OS device at the moment. It supports 3G networks and offers connectivity through WiFi as well as Bluetooth 2.1.
RIM's BlackBerry Bold 3 9780 can be purchased for about Rs 21,500.
These handsets give best all round performance and are available at different price points in different regions. You can choose from among these handsets based on the features you use extensively.