There seems to be a growing interest and awareness among Indian consumers about smartphones, the Handset Hotlist survey (May, 2012) suggests. In the survey, brought out by The Mobile Indian (www.themobileindian.com), 21 of the 25 handsets that made it to the list are smartphones.
Almost every month, two smartphones are being launched in India and one of them is usually an entry level or mid-level phone. Notably, today smartphones are available in the market for as low as Rs 3,000 and they offer better utility than feature phones.
Before we proceed further, let us clarify the distinction between smartphones and feature phones. Smartphones provide a great user experience for fun, entertainment and games, but multiple, efficient modes of communication are their true potential.
Smartphones run on third party or proprietary operating systems such as Android, Windows Phone, Symbian, iOS, Bada, MeeGo, and BlackBerry operating systems. They are also defined by their ability to run third party software known as applications or apps, which are available at stores such as Ovi, Android Market Place and iTunes.
Also, smartphones show higher application use than feature phones even at the entry level. Push email, calendar syncing and document editing are other essentials that are supported in this category of phone.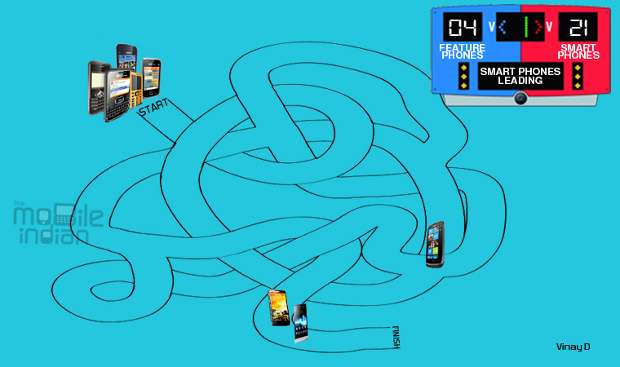 Feature phones, on the other hand, are a midway point between smartphones and basic phones. They usually have a limited proprietary operating system such as Brew or Java, and not all feature phones support third party apps.
While email is usually an included feature, push email is often non-existent in feature phones. Calendar syncing is often a problem, as is document editing. However, feature phones are keenly focused on multimedia and texting, and almost all feature phones support GPS, HTML browsers, and 3G networks. A lot of feature phones also have popular social networking abilities such as Twitter and Facebook.
Also, feature-focused phones are developed with a specific type of capability or purpose such as multimedia or music; whereas smartphones offer a broader range of features without heavily focusing on any specific purpose.
Little wonder that smartphones are becoming a standard among mobile phone buyers. Also, this month, there was not much price correction in the handsets that made it to the Handset Hotlist, except Sony Xperia Arc S, which saw a drop in price from Rs 28,000 to Rs 25,000.
In this month's survey, the Nokia C5-03 maintained its No. 1 position consecutively for the eighth month, while its stable mate, Nokia C6 bagged the second spot for the third consecutive month.
According to The Handset Hotlist for May, 2012, Samsung has widened the gap over Nokia when it comes to the desirability of handsets. As compared to last month's Handset Hotlist, where the gap was of just one handset, this month 11 Samsung models figure in the Hotlist, as against only six from Nokia, which has dominated the list since it was introduced in June, 2011.
Sony Ericsson has three models this month; Micromax two; and Apple, BlackBerry and HTC have one each. Interestingly, BlackBerry has for the first time made it to the survey with the BlackBerry Curve 9380.
Commenting on the survey, a spokesperson of The Mobile Indian says, "For the first time in the last 12 months, a BlackBerry handset has made it to the list. This reflects the changing perception among users about BlackBerry, which was perceived as a business smartphone till a year back, rather than a phone for the masses."
The spokesperson further adds, "So far Samsung has launched 25 handsets in the Galaxy series in India and of them, seven have made it to the Handset Hotlist – four entry level; two mid range; and one above Rs 30,000."
The Handset Hotlist survey (May 2012) is based on a study of online preferences of about one million people who visited the website in April 2012 and searched for and viewed information about mobiles on the site's Handset section, which lists more than 2,000 models.

Top 25 Handset Hotlist for April 2012

Rank April
Rank March
Change
Brand
Model
Price (in Rs)
1
1
0
Nokia
Nokia C5 03
8500
2
2
0
Nokia
Nokia C6
11000
3
4
1
Samsung
Samsung Galaxy Y S5360
7050
4
5
1
Samsung
Samsung Galaxy Y Duos
8990
5
3
-2
Samsung
Samsung Wave Y S5380
6930
6
6
0
Samsung
Samsung Galaxy SL I9003
17450
7
na
new
Samsung
Samsung Galaxy Ace Plus
15500
8
7
-1
Samsung
Samsung Galaxy Ace S5830
12800
9
na
new
Samsung
Samsung Galaxy Ace Duos
12790
10
8
-2
Samsung
Samsung Galaxy Note
31750
11
11
0
Sony
Sony Ericsson Xperia Arc S
25000
12
12
0
Samsung
Samsung Star 3 Duos
6290
13
10
-3
Micromax
Micromax Superfone A73
7300
14
15
1
Apple
Apple iPhone 4S
40500
15
14
-1
Nokia
Nokia C2 06
4424
16
na
new
HTC
HTC One V
17435
17
9
-8
Nokia
Nokia Asha 300
6150
18
na
new
Nokia
Nokia Asha 302
6027
19
na
new
Nokia
Nokia Lumia 800
24000
20
24
4
Sony
Sony Ericsson W8
9100
21
20
-1
Sony
Sony Ericsson Xperia Neo V
17400
22
22
0
Micromax
Micromax Superfone A78
7750
23
na
new
Samsung
Samsung Wave 3 S8600
14700
24
na
new
BlackBerry
BlackBerry Curve 9380
19620
25
18
-7
Samsung
Samsung Champ Deluxe Duo2 C3312
4790