Apple in an unexpected announcement, unveiled the 2nd Gen HomePod with the brand's advanced computational audio, Siri intelligence and improved listening experience. Even though the device looks similar to the previous generation HomePod, the internals seem to be different. The new HomePod, compared to the 2018 HomePod, has two less microphones and tweeters each. Read on to know more about the new 2nd Gen HomePod.
HomePod 2nd Gen Price in India
HomePod (2nd gen) is available to order for Rs 32,900 from Apple's website starting today, with availability beginning Friday, February 3. As for compatibility, Apple says that HomePod (2nd generation) is compatible with iPhone SE (2nd generation) and later, or iPhone 8 and later running iOS 16.3 or later; or iPad Pro, iPad (5th generation) and later, iPad Air (3rd generation) and later, or iPad mini (5th generation) and later running iPadOS 16.3.
HomePod (2nd Gen) Features, Specs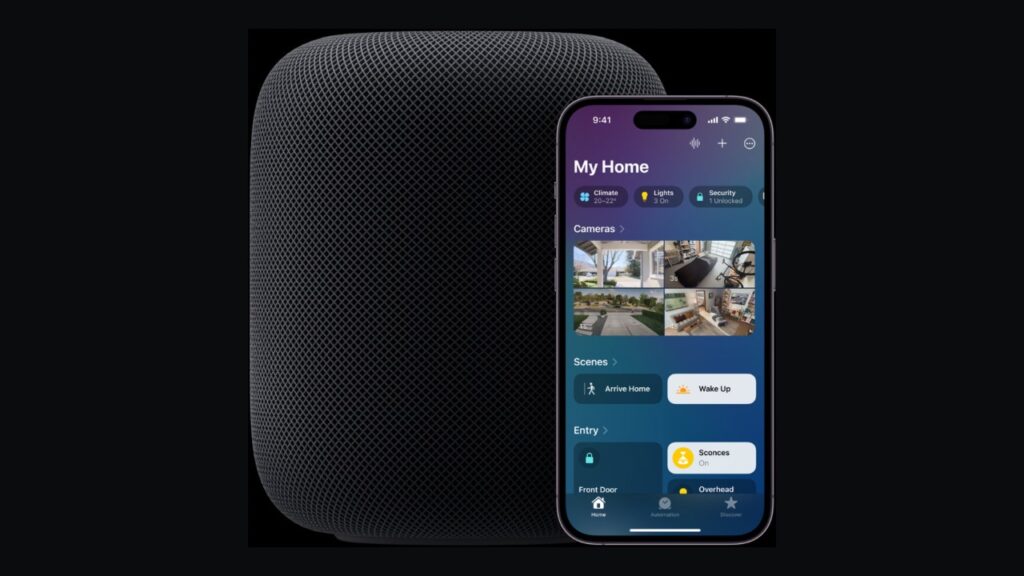 The new HomePod has a transparent mesh fabric and a backlit touch surface that illuminates from edge to edge. HomePod is available in white and midnight, a new colour made with 100 percent recycled mesh fabric, with a colour-matched woven power cable.
Next, the HomePod 2nd Gen has custom-engineered high-excursion woofer, powerful motor that drives the diaphragm 20mm, built-in bass-EQ mic, and beam-forming array of five tweeters. As mentioned before, the 1st Gen HomePod had 7 tweeters and 6 microphones. Next, the new smart speaker from Apple has the S7 chip which is combined with software and system-sensing technology to offer even more advanced computational audio.
The first generation speaker had the A8 chip. The 2nd Gen HomePod also has room sensing technology, where it recognises sound reflections from nearby surfaces to determine if it is against a wall or freestanding, and then adapts sound in real time. Apple says that one can pair two HomePods for a stereo experience.
Using multiroom audio with AirPlay, users can simply say "Hey Siri," or touch and hold the top of HomePod to play the same song on multiple HomePod speakers, play different songs on different HomePod speakers, or even use them as an intercom to broadcast messages to other rooms.
Read More: Apple MacBook Pro, Mac Mini refreshed with M2, M2 Pro, M2 Max chips: What's changed?
Leveraging Ultra Wideband technology, users can hand off whatever they're playing on iPhone — like a favourite song, podcast, or even a phone call — directly to a HomePod. HomePod can also recognise up to six voices, so each member of the home can hear their personal playlists, ask for reminders, and set calendar events.
Find My on HomePod makes it possible for users to locate their Apple devices, like an iPhone, by playing a sound on the misplaced device. Using Siri, users can also ask for the location of friends or loved ones who share their location via the app.
The HomePod now also has a new built-in temperature and humidity sensor which can measure indoor environments, so users can create automations that close the blinds or turn on the fan automatically when a certain temperature is reached in a room. Then, the HomePods have Matter support. Apple is a member of the Connectivity Standards Alliance, which maintains the Matter standard, along with other industry leaders. HomePod connects to and controls Matter-enabled accessories, and serves as an essential home hub, giving users access when away from home.
Lastly, Apple reiterates that all smart home communications are always end-to-end encrypted so they can't be read by Apple, including camera recordings with HomeKit Secure Video.