Negating all rumours, Apple has clarified that its iconic voice assistant Siri will not be available for its older devices and will remain exclusive to iPhone 4S. Thus, Apple said, users should not fall for such offer if they come across one.
Earlier, there were reports confirming availability of Siri for older Apple devices as a paid option which users would be able to avail it by spending just $19.99 as a lifetime fees.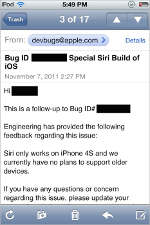 According to the official statement in reply to the query posted by Michael Steeber, Apple ruled out the $19.99 fees for inclusion of Siri in iOS 4.0 device and said, "Siri only works on iPhone 4S and we currently have no plans to support older devices."
A website, iFixit, recently in a post talked about the reasons why the Siri assistant can only be included in iPhone 4S and not the older ones because of the hardware changes in the iPhone 4S especially with the proximity sensor.
"The iPhone 4S has a neurotic tendency of always wondering how close your face is. As long as the screen is activated, that IR sensor will be shining brightly. Siri is ready and waiting to answer her master's beck and call at any time. So whenever the screen is active, the proximity sensor is active too. Thus, whenever you raise the iPhone 4S to your face, Siri is ready to take orders," iFixit said in the post.
But news is that Apple developers are still working hard to get the Siri assistant on other iOS devices. However, the exact timing of the same cannot be ascertained.