Apple has announced the new iPod Touch in white colour alongside the regular black bezel one. The iPod Touch fourth generation comes with HD video recording capability and also the new iMessage service with the new iOS 5 update. Apple has also unveiled new iPod Nano with multi-touch support and in seven colour options.
Apple iPod Touch family gets a new while coloured bezel bearing model along with the usual ones that come in 8 GB, 32 GB and 64 GB options. Surprisingly there is no 16 GB iPod Touch model listed as of now. The iPod Touch has a 3.5 inch multi-touch supporting Retina display. With the new iMessage service, the iOS users can chat with iPhone as well as iPad users running same service and even share images and videos with them.
Apple has added HD video recording capability so the iPod Touch fourth generation model can record 720p HD video without any worries. Users can now stream the images, music and video on the iPod touch to an HDTV using the AirPlay feature via WiFi network. Also the AirPrint allows taking print out of documents and images wirelessly.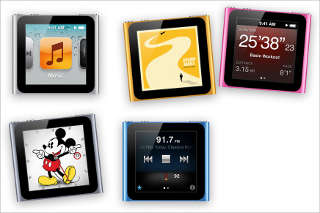 Users will be able to store their music, apps, games, latest photos and videos to the cloud servers using the new iCloud service. The cloud servers based new iCloud service allows storage and streaming of multimedia content on the iOS as well as Mac platforms.
The new iPod nano comes with 1.54 inch touchscreen display that now supports multi-touch. The iPod Nano comes with built-in accelerometer to work with several apps for recording jog distances. Apple has added 16 new clock faces to the list of already available two options. So now you can use it as your watch and make it appeal to others as well.
Apple India has announced the pricing for the new iPod touch and iPod nano models. Apple iPod nano is available today at a suggested price of Rs. 8,900 for 8GB and Rs. 10,200 for 16GB models – both are inclusive of VAT, duty and levies. The new iPod nano models will be available in Silver, Green, Graphite, Blue, Orange, and Pink through Apple Authorized Resellers in India.
Also the new Apple iPod touch will be available in White and Black from October 12 onwards at price of Rs. 13,500 for 8GB, Rs. 19,900 for 32GB and Rs. 25,900 for 64GB – all inclusive of VAT, duty and levies.