In the latest findings of International Data Corporation (IDC) for smartphone shipments worldwide, a total of 428.5 million units were shipped in the fourth quarter 2016. This translates to about 6.9 percent growth when compared to 4th Quarter of 2015. Whereas, when we take in the whole last year, the smartphone shipments bumped up to 1.47 billion units worldwide which make it for a 2.3 percent of year-on-year growth from 2015.
Forecasting the future trends, IDC also mentioned that we are likely to witness few turnarounds with the most notable being an increase in Apple's shipment figures this year. Apple is all set to reveal its next iPhone later this year and given the fact the company will be celebrating the 10th anniversary of iPhone this year, we are likely to see some promising changes in both the design and internals of the next iPhone.
Coming back to the IDC report, Apple led the way among the smartphone vendors in terms of shipment figures of Q4 2016. Apple shipped about 78.3 million units in the last quarter of 2016 which makes it for a 4.7 percent of growth when compared to the fourth quarter of 2015. Although Apple didn't manage to grind similar results in India, the global figures indicate a yet again winning performance from the Cupertino-based giant.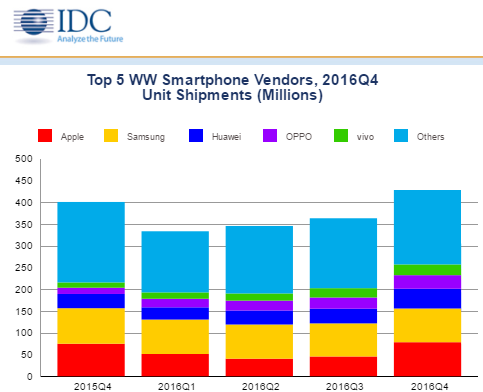 Next to Apple in the list stood Samsung. After all that happened with the Galaxy Note 7 late last year, Samsung managed to push about 77.5 million units in the fourth quarter of 2016. However, the figures expectedly dropped from the previous year (81.7 million in Q4 2015). Meanwhile, the yearly shipment figures also saw a decline from 320.9 million in 2015 to 311.4 million in 2016. Interestingly, Samsung managed to do pretty well, thanks to the Galaxy S7 and the budget oriented Galaxy J series, claims the report.
Coming to the number three spot, Huawei managed to sit here with about 45.4 million units shipped in the fourth quarter which is a significant rise of 38.6 percent from 32.7 million units shipped in Q4 2015. While, when we count in the whole year, Huawei managed to reach 139.3 million units which translate to about 30.2 percent growth from 107 million in the year 2015. A per the IDC report, the Honor sub-brand and the flagship P series got in the majority of sales in markets like China and parts of Asia.
To our surprise, the fourth spot was grabbed by Oppo which managed to ship about 31.2 million units of smartphones in the last quarter of 2016 which is up by 117 percent from 14.4 million units in Q4 2015. Oppo has been expanding its presence lately and other than China, Southeast Asia and India have been one of the important markets for the Chinese handset manufacturer.
Lastly, Vivo grabbed the fifth spot with about 24.7 million smartphones units shipped which is also a bump from 12.1 million from Q4 2015. When it comes to the entire year, Vivo managed to ship 77.3 million units which is a whopping 103 percent of growth from 38 million last year.
Converting all this in percentages, Apple ended the year 2016 with about 18.7 percent market share in Q4 2016 with 20.4 percent for Samsung, 8.2 percent for Huawei, 3.6 percent for Oppo, 3.0 percent for Vivo and 46.2 percent goes to Others.