The next iPhone, better known as iPhone 8 or iPhone X has yet again tapped the rumour mill. Apple's annual flagship usually gets this amount of attention with the latest rumour now coming from IHS Markit analyst, Wayne Lam. As per the latest report by MacRumors, Apple will reportedly include a flat OLED panel on the iPhone 8, instead of previous rumoured curved panel. However, the panel included will indeed come with 2.5D curved glass which is not something new in Apple iPhones. Other than this, Wayne also claimed that the Cupertino-based giant might, in fact, borrow the 18:9 aspect ratio display from LG or even Samsung in that case.
"Much like the recently announced LG G6, we anticipate a touchscreen with a new longer aspect ratio design to take advantage of a higher coverage area of the iPhone in its entirety. This new design language is expected to become the trend for 2017, as we all anticipate Samsung's reveal later this month,"
On the other hand, the famous KGI Securities analyst, Ming-Chi Kuo also confirmed that Apple's next flagship will come with a 2.5D curved glass rather than a curved display. Moreover, in another report, Ming claimed that Apple iPhone 8 is expected to outgun the upcoming Galaxy S8, in terms of sale. The analyst from KGI securities blames the lack of any unique selling point in the Galaxy S8 for this claimant. Samsung has already begun the manufacturing of about 10 million units of the Galaxy S8 for the first round of sales, however, the South Korean giant is expected to hit 40-45 million unit mark this time. Samsung Galaxy S8 has also topped the rumour charts recently and is probably the most hyped Android smartphone, as of now.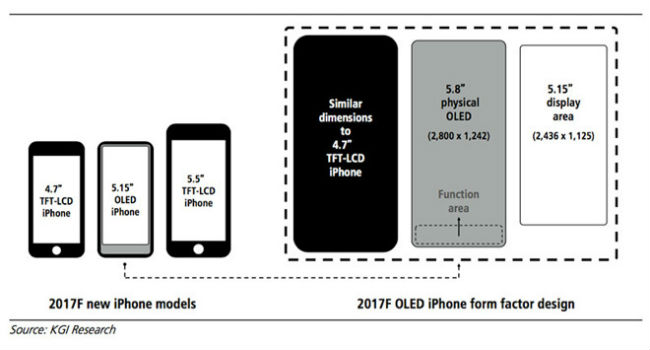 On the other hand, Apple iPhone 8 is no exception. With latest rumours claiming that the US-based company is planning to implement the fingerprint scanner on the glass along with the three-dimensional front camera for Augmented Reality, the votes for the next iPhone is certainly more in this case. Apple's CEO, Tim Cook has gone on record and claimed that the AR is one of the top priorities for Apple and the 3D camera might step forward in that direction. Further, the fingerprint scanner on display is due to some rumours claiming the next iPhone to be bezel-less sporting a 5.8-inch display in a body which usually house a 4.7-inch display. However, of this only 5.15-inches will usable. On the contrary, all these new experiments will come with a price which is expected to be more than $1000 this year.
Regarding the name, a recent report from Mac Otakara claimed that the next iPhone will be named as 'iPhone Edition'.