Apple yesterday released iOS 10.3 beta update which comes in with a tonne of new features and functionalities. Apart from adding new features to the entire platform, the Cupertino-based giant has also brought in some new changes for Siri (Apple's personal voice assistant).
With the new update, Siri is now more cricket friendly and can pitch in answers related to Indian Premier League (IPL) and International Cricket Council (ICC). Some of the questions you can now ask Siri are –
1. What are the 2016 IPL rankings?
2. Who leads the IPL in runs scored?
3. When is the next Cricket match?
4. Who took the most wickets last year in IPL?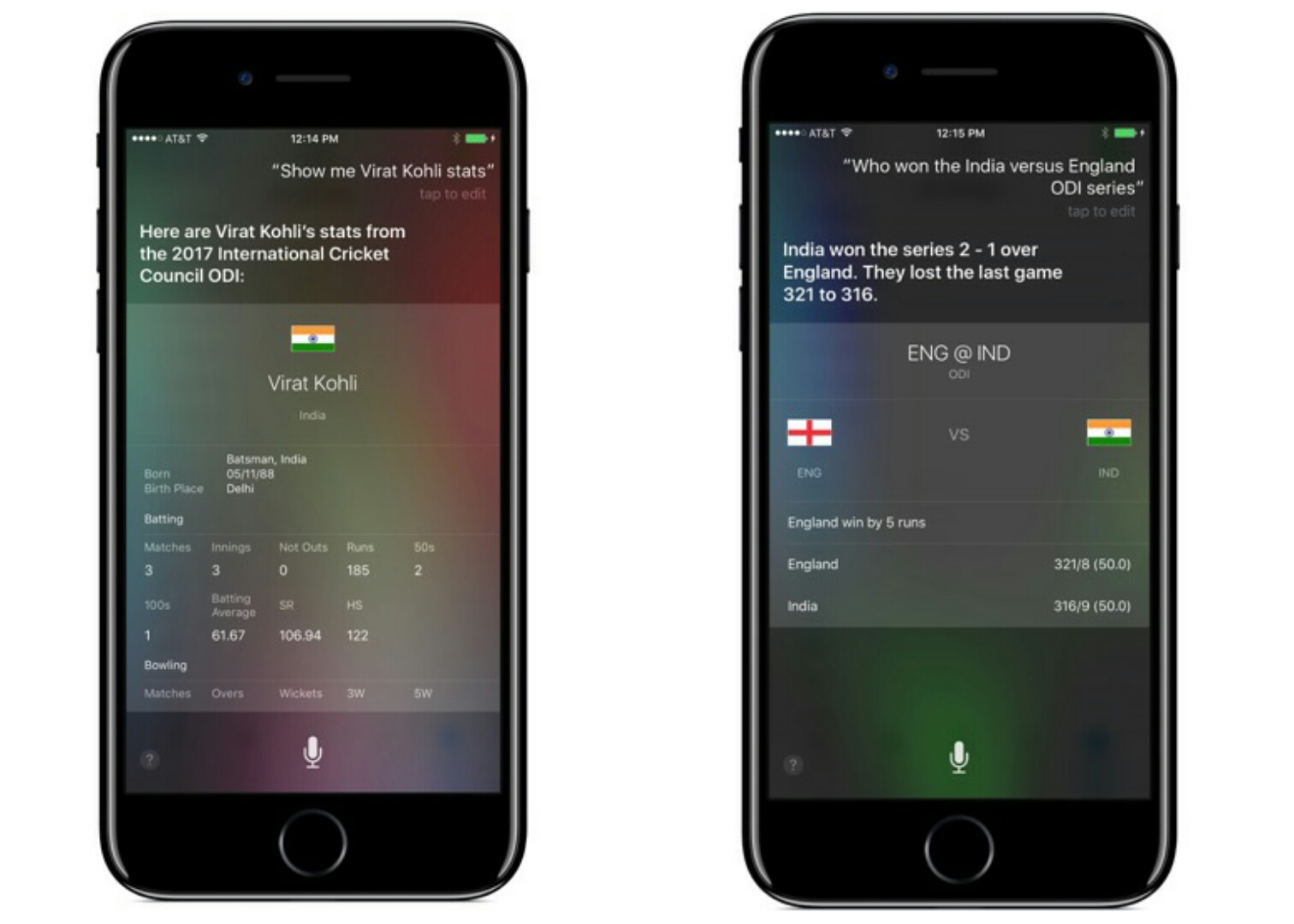 This is some of the examples of what Siri can now do when it comes to questions related to cricket. India being one of the top followers of the game would definitely embrace the new functionality provided in the latest update.
The new iOS 10.3 beta update also introduces a lot of other features including 'Find My iPhone' will now let you find your misplaced Airpods. Further, it can also pop up a specially designed sound on either or both AirPods to help find them easily. However, the Airpods must be within the Bluetooth range of one of the connected Apple devices. If the Airpods are not within the Bluetooth range, are discharged or are in closed Airpods case, Find My iPhone will show up the time and location where the Airpods were last connected with the device. Lastly, the all new 'Find My iPhone' functionality will be accessible from any computer as well by going at icloud.com/find.
SiriKit domains now help pay and keep a check on the status of bills paid through payment apps or scheduled with ride booking apps. While CarPlay adds shortcuts to launch the last two used apps, the built-in Maps app now displays EV charging stations. Apple has also improved 3D Touch functionality on the Weather App which now displays hourly forecasts, chance of rain and daily high and low temperatures. iMessage now bundle all the iMessage apps and the mail conversation mechanism has also seen some improvements.
Meanwhile, Apple also expanded the update pattern to the MacOS as well. The new MacOS Sierra 10.12.4 brings a new feature called 'Night Shift' which basically shifts your display colour to the warmer end of the spectrum after night. The Siri enhancements related cricket has been brought in here as well.
Lastly, the US-based handset manufacturer also brought in some new improvements to its tvOS as well. The update is primarily for enterprise, education and hotel configurations and will include MDM (mobile device management) and DEP (Device enrollment program), which allows admins to remotely setup, configure and maintain Apple TV.