Apple is reported to announce three iPhones this year namely iPhone 7s, iPhone 7s Plus and a special edition iPhone 8. The latter has been subjected to various leaks in the past and now, Apple HomePod firmware has revealed that the upcoming iPhone 8 will come with a bezel-less design along with a new facial recognition technology.
According to a developer known as Steven Troughton-Smith, the firmware indicates the bezel-less design of the iPhone 8 is identified as code "D22." He also shared an image of the upcoming iPhone with a bezel-less display, which is in line with some previous reports.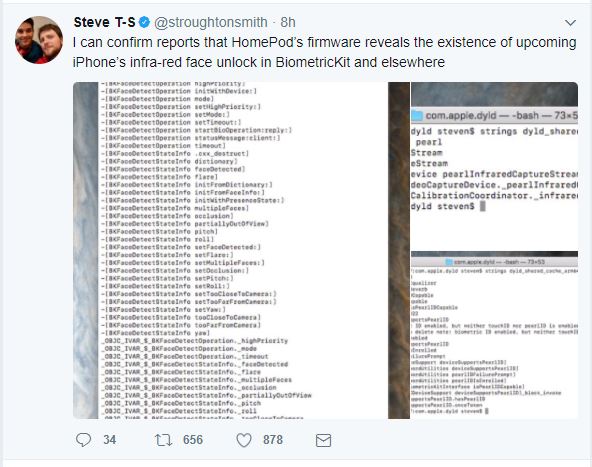 Further, coming to the facial recognition technology, he mentions that there are several references "BKFaceDetect" in the firmware, which could presumably stand for BiometricKit. The code further mentions about an infrared camera, which could be used to detect a user's face in the low light conditions.
You might also like this:
As per earlier reports, Apple is reported to introduce the iPhone 8 with an OLED display. Given the fact that Apple has recently struck a deal with both LG and Samsung to stride up the production of OLED panels, it is possible that all future iPhones could sport OLED panels. However, nothing can be guaranteed from these speculations.
Recollecting some previous rumours, Apple is said to launch three new iPhones this year. The 4.7-inch and 5.5-inch iPhone (probably iPhone 7s and 7s Plus) devices will be up much before, probably in September. Further, as per Brian White (analyst), the 5.8-inch iPhone 8 will be available for pre-orders along with the 4.7-inch and 5.5-inch iPhone devices, however, the availability of the 5.8-inch variant is likely to happen sometime in October-November.