Imagine your iPhone talking to you and do things as you say. This would be possible if Apple gets hold of the patent for a face and presence recognition feature in its products using the front facing camera.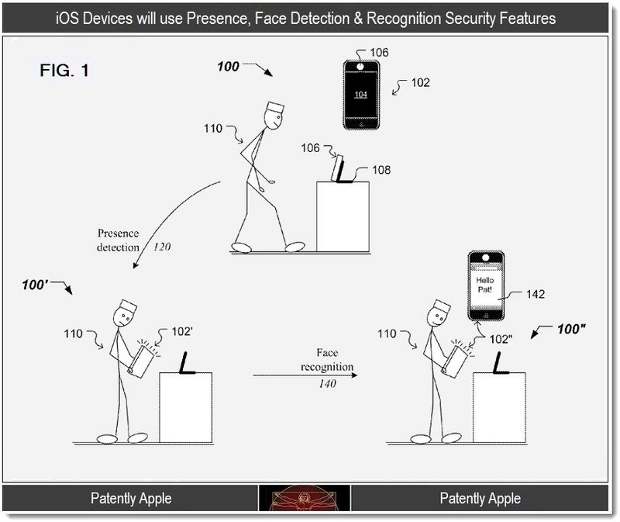 Patently Apple gave the Apple's patent filing a detailed overview. As per the filing, Apple's iOS operating system based devices would offer a mechanism to recognise face as well as the presence of the owner.
###PAGE###
Google had demonstrated the 'Face Unlock' feature in the Android 4.0 Ice Cream Sandwich and the same now comes in the Galaxy Nexus GT-I9250 smartphone. As per the demonstration, the Face Unlock feature works on the face recognition function and unlocks the phone only after recognising the owner.
Now Apple has filed a patent for the face and presence recognition function for the iOS devices. Apple's technology works in an animate manner. The iOS running device detects a user's presence in front of it using the front facing camera which needs to be kept active all the time. Of course, it does consume bit of resources. Once the front facing camera identifies a person, it would be able to acknowledge the presence of the person and greet the respective user.
Imagine the next generation iPhone having this face and presence recognition technology. While the phone is being charged on the dock, you stand in front of the device and it recognises you. The iPhone may automatically greet you, thanks to the voice recognition technology – Siri.
The important aspects to be considered for this feature are accuracy with detecting the user's face in difference scenarios and resources consumed for those functions. Leaving the camera always on certainly consumes significant amount of power.
Apple's patent is mostly an abstract idea and so is Google's Face Unlock while both companies have to work actively on perfecting individual technologies. Google had purchased facial recognition software company PittPatt earlier this year. Most likely the Face Unlock feature in the Android 4.0 would be using PittPatt's algorithms for face recognition across photos, videos and more.
In coming years, Face Recognition technology along with voice-based control functions, the smartphones will truly become smart as well as futuristic.