Apple is all set to release feature-loaded iOS 7 software update for the existing set of supported devices across the globe. Meanwhile, several users who own older iOS devices are grumbling because many apps will make iOS 7.0 the default supported version. A Reddit user spotted an unusual message asking if he would like to install the older compatible version of an app on his old device.
Apple releases a major software update for its existing devices every year. Of these the most recently released devices are supported and older ones are not. Meanwhile, there is a large population of folks still using the iPhone 3GS or iPhone 4. Devices running an older version than the iOS 6.0 can download the older version of current apps. Of course, some new features may not be available.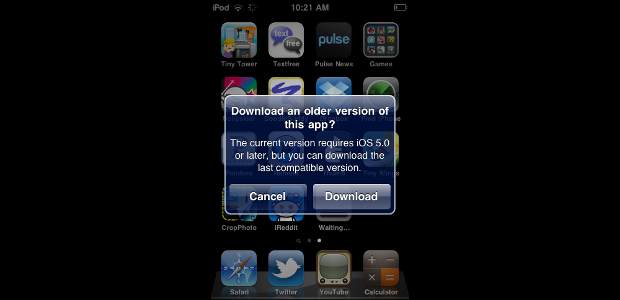 So pick up your old iPhone, iPod touch and iPad to download an app that is not supported by the current software version on that device. The App Store will show the minimum iOS version required and will also offer you the option of downloading the last compatible version of that application.
That means old versions of freshly updated apps can still be enjoyed on your device and it will no longer remind you to upgrade your device or firmware. This indeed is a smart move by Apple to keep users addicted to older iOS devices.