Amazon's app store is now available for Android users in India. Apart from India Amazon has expanded its operations to UK, Canada, South Africa, Venezuela, Finland, Ireland, Austria, Estonia, Romania, Poland, and more.
Interested users can simply get the application form the Amazon website by entering their phone number or alternatively can visit this link to download the application on their device.
Upon installation, users can use their global Amazon account credentials to log in to the application and download games and many more apps directly from the Amazon App store to their Android device.
But in order to download free application, users will have to share their credit card information or any other payment information with the Amazon account, something like in the Apple iTunes store account but don't worry you will only be charged if you purchase a paid application.
The Amazon App store is an alternative to the Google's application store that allows users to download and install application on their Android powered devices. Along with that Indian users now will be able to make use of the 'free paid app of the day' offer as well. Under this offer Amazon app store offers one paid/premium for its users totally free of cost with no strings attached as well.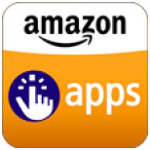 Along with free applications, Amazon app store offer heavy discounts on other premium application as well, so the next time you feel like purchasing an application do check the Amazon app store once.
Amazon.com is also planning its big leap in to the tablet market. As reported by The Mobile Indian earlier, the maker of Kindle e-book reader is all set to come out with two tablet PCs this year.
The Amazon tablets are codenamed Coyote and Hollywood. Coyote is expected to be an entry level device; while Hollywood will have a quad core processor that can perform five times faster than Coyote's dual core Tegra 2 chipset. But it is highly anticipated that the smaller Coyote 7 inch Android based tablet will be the first one to touchdown.