Google has rolled out bunch of new features for its Google+ social network for all platforms &#151 web, mobile apps and mobile web. Out of all new features, one of the milestone features is opening up the service to public – that means no need for invites for now, hence anyone can join Google+.
Other crucial features are extension of support of Hangouts to mobile phones and turning Huddle (group chat) to Messenger. Notably, Google+ Hangout support is currently limited to Android handsets only.
Video chat and video calling are the new interesting things to be tried out with the fresh breed of smartphones coming with front facing cameras. Noting the trend and available technologies, the new Google Plus update for Android brings support for joining Hangouts via Android 2.3+ Gingerbread running smartphones with front-facing cameras. That means users can join any active Hangout in their stream from an Android Gingerbread running device anytime.
This interesting feature addition will let you catch up with your friends, colleagues and relatives anytime, especially when you are travelling. The support for mobile Hangout feature is currently limited to Android smartphones only and Google has promised to roll out the same feature for iOS devices soon. The idea of having a group video Hangout on mobile certainly sounds good which is missing Google Talk.
The group chat feature known as Huddle has been renamed to Messenger and given the capability to share images as well. For instance, you are out to shop clothes, then you can click image of the dress and quickly seek opinion of your friends via Messenger. Group chatting will certainly become bit more visual with that.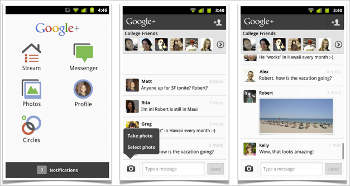 Apart from these two major features, now the Google+ mobile app allows doing +1 to the comments in the posts. This feature is currently available both for iOS and Android devices. Improved +mention support now allows you to easily adding friends to your posts and comments. Furthermore, users can now customise the notifications from the App settings.
Users based in India and the US can use the Google Plus service via SMS as users can now post, receive notifications, and respond to group messages via SMS. You need to register and verify your mobile number with Google Plus. Our guide will help on how to use Google Plus via SMS.
Besides all that, Google Plus also brings some interesting features for the web as the service now allows users to share screens just like in Skype and also Google documents. Collaboration also brings some fun with Sketchpad where users can scribble together on the same sketchpad and have some artistic pleasure.
Hangout for web gets new On Air feature that allows live streaming and can accommodate up to nine people in one session. You can also give names to such specific hangouts so your friends can quickly identify and join them. The search box will now fetch you relevant posts along with people based on your search query such as Ice Cream, Bikers, Comics, Photography and so on.
Google+ App update with new set of features is already available for Android devices running 2.1 or higher. Meanwhile, the iOS devices users will have to wait for the specific update.