Airtel has announced its next move under its Project Next initiative and is offering premium Nokia smartphones at attractive pricing with EMI offers and bundled postpaid plans. The service provider through its Online Store is now providing instant financing for users who wish to buy the Nokia 6.1, Nokia 7 Plus and Nokia 8 Sirocco without making the full payment upfront.
Users will be able to buy a Nokia smartphone for as low as Rs 3,799 in down payment with a monthly EMI of Rs 1,499. Along with instant approvals for financing, the EMI schemes will be integrated with postpaid plans that offer bundled data as well as unlimited calling.
Both 3GB and 4GB RAM variants of the Nokia 6.1 is currently available for a monthly EMI of Rs 1,499 though users will have to pay a higher down payment of Rs 5,799 for the latter. The Nokia 7 Plus comes in at just Rs 5,599 with an EMI and built-in postpaid plan of Rs 2,099. All three offers mentioned above come with the 30GB per month data, unlimited calling and a free subscription to Airtel TV.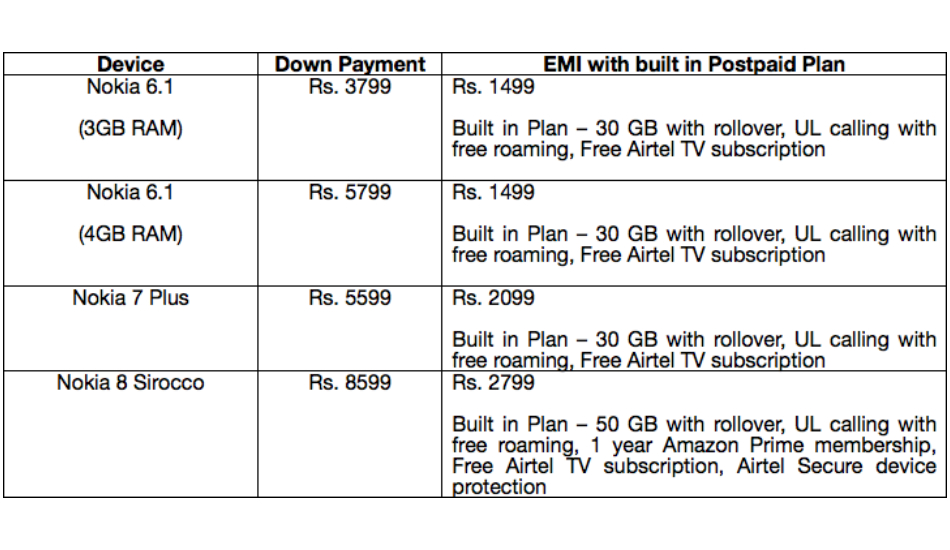 Airtel is also selling the flagship Nokia 8 Sirocco for a monthly EMI of Rs 2,799 coupled with a firsthand down payment of Rs 8,599. The built-in postpaid plan will feature unlimited data and 50GB of monthly data with one-year of Amazon Prime subscription, Airtel Secure device protection plan, and Airtel TV.
Interested users can head over to Airtel's Online Store, follow the instructions to secure an instant loan for their favourite device.
Commenting on the latest move, Bharti Airtel's CMO, Vani Venkatesh said "We are pleased to introduce Nokia's smartphone range on our digital platform and add to the range of smartphones available to customers. As India's leading smartphone network, we are committed to innovative to make it easier for customers to upgrade to premium smartphones they always aspired for".