Earlier this week we heard a lot of buzz about the Apple iPhone 4S being launched in India in the fourth week of this month but now it seems that the device just might be made available even before the expected date of delivery.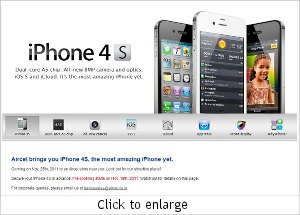 Aircel has informed us that the prebooking for the Apple iPhone 4S will begin from 18th of November. Earlier the latest version of iPhone was expected to be launched on November 25.
Users, who pre-book the device, will definitely be given preference over other walk in customers as and when the device will be launched. As of now iPhone 4S is expected to be launched on the 25th of November this month but seeing at the pre booking opening on 18th it is expected that the device might come earlier to the users.
Aircel is expected to offer its customer's an opportunity to avail up to 100 per cent of the value of the iPhone 4S as talk time and data spread over a time period of 24 months. Although details about the scheme are not clearly laid out but it is expected that the schemes for users will be somewhat similar to the ones announced for iPhone 4.
The iPhone 4S comes with a totally overhauled specification with the latest A5 processor and support for both CMDA and GSM networks, so now CDMA users will also be able to enjoy the benefits of iPhone over their existing service. Along with that the Apple iPhone 4S comes with an 8 megapixel camera supporting 1080p video capability, faster download speeds, improved graphics, and an intelligent switching antenna. The iPhone 4S also has a new operating system – iOS 5, as well along with the iconic new vice based assistant Siri integrated.The storage has also gone up high and is available for up to 64 GB in internal storage.