Indian device manufacturer, Byond has launched two new dual-SIM budget Android smartphones. Named as B51 and B54, the handsets are priced at Rs 4,999 and Rs 5,799 respectively.
The B51 sports a 3.5-inch HVGA screen while the B54 comes with a 4-inch WVGA capacitive touch display. Both come with Android Gingerbread (v2.3.6) operating system, 3 megapixel rear camera and 1.3 megapixel front cameras. Besides, both have 1 GHz processor with 256 MB RAM, 1,500 mAh battery, FM Radio and dual-SIM support.
The Byond B54 however also features larger 4 GB of pre-loaded content but has 32 GB of external memory support as the Byond B51. For connectivity, both have WiFi and Bluetooth. While the B51 features regional language support, the B54 has multi-language support.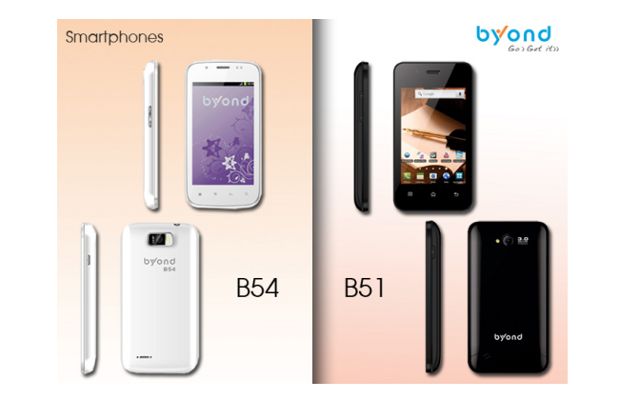 The Byond B51 would be competing with the likes of the Micromax A57 Ninja 3 which is priced at Rs 4,999 and was launched in August last year. Another its competitor is the more recently launched Intex Aqua Trendy that costs Rs 4,900.
The Byond B54, on the other hand, would stand against the A87 Ninja 4 of Micromax which costs Rs 5,999.
Byond recently launch a 6 inch phone called Phablet III and also a 4.5 inch qHD IPS display totting B63. However sadly apart from The Phablet III none of its phones seems to be radically different from what competition is already offering.
We would have loved to see the introduction of Android 4.0 in this segment which so far all the players have missed and Byond would have definitely made a mark if they had chosen to do so.