In the recent times some surveys have pointed out that mobile phones have been ruining sexual life of people. But, that's just one side of the story because we all know that mobile phones do play an important part in developing a sexual relationship also, whether it's just flirting by phone or, for some, sending sexually explicit text and photos or sharing intimate videos with partners.
However, so far nobody has compared the relative importance of mobile phones and sex for people in general. Now a survey has said that 30 per cent Indian mobile phone users are ready to "give up sex" for a mobile phone. The survey conducted by Ipsos, a market research company, said that 58 per cent of those who voted for the mobile phone over sex are in the age group of 50 – 64 years.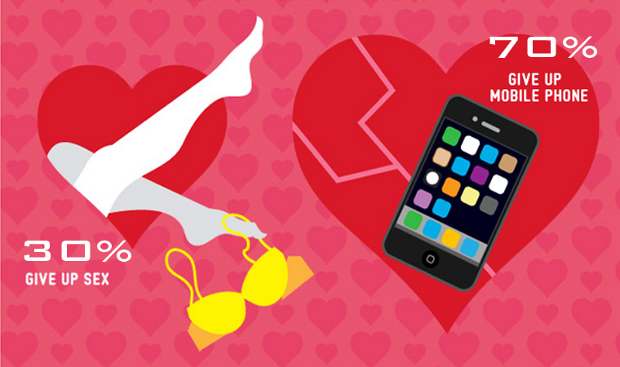 Survey further revealed that Indians who are willing to give up sex for a mobile phone, 41 per cent are females as compared to 23 per cent male. If we look at senior executives or decision makers, the survey reveals that 34 per cent respondents are not willing to give up mobile phones for sex.
Another interesting finding of the survey is that out of the 70 per cent Indians who will give up mobile phones for sex, 77 per cent are male as compared to 59 per cent female. Also, 71 per cent respondents whose age is under 35 are willing to give up mobile phone as compared to 41 per cent respondents in the age bracket of 50 – 64 years.
The Ipsos survey further added that 70 per cent of respondents, who will give up mobile phones for sex, have attained higher education qualification.
Ipsos did the online survey on a sample size of 1003 respondent across India.