The 881 million mobile subscribers in India, in 2011, had numerous mobile devices to choose from with models varying from the cheapest tablet of the world, Aakash, for Rs 2,500, to the latest sensation iPhone 4S which is available for around Rs 50,000.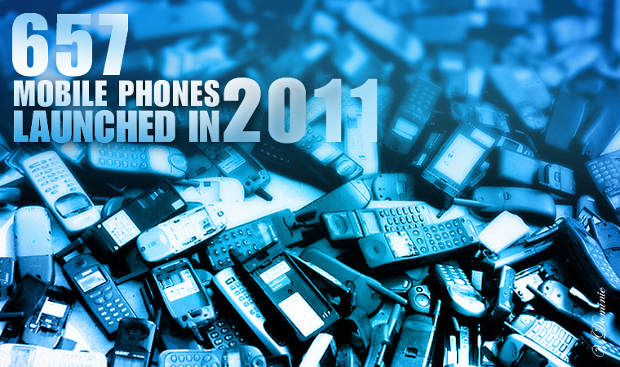 This year saw the launch of a whopping 657 mobile devices, which include mobile phones and tablets, by Indian as well as MNC handset players in the country.
Operation system
This year saw growing demand for high-end handsets that use a mobile operating system, but Java emerged a clear winner. Of 657 handsets launched this year, 525 were based on Java with a lot of innovative offerings like web browsing, pre-loaded apps, powerful cameras, touchscreen and support for maps.
After Java, it's Android that emerged as the second-most successful operating system. In total, 100 mobile devices including smartphones and tablets were launched this year running different versions of Android operating system.
Nokia's operating systems – S40, Anna and Symbian – bagged the third slot. This year, we saw Nokia launching 13 devices based on these operating systems. The fourth spot was jointly shared by iOS and BlackBerry with seven devices each launched by Apple and RIM respectively.
The latest entrant in the OS space, &#151 Windows, bagged the fifth slot with four new smartphones. This year Samsung also launched one device based on its proprietary operating system – Bada.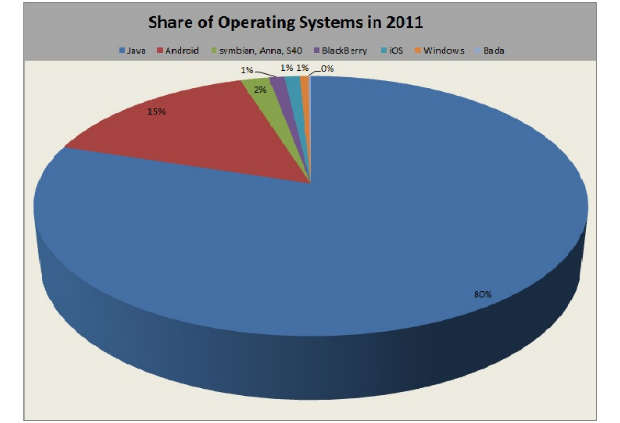 Brands
In 2011, the maximum number of mobile devices were launched by Maxx Mobiles. It launched 52 mobile phones in India. The second slot was bagged by Fly Mobiles with 41 new devices including one tablet and 40 feature phones.
Samsung, which has been growing by leaps and bounds in India, came out with 39 devices including the Galaxy series of smartphones and tablets. Samsung occupied the No. 3 slot jointly with Spice (S Mobility) which also launched 39 devices including a dual SIM Android smartphone.
There was a tie for the fourth slot between Videocon, which entered the mobile device segment last year, and Karbonn Mobiles. Both of them launched 35 devices each, which were mostly feature phones. Intex, an Indian handset player, bagged the fifth slot with 26 mobile phones. Notably, it launched India's first projector phone &#151 IN 8809.
Indian handset major Micromax, which launched three Android devices this year, occupied the sixth slot with 23 new devices. Beetel, which also forayed into the mobile space for the first time, occupied the seventh slot. Beetel was in the limelight for two sub-Rs 15,000 Android tablets that it released in 2011.
LG with 17 and Onida with 16 mobile phone launches occupied the eighth and ninth slots respectively. Finnish handset major Nokia, which forayed into the dual SIM segment, and Chinese player Huawei, which launched the Ideos range of smartphones, tied at the tenth position with 15 new devices each.
There was a tie for the 11th position as well, between G'Five and Red, which launched 14 devices each in 2011. Sony Ericsson, which had launched its Xperia range of phones this year, bagged the 12th position with 13 devices. HTC and Airphone were jointly at the 13th position as they launched 12 devices each.
At the 14th position there was again a tie between Motorola and Maxphone, with 11 devices each. Philips, with 10 phones in the year 2011, stayed at the 15th place.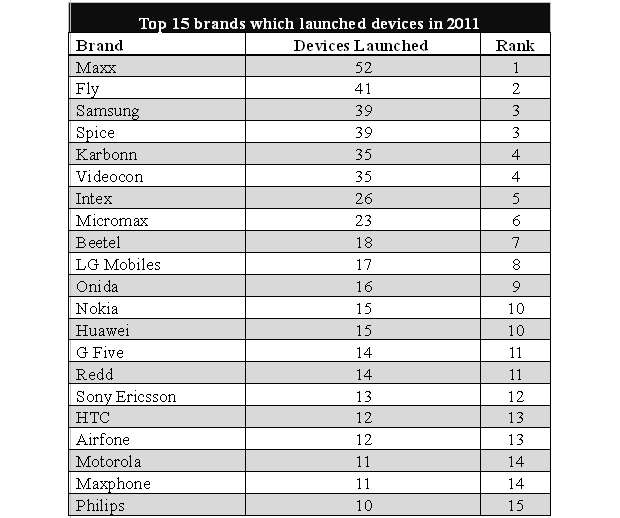 Overview
The key factors that contributed to this phenomenal growth in mobile phones were rapid advancements in technology, both hardware and software; the rise of dual-SIM handsets; launch of 3G services; and decrease in the average price of mobile devices.
Going by the success of so many smartphones and features phones, it looks like the introduction of innovative features with sophisticated technologies that have potential to live up to customers' growing expectations has become more of an industry norm and a challenge for existing players to survive in the market.
Another conclusion that can be drawn from the number of mobiles launched by Indian players is that they understand the growing appetite of Indian consumers and because of local advantages such as good commission agreement with distributors, low cost of manufacturing and strong links with small retailers especially in tier two and tier three cities, they have been able to strive in a highly competitive mobile space.
Moreover, Indian handset players are expected to continue their growth journey in 2012 too. When urban markets touch saturation levels, the focus is bound to shift towards the rural sector, where they have a good presence and customers are highly price sensitive. Apart from that, most buying decisions are taken at the point of sale, that is, retail shops where the salesman will try to push products that get him the maximum commission.
With increasing consumer awareness and a plethora of options, it can be inferred that in coming years mobile consumers will love to buy value for money smartphones with advanced capabilities, rather than mere communication and SMS devices.