Sony Ericsson's Xperia PLAY is set to get 20 games including the popular PC game, Minecraft, which will make its debut on the mobile platform stating with this smartphone.
Out of the 20 games, 10 will be exclusively available on this device. Many of these games will be presented in the games expo E3 which will be taking place between June 7 and June 9.
Apart from Minecraft, which has a fast growing user base with eight million registered users, the classic PlayStation 1 titles will also be arriving to Xperia PLAY shortly.
"As Xperia PLAY becomes available to Verizon Wireless customers in the USA, the portfolio of great games continues to grow and we are delighted to announce 20 new games optimised for Xperia PLAY," said Steve Walker, head of marketing at Sony Ericsson.
"By building on the open Android ecosystem, we're providing a brilliant opportunity for developers and game publishers to bring their best titles to new audiences and fantastic new experiences for Xperia PLAY owners. Keep watching this space," added Steve.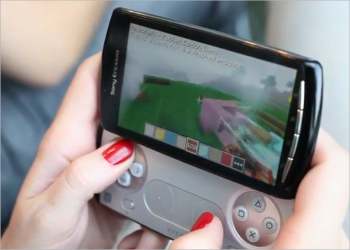 The new game titles would be released over coming months, details of which would be revealed by Sony later.
New Android Games Exclusive on Xperia PLAY include Minecraft by Mojang, Battlefield Bad Company 2 by Electronic Arts, Tom Clancy's Rainbow 6 Shadow Vanguard by Gameloft, Desert Winds by Southend Interactive, Ruined by Bigpoint, Icebreaker by NaturalMotion, Sleepy Jack by SilverTree Media, Cracking Sands by Polarbit, Armageddon Squadron 2 by Polarbit, and An unnamed fighting game from Khaeon Gamestudio.
The new Games coming soon on Xperia PLAY include Pocket Legends by Spacetime Studios, Star Legends: The Black Star Chronicles by Spacetime Studios, Eternal Legacy by Gameloft, Guns 'n'Glory 2 by HandyGames, Dungeon Hunter 2 by Gameloft, Pocket RPG by Crescent Moon Games, D.A.R.K. developed by Gamelab, Samurai II: Vengeance by MADFINGER Games, Vendetta Online by Guild Software, Order & Chaos – Gameloft, Happy Vikings by Handy Games, A Ball Game by Trendy Entertainment and Lumines by Connect2Media.
Xperia PLAY is the latest attempt by Sony Ericsson to become relevant in the already booming smartphone market, although Sony was slightly late in adopting the Android operating system. The biggest selling point of Xperia PLAY is that the PlayStation controls slide out in the bottom half which includes two circular touchpads, direction pad and control buttons.