With COVID hopefully receding to the background, the Indian smartphone continued to witness a spate of launches in March 2022. The total number of models and variants launched might not have matched those of February, but there was no mistaking the fact that the bustle had well and truly returned to the Indian mobile market. Here are the highlights of the Indian mobile market as per the data collected by The Mobile Indian.
Launches dip slightly from February
Even though there were a number of devices launched in March, their overall number dipped by around 16 percent as compared to February. February had seen 28 models with 51 variants. March saw 24 models with 49 variants. It should be noted that both these figures are way more than the 19 models and 28 variants launched in January.
Mid segment madness
As in February, March too saw most phones being launched in the mid-segment, or the Rs 15,000 – 30,000 price segment. 26 of the 49 phones launched in March came from this segment, accounting for 53 percent, or more than half of the total launches in the month. As a percentage number, this was way higher than the 45 per cent this segment commanded in February and 35 percent in January.
The budget segment rebounds
The under Rs 15,000 segment had had a rather quiet February, with actually more devices being launched above Rs 45,000 than below Rs 15,000. However, in March, the budget segment rebounded with a total of 14 models that comprised 29 per cent of all the launches in the market.
Premium segment recedes
February had seen the premium segment (above Rs 45,000) play a prominent role in the Indian smartphone market, with 13 devices being released in that segment, accounting for a fourth of all launches. That number came down to just four devices in March, which was a mere 8 per cent of the launches. In fact, it was relatively quiet even in the Rs 30,000 – Rs 45,000 segment, where only five devices were launched, accounting for ten per cent of all launches. A course correction? It is too early to say.
The sub- Rs 30,000 segment dominates
With 82 per cent of the phones launched in March being priced below Rs 30,000, March was very much the month for the budget segment. This was in contrast to February, where more than a third of the phones launched were priced above Rs 30,000, accounting for 35 per cent of February launches.
Samsung is back in launch mode
January and February had been relatively quiet in launch terms for Samsung, with the brand restricting itself mainly to a few premium device launches. However, March saw the Korean launch more phones than in January and February. It launched a total of 13 phones, as it reinforced its M and A series of devices.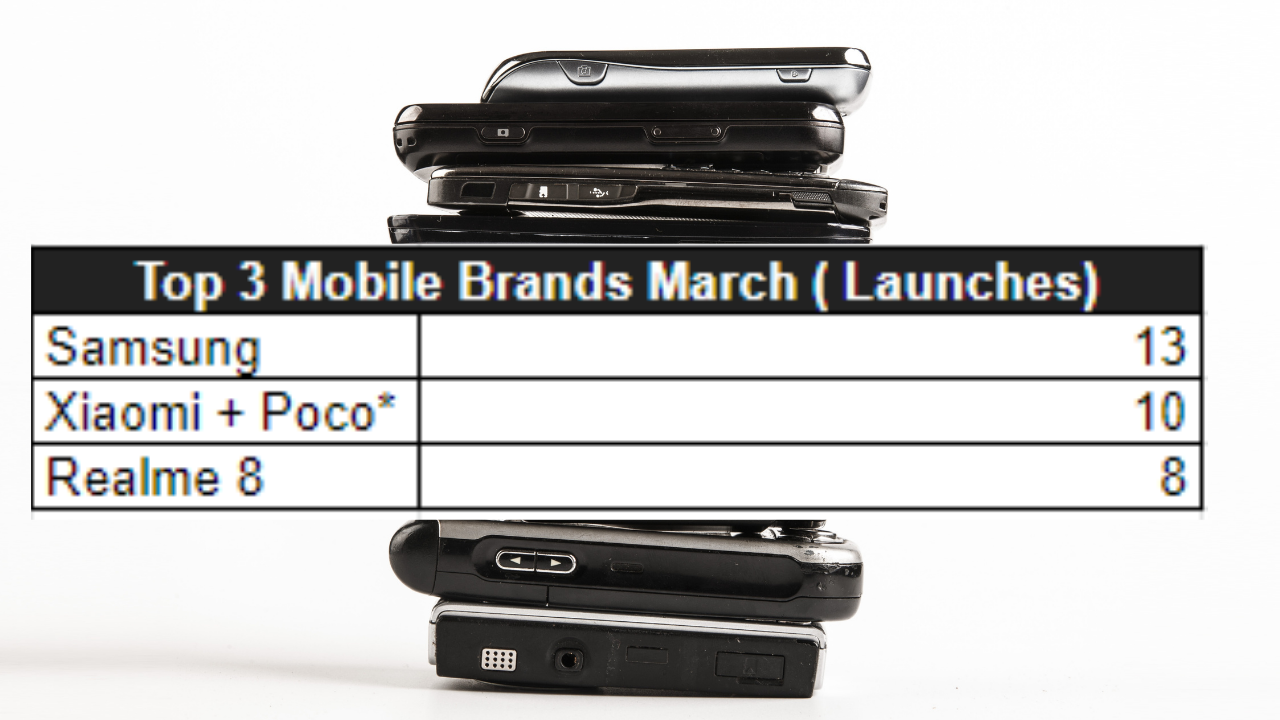 Xiaomi continues consistent launches
Xiaomi has been a consistent performer in terms of launches in 2022. The brand had launched 7 devices in January and 12 in February. It launched another 10 in March. Of course, this includes smartphones launched by Xiaomi as well as its sub-brands, Poco and Redmi. In fact, whereas January had seen no phones from the Redmi and Poco brands, March saw no phones from Xiaomi, with Redmi launching seven and Poco launching three products. The most notable launch of the month for Xiaomi was the Redmi Note 11 Pro series, which is one of the highest selling smartphone series in the country.
And so do Realme
Xiaomi's arch-rival Realme too continued with its launches. It had launched seven devices in February and launched eight in March. Interestingly, only one of these was above Rs 20,000. All the others were below it, and there were even two phones below Rs 10,000. In February, four of the seven phones Realme had launched had been priced above Rs 20,000. Also, Realme did not launch any phones from its Narzo range in March.
Oppo gets busy
After launching a total of just three devices in January and February, Oppo got back into the market with six devices in March. Rather interestingly, all of them were priced below Rs 20,000, with one variant even priced below Rs 10,000.
OnePlus, Apple and Vivo get one model each
March was the month in which OnePlus, iQoo and Apple launched one phone model each. While Apple released an update of its iPhone SE and OnePlus released its OnePlus 10 Pro flagship, iQoo released the Z6. Rather intriguingly. iQoo's parent brand, Vivo, which had the most launches in January, and had released a number of devices in February as well, released no device with Vivo branding in March. But we suspect this will change in April.
Quiet times for Motorola, Micromax, Nokia and others
March was also a quiet time for a number of brands. There were no releases from Micromax, Infinix, Motorola and Asus. Nokia, too, released no device. Perhaps this was because of the number of devices released by bigger brands in the sub-Rs 30l000 segment where many of these brands tend to do well.