Apple's AirDrop has been one of the most liked features by Apple users so they can share anything instantly with any other iPhone, iPad or Mac users. Google wanted to catch up and in 2020, the company introduced Nearby Share using which Android users could share files and other stuff among them at fast speeds. So here's some useful information about the Google Nearby Share feature that can be helpful for you whenever you decide to use the feature.
What is Nearby Share?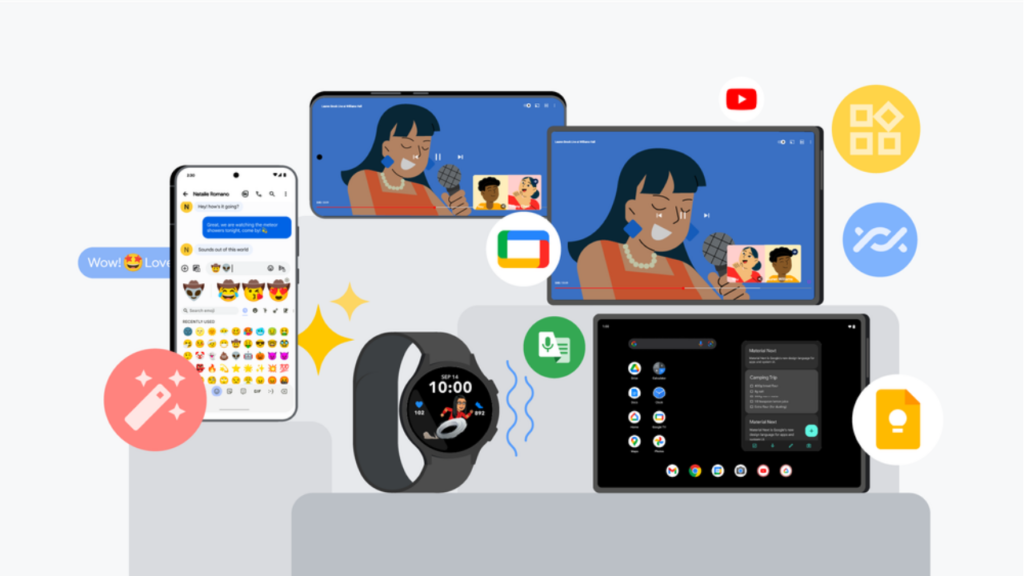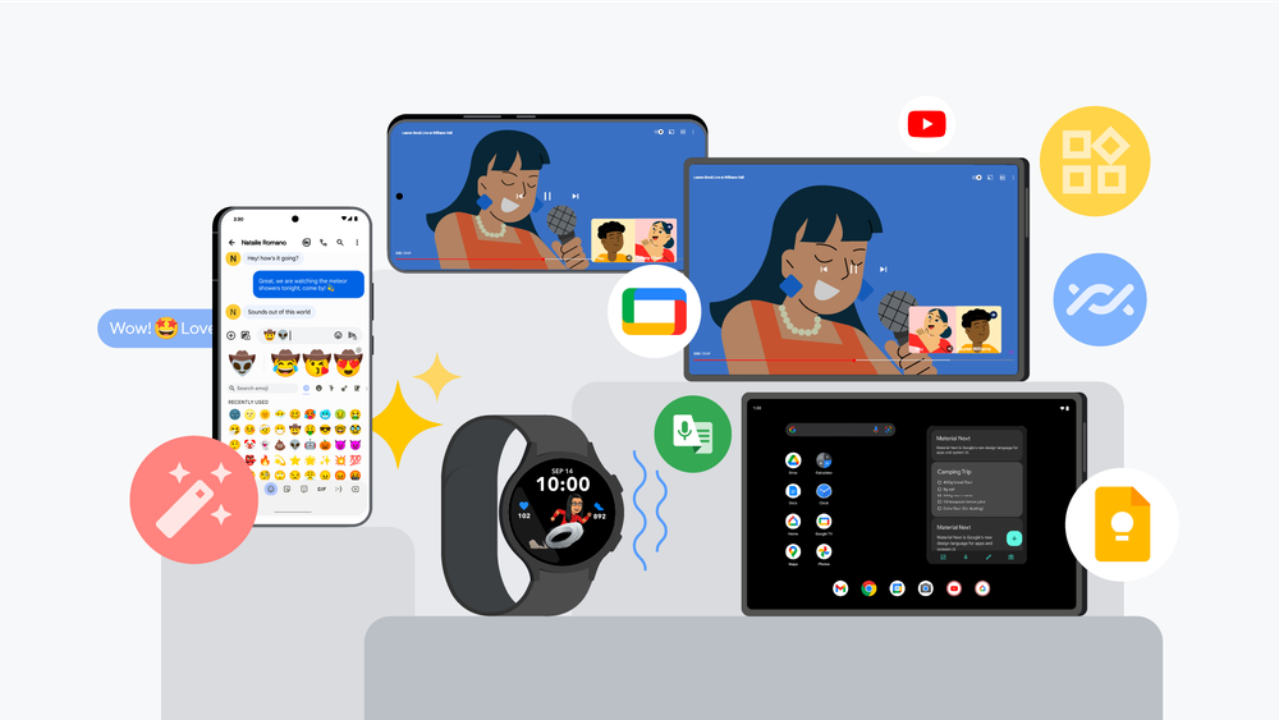 Nearby Share is a feature made for Android users to quickly share content with each other between devices, similar to what Apple offers with AirDrop for iOS, iPadOS and macOS users. The feature works both online and offline and can be used to share multiple types of files. It is available on all Android 6.0+ phones.
How to use Nearby Share on Android devices?
Step 1
To begin with, you should first ensure that your Android device is running on Android 6.0 or above as Nearby Share works only on such versions. Next, Open the content, like a photo or webpage which you want to share.
Step 2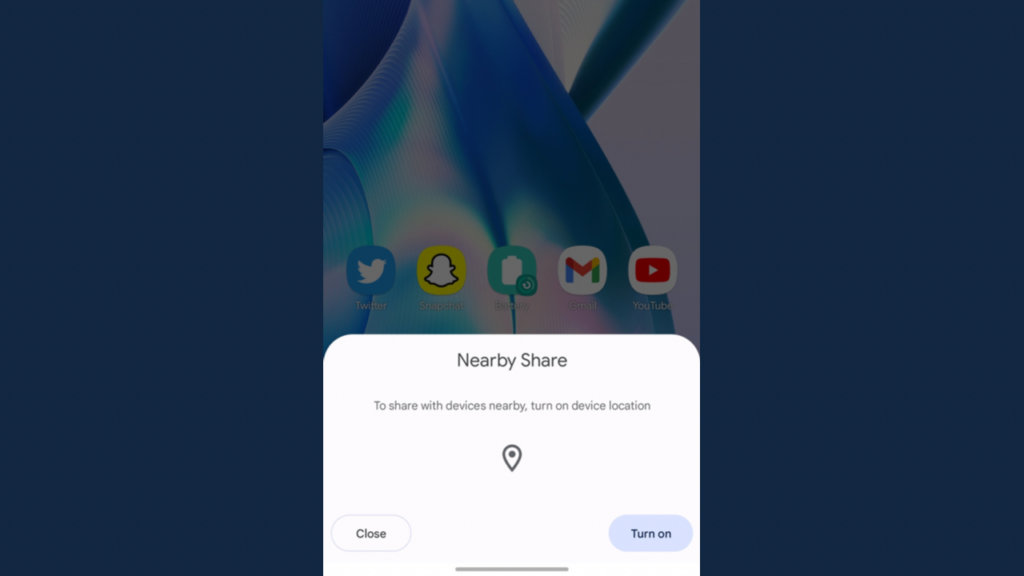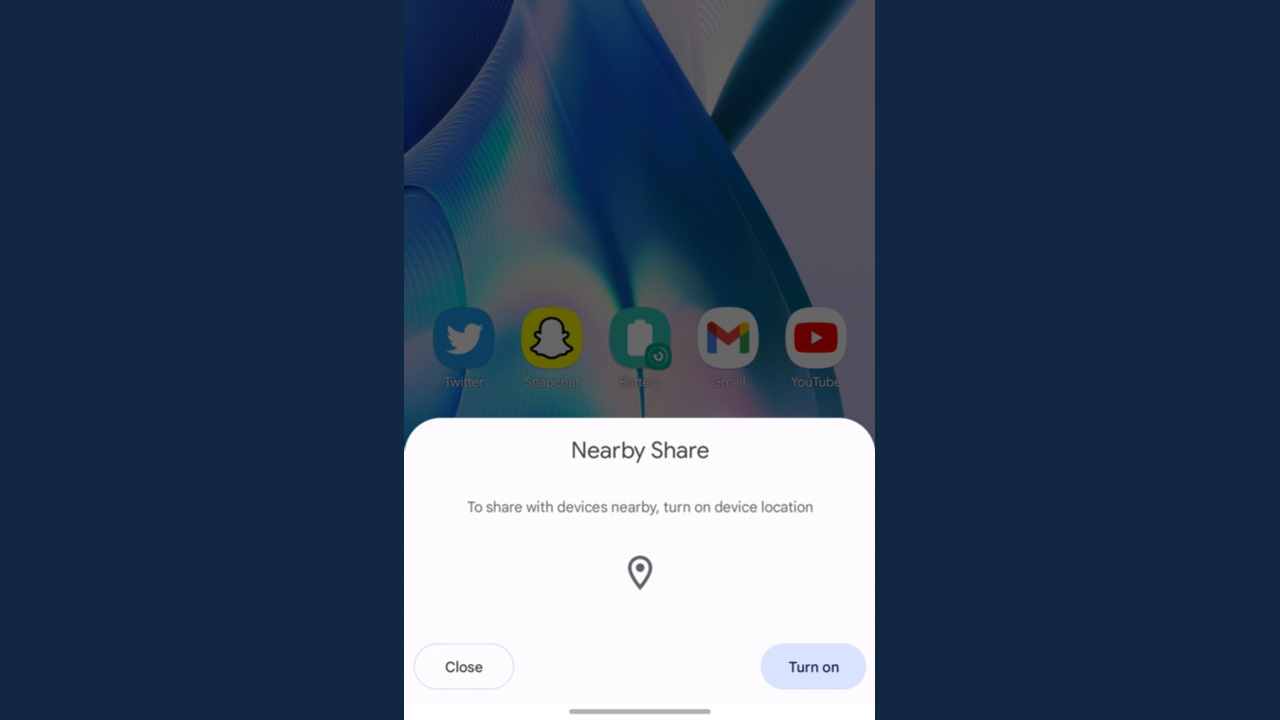 Next, tap on the share button and then click on Nearby Share. If the feature is turned off, you will have to switch it ON by clicking on 'Turn on'.
Step 3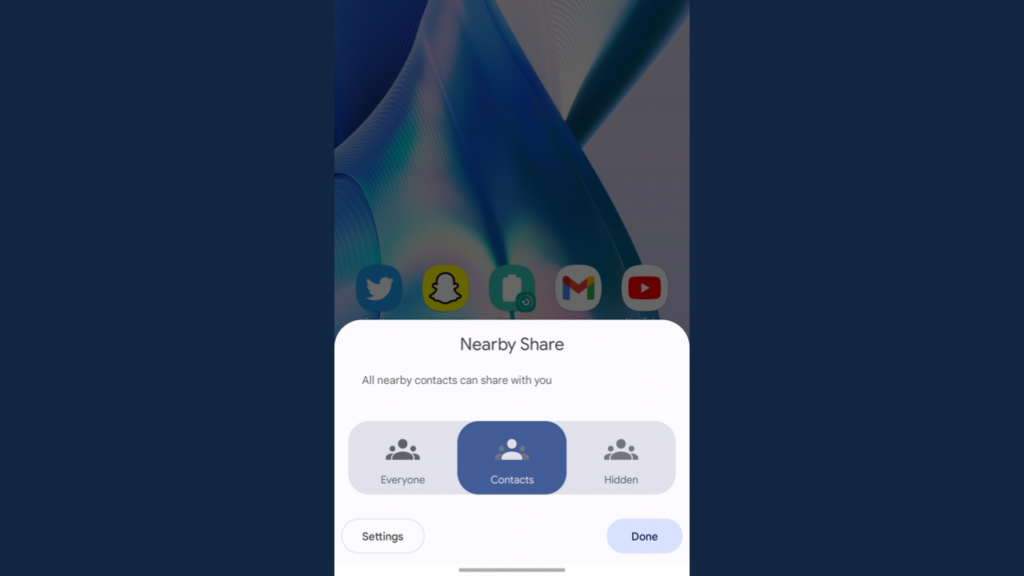 Next, you get three options as to with whom you want to share files with. You can either stay hidden so your phone can neither send or receive files. You can set it to Contacts so all your nearby contacts can share content with you. The 'Everyone' option will let anyone share files with you and not just your contacts.
Read More: Google I/O 2022: Every new announcement from Pixel 7 series to Pixel Watch
Step 4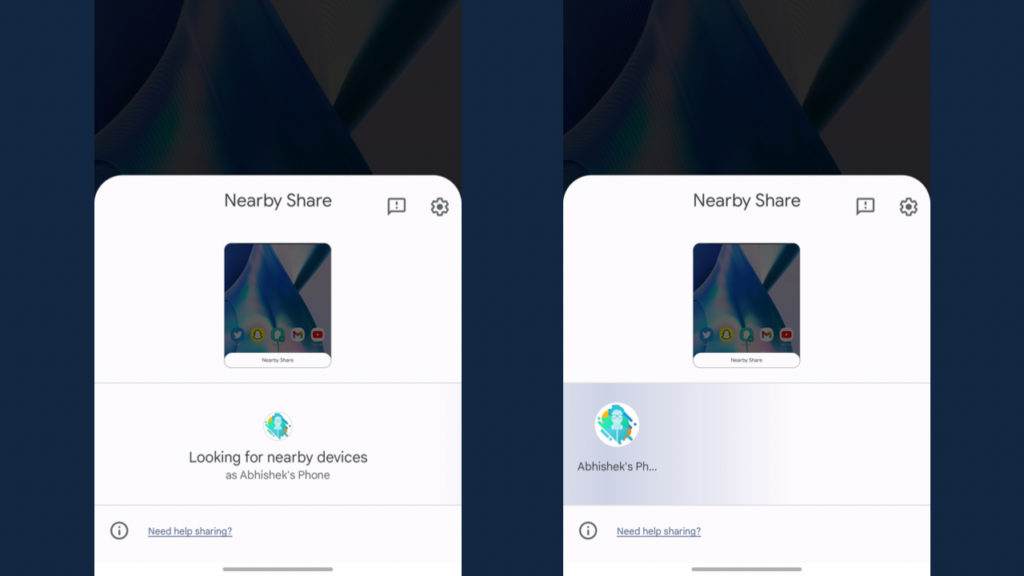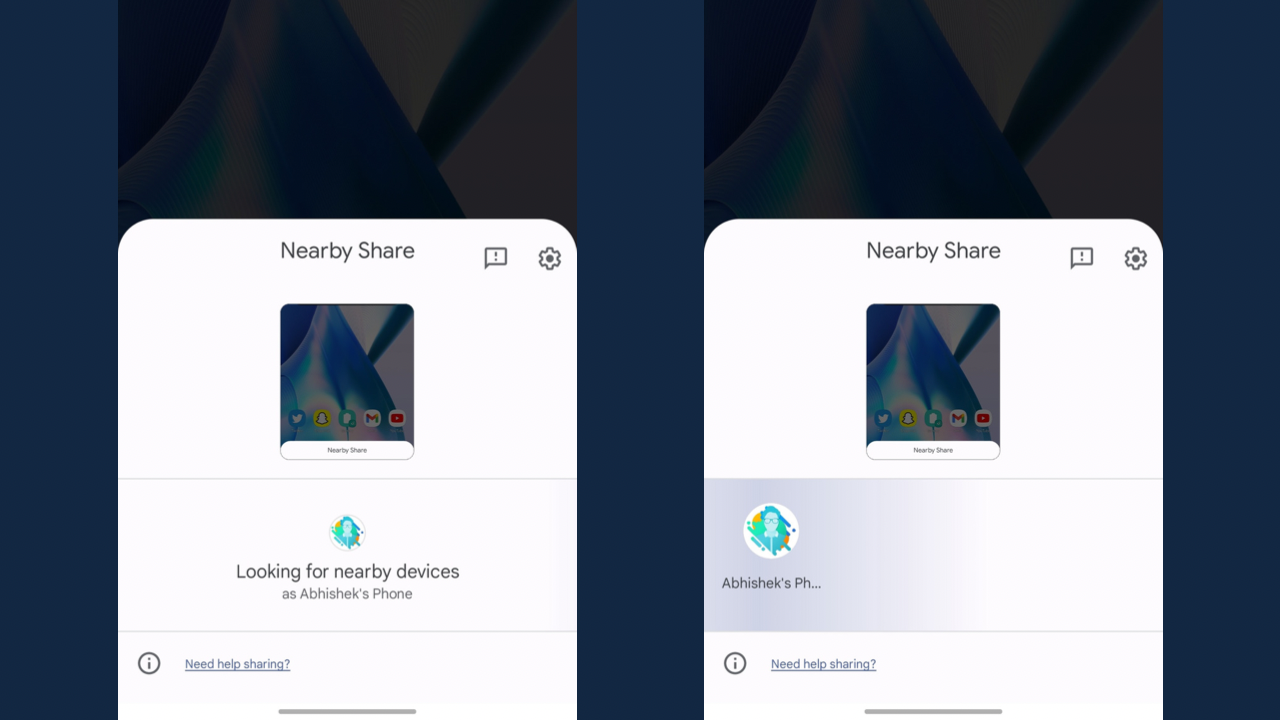 Now, your phone will start looking for devices you want to share content with. You will have to follow Steps 1, 2 and 3 on the receiver's phone as well so your device can search for their phone. Now you can tap on the name of the contact which appears in 'Looking for more devices' box.
Step 5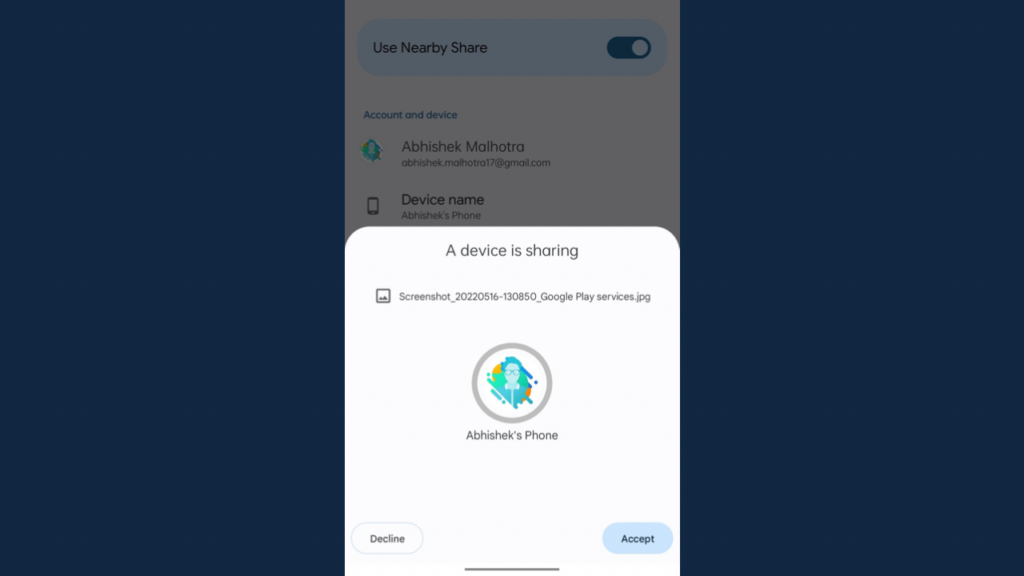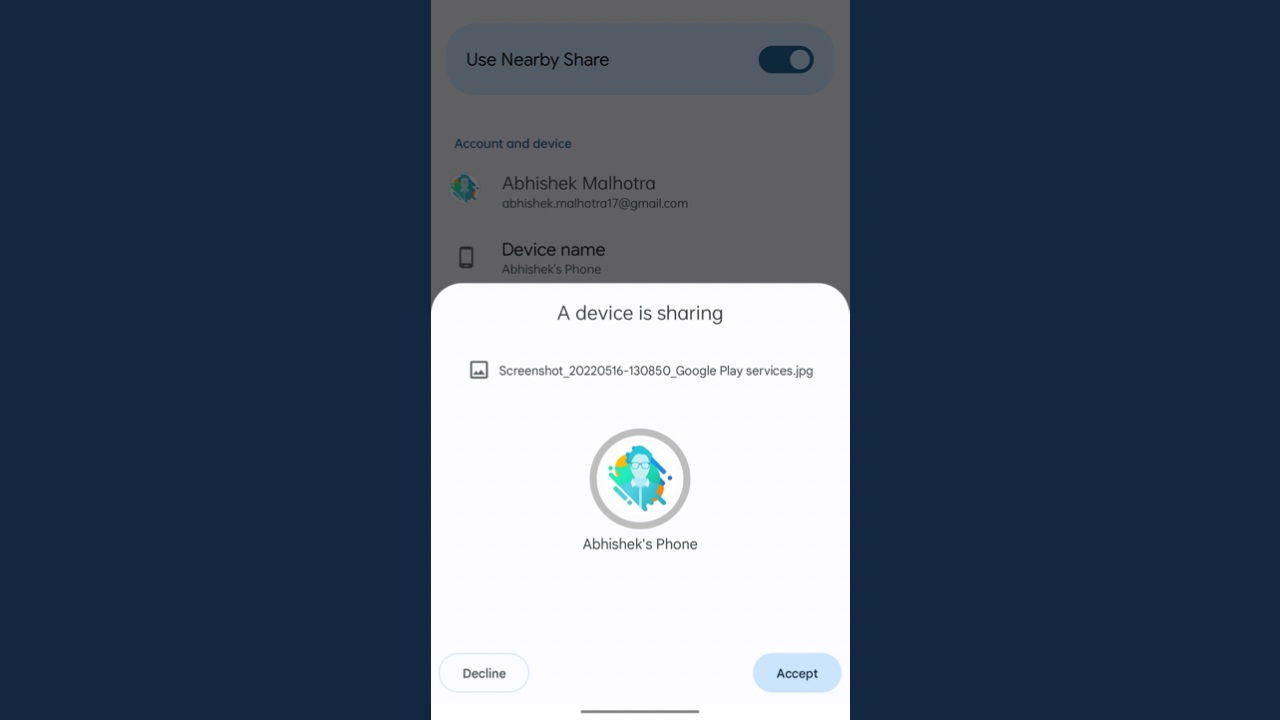 Once done, tap on Accept in the receiver's phone so that device can receive the file you are sending. Nearby Share then automatically chooses the best protocol for fast and easy sharing using Bluetooth, Bluetooth Low Energy, WebRTC or peer-to-peer WiFi — allowing you to share even when you're fully offline.
Can you use Nearby Share on iPhone?
The Nearby Share option does not work with the iOS platforms, or for that matter, with any other type of OS. It is exclusively designed for Android devices to send and receive files between them. It does support Chromebooks but does not support any other operating systems.
What are the benefits of using Nearby Share?
Nearby Share is fast and secure.
Nearby Share automatically chooses the best protocol for fast and easy sharing using Bluetooth, Bluetooth Low Energy, WebRTC or peer-to-peer WiFi. This allows you to share content even when you're fully offline.
Nearby Share is secure and is built with Privacy at its core. Nearby Share allows you to both send and receive files anonymously. It also allows you to adjust your privacy settings from your phone's Quick Settings at any time. You can be "hidden," visible to "some contacts" or visible to "all contacts," so you never receive files that you didn't ask for.
You can share the same file with multiple people at the same time.
Are there any downsides to using Nearby Share?
While there aren't many downsides to Nearby Share, one of them could be connection stability. This is one of the issues which we have faced as well, where sometimes the transfer gets cancelled midway on its own. Apart from that, we do not see any major downsides to using Nearby Share.
What is the upcoming Self Share feature about and when will it roll out?
Google has announced a new feature that comes as a part of Nearby Share, called Self Share. With this feature, you'll be able to use Nearby Share to effortlessly transfer files across your own devices. You will be able to select Android devices logged into your Google account from the sharing menu to quickly share files between them. And once you've opted in, transfers between devices you own are automatically accepted — even if your screen is off.
The new Self Share feature is set to rollout in the next few weeks. Google hasn't provided an exact date as to when the rollout would begin.
Nearby Share FAQs
I am not able to see the contact name whom I want to send the file to?
Check if both location and bluetooth are turned ON on the receiver's smartphone. If things still don't work, you may turn on and off Airplane Mode on both the smartphones.
How to get files or apps via Nearby?
In order for the recipient to get files or apps, your recipient's device must be running the latest version of Files by Google that includes the "Using Nearby Share" note on the "Share" tab.
If the receiver cannot update or install Files by Google app, the receiver can still receive files or apps from any Android phone with Nearby Share. Go to Settings and then Connected Devices and then Connection Preferences and then Turn on Nearby Share.
So this was our guide on how to use the Nearby Share feature to its fullest potential and how it can be really useful to transfer your data from one device to another. It can not only save time by being speedy, but is also secure and easy to use. The best part? It's baked right into the software and you don't have to download any third party App while worrying about it reading your data.
What is the range of Nearby Share?
Google mentions that you should keep the devices within 1 foot (30 cm) of each other for Nearby Share to work properly.
What's the difference between Quick Share & Nearby Share?
While Nearby Share is Google's technology and is built into every Android device running Android 6.0+, Quick Share is limited to Samsung devices only and works in a similar way to Nearby Share.
Can Nearby Share work without Wi-Fi?
Yes, Nearby share can work without Wi-Fi as the feature works even when you are fully offline.
Does Nearby Share works only with your Contacts?
Nearby Share can not only work with your contacts but with everyone. You can choose with whom you want to share the content, where you can be hidden, share with contacts or be visible to everyone nearby.