Every year many smartphones get released with additional features and specifications. Most people prefer the two popular operating systems, i.e., Android and iOS. There are multiple Android devices, such as Samsung, Xiaomi, Redmi, LG, etc. However, Apple releases their smartphones only in the form of iPhones. There are many perks and privileges of using an iOS smartphone that compel people to upgrade from their Android phones.
To transfer messages from Android to iPhone, this article will introduce an efficient tool. Give a quick read to this guide and ensure fast phone-to-phone transfer easily.
Part 1: Main Reasons to Shift from Android to iPhone
iPhone users enjoy various advantages and features that are not provided on Android devices. This section will highlight some of the perks that many iOS users enjoy:
Secure Environment
iPhones provide enhanced security that can prevent any sort of Virus attacks or privacy invasion. The reason is that iOS devices are locked, and users cannot reach the source code of the device's software. Due to this, users cannot make changes that may increase the chances of security threats. This top-tier security is lacking on most Android devices as users can conduct modifications to their phone's software.
Optimized Performance
The iOS software in iPhones provides fast and optimized performance as compared to Android devices. You can perform multitasking on your iPhone without encountering slow speed or sluggishness. The reason is that Apple uses a series of processors along with advanced chips. Due to this, you can enjoy smooth and fast processing on iPhones.
High-Quality Camera
iPhones undoubtedly provide the best camera results due to their large sensor. It offers optical image stabilization that helps to take professional images even at low shutter speed. Moreover, it includes night mode, cinematic mode, macro photography, and HDR photos and videos. Thus, you can capture and record good-quality photos and videos effortlessly through iPhones.
Exclusive Apps on App Store
There are many apps and games that are available only on App Store. Due to this exclusivity, various trendy apps and games provide distinct features and bug-free performance. Clubhouse and Halide are popular examples of iOS apps.
Consistent Updates
Android devices deliver software updates in a time-consuming manner which may disrupt the daily performance of your device's software. However, Apple releases day-one updates that help in optimizing the overall performance of the phone.
Part 2: Why is Wondershare MobileTrans the Best Tool?
Have you ever tried to transfer data from one phone to another? Wondershare MobileTrans is an extraordinary tool that can help you to transfer more than 18 types of data from one device to another. This compatible platform supports more than 6000 devices belonging to Android and iOS platforms. You can also use this software to transfer media files and other sorts of data from a smartphone to a computer directly.
Furthermore, you can use MobileTrans to transfer your iCloud data to an Android device instantly. This tool is also capable of transferring 5 types of data from PC to mobile phones conveniently. This compatible platform provides fast and secure performance in a comfortable environment. Hence, you can utilize this one-click solution to ensure secure data transfer between phones.
Key Features of MobileTrans – Phone Transfer
MobileTrans can transfer your selected apps from an Android phone to iOS devices efficiently.
You can transfer different files from Android to iOS, such as media files, contacts, calendars, bookmarks, text messages, etc.
This platform safely transfers the data to the destination phone without changing its default settings.
While transmitting, MobileTrans does not harm the original format and quality of your data. Also, it provides complete security and privacy during the whole transfer process.
Part 3: Steps To Transfer Data from Android to iPhone
Are you ready to transfer your data from your old Android phone to the newly bought iPhone? Check the following instructions to complete the respective task:
Step 1: Use the Phone-to-Phone Transfer Option
Download and install Wondershare MobileTrans on PC. From its main toolbar, click on the "Phone Transfer" tab. Afterwards, select the "Phone to Phone" option from the displayed window.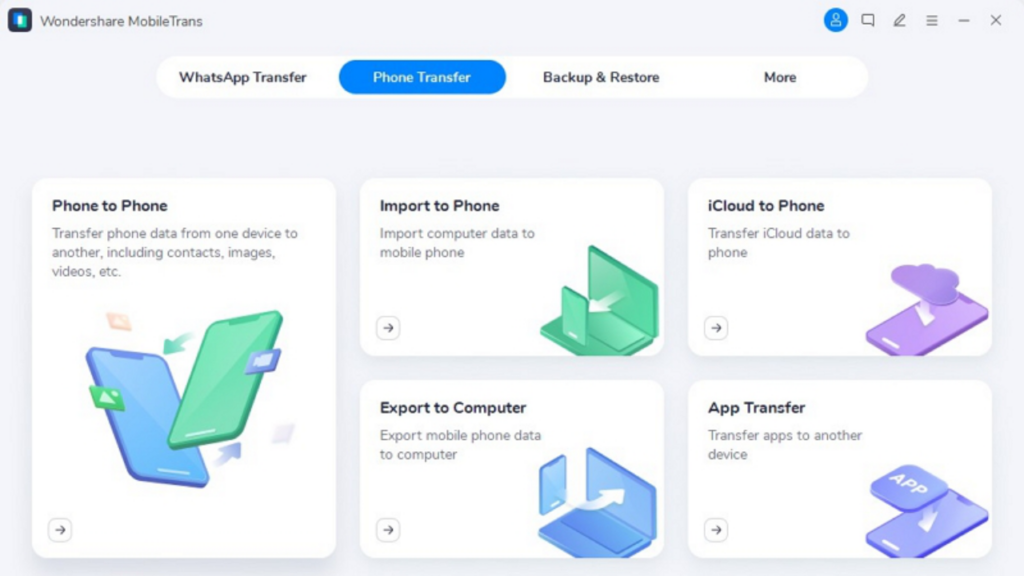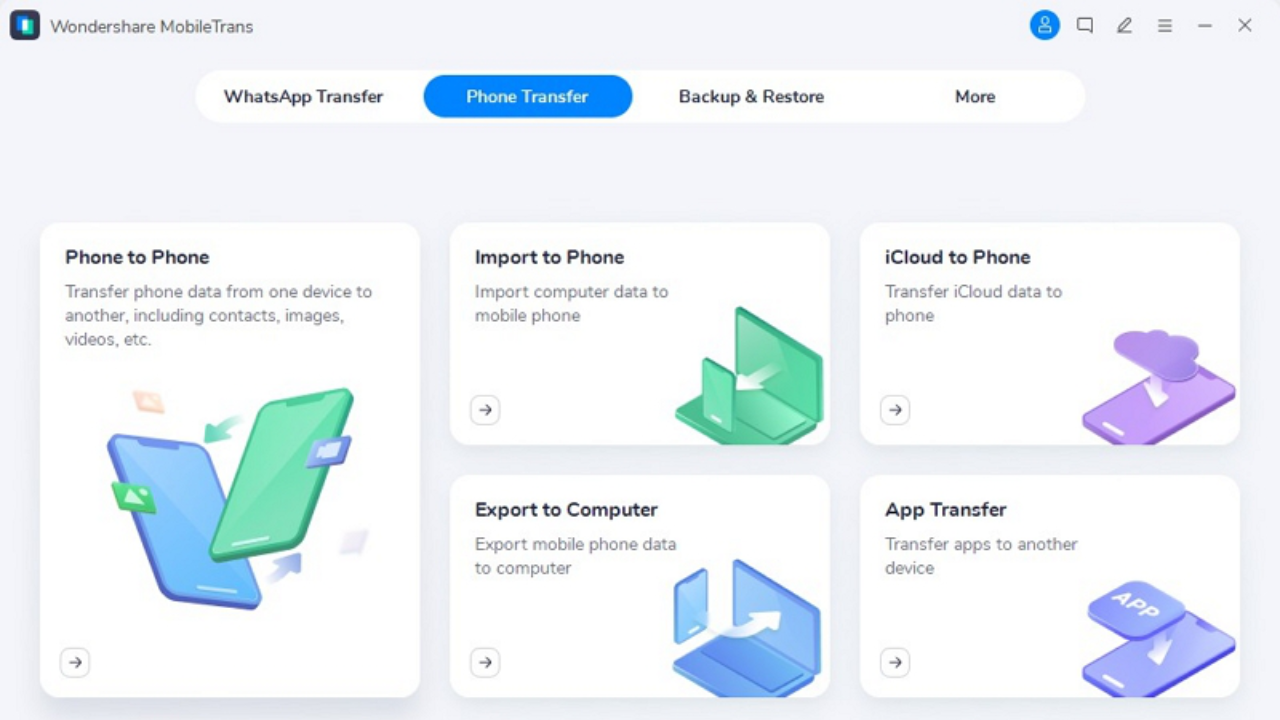 Step 2: Select Source and Destination Phones
After navigating to the Phone to Phone section, attach both of your phones to the computer. You can use a USB and lightning cable for this purpose. Now the tool will instantly detect your attached Android and iOS devices. Select your Android phone as "Source" and iPhone as "Destination." Also, you can use the "Flip" button to alter the placement.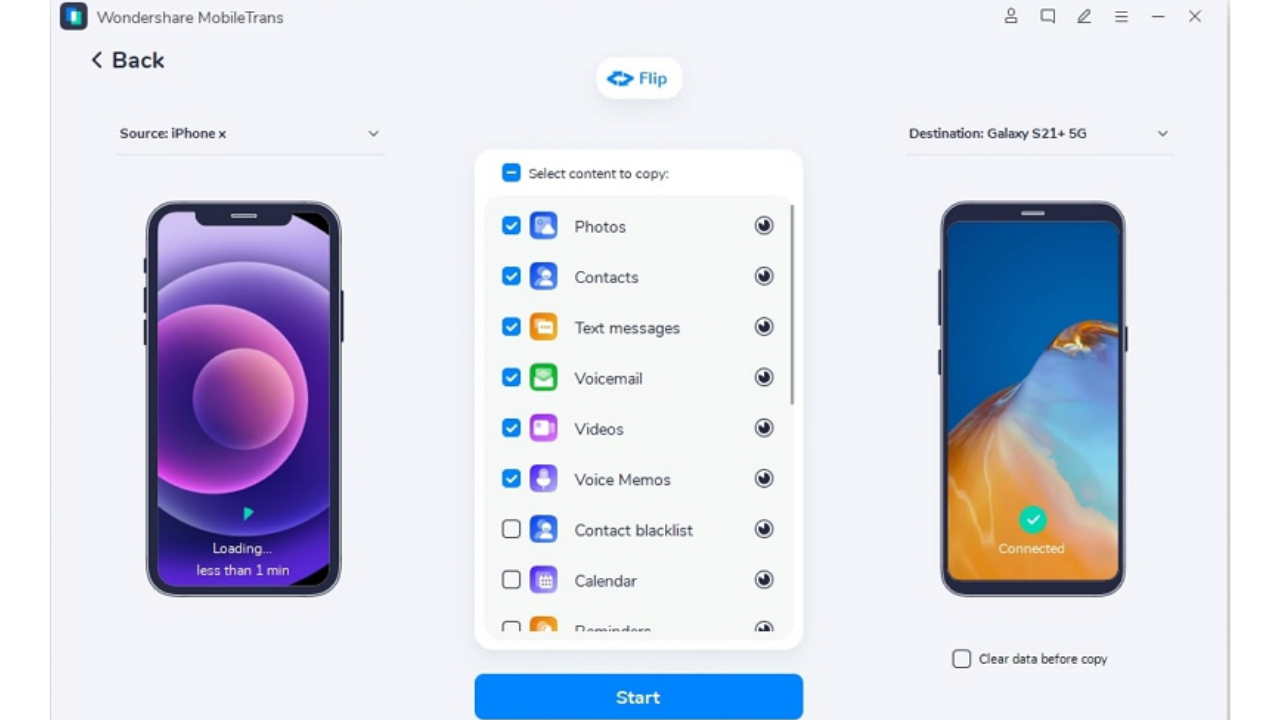 Step 3: Begin the Transfer Process
From the given window, choose the type of data, such as photos, videos, messages, and other files, for the transfer. Once you select the data type, click on the "Start" button. You can also delete the current data from your iPhone by choosing the "Clear data before copy" option.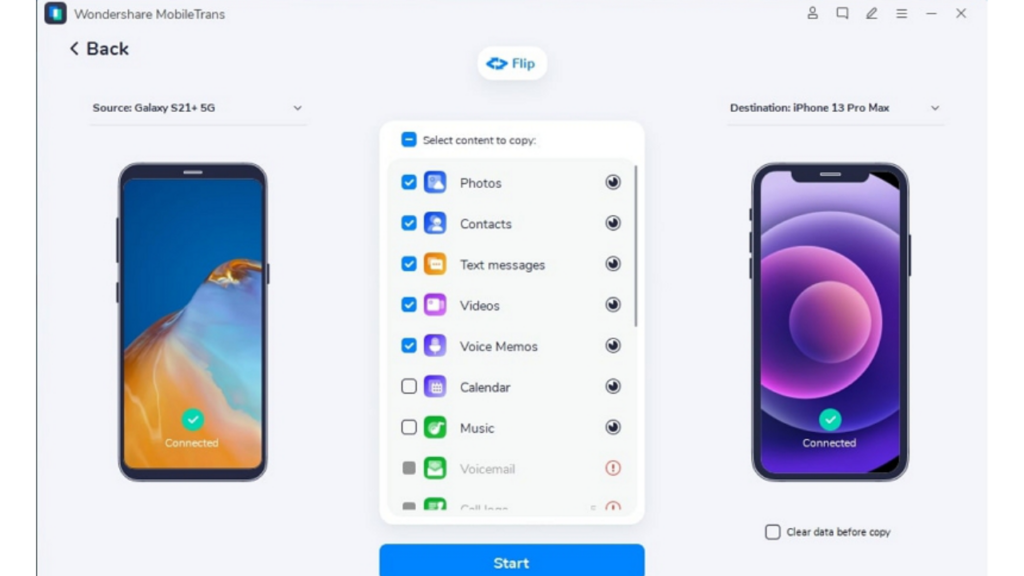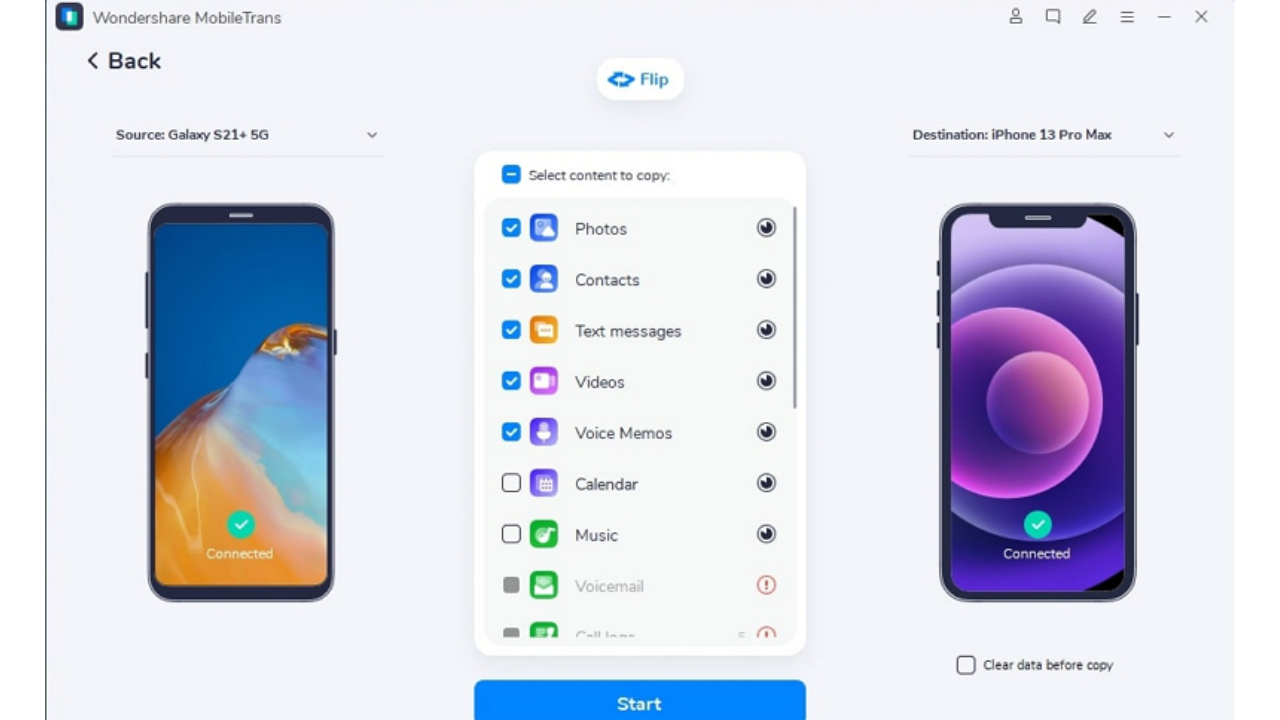 Step 4: Disconnect the Phones
Now, wait until the data transfer gets completed. Once the process concludes, you will be notified instantly. Afterwards, you can disconnect both of your devices from the computer.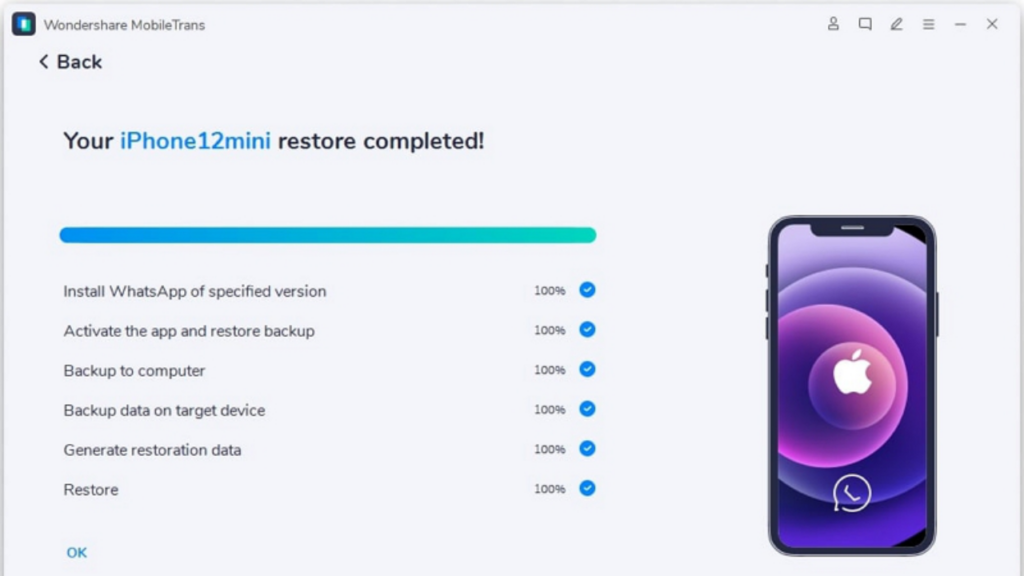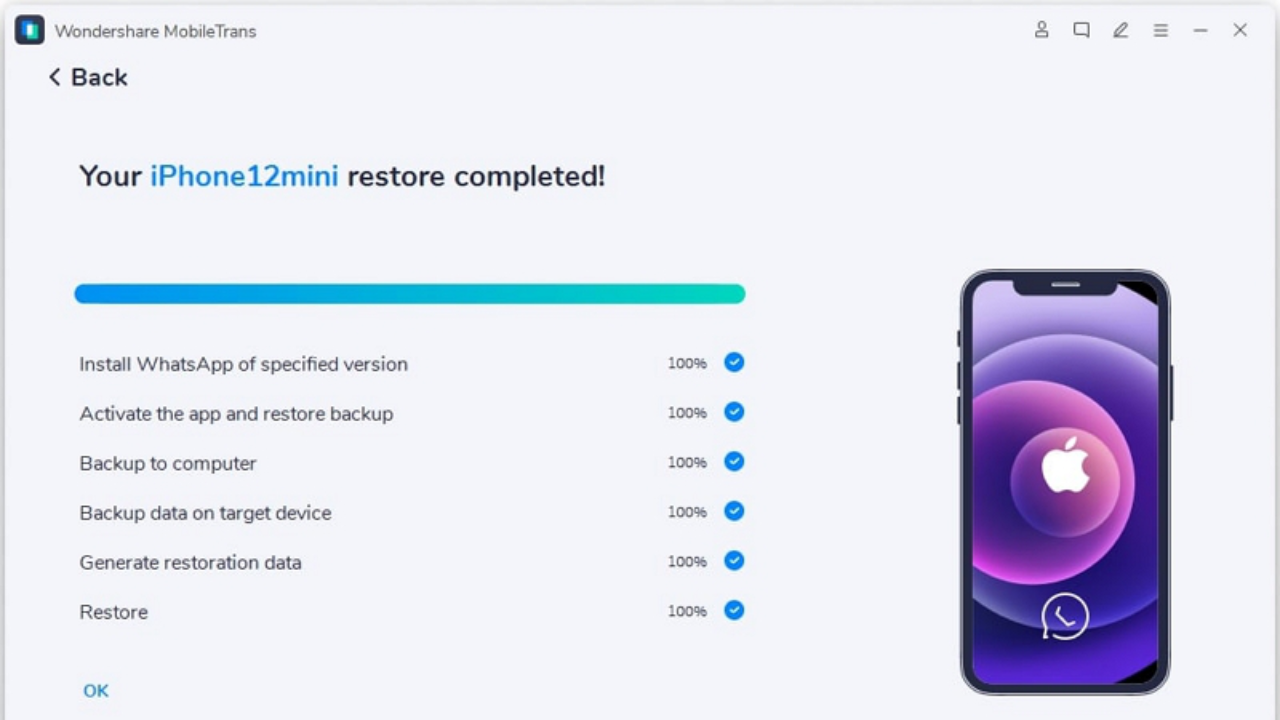 Conclusion
Are you struggling with transferring data from one phone to another? No need to panic as this article has introduced an efficient software known as MobileTrans. Through this tool, you can transfer different types of data from your Android to your iPhone without any inconvenience. Moreover, it provides a clean and powerful interface through which any non-technical person can transfer data between phones smoothly.