The recent verdict by our readers is that they like phones with bigger screens, and therefore while choosing the top 5 phones this time around we have kept in mind the screen size.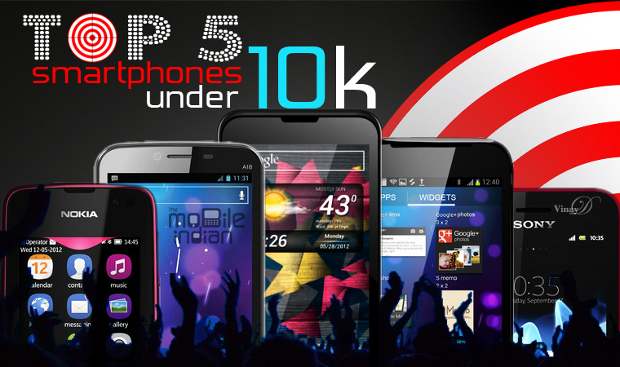 Though there are two phones here which have smaller screens, these devices offer really good value for money that couldn't be ignored.
Nokia Asha 311
The phone is one of the best in Nokia's Asha series. While Asha 303 at around Rs 7,600 was definitely overpriced, Asha 311 for Rs 6,500 offers great value as you get a phone with a 3 inch capacitive screen, a 1 GHz processor, a refreshed UI, a brilliant maps application, GPS, 3G, and WiFi connectivity. Also worth mentioning is the scratch resistant Gorilla glass which I believe no other company offers in this price range.
Plus, there are 40 free games from Electronic Arts. Nokia Ovi too has all the apps you will ever need (FB, Twitter, Angry Birds, Whatsapp etc). All this comes with great build quality and after sale service from Nokia.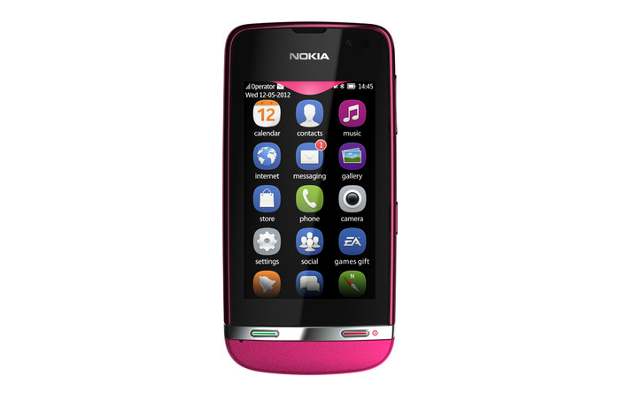 The S40 operating system, being light, works effortlessly on a powerful 1 GHz processor, and the OS is also very simple so it is a good one for first time smartphone users.
While some would argue that this is not a smartphone as it does not support multitasking, the reality is that most entry level Android phones do not support real multitasking either and, moreover, Asha 311 can multitask for basic functions like music, FM etc.
You can also read our comparison of Asha 311 with Samsung Galaxy Y here to get a better idea of what we are talking about. You will also see why Samsung Galaxy Y is not in the list despite being a popular phone from Samsung.
###PAGE###
Sony Xperia Tipo
At Rs 9,500 some would argue that this phone is over-priced given that you get only a 3.2 inch screen, 3.2 megapixel camera and 800 MHz processor. However, the phone has Android 4.0 and also Sony's TimeScape user interface on top of it.
One has to see the performance of the phone to believe in its value. The smartphone works fine and rivals some of the more powerful smartphones in terms of speed and fluidity.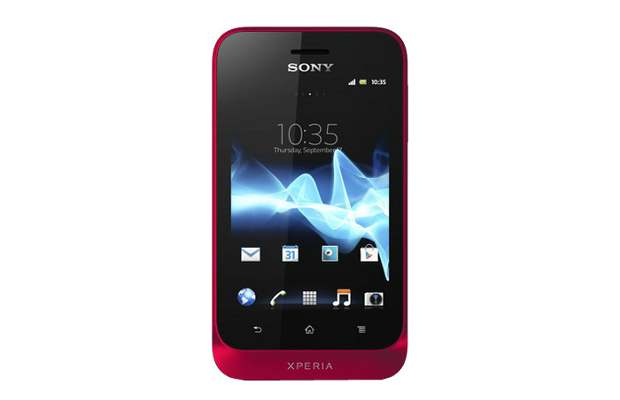 Talking about the user interface, Sony has made some heavy modifications and it doesn't look like Android 4.0 at all. However, these modifications have made the OS simpler.
The phone is stylish to look at too, with a choice of four different colours. It has a good camera and good battery life. Others in this category still run Android 2.3 and there has been no announcement of an upgrade. So if you want the latest of what Android has to offer, this is the phone for you.
There is a dual SIM version of the phone available too for Rs 10,200. The prices of both these phones are likely to go down soon and should settle at Rs 8,500 in the near term.
Micromax Ninja 4.0
Micromax has been on a launch spree of late, and most of its new devices have been landscape changing models. Its Ninja series is one such mould breaking model. What Micromax has done with this phone and its slightly smaller siblings is to bring in a device entirely focused on large screen and price.
Priced at Rs 6,000 the phone offers a 4 inch screen with decent resolution of 800 x 480 pixels, and a 1 GHz Qualcomm Scorpion processor which is fast, as well as Android 2.3 operating system. The phone gets all the connectivity options and sensors that you normally find in an Android phone including 3G, WiFi, GPS etc.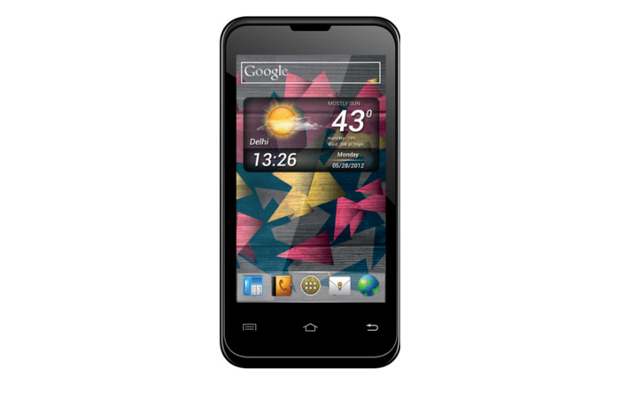 However, to reduce cost there is no proximity sensor (that switches off the screen when taking calls to avoid accidental pressing of buttons,) though it works just fine with some modifications like auto screen switch off a few seconds after calling. The camera too is a weak 2 megapixel unit which is not at all good.
The other major compromise to reduce price is the 256 MB RAM that Micromax has put in. This is really low and will impact the performance of the otherwise powerful processor as there is only 133 MB left for applications. However, you can have a good task killer app installed, which will keep the phone running fine.
In a nutshell, if a large screen is what you are looking for at a cheap price then this is the phone you want.
###PAGE###
Karbonn A18
A18 is the latest Android smartphone from Karbonn. It operates on Android v4.0 Ice Cream Sandwich OS with a 1 GHz processor and 512 MB of RAM.
The highlight of the phone, however, is its 4.3 inch capacitive touchscreen with 480 x 800 pixel WVGA resolution. The display also uses IPS technology which allows the user to view the screen from more angles when compared to displays that lack it.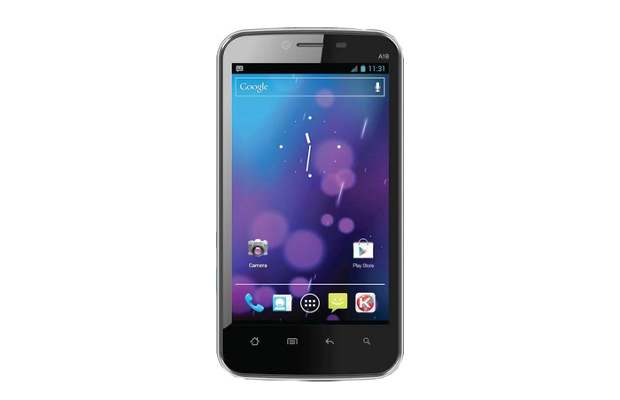 Additionally, the phone uses dual GSM SIM functionality and a powerful 5 megapixel primary camera which can take pictures as well as shoot video. The device also comes with a 1.3 megapixel secondary camera. The camera is backed by an LED flash and is equipped with useful features such as auto focus, face detection and burst mode.
The phone is priced at Rs 9,700 which is good for what is on offer. The quality of the phone is also decent. Karbonn is the first Indian brand to promise Android 4.1 Jelly Bean update for its tablet and it is likely to bring the update for this phone too.
Micromax Canvas A100
The story this time is about a large 5 inch screen. Here again Micromax has done a good job by bringing in Canvas A100 with a 5 inch touchscreen which provides 480 x 854 pixel FWVGA resolution.
The phone is based on Android v4.0 Ice Cream Sandwich OS and is backed by a 1 GHz Scorpion processor as well as 512 MB of RAM.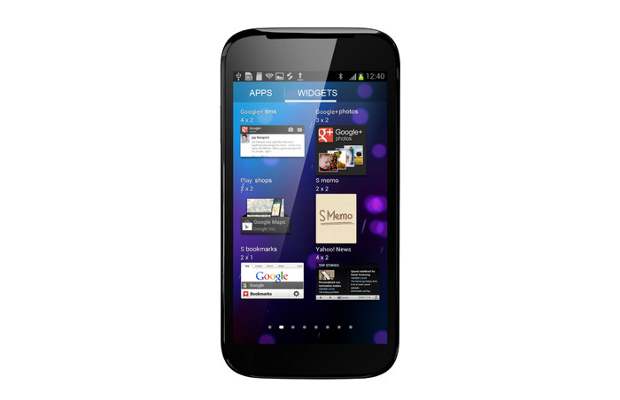 Canvas A100 comes with dual GSM SIM functionality and a 5 megapixel primary camera. The camera comes with useful tools like a flashlight and night vision. There is a secondary 0.3 megapixel camera as well and the phone runs on a large 2000 mAh battery.
A100 is priced at Rs 9,999 which is very attractive. If you're considering buying this device, though, you should also check out Stellar Horizon Mi500 from Spice, which has similar specifications and is likely to be available soon, and also take a look at Mercury Magiq.
Other good phones
LG Optimus L3 with 3.2 inch screen and specifications similar to Sony Xperia Tipo is also available, and so is the Galaxy Y from Samsung. Both these phones are good for their price, but they don't really have the outstanding features that the listed phones do.