When it comes to top of the line smartphones that offer a great combination of best in class performance and features, their high price can be justified by the features they have to offer, and of course, the exclusivity of having these devices is the big thing. Flagship devices offer the much needed exclusivity factor that smartphone users seek.
While these devices are no doubt costly there are quite a few people who want performance and nothing else, and these devices fulfill their every need. While flagship devices are available across operating systems and even brands, it is very difficult to select a few and let the others go. And that is what buyers have to go through while eyeing such devices. So, simplifying your problems to a great extent we present the top 5 devices that cost upwards of Rs 30,000.
iPhone 5 (Rs 45,500)
The new Apple iPhone 5 is lighter, thinner and faster compared to its predecessor iPhone 4S. In short it is in every sense better. Featuring a big 4 inch Retina display, the iPhone 5 has a new design and packs a faster Apple A6 mobile processor. The iPhone 5's 4 inch Retina display comes with 1136 x 640 pixel resolution and 326 pixels per inch density. This Retina display is based on IPS panel technology and supports multi-touch. It also comes with a finger-resistant oleophobic coating.
The new iPhone 5 is 18 per cent thinner and 20 per cent lighter compared to the iPhone 4S. Sporting a new design, the iPhone 5 is 7.6 mm thin and weighs a mere 112 grams. Inside the chassis, it packs a new Apple A6 quad core mobile processor comprising of ARM Cortex A15 core architecture.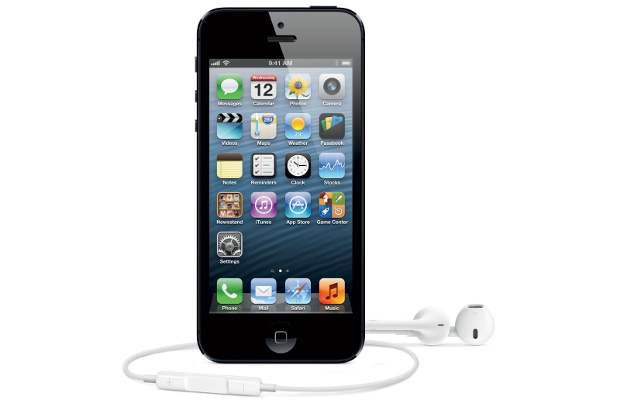 Apple has used the new iSight camera, which features an 8 megapixel image sensor that is 25 per cent smaller than the iPhone 4S's sensor. Apple has also introduced a Panorama mode, which will allow users to capture images at up to 28 megapixel resolution.
Apple has added three high density microphones for enhanced video recording in full 1080p HD video resolution. The front facing camera has been bumped to 1.2 megapixel and it can offer 720p HD video resolution for Apple's FaceTime video chat feature. Now users can engage FaceTime even over cellular networks as it was limited only to WiFi networks previously.
###PAGE###
Nokia PureView 808 (Rs 31,000)
The flagship Nokia Symbian smartphone Nokia 808 PureView is highly acclaimed for its 41 megapixel image sensor, which is by far the maximum ever number of megapixels or resolution to be supported by any smartphone. Bearing an f/2.8 aperture, the 41 megapixel camera promises 7728 x 5354 pixel images in 16:9 format along with full HD videos at 30 frames per second. And it's not just about the image sensor, but the technology accompanying that makes this device a must have for shutter bugs.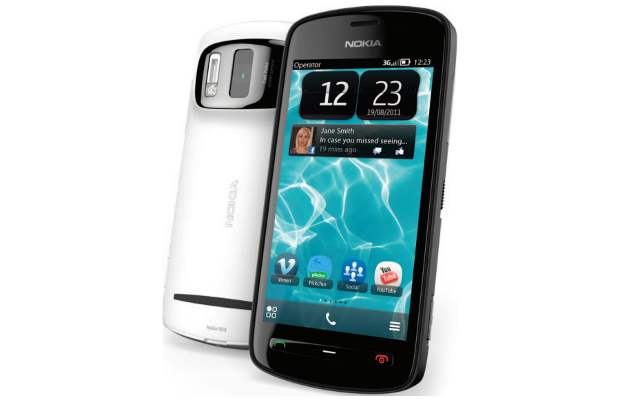 Nokia 808 makes use of PureView Pro imaging technology that over samples the pixels captured by the image sensor for a perfect picture that has both clarity and depth as well. To do all the calculations and that too without any lag Nokia utilizes a secondary or companion processor.
The Nokia 808 smartphone features a single core 1.3 GHz mobile processor aided by a companion processor and 512 MB RAM for optimal performance. It is based on the Nokia Belle operating system that is designed for performance. The smartphone comes with 16 GB on board storage and can support up to a 64 GB micro SD card, which will come in real handy while recording high definition videos.
HTC One X (Rs 34,000)
HTC One X is the flagship One series smartphone, with a polycarbonate unibody, unique slimness, and Gorilla Glass strength. Featuring a 4.7 inch HD Super LCD 2 display, the One X supports a resolution of 1280 x 720 pixels, and is therefore great for gaming and doing justice to HD visuals.
HTC has used slightly contoured Corning Gorilla Glass to protect the display from usual wear and tear on the screen. The One X houses a quad core 1.5 GHz Nvidia Tegra 3 mobile processor with an integrated fifth battery-saver core. For the best possible graphics it has a high performance 12 core Nvidia GeForce GPU that functions on the lowest possible power and offers the best possible performance for a mobile device.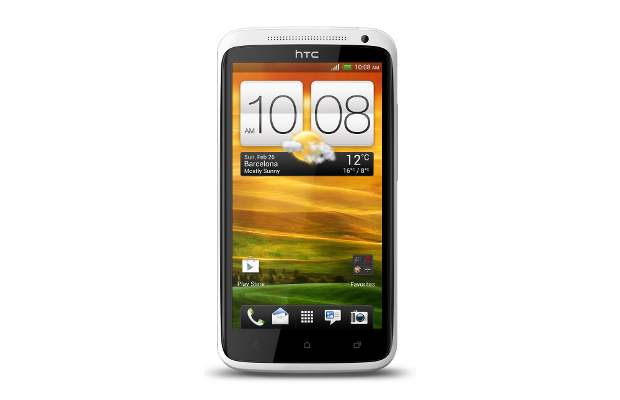 This smartphone features HTC Sense 4.0 UI with Android 4.0 Ice Cream Sandwich. Packing a 1 GB RAM, this smartphone offers 16 GB onboard storage, but does not feature a memory card slot, which is a letdown along with the non-removable battery design.
HTC has also launched the HTC One X+ smartphone which comes with 25 per cent better performance and Android Jelly Bean along with a whopping 64 GB of memory. Although the device has been launched it will still take a few days to reach markets leaving the flagship spot to the One X for now.
###PAGE###
Samsung Galaxy Note 2 (Rs 38,000)
When the Samsung Galaxy Note was launched there was a dislike for the device because of its big screen size, but things quickly went all the way round, making it one of the most popular devices of today. So much so that Samsung came up with an even bigger and better Note device.
The new Samsung Galaxy Note II features a 5.5 inch HD Super Amoled display with 1280 x 720 pixel resolution and a quad core Exynos processor for super fast computing. Along with Android 4.1 Jelly Bean this phablet offers great utility and features.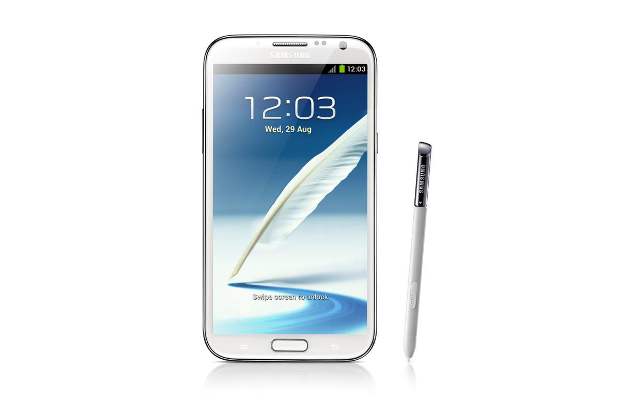 The Galaxy Note II houses a quad core 1.6 GHz Samsung Exynos 4 quad core mobile processor with 2 GB RAM and Mali-400MP graphics chip, which gives it an edge over the Samsung Galaxy SIII even.
Samsung has also implemented a new feature called Popup Note that lets the user open the S Note instantly as a pop-up window anywhere on the screen. The Galaxy Note II has an 8 megapixel camera at the back with auto focus and LED flash. This camera is capable of recording full 1080p HD video at 30 frames per second, and on the front it has a 1.9 megapixel camera for video calling.
LG Optimus Vu (Rs 30,500)
LG has till now been launching devices at frequent intervals while keeping its fans happy. Now, with its new flagship device LG Optimus Vu, LG's fans are certainly in for a treat.
The 5 inch display based Optimus Vu smartphone created a lot of buzz due to its unconventional display aspect ratio. The phone has a 4:3 aspect ratio, which will be much more beneficial for users in terms of entertainment and taking notes.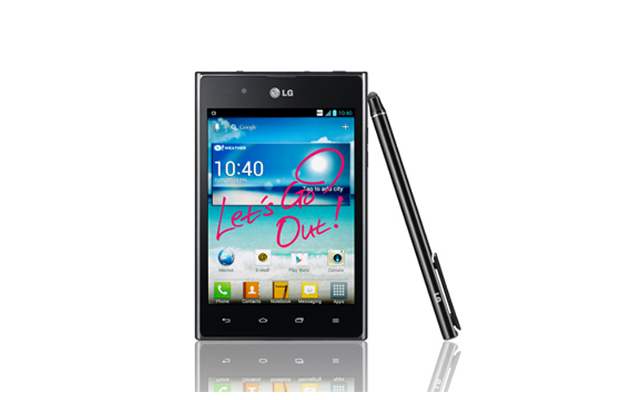 The LG Optimus Vu uses In Plane Switching (IPS) technology in its display, which supports a resolution of 1024 x 768 pixel. The Optimus Vu features a 1.5 GHz Nvidia Tegra 3, 4 plus 1 processor, 1 GB of RAM and 32 GB of internal storage. It has an 8 megapixel rear camera, a 1.3 megapixel front-facing camera and an HDMI port for easy connectivity with bigger screen devices.
The device also has a 2080 mAh battery for great backup times and it runs on Google's Android Ice Cream Sandwich operating system, which the company also plans to upgrade to Jelly Bean.