The high-end segment of the smartphones is what gets the best and top of the line features all the time. While the Android phones still continue to offer something novel in terms of display or camera app, the Apple iPhone 4S still delivers great leisure with several apps but at a cost. HTC introduced Super AMOLED display bearing slim One S smartphone in last couple of weeks.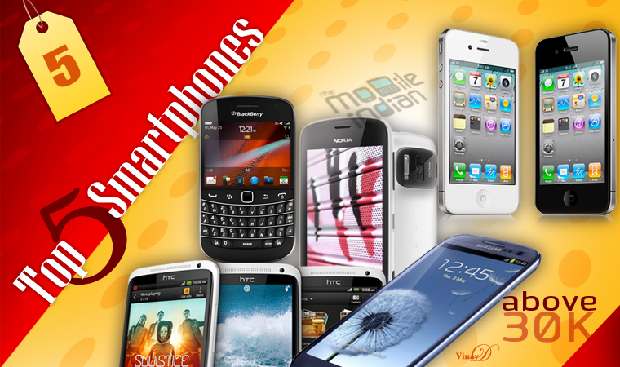 Here is a quick list of top five smartphones that promise almost best of all round performance for a price over Rs 30,000.
Samsung Galaxy S III
Samsung's new flagship smartphone Galaxy S III GT-I9300 arrives with Android 4.0 Ice Cream Sandwich and Nature UX. The Galaxy S III features a massive 4.8-inch HD Super Amoled Plus PenTile touchscreen display panel. This panel has been built using Corning Gorilla Glass 2 for more strength and protection against scratches. By default, the Galaxy S III can support 1280×720 pixel resolution natively and thereby is ready for all your HD content to be watched on the go.
Under the 8.6mm chassis, Galaxy S III packs a quad-core Samsung Exynos 4 Quad mobile processor clocked at 1.4 GHz. Samsung has also features some novel features like the Smart Stay that keeps the screen awake till the user is looking at it. Once the sensor stops detecting the open eyes, the Smart Stay feature puts the screen into sleep mode and helps save the battery.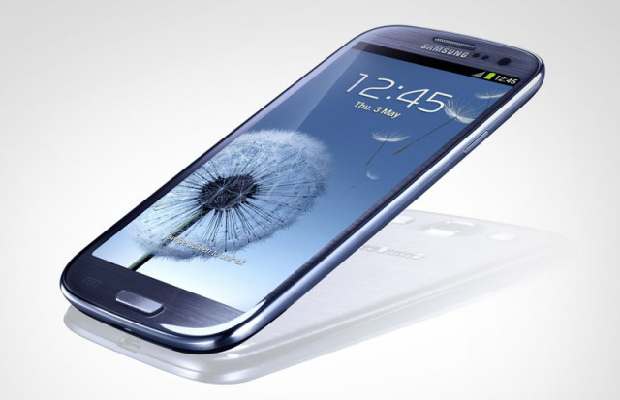 Samsung offers the Galaxy S III with Android 4.0 ICS coupled with new version TouchWiz 4.0 user interface dubbed as Nature UX which is claimed to be less intrusive than its previous versions. At the back, is an 8 megapixel camera with an LED Flash that offers simultaneous image capture while the video is being recorded. In the front lies a 1.9 megapixel camera that offers 720p HD video recording at 30 frames per second and can also be used for video chat.
The Galaxy S III also packs Bluetooth 4.0, dual-network GPS support, 50 GB Dropbox Storage for two years, Stereo FM with RDS, and micro SD card expansion slot. Packing a 2100 mAh battery the Galaxy S III runs longer than any other major smartphones for about 12 hours. Samsung Galaxy S III is currently available in market at a best price for Rs 38,900 or less.
If you really want a great display device but can't extend your budget then we would recommend you to go for Galaxy Note. This monstrous Samsung smartphone is almost like a tablet featuring 5-inch HD Super Amoled display with 720p HD native resolution. Packing a dual-core 1.4 GHz Exynos family mobile processor, the Galaxy Note recently got the Android 4.0 Ice Cream Sandwich update. Samsung has packed an S Pen Stylus with this smartphone and offered a massive 2500 mAh battery with it. Currently, this smartphone retails around Rs 32,700 and has been quite a hit amongst business class users.
###PAGE###
HTC One X
The HTC One series of smartphones come with new design and has Android 4.0 Ice Cream Sandwich pre-installed on it. The HTC One X has a polycarbonate unibody chassis and thereby has a non-removable battery. This phone has special coating at its back so that one can easily wipe of the stains. Showing off a lightweight body, the phone features a great design and feels really comfortable in hands.
Featuring a 4.7 inch HD capable Super LCD 2 display, the One X supports native resolution of 1280×720 pixels and thereby is 720p HD content ready. HTC has used slightly contoured Corning Gorilla Glass to protect the display from usual wear and tear on the screen. The One X houses a quad-core clocked 1.5 GHz with Nvidia Tegra 3 mobile processor with an integrated fifth battery saver core. For best possible graphics it has a high performance 12 core Nvidia GeForce GPU that functions on lowest possible power.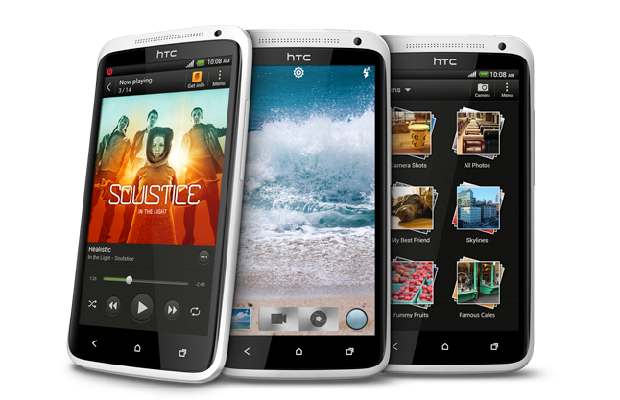 With the fresh and slick looking Sense 4.0 UI, HTC has made some commendable improvements in the Camera app to make it as fast as possible with 0.9 second lag timing. It also features a phenomenal burst mode that allows shooting up to 99 images in a quick succession. Although the actual quality of the image is quite a debatable subject, those looking for a great camera to capture quick shots will certainly be satisfied with this device.
HTC has also introduced the new One S smartphone with 4.3-inch Super Amoled touchscreen display, dual-core 1.5 GHz Qualcomm Snapdragon Krait processor and mere 7.8 mm thickness. This smartphone features HTC Sense 4.0 UI with Android 4.0 Ice Cream Sandwich. Packing 1 GB RAM, this smartphone offers 16 GB onboard storage but does not feature a memory card slot which is such a letdown. Only down side possibly citable is the non-removable battery design.
HTC One S is priced at around Rs 32, 500 approximately while the One X continues to retail at a best price of Rs 36,500.
Nokia 808 PureView
Nokia's flagship Symbian 808 PureView is slowly creating raves with the 41 megapixel image sensor. The Nokia 808 PureView has a 4-inch AMOLD ClearBlack touchscreen display which is gorgeous on paper unfortunately supports 640×360 pixel resolution. Although,the display has been built using Corning Gorilla Glass technology for strength. Nokia 808 PureView packs a single-core 1.3 GHz ARM 11 architecture based mobile processor to power the Belle Feature Pack 1 OS with 512 MB RAM.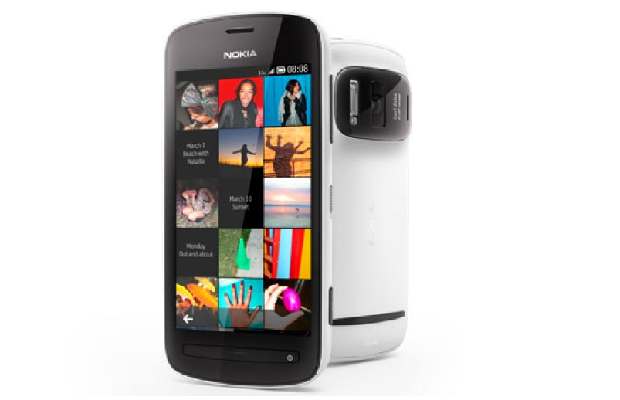 Most novel part of this Nokia device is the 41 megapixel image sensor that comprises of Carl Zeiss optics and Xenon Flash. Nokia has added the PureView Pro imaging technology which basically makes the image sensor utilise the pixel oversampling technique to deliver best and clearest quality photos. The camera is capable of recording a full 1080p HD video and one can also go ahead for 4x lossless digital zoom. There's a front facing camera but surprisingly has not been enabled for usage.
The Dolby Digital Plus mobile chip housed inside the phone delivered great multimedia experience with the supporting headphones. Nokia has added a 1400 mAh battery which promises about 11 hours of talk time over 2G networks. Other features of this device include secondary mic for audio recording, Stereo FM with RDS, WiFi, Bluetooth, and GPS support. Nokia 808 PureView is available in Indian market for best price of Rs 32, 500 or less.
###PAGE###
Apple iPhone 4S
Apple's iPhone 4S still remains one of the favourite smartphone that promises loads of fun with massive App Store and great set of features. Apart from the new virtual assistant Siri, the iPhone 4S also features a great 8 megapixel camera and stellar hardware. With the iOS 6 anticipated in coming weeks, the iPhone 4S suddenly has become the hot property again.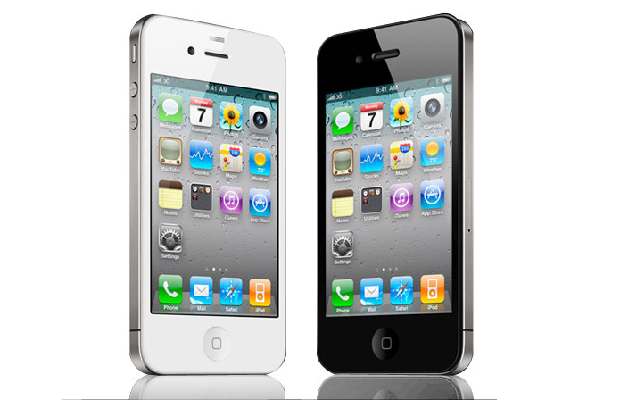 Sporting a dual core 1 GHz Apple A5 processor, the iPhone 4S offers faster graphics than its predecessor – iPhone 4. This smartphone has a 3.7 inch Retina display that supports 960×640 pixel resolution. With great viewing angles, the phone certainly makes Photography amateurs would be pleased with its 8 megapixel camera that can quickly click as many pictures as you want in a minute without crashing or spoiling the quality. Besides, the camera is capable of recording full 1080p HD videos at 30 frames per second.
One can edit the same video on an iPhone 4S using the iMovie app. The phone's front facing camera can be used for FaceTime video chats with other iOS devices and Mac computers. This smartphone did face some battery drainage issues but with the latest update everything is back to normal. The price of this smartphone, which starts at Rs 44,500, though, seems insanely high.
BlackBerry Bold Touch 9900
Research In Motion (RIM) had introduce BlackBerry 7 OS based smartphone with BlackBerry Bold Touch 9900. This Bold series smartphone has a premium build with the famous Bold series keyboard with that. The Bold 9900 has a 2.8 inch touchscreen display and under it has QWERTY keyboard. The BlackBerry 7 OS brings major improvements over BlackBerry 6.1 OS in terms of Liquid Graphics and better software performance. RIM also touts the new Bold 4 as slimmest BlackBerry Bold smartphone.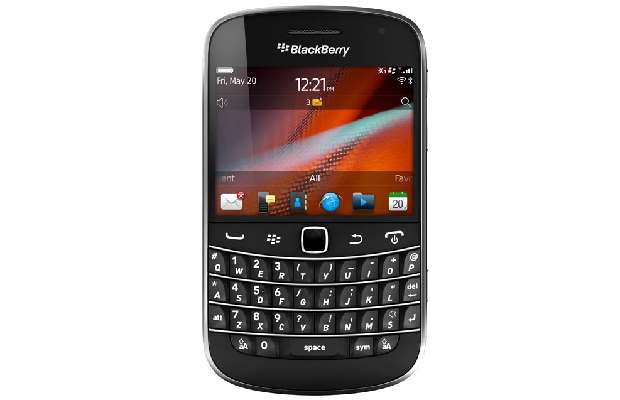 The BlackBerry Bold 9900 houses single-core 1.2 GHz Qualcomm Snapdragon processors with 768 MB RAM. By default, Bold 9900 has 8 GB on-board storage and can accommodate up to 32 GB memory card. This smartphone has a fixed focus 5 megapixel image sensor with LED flash and can record 720p HD videos as well. Of course, there is no sight of the front facing camera. As of now, there is no guarantee or even a hint whether this device would be getting BlackBerry 10 OS update.
Those who want to use the most comfortable QWERTY keyboard, flawless and premium finish bearing BlackBerry, then the Bold 9900 is your best bet for about Rs 33,350.