There was a time when a smartphone meant a phone with a Qwerty keypad (well there were other things to it as well,) but now that is history. Except for BlackBerry nobody makes smartphones with Qwerty keypads any longer. Till about six months back there were some Android phones available with physical buttons but now even they are no longer sold.
In the feature phone segment too finding a Qwerty keypad is difficult. Either you will find an alphanumeric keypad or touch display. We have not tested or even seen many Qwerty phones sold by Indian brands. By and large, only Nokia has been launching products with Qwerty keypads of late (even if Indian brands launch they seldom announce their devices).
This story was necessary because we still get queries from people asking for the best phones with physical keypads. Most people are not comfortable with only a touch display. If you are one of them, here are the top five choices for you in each range.
BlackBerry Q10 (Rs 44,900)
Nothing beats BlackBerry Q10 if a physical keypad is must for you. Though it is not cheap, priced at Rs 44,900, it gets the best hardware, very latest software and a touchscreen as well. You can read the review of the phone here (https://www.themobileindian.com/reviews/825_BlackBerry-Q10-review:-Qwerty-is-back).
The BlackBerry 10 OS bearing BlackBerry Q10 smartphone features a physical Qwerty keyboard along with a touchscreen display. It has a 3.1 inch Super Amoled display that packs 720 x 720 pixel resolution natively. Besides offering 328 pixel per inch pixel density, the screen also supports multi-touch and under it rests a four row Qwerty keyboard.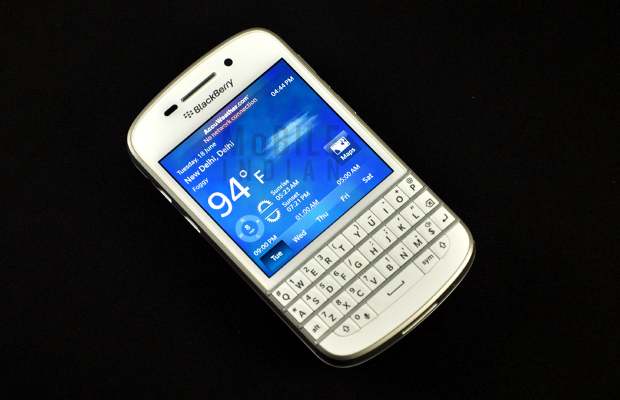 The BlackBerry Q10 is about 10.3 mm thick and weighs 139 grams. This smartphone has a dual core 1.5 GHz Texas Instruments OMAP 4470 mobile processor inside along with 2 GB RAM and 16 GB on-board storage. There is also a hot swappable memory card slot that can accommodate up to a 32 GB micro SD card.
The rear part of BlackBerry Q10 flaunts the same 8 megapixel auto focus camera and LED flash as the one used in BlackBerry Z10. With the capability to record full 1080p HD videos, the Q10's camera promises high quality imaging. There is a 2 megapixel camera in the front capable of 720p HD video recording and there is 3X digital zoom.
BlackBerry Q10 supports quad band GSM networks and packs a dual band WiFi network (2.4 GHz and 5 GHz) along with Bluetooth 4.0. BlackBerry has packed an 1800 mAh battery to offer talk time of 10 hours over 3G networks.
###PAGE###
BlackBerry Bold 9900 (Rs 31,499)
Not everybody has the budget to buy a BlackBerry Q10, and therefore options like BlackBerry Bold 9900, a touchscreen phone with Qwerty keypad exist.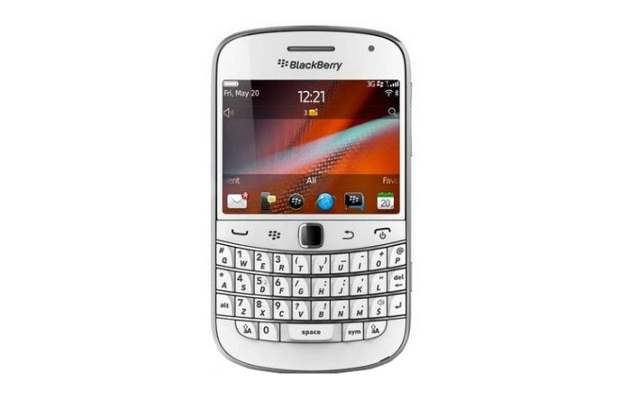 Everything about this device is good. However, it gets version 7 operating system (though BlackBerry says it will support this version in future too,) and there is no front camera. However, if you are not too keen on the dual camera functionality, BlackBerry Bold 9900 is worth having on your wish list. It is built on the new BlackBerry 7 OS and has a 1.2 GHz processor. Other features of the phone include HD video recording, 24 bit high resolution graphics, and advanced sensors enabling new augmented reality applications. It has built in NFC (Near Field Communication).
BlackBerry Curve 9220 (Rs 9,720)
BlackBerry Curve 9220 is the cheapest BlackBerry device with Blackberry OS 7. And though it doesn't offer 3G connectivity it is still a full-fledged BlackBerry. In addition to other things it also gets FM radio.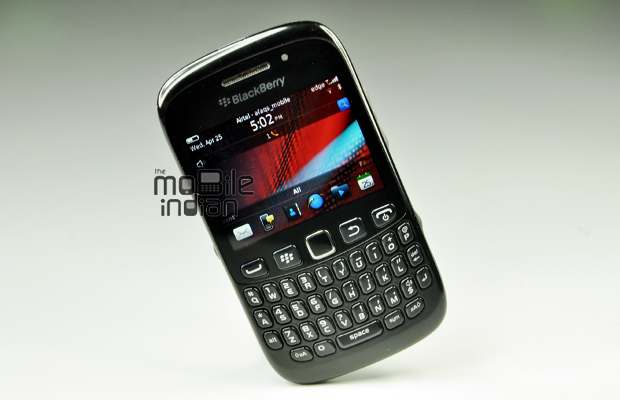 Like other BlackBerry smartphones, the Curve 9220 also comes with a Qwerty keypad that aids easier typing. Besides, the 2.4 inch VGA display bearing handset has a 2 megapixel camera, WiFi connectivity, and expandable memory up to 32 GB through a micro SD card.
The highlight of this smartphone is the dedicated BBM button for instant access to BlackBerry Messenger. You can read the review of the phone here (https://www.themobileindian.com/reviews/389_Mobile-review:-BlackBerry-Curve-9220)
###PAGE###
Nokia Asha 302 (Rs 6,548)
Nokia Asha 302 is based on S40 operating system and comes with a very comfortable and user friendly Qwerty keyboard and 2.4 inch display.
To power this device Nokia has added a 1 GHz processor. Asha 302 is equipped with a 2.4 inch display with 240 x 320 pixel resolution and a proximity sensor which automatically controls the display while the user is on a call. Asha 303 supports up to 32 GB expandable memory and 100 MB internal memory, which is further complimented by its 128 MB RAM and 256 MB ROM.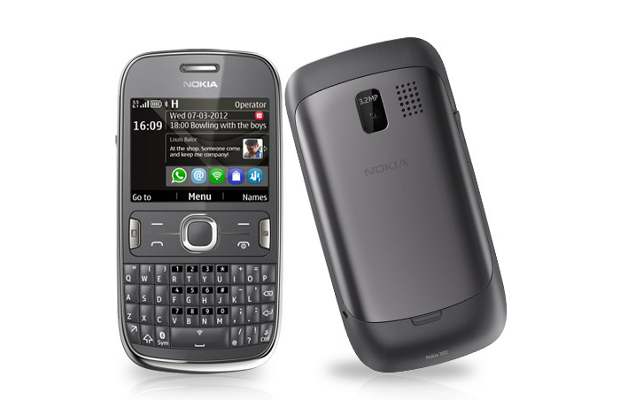 The Nokia Asha 302 features a 3.2 megapixel digital camera with zoom and video capture capability at 15 fps (frames per second) in QICF resolution. It also has a video player, music player, and FM radio as well on the device to keep users entertained while on the move. On the connectivity front it has options like GPRS, Edge, 3G, Bluetooth, WiFi and USB connectivity as well.
Asha 302 also comes with pre-installed entertainment and applications such as Angry Birds Lite, Zenga TV and Whatsapp. Along with that the company is also offering free Nokia Music Unlimited for buyers, which is valid for a whole three months from the date of purchase.
Nokia Asha 303 is also there with a slightly bigger 2.6 inch display, but it is about Rs 1,000 more expensive, making it not so attractive.
Nokia Asha 210 (Rs 4,499)
Nokia Asha 210 is a recent launch and gets a 2.4 inch LCD display with native 320 x 240 pixel resolution. It features a Qwerty keyboard with a dedicated button for WhatsApp. The app has also been integrated with the Phonebook inside the phone to launch WhatsApp directly from there. There is a large spacebar key, which also acts as the WiFi button.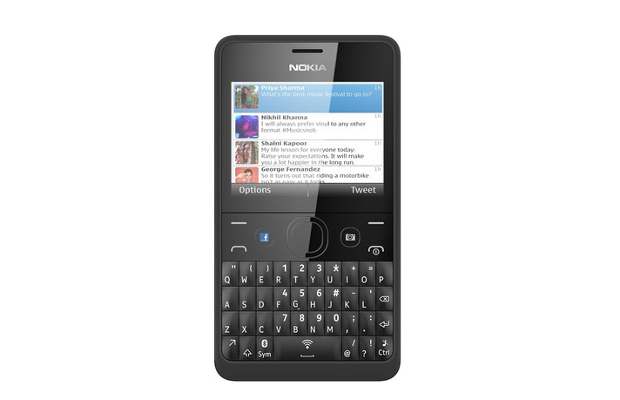 Nokia Asha 210 has 32 MB RAM and a memory card slot to accommodate up to a 32 GB micro SD card. At the rear is a 2 megapixel camera but without flash. There is a dedicated camera button at the side. Appearing 11.8 mm thick, the Nokia Asha 210 runs Asha OS and its dual SIM model will feature EasySwap technology. It enables swapping SIMs without turning off the device.
Asha 210 packs a 1200 mAh battery that promises 46 days' standby time for a single SIM model and 24 days' talk time for the dual SIM model. Asha 210 is a 2G only device and also has a much lower configuration. That is the reason why it is cheaper than Asha 302, but it gets some of the latest features, making it an attractive option to those who use social networks a lot.