With the advent of touchscreens, mobile phones have without doubt become more interactive. Touchscreens have enchanted users and are a hot favourite these days even among mobile phone manufacturers.
Based on the usage of touchscreen phones, here we have some applications that are essential for your Symbian powered Nokia touchscreen handsets.
Opera's latest version for mobile devices, Opera Mobile 11, was launched recently. It is by far the best browser ever for mobile phones. There is something about Opera that makes it unique.
It has, for instance, the Opera Turbo feature, which also exists on the desktop version of the browser. Opera Turbo does a pretty good job on mobiles and helps save time by loading web pages much faster than stock browsers do.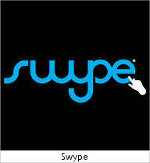 Using the phone's capacitive touchscreen, people can also pinch to zoom or view web pages at optimum zoom level as per their needs.
Swype has recently gained in popularity. It is not just an application but a whole new technology for inputs on touchscreen devices.
As opposed to physically tapping on individual keys even on the touchscreen, with Swype all the user needs to do is maneuver his/her finger over the touchscreen and join the letters that form the word, and Swype will recognise the word.
For example, to type the word 'HOT', a user needs to connect H then O and then T without lifting the finger off the touchscreen. Some people find this to be a faster way of typing, and others find it uncomfortable.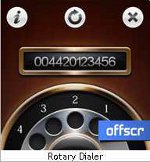 Rotary Dialer
If even thinking about those old rotary dialer phones makes you nostalgic then this is the perfect application for your touchscreen phone. It replaces the default numeric dialer on the phone with a virtual version of rotary dialers found on older phones.
The dialed number appears simultaneously on the screen so you don't end up calling a wrong number. It takes some getting used to but once you do, you will love it.
Cellphone screens will always remain small as these devices are meant to be portable, but that doesn't mean entertainment is sacrificed.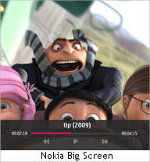 Use the Nokia big screen application to connect your phone to a television via an HDMI connection. This way you can play content stored in your phone on the television screen.
You might be wondering why you should install an application for this considering that it can be done directly through the phone. Well, this application, apart from playing content on TV screens, allows users to control content playback from the phone's touchscreen; or by using a Bluetooth keyboard; or a Nintendo Wii-mote.
If you too find the menu of Nokia smartphones complicated, then the Grid Touch application is there to rescue you.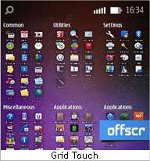 With this application users can define what app or icon should appear on which page or screen.
This application includes a grid of nine pages that holds all the applications installed on your phone. Users can freely and swiftly shift an application from one page to another just by holding it for two seconds. It is also possible to customise the phone as per one's needs.
We reviewed these applications on a Nokia N8.