Today mobile phones have reached more than 60 per cent of the world's population. Although the market share of smartphones is increasing at a fast pace, these devices are still far from outnumbering Java based feature phones.
Java or J2ME (Java 2 Micro edition) phones have been called basic phones because they could originally only fulfill basic communication needs. Over time, though, they've become capable of much more.
Today there are various applications available for all categories of Java phones. In fact, more applications are available for Java phones than for smartphones.
Here we have picked some essential applications for Java based feature phones, and you needn't worry about your pocket as these are absolutely free of cost. They can easily be downloaded from popular websites such as Getjar.
Bolt Lite web browser
Web browsing on a Java based phone is really slow and that is why most people avoid doing it. Bolt web browser, which is specially designed for Java phones, is therefore a must have.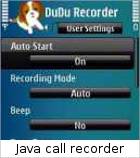 Bolt runs perfectly on phones with limited system resources and renders complete web pages, which the default browser application of the phone cannot.
It also allows users to manage and save bookmarks on the phone and online as well so that the bookmarks can later be synced with any device running Bolt.
Java call recorder
Call recording is fast becoming a much used feature, but sadly Java phones don't usually have an inbuilt call recorder.
Java call recorder is a neat, free utility that you can download on any Java phone.
This application integrates itself with the phone's menu upon installation, and to record a call one only has to hit the menu and select 'record'.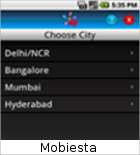 Recorded files can be saved to the phone's internal memory or memory card, in either low or high quality.
Mobiesta
Mobiesta is a help and search application that provides exclusive information and recommendations in nine exciting categories including shopping, food, music and movies.
It currently provides information only for Delhi, Mumbai, Hyderabad and some other major metros in India, but more cities will soon be added to the catalogue.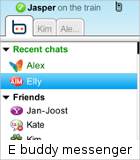 E buddy messenger
There are many websites that enable people to chat on various services without having to log into many separate accounts.
The e buddy messenger application does a similar job and that too from the Java phone itself.
As of now, e buddy messenger supports Facebook, MSN, Yahoo, Google Talk, AIM, ICQ and MySpace chat. Users can type directly in the chat window and upload pictures taken by the phone's camera.
The application also allows people to share pictures with others.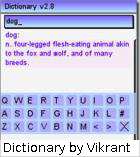 Dictionary by Vikrant
With approximately 34,000 word definitions, this application allows people to search meanings and save multiple bookmarks too.
The latest version of the application runs on touchscreen and Qwerty devices. Users can change the font size, theme and more. This app is quite easy to use and is compatible with most Java phones.