In December, Huawei had launched Mate 20 Pro in India for Rs 69,990. As for the specification are concerned, it features a 6.39-inch Quad HD+ OLED curved display with a screen resolution of 3120 x 1440 pixels, 19.5:9 aspect ratio, DCI-P3 HDR and 820 nits brightness. The phone is powered by the latest Kirin 980 chipset, which is based on the 7nm process along with Mali-G76 MP10 GPU.
It is backed by a 6GB of RAM and 128GB of internal storage with an expandable option of 256GB via microSD card slot. The phone measures 157.8 x 72.3 x 8.6mm, and weight is around 189 grams. We have spent close to two months with the device and here is our review.
Design:
Wow! Yes, that was the expression when we picked up the Huawei Mate 20 Pro for the first time. It rounded metal rim along with curved front and back glass body is mesmerising. The reason being -implementation. It comes in two new colours- Pink Gold and the classic Twilight shade and Emerald Green ( we had this for review).
It has a new pattern style on the back panel which the company calls as 'hyper-optical pattern.' Mate 20 Pro feels comfortable to hold and as compared to any other smartphone which sports a glass body it is non-slippery due to diagonal stripes can be felt if you run a fingernail along the body, attracts negligible fingerprints and doesn't get scratches easily.
The volume and power buttons are placed on the right of the phone. Both the buttons have a smooth texture and have a nice spring action when you use them. The power button is redcoloured, and the contact adds to the style quotient of the mate 20 Pro.
Display:
Huawei Mate 20 pro has a 6.39 AMOLED display with QHD+ resolution with support for HDR. Till the time, we hadn't started using Mate 20 Pro, Samsung's display in their flagship devices was the best for us, but now we consider mate 20 Pro's display as best in class.
The display has vibrant colours and excellent sunlight readability. It even has an oleophobic coating minimises accumulation of fingerprints and smudges. Huawei provides a set of tools to customises the display as per the users liking as well. One can select Natural tone setting that automatically tweaks the colour balance based on the ambient lighting or manually change the colour tone and temperature as per your liking.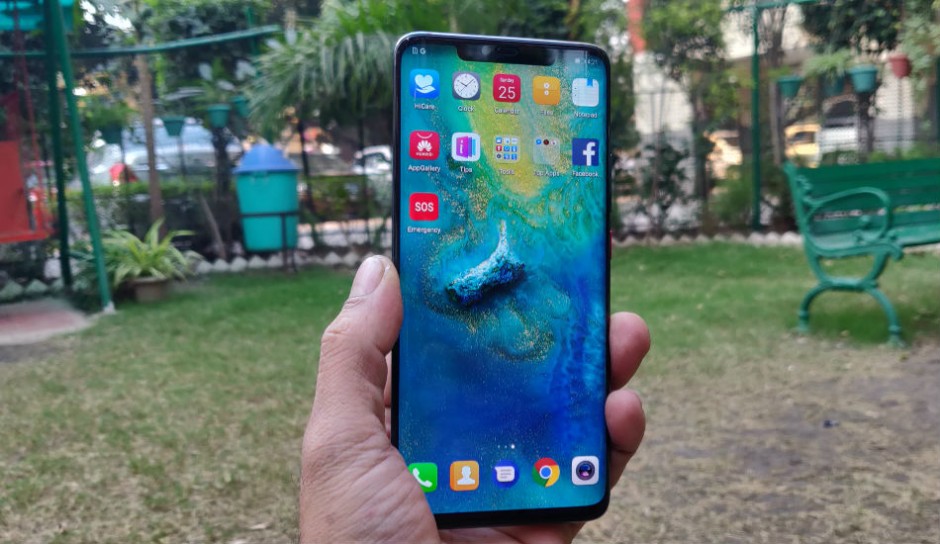 There's also an eye comfort mode which is another name for a blue light filter. Though this feature is not unique to Mate 20 pro but is quite handy if one wants to adjust the intensity of the filter and set up a custom schedule to reduce fatigue on eyes. The default resolution of the display is 3120 x 1440 which can bemanually changed and in case one wants to automatically lower the screen resolution to conserve power it can also be done by activating smart resolution tab. Yes, mate 20 Pro has a notch! But thankfully if you don't want to use it one can disable it from the settings.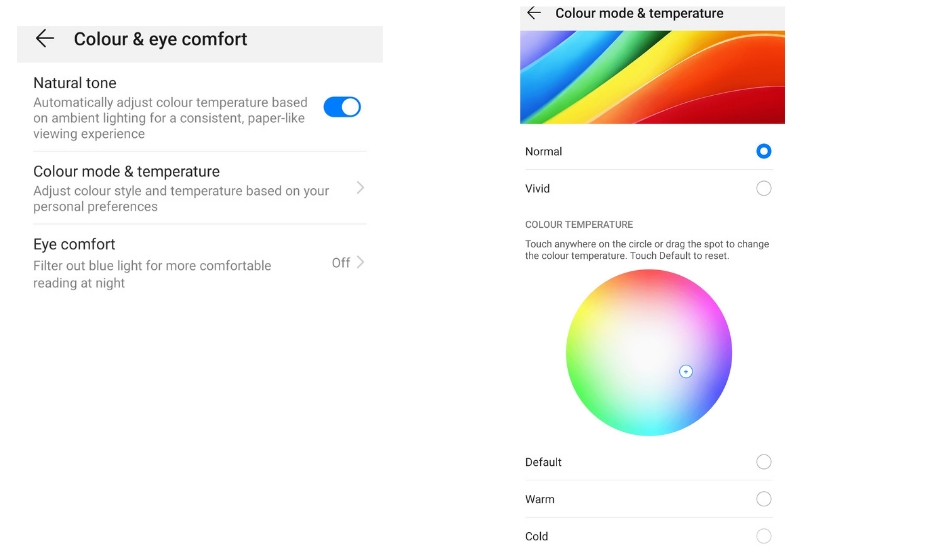 Performance
Huawei Mate 20 Pro is powered by Kirin 980 SoC which can handle multitasking, heavy apps, and graphics intensive games with ease. Also, as compared to Samsung Note 9 or S9 which tend to slow down after memory utilisation crosses 60 per cent, we didn't face any such issue with Mate 20 Pro even worked smoothly even after utilising 70 percent of internal memory.
In every day task one will not encounter any heating issue, but if one is using the device for a prolonged gaming session, it tends to get a bit warm which is quite natural.
User Interface:
The Mate 20 Pro is one of the first devices to from Huawei's stable to EMUI 9.0, which is based on Android 9 Pie. Look and feels wise it looks like the previous version only but having said that there are few noticeable changes as well.
To start with, integration with Paytm wallet as a result of which one can assess the wallet directly from the lock screen using the fingerprint scanner. Secondly, HiVision which is Huawei's version of Google Lens and Bixby Vision. One can access it through the camera app or from anywhere on the home screen. It does a great job of identifying the picture in object what has a long way go in terms of accuracy.
And finally, Translation app which lets you auto-translate text in real-time. The app is good but the list of the Indian languages needs to be beefed up. Huawei Mate 20 Pro also support gesture but its implementation is bad. Most of the time we faced issues with theswipe gestures to elicit a response. The company has also provided Digital Balance feature which lets you monitor your app usage on a daily basis. It is renamed version of Digital Wellbeing feature of Android Pie.
Audio output:
Huawei Mate 20 pro doesn't have a 3.5 mm headphone jack or a speaker grille. The company has made the USB Type-C port to double up as an outlet for sound which has Dolby Atmos-enabled by default and it cannot be switched off when one is using the speaker. Interesting innovation but it results in deterioration on the audio output quality and the impact is felt even more when we used the port simultaneously the charge the device as well. To make the audio output better, earpiece also acts as speaker but it is not of great help as balancing with the primary speaker is a bit off.
During our usage we felt using headphone was a better option and the audio output quality improved significantly.
Camera
Now let's talk about the best feature of Huawei Mate 20 Pro. It has three camera sensors and a dual-LED flash in a square layout. Just below the LED we have a 40-megapixel sensor with an f/1.8 aperture, adjacent to it there is a 20-megapixel sensor with a wide-angle lens and f/2.2 aperture, and above it, we have an 8-megapixel sensor that doubles ups a telephoto lens, OIS, and an aperture of f/2.4. The phone also supports laser, PDAF, and contrast detection autofocus systems. The combination of three sensors along with AI ( artificial intelligence) support makes it possible to shoot standard, wide-angle, and telephoto images with quite ease without any significant loss in the quality.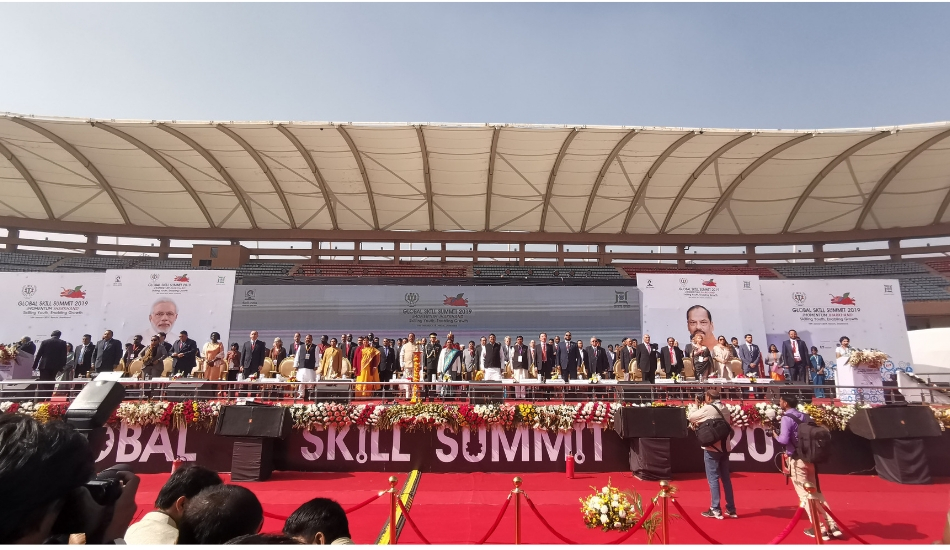 Let's start with Colour reproduction. It is great. It simple terms Delhi sky looks light blueish and the grass looks green. It never felt like the images are over or underprocessed. If we talk about the portrait mode, In spite of having a provision for activating this mode in the camera app, it automatically gets activated ( both front and rear Camera) when the subject in focus in a person. The functionality we missed was lack of an option to control the blur in portraits.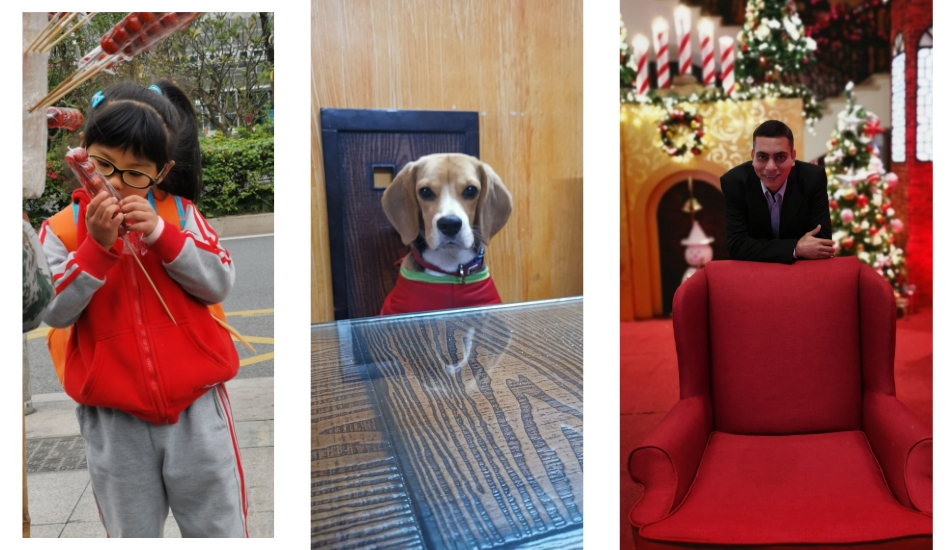 In landscape shots, detailing was bangon. Also one need not worry about zooming in and out to capture a shot because its wide-angle camera or telephoto sensor will be activated automatically. As far as, low light scenario was concerned Mate 20 Pro didn't disappoint us.Detailing was quite visible and the noise was minimal.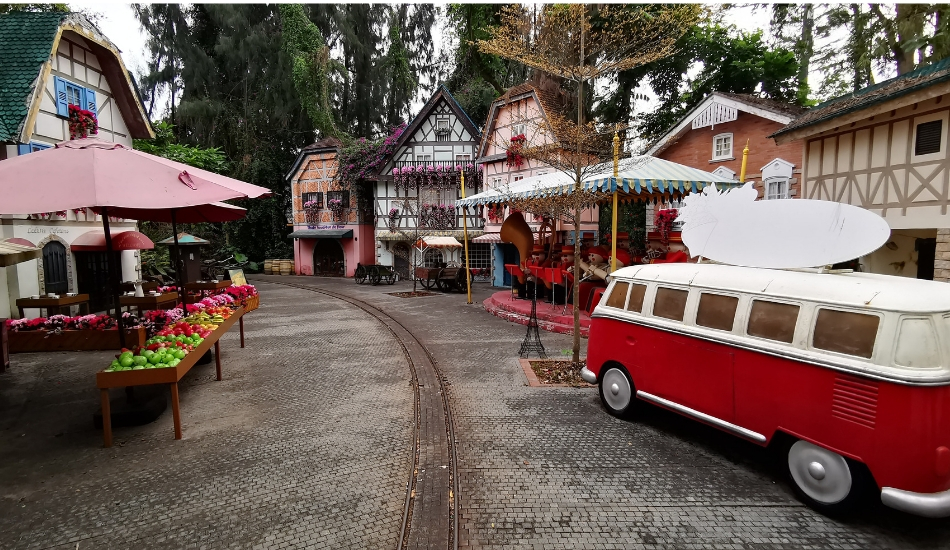 The 24-megapixel selfie camera which has an f/2.0 aperture also produced terrific results. Though low light portraits shots lacked detailing and showed a lot of noise. In the video department Mate 20 can shoot videos at up to 4K at 30fps. Recording quality was excellent and stabilisation was much better than other flagship smartphones from Samsung, Apple or OnePlus.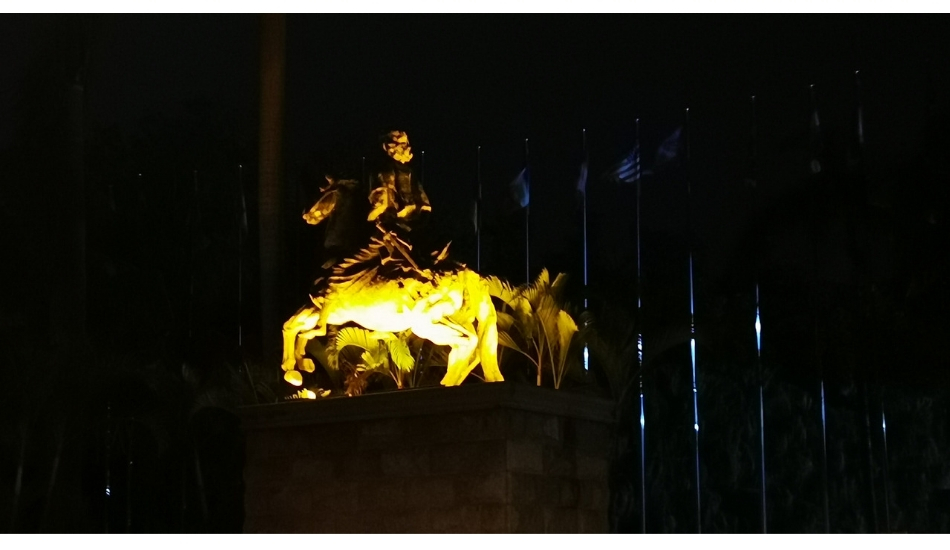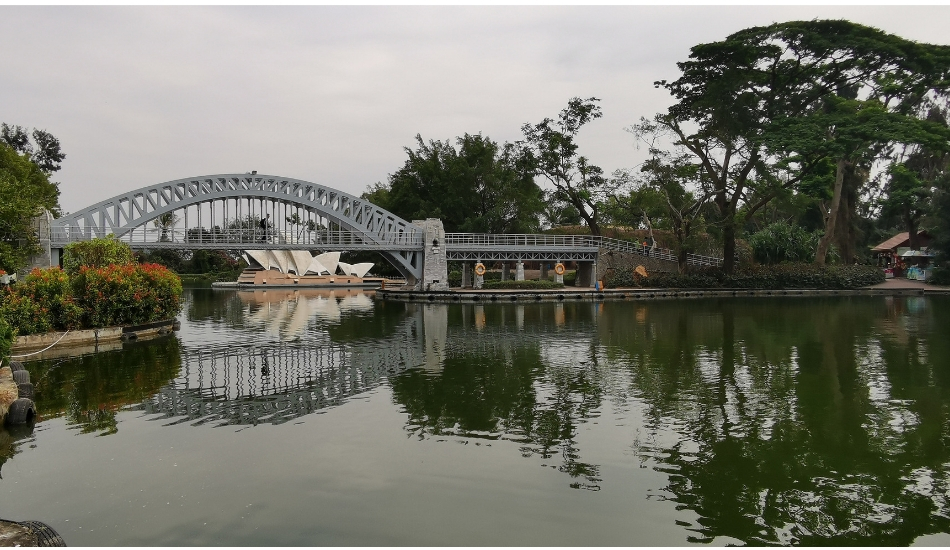 While recording videos one can also activate AI colour effect, which will keep human subjects in colour while turning everything else monochrome. It looked cool. Here we would also like to mention we have used Mate 20 Pro to shoot most of the video we did in December which you check out in the video section or our YouTube channel.
Some of the Videos we shot using Huawei Mate 20 Pro
Samsung Galaxy M10: Unboxing and 1st Impression
Xiaomi Redmi 6 Pro: Unboxing & First Look
Used Partially:Report Card 2018: Huawei and Honor
Battery
The Huawei Mate 20 Pro delivers outstanding battery performance. On a single recharge, it has enough power to last 1.5 days of heavy usage. The device has come loaded Super Charge which in our testing was able to take the battery from zero to 100 percent in just an hour. This phone supports 15W fast wireless charging but we haven't used it.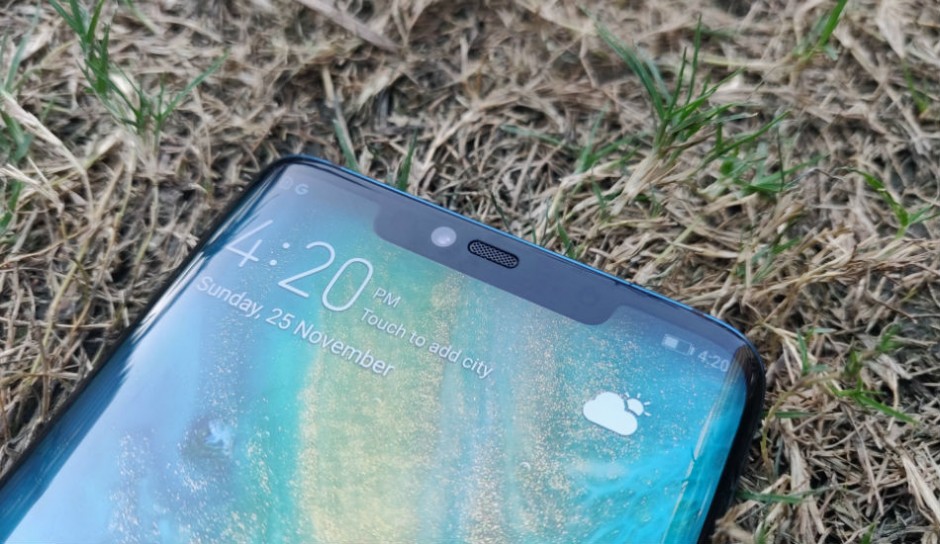 Fingerprint sensor and Face Unlock:
The Mate 20 Pro has an in-display fingerprint sensor. Itis placed almost in the middle of the display rather than towards the bottom. It was one feature that disappointed us. We felt as compared to Vivo's implementation in-display fingerprint sensor it was terrible. One had to really press the screen hard to initiate the unlocking process and most of the time a couple of attempts were needed to unlock the phone. On the other hand, face unlock feature with the support of 3D face recognition was class. Even in low light, it didn't disappoint us.