VeeDee, a relatively little known Indian tablet PC maker, has recently introduced this tablet in the Indian market. The VeeDee D13 comes with a 7 inch display and has a very attractive specification. It is priced at Rs 6,490 making it very attractive for the price conscious Indian consumers.
However, today there are lot of 7 inch tablets in the market and thus a question here arises that is VeeDee D13 ready to compete with them? Let's have a closer look.


###PAGE###
Design
In terms of design, the 7 inch VeeDee D13 is a decent device. The front panel of the tablet is in back colour while the back panel is white. The tablet is 13 mm thick which cannot be termed as very sleek since most 7 inch tablets these days come with around 10 mm thickness or less.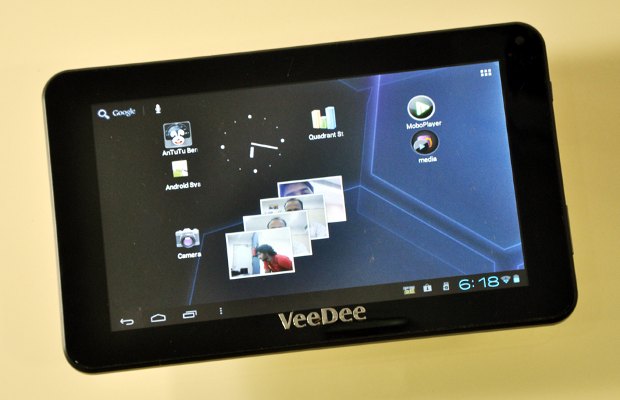 The front part of the tablet has a VGA camera on the top right hand side while you can see "VeeDee" written at the bottom when you will hold the tablet horizontally. A black strip separates the front panel from the matte finish white back panel. The power button, 3.5mm audio jack, mini USM, volume rocker and charger slot are given on the right side of the tablet.
Overall the design of the D13 is not very impressive and built quality of the device is average too.
###PAGE###
Operating system and User interface
The VeeDee D13 runs on Android 4.0.3 operating system. The D13 uses the basic Android 4.0 user interface as seen in most ICS devices without much tweaks.
The touch menu button is placed on right upper side of the device and others – back, home and shortcuts – are on the left lower of the screen. The phone menu divided into two parts – application and widgets. It has five home screen panels where you can put shortcuts and widgets. You cannot increase or decrease home screen panels.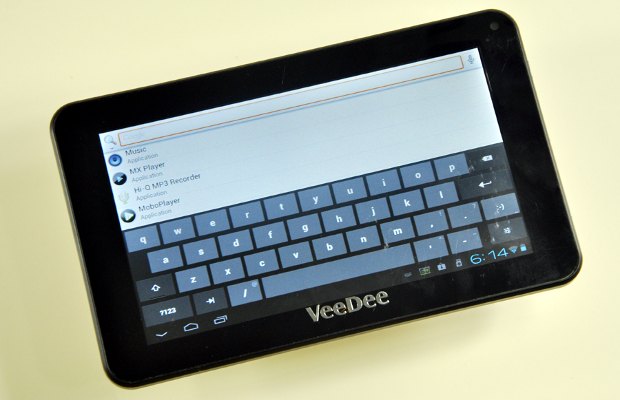 The good thing is that when you download an application or game, it will prompt you to put a shortcut of it on home screen. You can also create folder on home screen too. If you drag an app icon on another, the device automatically creates a folder and you can place lot of application shortcuts in that.
Overall, the user interface of the VeeDee D13 is good.
###PAGE###
Hardware
The VeeDee D13 has 8 GB of internal memory which can be expanded upto 32 GB through a micro SD card. It is powered by 1.5GHz ARM Cortex-A10 processor and has 512 MB DDR3 RAM. Besides, it has Mali-400 2D/3D graphics processing unit.
But when we talks about the performance, the device failed to meet our expectations – the tablet takes a lot of time to render web pages and is quite slow to buffer YouTube videos too despite a very fast WiFi connection. In the same range, Micromax Funbook provides relatively better performance, but price is 1,500 extra.


Unlike most other low cost tablets, the VeeDee D13 boasts a touch sensitive capacitive display. The 7 inch screen has only 800×480 pixels which is sufficient for high definition images and videos. However, the images does not come as crisp as otherwise suggested by the specification sheet.
The tablet comes with WiFi connectivity. The device does not support SIM and Bluetooth connectivity. Instead, one can use 3G via GSM dongle but, as the company claims, it does not supports CDMA dongle.
###PAGE###
Software
Veedee D13 is an Android based tablet and has Google suits like Google Search, Google Maps and Gmail. Apart from these, the D13 also has POP3, And IMAP email client supports along with the Microsoft Exchange. The device has Document to Go pre loaded where you can create, edit, and open the Microsoft documents, power point and excel files. And the good thing is that you can store it on Google Cloud.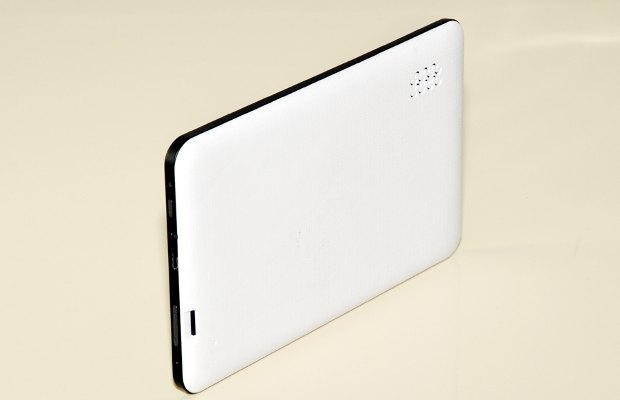 It has on a book library app called Aldiko where you can purchase on line ebooks and store those in the tablet. The application has one book preloaded. The tablet has flash support too where helps you watch on line videos. It comes preloaded with YouTube, Google Play and Gtalk applications too. VeeDee D13 does not have social networking applications like Facebook and Twitter but you can download them from the Google Play Store.
###PAGE###
Multimedia
The D13 has a 1.3 megapixel front camera which is able to click pictures in VGA, QVGA and 1.3 megapixel resolution. Strangely, the camera settings have some basic features like white balance and exposer missing which are used to click better pictures. Apart from that we missed options like zeo-tagging and face detections. The camera also disappoints when it comes to video recording.


Although the sound level is not too high, the VeeDee D13 has decent audio quality. Using the equaliser setting, you can tweak the output for your liking. The tablet can also play 2160p HD videos. For the video play back, it has Mobo Player and MX player along with the regular video player.
###PAGE###
Final words
At Rs 6,490, the VeeDee 10 is definitely attractively priced. It is good in this price range considering its specification like Android 4.0 operating system, 1.5GHz ARM Cortex-A10 processor, 512 MB DDR3 RAM and Mali-400 2D/3D GPU.
But on the negative side, the built quality of D13 is quite average and it also disappoints when it comes to performance as it is quite slow as we discussed above. The screen resolution of the D13 is low too. But the most disappointing is its battery backup. On full charge, it lasts only 3-4 hours.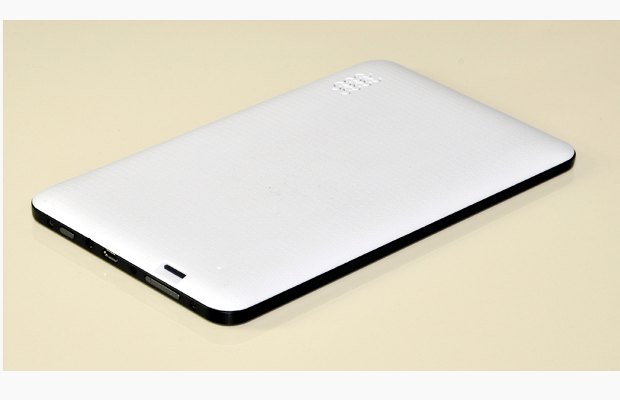 Also for Rs 6,490, you have a lot of options like Micromax Funbook, Lava etab z7H, iBerry Axus01 and Zynk Z990.