Tablet review: Spice Stellar Pad Mi 1010
By: Nilabh Jha, The Mobile Indian, New Delhi

Last updated : August 24, 2013 5:50 pm
This is Spice's first 10 inch Android tablet which comes with very attractive specification and price.
PROS

»

Good display

»

Fast performance

»

Battery life

»

Build quality

CONS

»

Backside bleeding at two places

»

Rear Camera could have been slightly better
Indian market is flooded with budget 7 inch tablets, however 10 inch category is relatively less crowded and therefore Spice has chosen a less risky segment to re-enter the market by launching its Stellar Pad Mi-1010.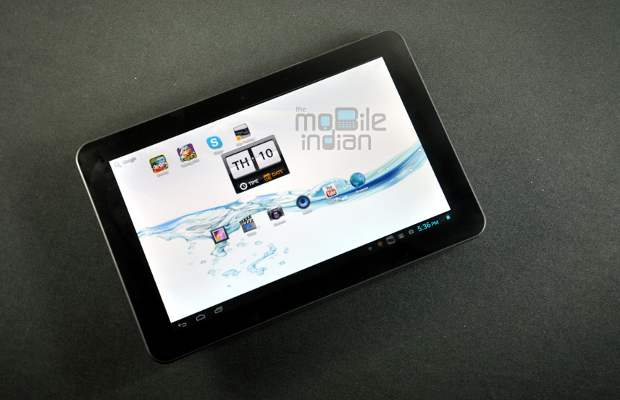 The tablet comes with a 10.1 inch HD IPS panel and also has a large 7600 mAH battery and 16 GB inbuilt memory. It is based on Android Jelly Bean 4.1 operating system running on a 1.5 GHz dual core processor and 1 GB RAM. Let's see how it performs in real life usage.

Design

The tablet gives a feeling of high quality with its all-glass front and metallic dual tone finish at the back. The tablet is very slim with just 10 mm thickness and looks even slimmer as its back panel is curved into the front at the edges.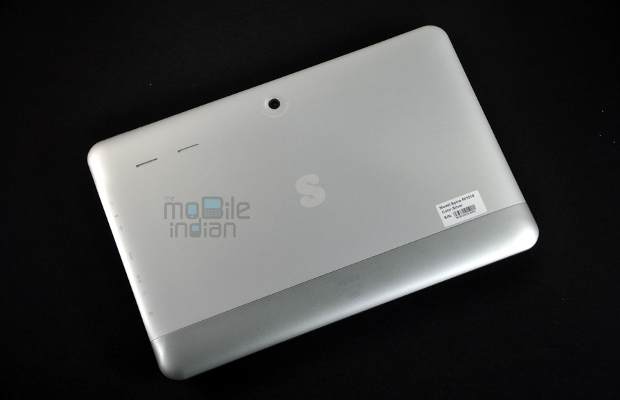 The build quality of Stellar Pad Mi-1010 is also good and there are no squeaks even though the tablet is not designed with unibody shell. The back panel of the tablet has distinct two portions - a narrow strip at the bottom in dark colour while lighter shade on the rest. There is a narrow plastic bezel along the screen though the actual bezel is much wider it is hidden by all glass front finished in black.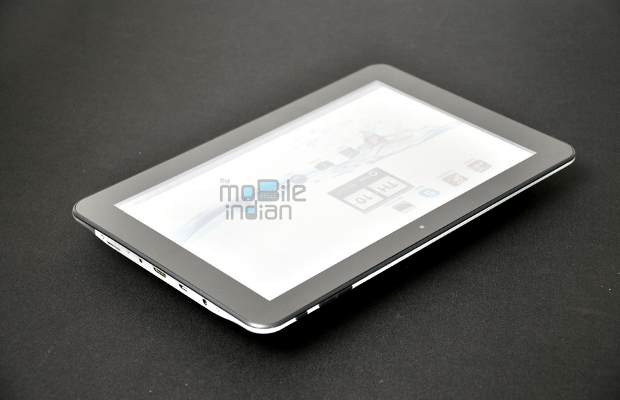 The camera sits at the centre-top of back panel of the tablet alongside two speaker grills. The only bad looking part is the Spice logo, which looks as though it is painted on the back rather than etched into the metal. Furthermore, the name 'Spice' and the model name of the tablet are also printed on the darker stripe in the back panel of the tablet.

The tablet weighs 667 grams which is not very heavy for a tablet of this size.

Display

The 10.1 inch display uses IPS technology which offers it 180 degree viewing angle and also a very healthy 1280 x 800 pixel resolution. The display is bright and sharp; the colours come out very lively and the screen lives up to the promise of a high definition IPS (In Plane Switching) panel. The display is bright enough to be visible even in bright sunlight which is highly required in our conditions.


The touch sensitivity is also of top notch. On the down side, there is a slight backlight bleeding issue (the backlight visible from the sides of the screen and not through it). This issue is only visible slightly in two places in our review piece and thus should not be a big issue.

Performance

The tablet is powered by a RockChip RK30 chip with the help of Mali 400 GPU and 1 GB of RAM. The tablet performed well on benchmark tests and in fact outperformed the Samsung Galaxy Tab 2 by a decent margin. And this is a great feat since the Tab 2 is priced very high compared to this Spice tablet.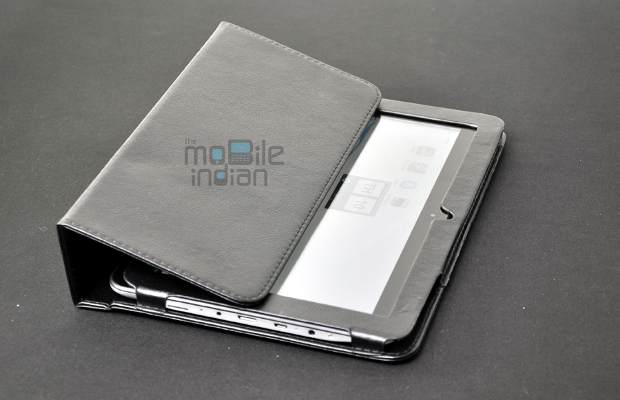 We played heavy games like Temple Run Brave and RipTide GP on the tablet and it ran without a hitch. During our entire test duration, the tablet never slowed down. Only once did an application crashed (Skype which has not been tested for this tablet).

The sound quality and loudness of the speaker of this tablet is also very good.

Camera

The rear camera is a 3 megapixel unit, which performed according to its rated capacity. In bright conditions, the clicked pictures came out well. However lack of flash and small megapixel capacity itself means that this camera is strictly for emergency situations when you do not have any other camera at hand.


The front camera is also quite impressive. While video chatting, it produces very clear videos for the person on the other side. The videos were crisp and bright unlike normally dark videos that you get in normal room lighting conditions.

Battery

The Spice Stellar Pad Mi-1010 has a 7600 mAH battery which is slightly bigger than the Galaxy Pad 2 of similar size. The Spice performed well and gave about eight hours of usage with WiFi on, which is great thing for tablet of this size. Normally you will need to charge the tablet only once a day with normal use.

Verdict

The tablet is one of the best in terms of build quality, features and performance in its price range. You get a very good display, very fast performance and decent battery life in a very well built package and that too at very reasonable price point.


While there are 10 inch tablets which are priced at even lower levels but their performance and features are nowhere close to that of Stellar Pad.

And while Spice should look at that slight issue of backlight bleeding, at Rs 12,999 we can still recommend this tablet to anybody looking for a 10 inch budget tablet.