Kobo Arc tablet with the Tapestries user interface is mostly for ebook readers wishing for a multimedia tablet.
Advertisement
Pros
Decent display
Nice build quality
Cons
No memory card slot
Battery life
No GPS
Kobo had stepped into the tablet rink soon after sales of the Google Nexus 7 (2012) picked up earlier this year. Kobo introduced its own version of an affordable tablet branded as Arc, for enthusiasts interested in edutainment: reading and enjoying multimedia. The new Kobo Arc was launched internationally a year ago but was introduced in India only in October this year.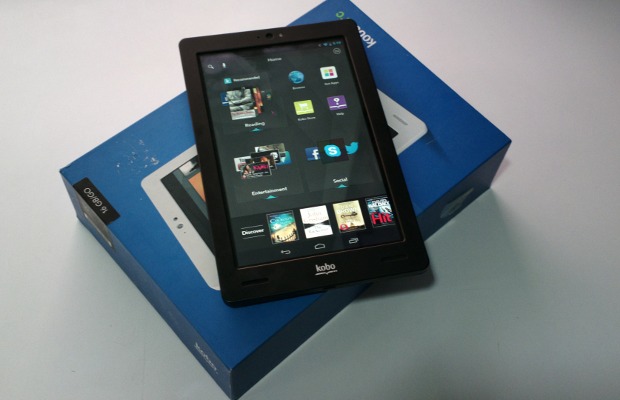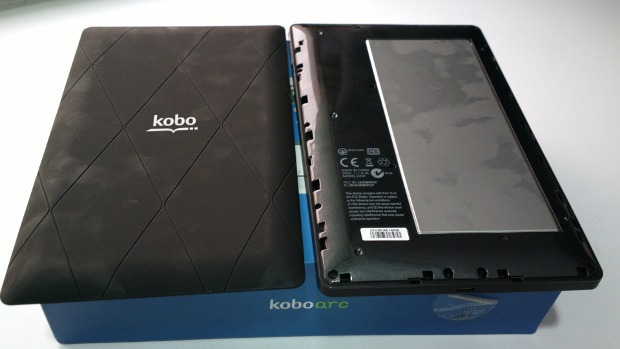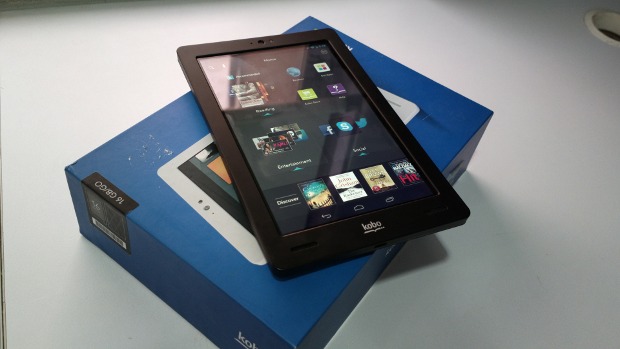 Kobo Arc is the direct successor of the Kobo Vox tablet that was out in 2011 and will not be available in India. The new Kobo Arc has a 7 inch display with a flavour of Android 4.1 Jelly Bean and the custom Kobo user interface running on top of it. Apart from packing the Kobo Store, Kobo Arc is intended to compete with budget 7 inch tablets such as Nexus 7 (2012), Asus Memo Pad 7, Acer Iconia B1 and several others. We managed to get our hands on the Kobo Arc and tried to explore new avenues on it.

Design

Kobo may have been known for pushing ebooks and ereaders in the market. Things have changed a bit since the Arc was launched. The Arc has a slim, box-like design with the screen deeper by a couple of millimeters than in the usual breed of 7 inch tablets. The obvious noteworthy feature is the lack of any home or physically obstructive buttons in the front.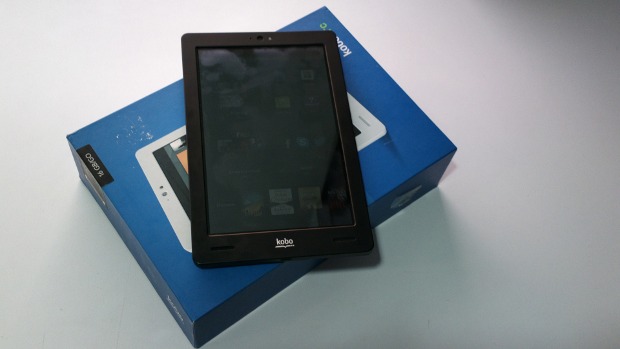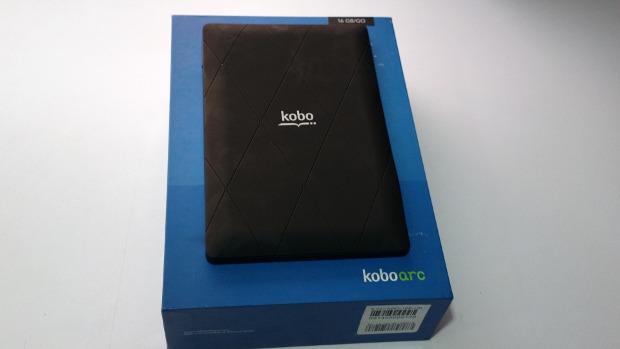 Kobo Arc feels a bit heavy at 364 grams, compared to the Nexus 7 (2013). The Kobo logo rests in the center at the bottom bezel with two stereo speaker output meshes on either side. On the top right corner lie the power and sleep buttons; while the volume control rests on the top right side with the standard audio port just above it.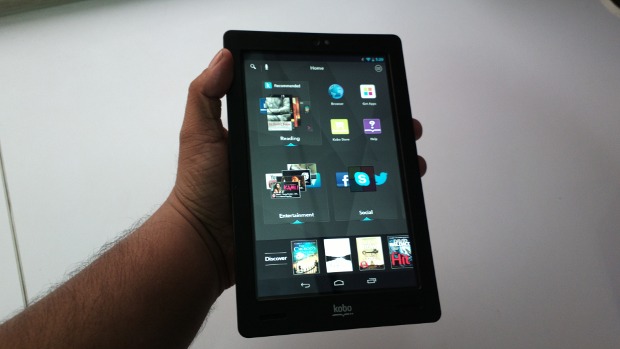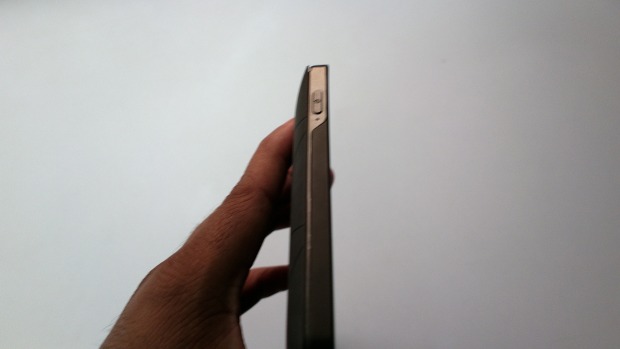 The rubberized textured back panel of the Kobo Arc offers grooves for better grip. The tablet does appear a bit heavy when compared to modern day 7 inch tablets and large screen phablets. Kobo Arc is very comfortable in the hands but again it is not operable with a single hand and its weight reminds us of the BlackBerry PlayBook.

Hardware

Kobo has powered the Arc tablet by a dual core 1.5 GHz Texas Instruments OMAP 4470 mobile processor paired with a nice 1 GB RAM. The tablet has a 7 inch IPS LCD multitouch display panel with 1280 x 800 pixel resolution to support 720p HD content natively. This tablet is capable of offering decent graphics to run most games easily. Kobo offers the Arc in three storage options: 16 GB, 32 GB and 64 GB. Unfortunately, there is no memory card slot to expand storage.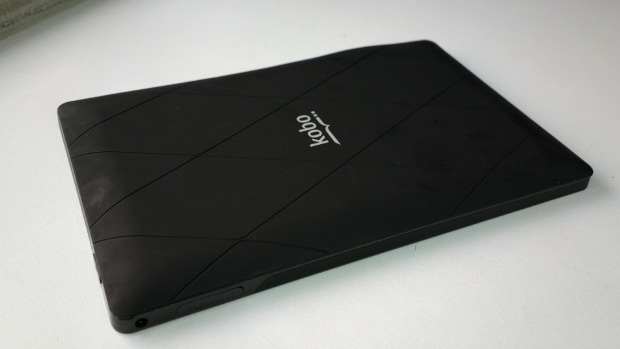 The front facing 1.3 megapixel camera is just decent enough to engage in an HD video call over Skype or similar app. Kobo has packed the SRS TruMedia sound in a way that the twin stereo speakers in front sound really loud and powerful to enjoy music at the cost of clarity. The SRS TruMedia sound implementation aims to offer 5.1 surround sound with good quality headphones while listening to music or watching a movie.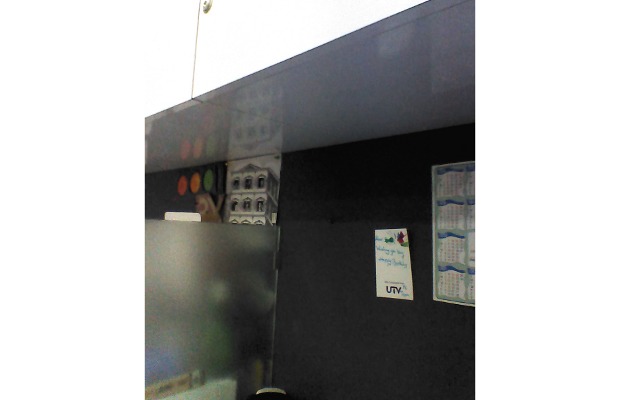 To our surprise, the package bundles a UK-style type G wall adapter plug for charging the Kobo Arc. Unfortunately, it does not work so easily across different plug points in India. In case one tries to find a cheap connecter plug, the possibility of spoiling the tablet's motherboard is high.

Software

Kobo has tried to walk parallel to Amazon's path by offering a custom skinned user interface on top of Android. However, Kobo's version of the Android tablet looks still more Android-like and usable, unlike the Kindle Fire series. Kobo has introduced the Tapestries user interface to take up on the content discovery challenge. The Tapestries UI appears more like a bit of heavy eye candy.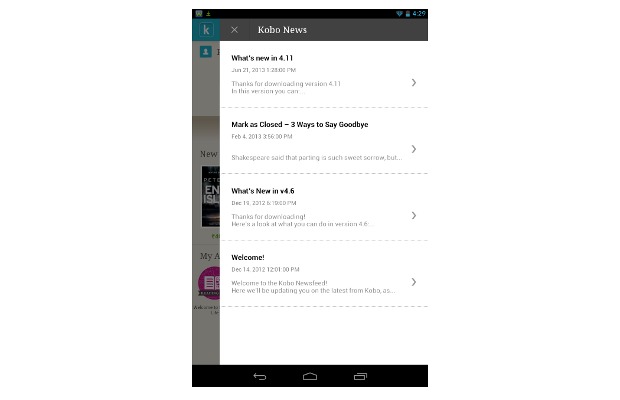 Navigation on the Arc is a bliss and quite impressive but the transitions and animations are not smooth at times. Popular casual games like Candy Crush Saga and others were easily playable so one may not feel left out.


Watching videos was fun and delightful since the tablet supports popular video formats: MP4, webm, vp8, H.263 and H.264. Even music output was nice and kind of impressed us with support for even lossless audio formats such as WAV and FLAC. Over here, SRS TruMedia integration played a major role in enhancing the Bass a bit and amplifying sound.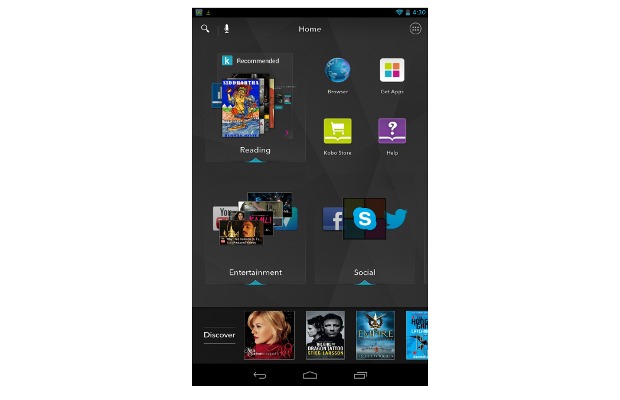 Kobo has loaded several ready to use apps such as Zinio and Press Reader to enjoy magazines as well as other content from the web. Other than that, there are social networking apps Facebook, Twitter and Skype pre-loaded on the tablet and these will be updated once you add your Google Account to the tablet.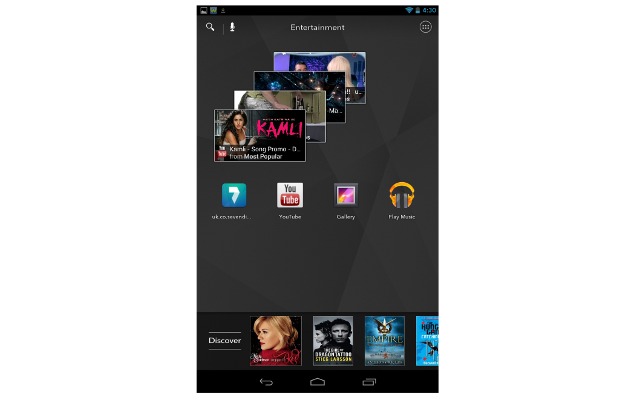 Browsing and discovering books on the Arc can be performed through the Tapestries user interface or the horizontal fixed bar on the start screen-Discover. Discover offers a list of books recommended for use through that bar. Users can choose from there or continue to explore more through the Reading folder in the Tapestries UI. The Reader folder has been optimized to offer everything related to Kobo. There is a Taste Profile that requires the user to choose from five selected books to help Kobo understand the user's preferences. The other two anchored options in the Reading folder are Library and Kobo Store. The Recommended widget here provides an interesting flick gesture animation to quickly shuffle between recommended books. The browsing folder is a well-compiled collection of bookmarks of several popular news, trading and information websites.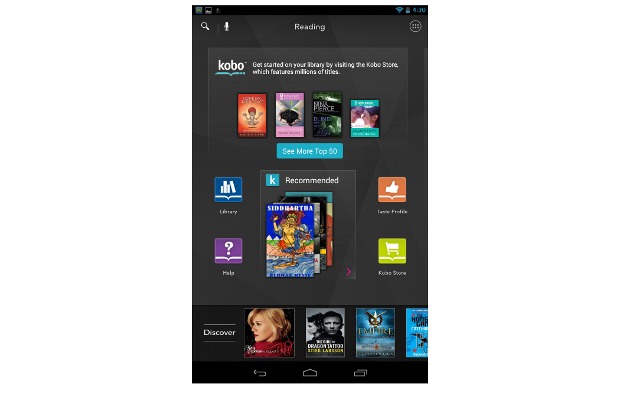 Tapestries UI manages to make the Arc tablet stand out from the crowd. However, the Android drawer button, when pressed immediately, transforms the Arc into just another Android tablet with large icons for loaded apps. Most apps like Gallery have been repackaged to provide a hook to the Tapestries user interface.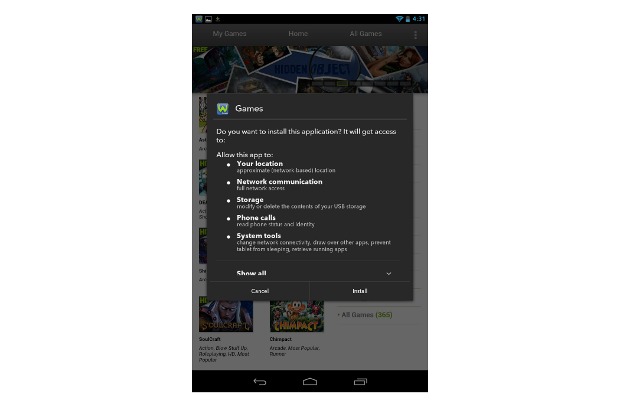 While this tablet is mostly meant to read books and enjoy some multimedia, it does the job just fine without any major disappointments. Google Maps makes use of Google's location service by using WiFi network triangulations since there is no GPS or SIM card slot in the Arc. So even though there is a Maps app, it will be useful only in active mode when the tablet is connected to a WiFi network.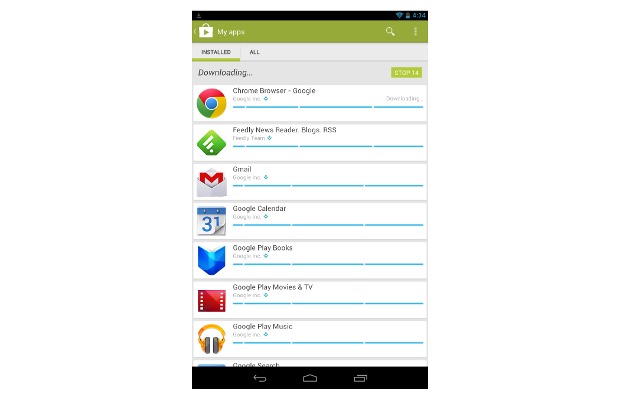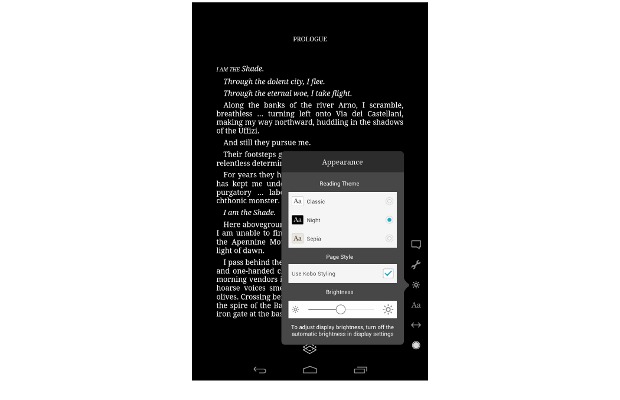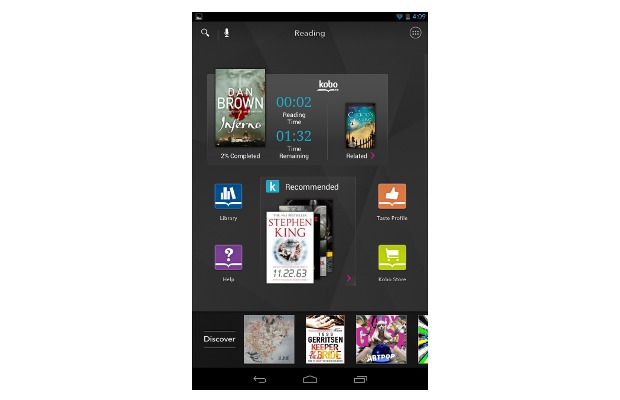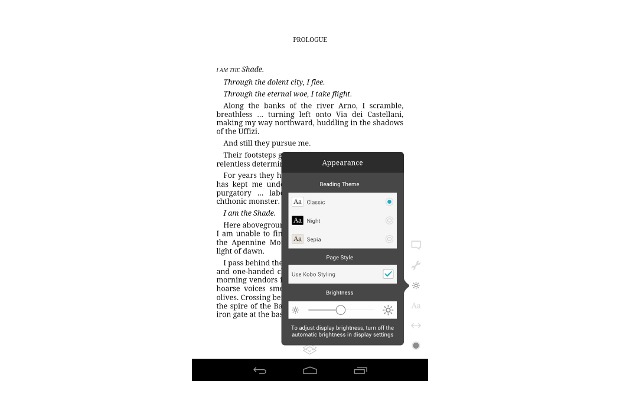 Overall, Kobo Arc falls a little short of impressing us when compared to the barebones Nexus 7 tablet or others. The Tapestries UI is certainly eye candy.

Battery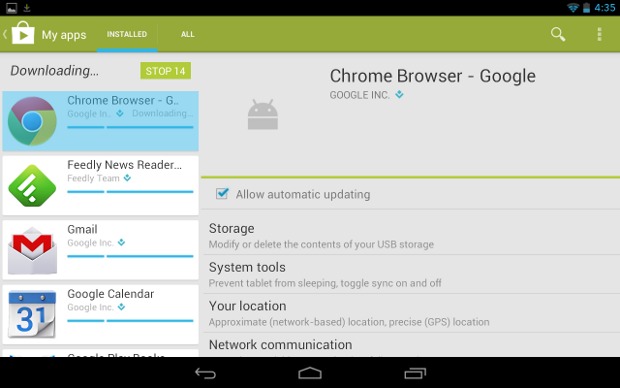 Kobo has powered the Arc tablet with a 4400 mAh non-removable battery. Though you can remove the back panel, there is nothing more an average user can do with that feature but to try out fancy back panels. The battery life was decent but not as great as expected. We do recollect battery issues on several devices running Android 4.1 Jelly Bean update and hope that Kobo releases Android 4.3 Jelly Bean or higher for Kobo Arc tablets so that the battery life can get a better bump than the usual roughly ten hours of reading time.
Advertisement
Verdict
The youngest (in terms of screen size and resolution) in the Kobo Arc tablet family, the Kobo Arc, might face a tough time against the Nexus 7 (2012) tablet. Kobo Arc is being sold in India for Rs 11,999 with an introductory offer of Rs 9,999. One of the biggest worries is the lack of an EU-style type C wall adapter for charging the tablet. We suspect our test unit came from the UK and hope that the Kobo Arc tablets sold in India have type C. Kobo Arc competes with Amazon Kindle Fire 7 and Nexus 7 tablets. When it comes to competition with Amazon, the Arc offers more Android. It does fall short of beating Nexus 7 in terms of hardware and fluidity. Packing promising hardware, fairly decent screen and good design, the Kobo Arc tablet is mostly for those avid readers seeking multimedia as an add-on.