Huawei MediaPad Lite, as the name suggests, is not a performance-oriented device and is meant to offer basic utility at an affordable price. It has indeed managed to offer a very well packaged tablet at just Rs 13,900. The tablet, based on Android 4.0, comes with a 1.2 GHz processor coupled with 1 GB of RAM and 8 GB ROM. You get a 4100 mAh battery, 3G, WiFi, Bluetooth and GPS connectivity, as well as front and rear cameras. Coming from a decent brand, the proposition looks rather attractive, but as with the case with anything, actual performance matters more than specs, and so we look at how the tablet is in real life.
Design
The tablet looks very good with an aluminum finish back and a white top and bottom. The build quality is superb too. There are hot swappable SIM and SD card slots, and a volume rocker and power/lock key on the top.


There are a micro USB port and 3.5 mm jack on the right side. There is no HDMI port, though it is a DLNA certified device so in case you do have other DLNA certified devices, sharing is very easy. The rear camera is on the top left corner of the tablet, flanked by speaker grills. There is no LED flash-another omission that will be missed. The tablet weighs 370 grams and is therefore on the heavier side for a 7 inch device.
Display
The MediaPad Lite comes with a 7 inch IPS panel with 600 x 1024 pixel resolution, which is higher than most budget tablets, but is not very high otherwise. The IPS (in plane switching) technology means that the viewing angle is great; colour is good too. However, low resolution means that pixels are visible and sharpness suffers.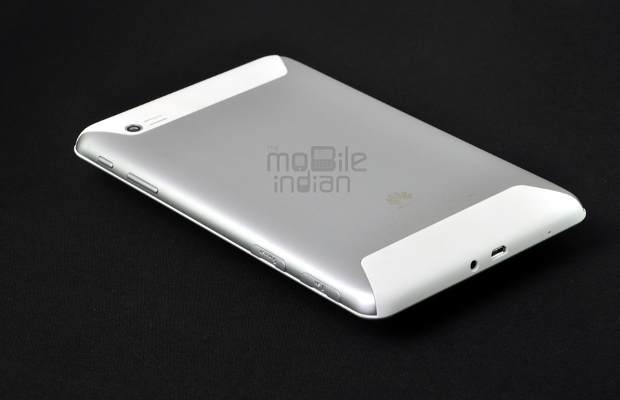 The touch sensitivity is good, and for a budget tablet the display is good overall.
Performance
The 1.2 GHz processor feels severely underpowered and is the biggest minus. The processor fails to power high-end graphics intensive games. Framing is visible even in mildly graphics intensive games like Death Moto. For a normal task like browsing and watching video etc the tablet is not bad.


However, some lag is visible even in such tasks. For instance, when making a call the tablet failed to disconnect for many seconds despite the disconnect button being pressed repeatedly.
User interface
Huawei has used almost stock Android 4.0 with minor changes like the ability to hide notification bar for full screen viewing. One strange thing about the tablet is the inclusion of Chinese language apps in the tablet. It would not have been very difficult for Huawei to remove these apps. However, this could be an issue with the review piece, given that these are among the first devices to land in India, and are mainly intended for testing purposes.


Another drawback of the tablet is the lack of an ear-piece on the front, which means that while making calls the tablet uses the loudspeaker mode only. Including a front speaker would not have cost Huawei much more, and would have enhanced the tablet's appeal quite a bit, given that many people in the country use 7 inch tabs as calling devices as well.
Camera
The rear 3.1 megapixel camera is not that great, but then it's a tablet camera and one should not expect much from it. That said, the camera is well worth what the specs say, unlike many tablets from Indian brands, which claim much higher resolution but deliver low performance.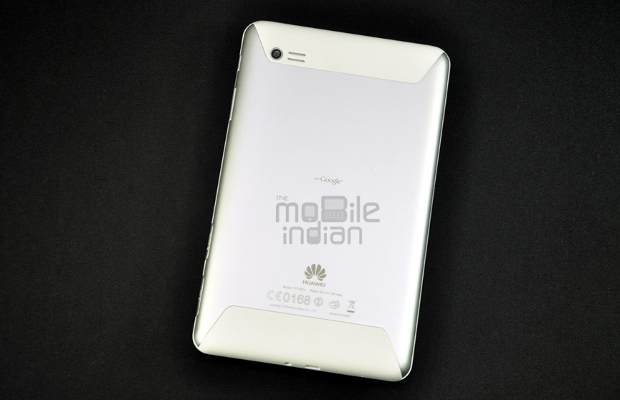 The camera works fine out doors with a slight problem of over saturation. However, other than that, images are fine. The front camera, which is meant for video calls, does a good job.
Multimedia
The tablet gets only a single speaker, though it does use Dolby surround technology, and while the speaker is clear even at its peak output, the loudness is not as high as some of the competition from within India.
The video and audio playback are smooth, although you get only stock apps for that purpose, but then it's an Android device so you can download a better app any time.
Battery
4100 mAh is a large battery and given that the tablet uses a single processor we expected good battery life. But somehow the tablet fails to deliver on this count too. Especially when you use WiFi the battery lasts barely a few hours. However, if you switch WiFi off and use 2G data the battery life improves dramatically and supports 10-12 hours of intermittent usage.
Verdict
The tablet is not performance-oriented as the name suggests, but somehow it fails to deliver on even our reduced expectations with a very laggy show. It does have very good build quality and is on offer at a reasonable price.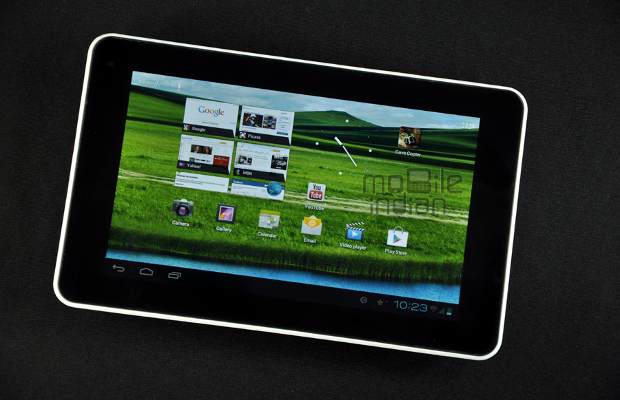 Even with the kind of performance it does deliver you get a good device for browsing, ebook reading and watching video on the go. However, even these get marred by bad battery performance.