Samsung's latest addition to its A-series mid-range lineup is the Galaxy A54 5G which succeeds the A53 5G from 2022. It comes in two models 8GB + 128GB which is priced at Rs 38,999 and 8GB + 256GB priced at Rs 40,999. The Galaxy A54 5G does show improvements over its predecessor in a number of areas, at least on paper and we are here to talk about them. So let's find out whether Samsung hit a homerun with its Galaxy A54 5G or is it a miss, in our review of the smartphone.
Galaxy A54 5G: Build Quality & Display
While the Galaxy A73 5G led the A-series lineup last year, it seems to be the Galaxy A54 5G for this year who will lead the A-series lineup, at least for now. The A54 5G gets a complete redesign in comparison to its predecessor, and now has a design language similar to Samsung's flagship Galaxy S23 series. This is an intelligent move in my opinion, which brings uniformity in the design of Samsung's smartphone lineup.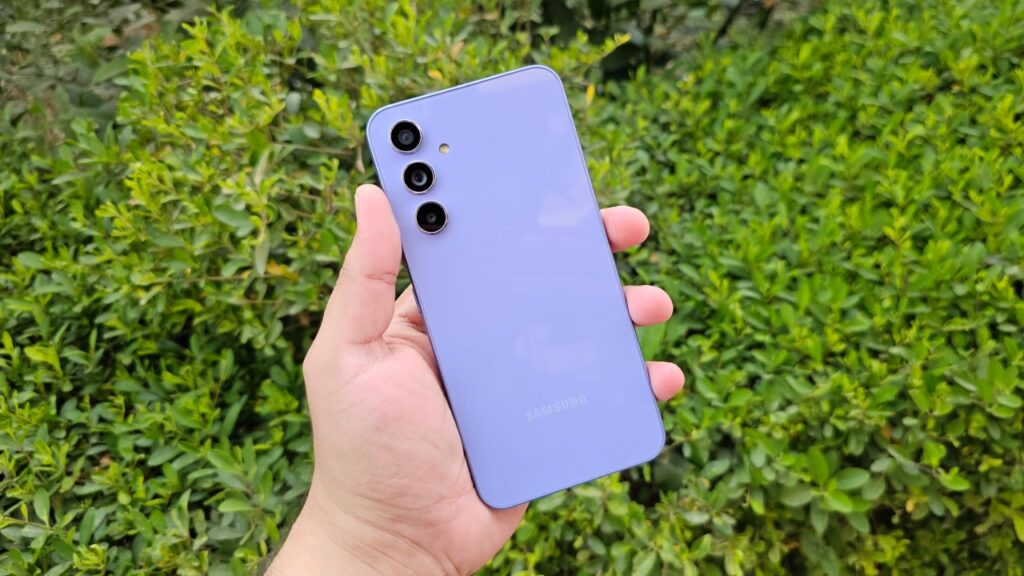 The Galaxy A54 5G now has a glass back instead of an all-plastic build we saw on Galaxy A53 5G. While Samsung gave it a matte finish last time, the glossy back does feel more premium this year and the device feels dense in the hand. The sides are still plastic but that doesn't take away the premium feel by any means. The purple colour we got also looks decent and doesn't show any fingerprints as such. However, we suspect this could be an issue on the black one.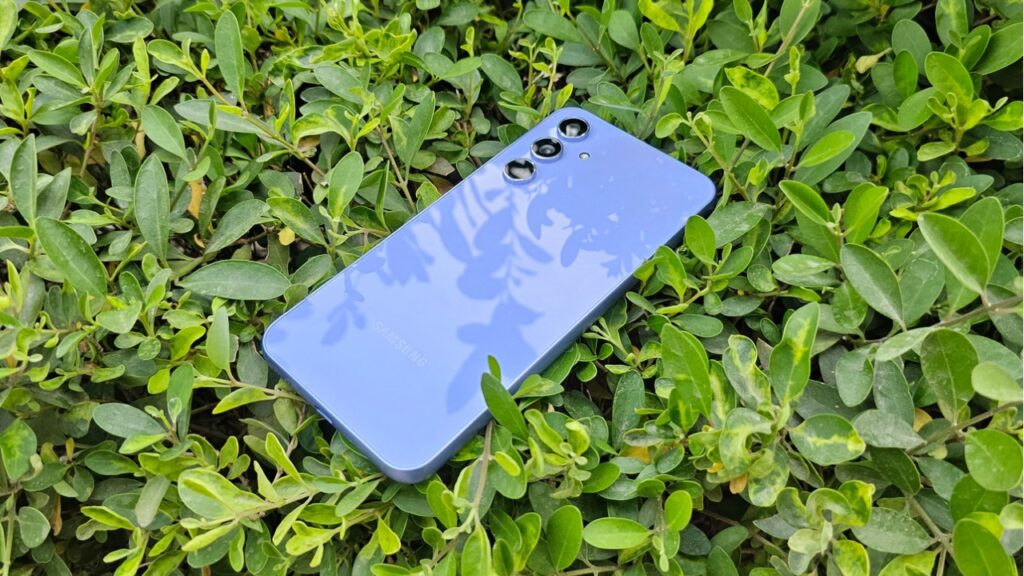 The back has triple cameras alongside the flash and it looks highly similar to the Galaxy S23, apart from the flash placement. The phone is definitely on the thicker and heavier side but it feels miles better than how the Galaxy A53 5G did in the hand. Even on the front, the top, left and right sides have uniform bezels with a slightly thicker chin and personally, it looks much superior to me over last year's model.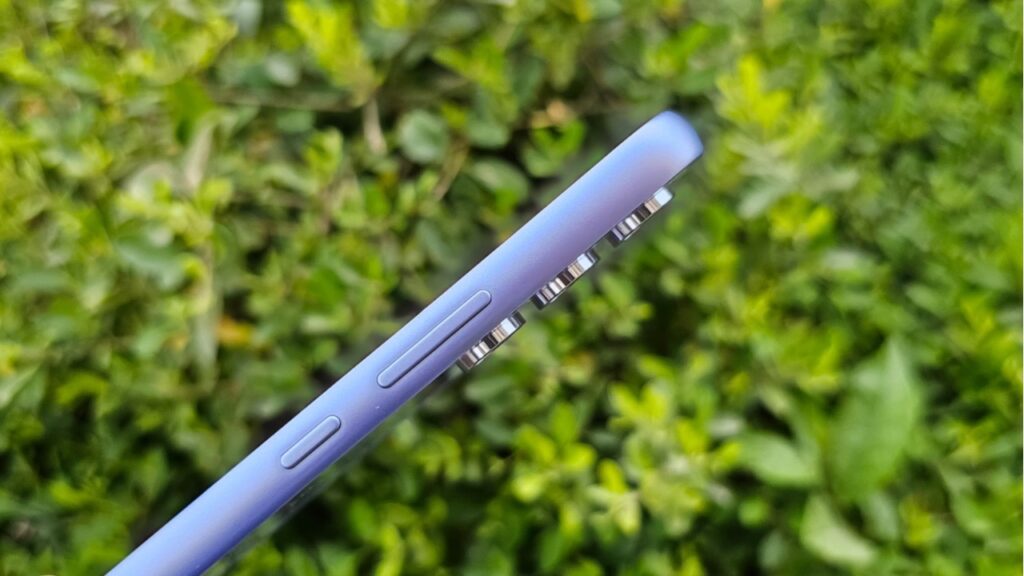 The more rounded shape with flatter sides help in gripping the device despite it being relatively thick. Overall, I am quite impressed with what Samsung has done with the build quality this year. Adding to the experience are the stronger and more precise haptics. These haptics are a major upgrade over what we got with A54 5G' predecessor.
Apart from that, there's a stereo speaker setup which gets loud enough and good stereo separation. You cannot expect flagship level quality with bassy sound but they are more than decent for the price and get the job done.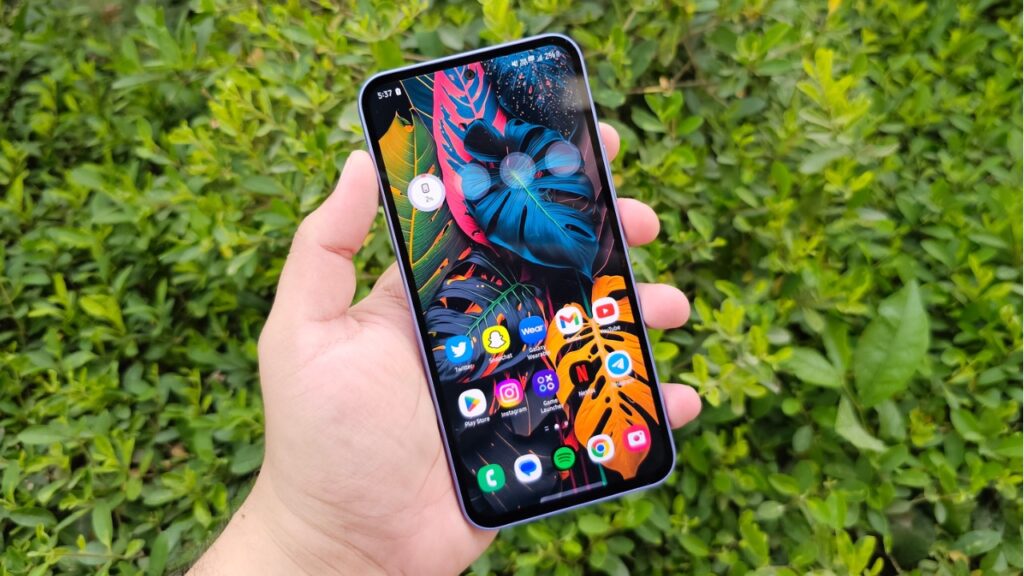 Coming to the front of the device, it sports a 6.4-inch 120Hz OLED panel with a full-HD+ resolution (1080 x 2400 pixels). As usual with Samsung displays, it doesn't disappoint you in any way. This is a considerably bright panel that refreshes at 120Hz which helps a lot with the smoothness.
Viewing angles are decent but not the best. The text and other content looks sharp with punchy colours and this year, Samsung has made it completely flat which again seems to be a good decision in my opinion.
Galaxy A54 5G: Software & Performance
The Galaxy A54 5G is powered by the Exynos 1380 chipset paired with 8 GB RAM and up to 256 GB storage which is expandable, thanks to the hybrid SIM slot. The Exynos 1280 that powered last year's Galaxy A53 was quite disappointing because it couldn't handle everything with ease. However, Samsung seems to have done well with the Exynos 1380 this time around.
While I didn't expect much out of the chipset, it didn't disappoint me when it came to daily usage, be it opening apps, multi-tasking or more. The daily operations were quite smooth except for one aspect and that's the animations. While OneUI 5.1 is one of the smoothest OS'es I have used, it doesn't work the same way on A54 5G. I faced stuttering animations throughout the user interface, such as when opening or closing apps. When it works, it's one of the smoothest but when it doesn't, the jitters do show.
Disappointingly, this chipset isn't as powerful as the ones used in competitors of Galaxy A54 5G, such as the Vivo V27 Pro with Dimensity 8200, Snapdragon 8+ Gen 1 in OnePlus 11R 5G and more such devices.
Talking about the software, as I mentioned, it comes with Android 13-based OneUI 5.1 out of the box. OneUI has always been one of my favourites; in terms of features, it didn't disappoint me. Moreover, there were a couple of new features I saw that I hadn't seen before in OneUI, such as the 'Storage booster' option, which can be accessed from the 'Device Care' section.
This feature can help you free up unnecessary occupied space. For instance, it can zip rarely used apps, delete duplicate photos, and even delete saved APK files to free up storage. It can also auto-delete unnecessary data automatically and help you move apps to the SD card.
Then there's another feature called Ultra Data Saving mode which can save mobile data by compressing data and limiting mobile data usage by apps. It can automatically block background data usage for apps and also allow you to choose apps that can use data in the background. These features are certainly useful for those conscious about how much data they want to preserve and how much storage they want to save.
Coming to gaming performance, you cannot expect a lot from this chip in this department. Call of Duty Mobile maxes out at medium graphics with 'Very high' frame rate. While it doesn't lag in such settings, the phone does warm up. Lighter games such as RL Sideswipe work flawlessly at max graphics and 60 fps.
Connectivity performance such as on 5G, 5Ghz Wi-Fi, Bluetooth connections, remained optimum. Lastly, an in-display optical fingerprint sensor for biometrics works decently. It does take its own time to recognise and unlock, but it's not a major issue. 
Galaxy A54 5G: Battery Life
The Galaxy A54 5G is similar to its predecessor in terms of battery life, as it gets a 5000mAh cell with disappointing 25W charging. The battery backup is very impressive as it is easily a one-day phone so you won't need to worry about plugging it back in a short period.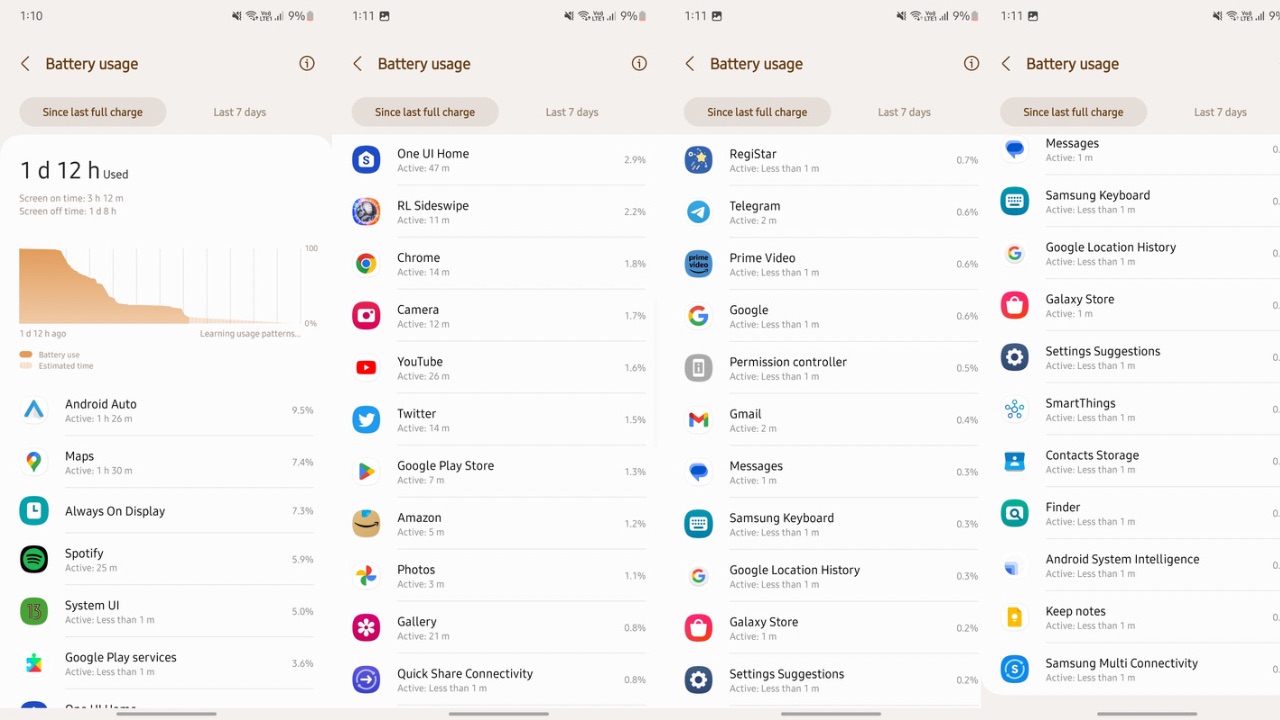 With moderate usage, it can last more than 24 hours with close to 5.5 hours of screen-on time. Even with heavy usage, where I used Wireless Android Auto for almost 3 hours with navigation and music, the device gave me a screen on time of 3.5 hours with over a day's usage and that's impressive.
When using a 25W fast charger, the phone took slightly more than an hour to charge from 0 to 100% which isn't actually on par with the competition.
Galaxy A54 5G: Cameras
This Samsung device comes with a 50-megapixel primary sensor with an f/1.8 lens and Optical Image Stabilisation (OIS) support, a 12-megapixel ultra-wide shooter with f/2.2 lens and a 5-megapixel macro shooter with f/2.4 lens. At the front, there's a 32MP sensor for selfies.
We have already done an in-depth camera review for the Galaxy A54 5G which should give you a good idea about how the cameras on the smartphone are. To summarise, the Galaxy A54 5G does well in almost all conditions except for portrait shots which do not have accurate edge detection.
In most scenarios, the photos have ample amount of details, sharpness, and punchy colours. The dynamic range is also on point. Selfies are also impressive while Nightography for night shots considerably enhances the overall quality. Even though most macro sensors nowadays are unnecessary and useless, the 5MP macro shooter on the Galaxy A54 5G actually sets itself apart from the crowd.