HTC has a certain knack of doing things just the right way, especially when it comes to unibody design based handsets. First it created a unibody marvel called HTC One; then its HTC 8X is another fine example of this design feature.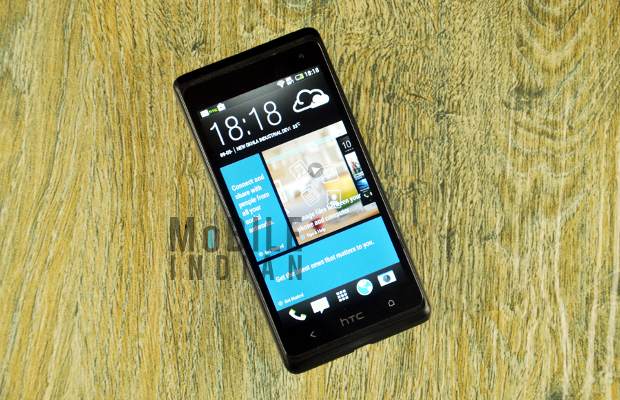 Well, carrying that legacy forward, HTC has recently launched the Desire 600 for Rs 27,000 which, though it does not have a unibody design, is made to look like it does. Here is a detailed account of HTC Desire 600's design and functioning, which will give you a decent idea whether to buy this handset or not.
Look and feel
The Desire 600 is light and sleek; it measures 9.2 mm at the thickest point. The smartphone comes with a removable back cover, underneath which you will find a memory card slot, a removable battery and two SIM slots. The HTC Desire 600 has tapered-off edges on the top and the bottom, where there are stereo speakers, much like the HTC One but yes the use of plastic as opposed to metal surely has a negative effect on the visual appeal of the device.
The HTC Desire 600 is available in mainly two colours – Polar White and Stealth Black. The handset features a matte-finish that runs from the edges, making it smudge resistant while the unibody-like design makes it look slim.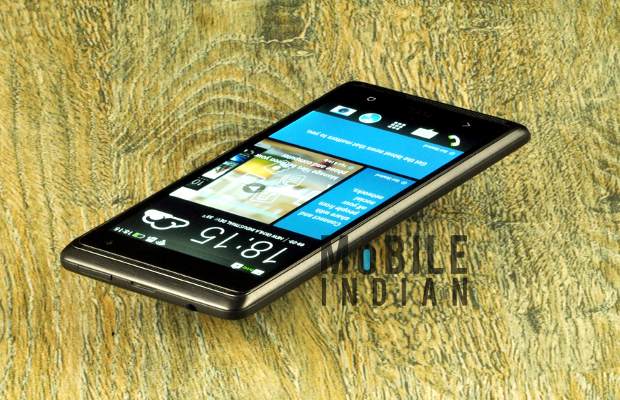 The power/standby key is located at the top and is quite easy to reach as it measures only 4.5 inches and thus has a smallish profile. The right side houses the volume rocker, which is very easy to use. At the front the device has a flush finish and two capacitive touch keys for home and return; most Android devices feature three keys with the third being the options key, which is missing in the HTC Desire 600.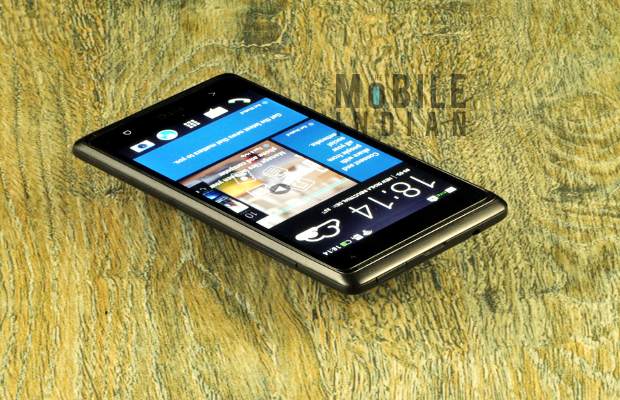 However, HTC has made upgrades in the Sense 5.0 user interface that runs on the HTC Desire 600, to accommodate that change.
The overall build quality of the device is good; it's sturdy and can handle accidental falls quite well. The protective glass surface on the display, though it is not Gorilla Glass, is good for protection from scratches as well. we are quite happy with the way the device has been designed and with its build quality as well.
Display and touch
The HTC Desire 600 has a 4.5 inch Super LCD 2 display with 520 x 960 pixel resolution, which translates to 245 ppi (pixel density). So despite it not having high definition resolution, which is becoming over-used by manufacturers to grab eye-balls, the HTC Desire 600's display is a delight for the eyes. The brightness level of its display is adequate even in bright sunlight.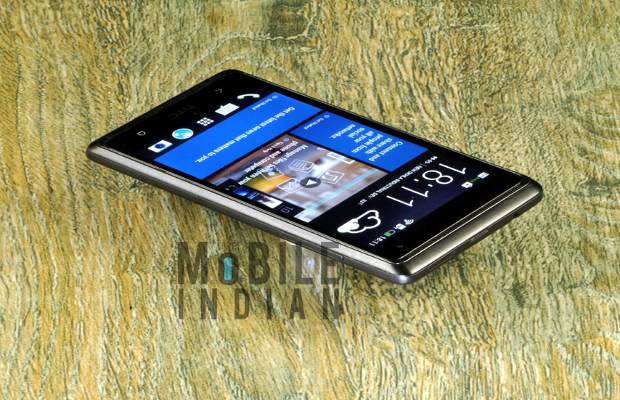 The colour reproduction and black levels are good and the picture quality offered by the display is sharp and vibrant. In fact it has better and much more subtle colour reproduction than the Samsung Galaxy S4 Mini, its closest competitor, which suffers due to over saturation of colour.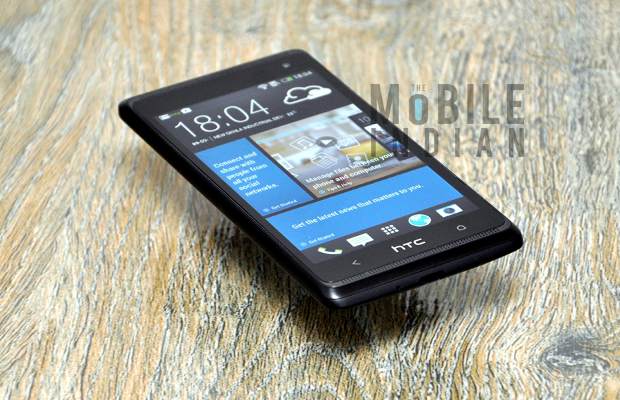 The response of the HTC Desire 600's touchscreen is also fabulous; every touch and gesture no matter how faint gets recognised and it becomes all the more delightful in conjunction with the HTC BlinkFeed.
Hardware and performance
The HTC Desire 600 is powered by a 1.2 GHz, quad core Snapdragon S200 processor and Adreno 203 GPU. The processor is capable of powering the device and handling most of its action with ease. The phone features 1 GB RAM and 8 GB of internal storage which works great for all applications, and there is a memory card slot to accommodate up to 64 GB of additional memory as well.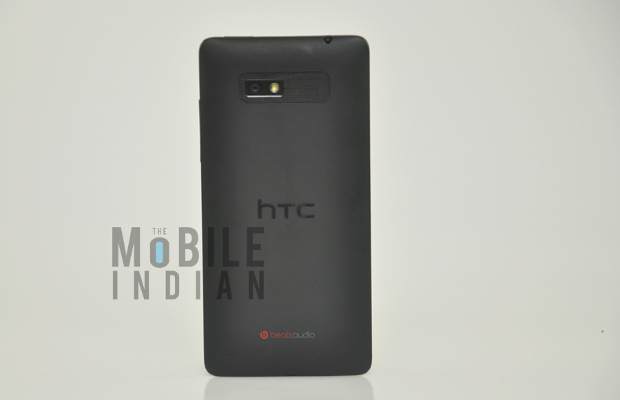 The HTC Desire 600 offers good performance but not like the performance of HTC's high end handsets, which reflects in its benchmarking results as well. On the Antutu benchmark, the HTC Desire 600 scored 11547, putting it above the much older Samsung Galaxy SII, which is a dual core processor, but much below its quad core competitors. In Vellamo, which is a benchmark application from Qualcomm, it scored 387 points in the metal or hardware test and 1587 points in the HTML test, which confirms that for browsing and web applications it is a pretty good device. Overall the scores confirm that the HTC Desire 600 is an average performer in terms of benchmark scores.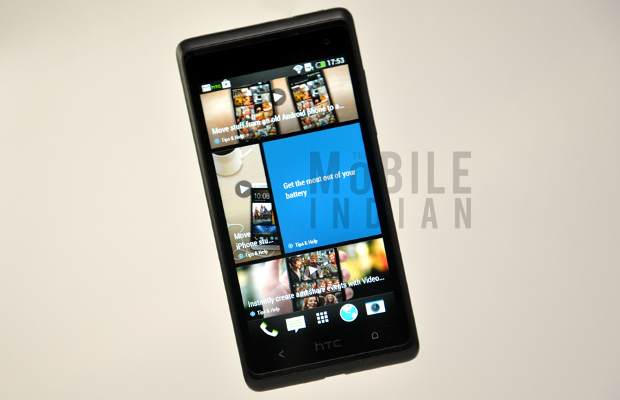 The call performance of this device is a major plus point. Calls are received and made without any issue. The earpiece and loudspeaker volume is abundant and the microphone also makes sure the person at the other end hears every word loud and clear. The HTC Desire 600 features dual SIM-dual standby system, which means that users can get calls on both the numbers simultaneously, while the user will have to decide whether they wish to reject or accept the other call. One observation is that even when a call is on, the phone rings when a new call is received on the other SIM.
Operating system
HTC Desire 600 features Google Android Jelly Bean 4.1 operating system with HTC's very own Sense 5 user interface on top of it. The Sense 5 user interface comes with a home screen, called BlinkFeed. The BlinkFeed interface consists of tiles in the home screen, similar to what is seen in Windows OS based smartphones that update feeds automatically from mail, calendar and social media. You can configure BlinkFeed to show content from social networks as well as over 1,400 specific providers, including the Associated Press and ESPN.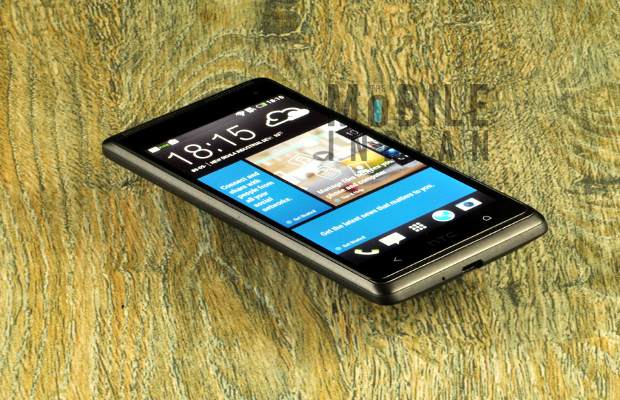 The overall experience of Jelly Bean operating system on Desire 600 is fast and fluid, thanks to its 1 GB RAM.
Camera and multimedia
At the back of HTC Desire 600 there is an 8 megapixel camera with a 1/3.2 inch sensor and F/2.0 aperture and wide 28 mm field of view which is a delight for users. The 8 megapixel camera is good and offers great variance in colours but sadly video recording is just limited to 720p HD video recording at a slow 24 fps as the Snapdragon 200 processor has limited capabilities.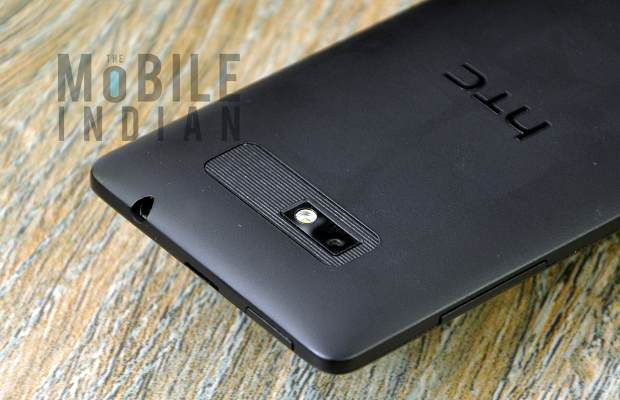 The image quality of the camera is good both outdoor and indoors, provided the lighting is sufficient. The LED flash comes on whenever needed, but is only effective for close objects. The colours are captured nicely and with detail too.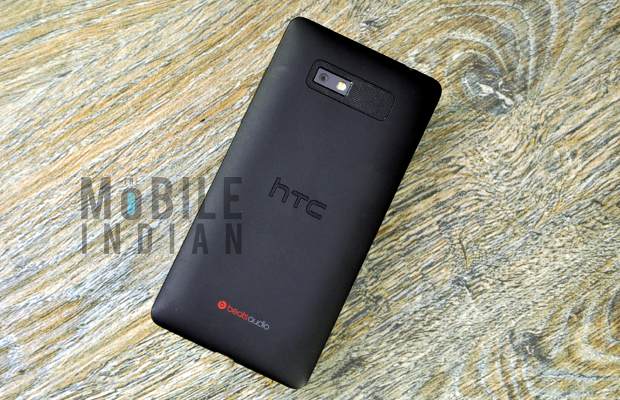 All this has been made possible with HTC's dedicated imaging chip that does the job of improving images while users capture them. Along with that the front camera has a 1.6 megapixel sensor, which is great for self-portraits as well as video calling and conferencing.
The HTC Desire 600 features a more than capable audio and video player along with stereo FM radio reception as well. Its loudspeaker is a big plus for the device and the integrated Beats Audio technology proves to be icing on the cake.
Overall
The HTC Desire comes with a functional but great looking design and offers hardware for the price of Rs 27,000. At this price devices from Samsung such as the Galaxy S3 or the Galaxy S4 Mini can also be considered if you are not an HTC fan. Regardless of whether you are a fan of HTC or not Desire 600 offers great utility and the very easy to use Sense 5.0 user interface. The smartphone gives a 1-1.5 days of battery backup, which is standard nowadays but with the power save feature on and sacrificing brightness, users can get more backup from the device as well.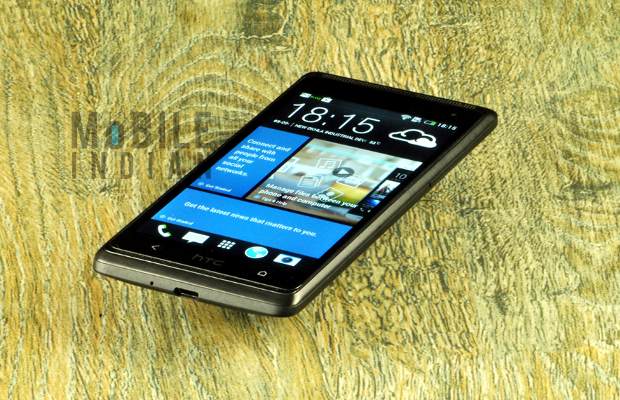 Overall the device is good and offers great functionality with dual SIM dual standby connectivity and exceptional audio performance with Beats audio. So if you are in search of something classy and functional get the Desire 600, rest assured you will enjoy it thoroughly.