Redmi Note 4G, like all its siblings, is being watched, talked, and sought like no other phone had have in the Indian market so far. And why it would not be; the Note 4G offers so many things for just Rs 9,999.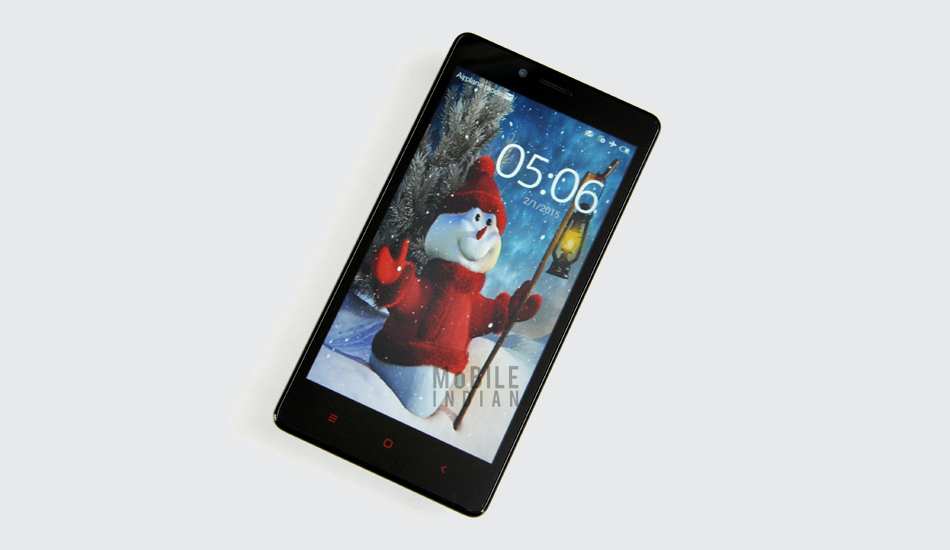 Off late though it has got a couple of competitors – Micromax Yu Yureka and Lenovo A6000- which threatens its prospects. Notwithstanding its competitors, we have here detailed the performance and design elements of the Redmi Note 4G which, we hope, will address all your queries about the phone.
Specifications
Before we discuss the pros and cons of the Redmi Note 4G, let's have a recap of its features. First of all, the Redmi Note 4G offers a 5.5 inch IPS LCD display with high definition (720p) resolution and measures 154 x 78.7 x 9.5 mm. It is based on Android 4.4.2 KitKat operating system and has Qualcomm Snapdragon 400 chipset that combines a 1.6 GHz Cortex A7 quad core processor, Adreno 305 GPU, and 2 GB RAM. The phone has 8 GB of internal memory and a 64 GB micro SD card slot.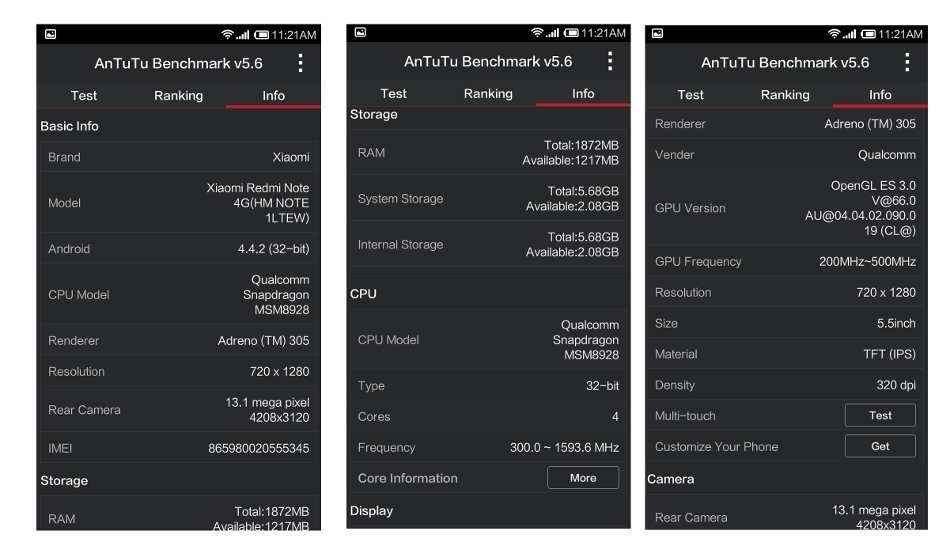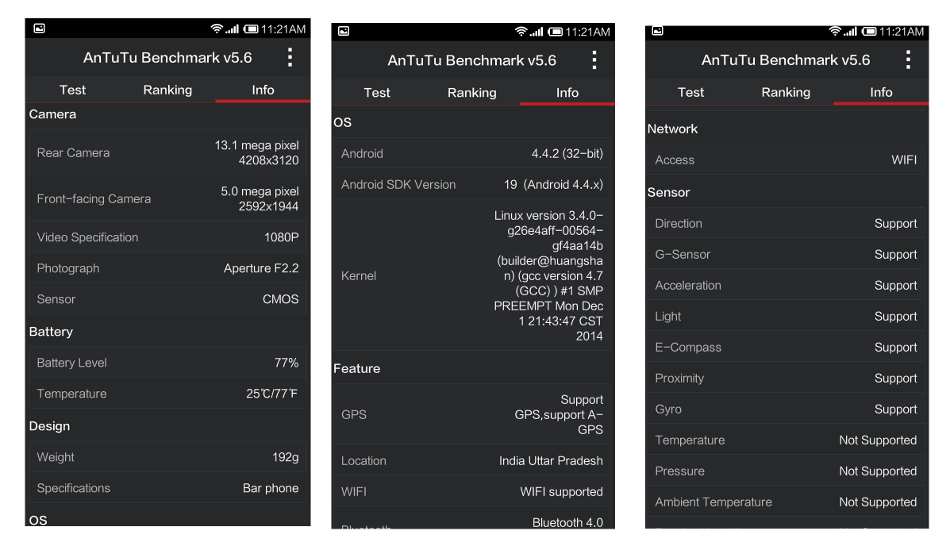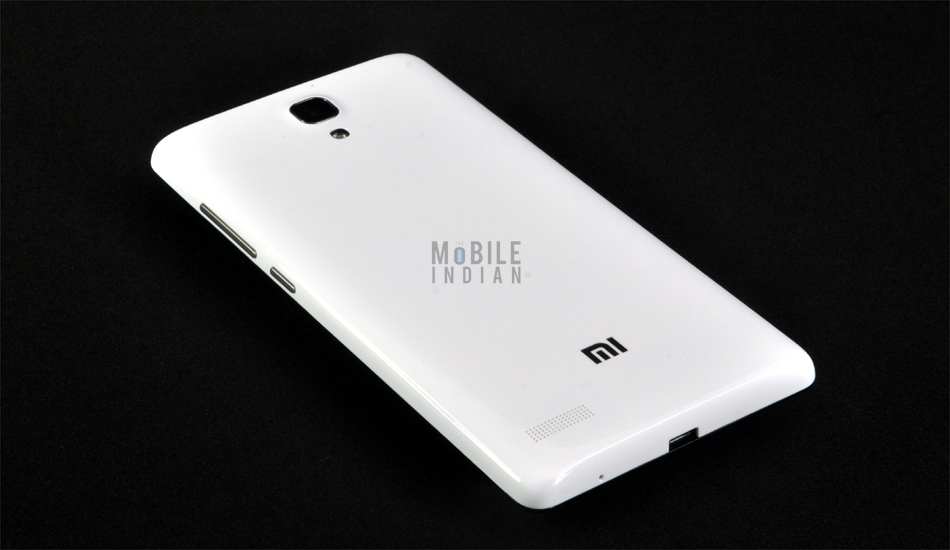 The Redmi Note 4G also looks exciting in the camera department with a 13 megapixel rear camera and a 5 megapixel front camera. It has a huge 3100 mAh Li-Ion battery and comes with 4G/3G connectivity. This single SIM device also offers dual band WiFi (a/b/g/n/ac), WiFi Direct, WiFi Hotspot, Bluetooth 4.0 LE with A2DP, GPS with A-GPS and GLONASS, and FM radio. Ofcourse like other phones, it has a 3.5 mm jack and a micro USB port.
Design
As is mentioned above, the Redmi Note 4G is indeed quite endowed with many features which till now not common to most devices at its price bracket. So where has Xiaomi compromised?
The answer lies in its design, which was quite expected. True, despite being a 5.5 inch smartphone with huge battery, the Redmi Note is quite compact and light. It does not feel that big, thanks to slim bezels around the display and curved edges. However, the plastic back panel with a bit of glossiness, looks flimsy. The volume rocker and the power button, which are placed side by side on the right hand side, also look quite fragile.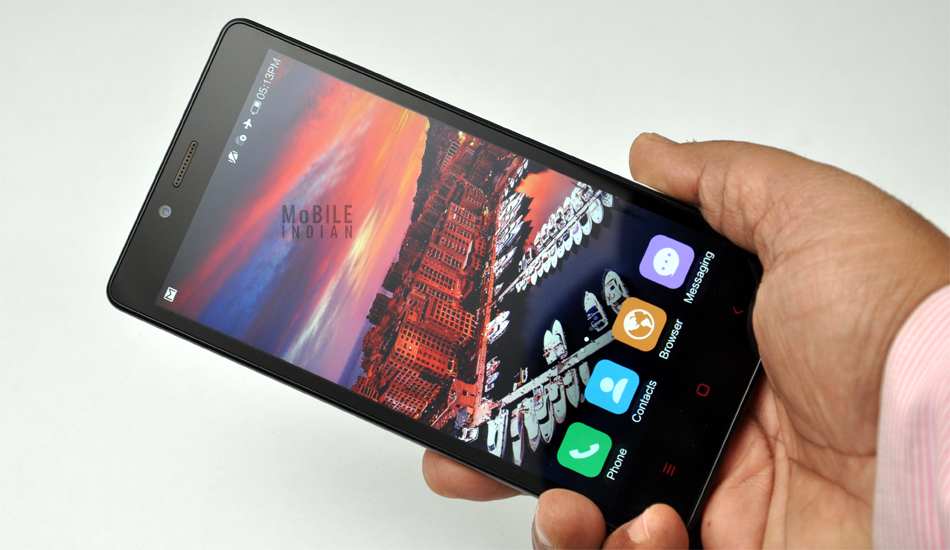 The back panel is removable and a groove for the same lies at the top left edge which again is quite unconventional. In most smartphones, the groove is located at the bottom. Under the back cover lies a full sized SIM slot and a micro SD card slot. The battery is removable.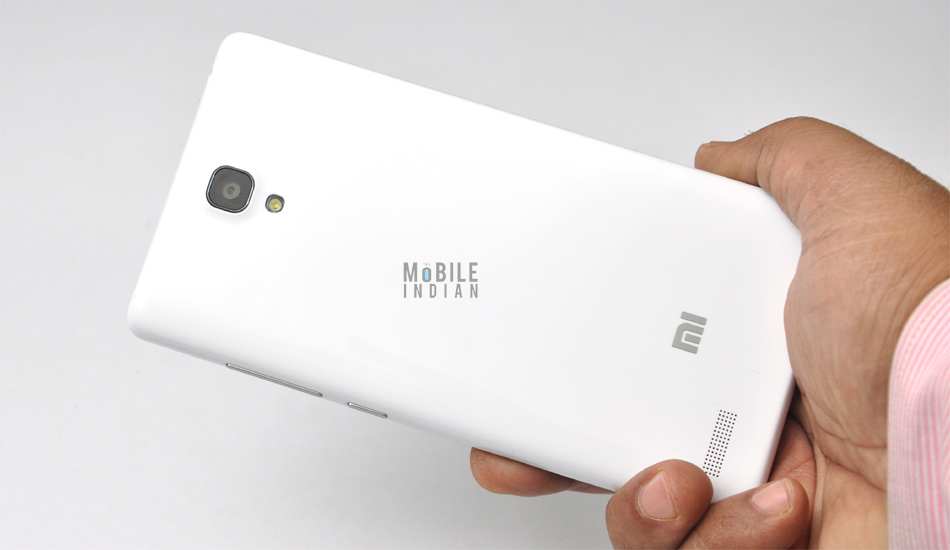 Coming to the back panel, thanks to the glossy coating, the finger prints are not highlighted. The back panel is not slippery though. The back panel is also quite neat with the camera and a flash light at the top while the Mi logo is engraved towards the bottom alongside a speaker grill.
All in all, the Redmi Note 4G is not an eye-candy and is far behind many of its competitors when it comes to the design aspect. This is one area where I think Xiaomi needs to work a lot.
Display
The Redmi Note 4G offers a huge 5.5 inch display which is not that obvious from its design (it felt like any other 5 inch device). The huge display is definitely an advantage when it comes to games and videos and reading as well as writing. The display has also decent 720p (high definition) resolution, offering a pixel density of 267 ppi. Ofcourse, full HD resolution would have been much better. However I was still satisfied with the display resolution considering its price tag (Rs 9,999).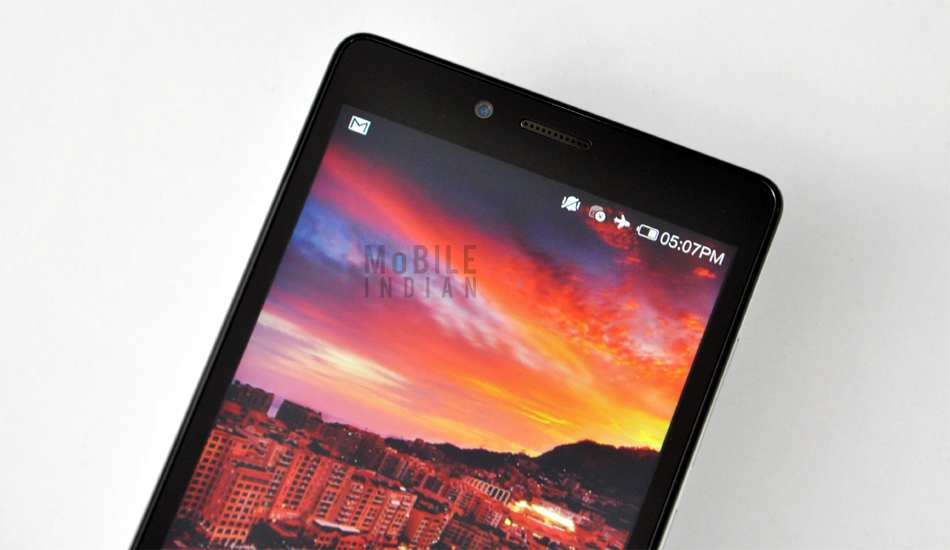 The display of Redmi Note 4G also has good brightness levels as well as colour output. The touch response is one of the best as well. However, the screen has no protective glass covering, like the Corning Gorilla Glass, and if you won't use any screen guard, the display may be prone to scratches in the long run.
Camera
This is one of the most talked about features of any smartphone. So we have given due importance to Redmi Note 4G's camera capability. As I said earlier, the handset has a 13 megapixel rear camera and a 5 megapixel front camera. The rear camera comes with CMOS sensor, F2.2 Aperture and auto focus capability.
We have already uploaded few samples that we had clicked using the cameras of Redmi Note 4G which you can check out here (https://www.themobileindian.com/picture-story/253_Xiaomi-Redmi-Note-4G-camera-test). As you can see, the 13 megapixel rear camera does a pretty good job in capturing colours. It also manages to offer plenty of resolution so that you can crop the pictures later and still has a decent image. It has no problem whatsoever in low light or while clicking under artificial light indoors.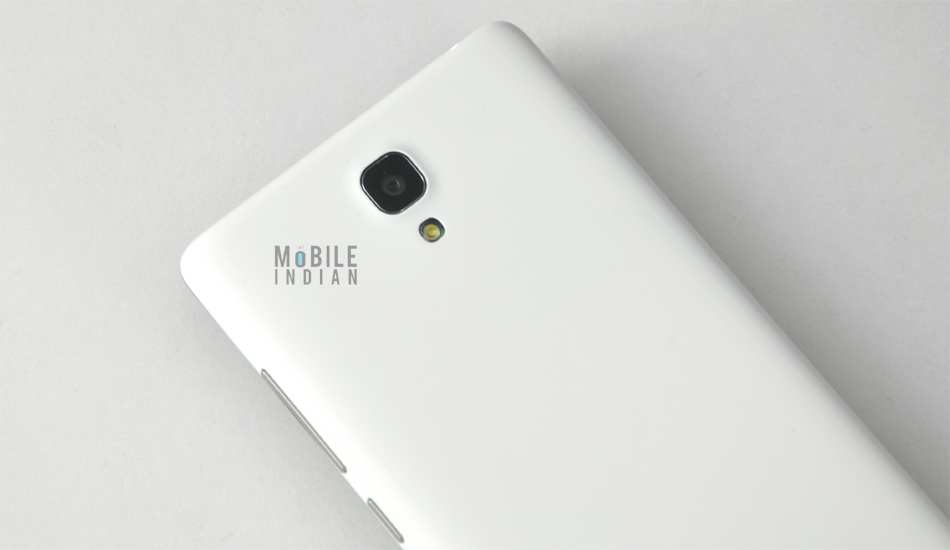 However, as you can see, there are some issues with the HDR option; it tends to darken some parts of the image. The Redmi Note 4G also takes a bit (2-3 seconds) to focus. During our review, sometimes the rear camera refused to focus, forcing us to relaunch the camera app. The front camera is undoubtedly one of the best in the business.
All in all, the Redmi Note 4G is one of the best camera phones in the sub-Rs 10,000 segment and the few issues that I have highlighted is likely, I hope, to be addressed by Xiaomi in coming times.
Storage
The Redmi Note 4G offers 8 GB of internal storage of which 6.1 GB is available for users. It has an expandable storage slot as well that can accommodate a micro SD card of up to 64 GB. Furthermore, you can use a pen drive to further expand its memory (USB OTG feature).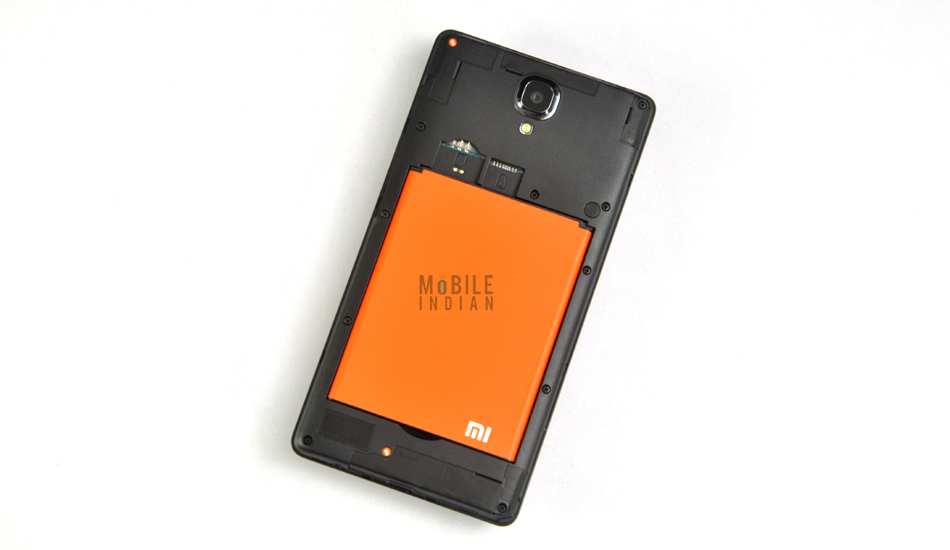 In comparison, Micromax's Yu Yureka that costs Rs 8,999 offers 16 GB of internal memory, 32 GB micro SD card slot and USB OTG functionality). The Rs 6,999 priced Lenovo A6000 offers 8 GB of ROM and 32 GB micro SD card slot.
Connectivity
As the name suggests, the Redmi Note 4G comes with LTE connectivity. Sadly, we could not have tested its 4G performance as the same was not available in Delhi NCR (so if you happen to stay in Bangalore or in other cities where Airtel is currently offering 4G services and own this device, please share your experience here).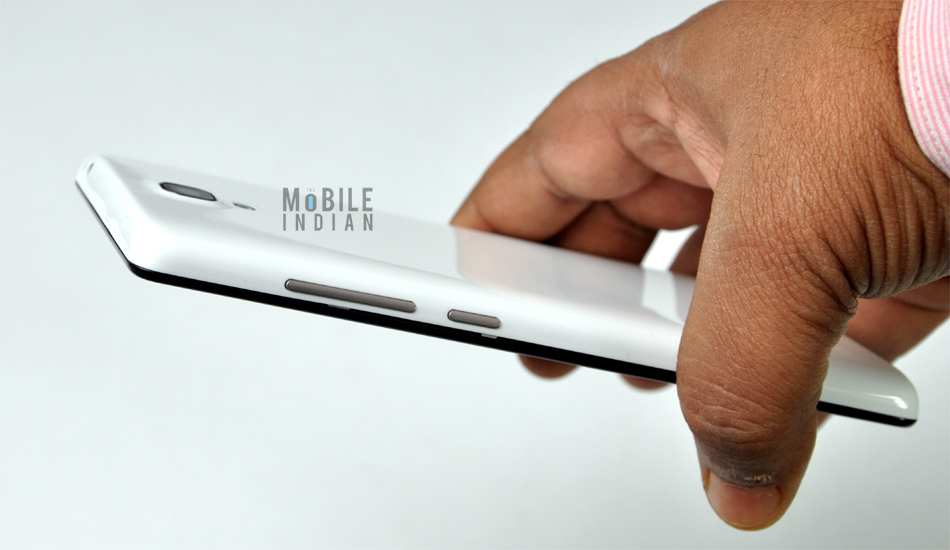 However, I did use its WiFi and 3G network throughout the review period and it never gave me any opportunity to complaint. Nor did I had any issues while calling or vis-a-vis its Bluetooth performance.
However, Redmi Note 4G comes with only one SIM slot which may cause heartburn for some users who have already had the habit of holding one device for two connections.
Performance
The Redmi Note 4G comes armed with Android 4.4.2 Kitkat operating system and note that Xiaomi's has not said anything so far about its upgrade to the next version. The phone has Xiaomi's MIUI interface which does not have any app drawer. So everything is laid out in the home page itself. This sort of interface is being used on Huawei's devices as well. The notification bar is also divided into two – one for notifications and one for quick settings – something that you have seen in Android Jelly Bean devices.
To run the Android 4.4.2 operating system, Xiaomi has armed it with Qualcomm Snapdragon 400 chipset that combines a 32 bit, .6 Ghz Cortex A7 quad core processor, Adreno 305 GPU, and 2 GB RAM. The combination offered a smooth performance throughout the review and it showed no lags while opening normal apps and games. However, the Note 4G hanged on 2-3 occasions when I tried to play a very high end game – NOVA 3 Freedom Edition. The phone though managed to play the game afterwards but lags were quite visible.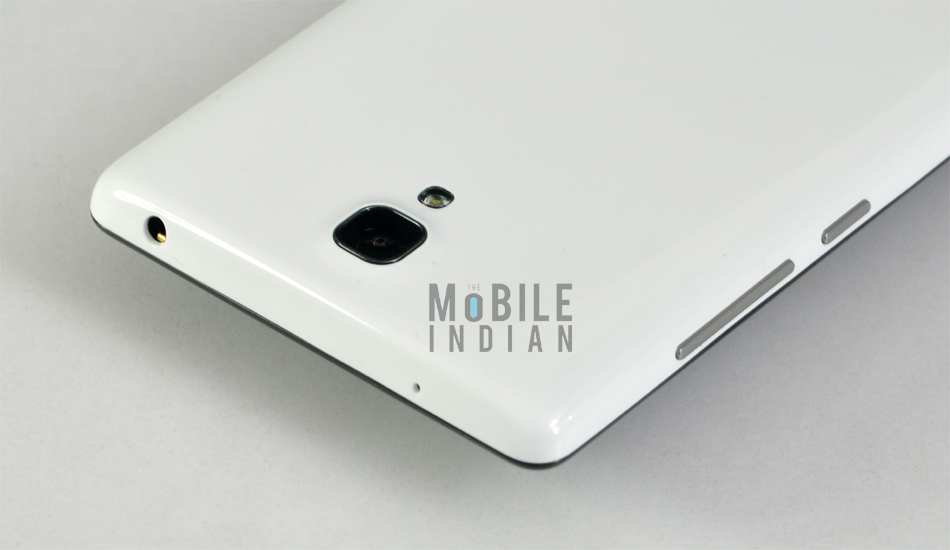 In terms of battery life though, the Redmi Note 4G is quite decent. Anyway, it has a big 3100 mAh Li-Ion battery which is even quite good for a 5.5 inch display based device. Naturally, it offered appreciable back up. During our usage, the Redmi Note 4G though offered decent back up. During my general use it managed to stay for a whole day with continuous WiFi/data connection and about half an hour of calling.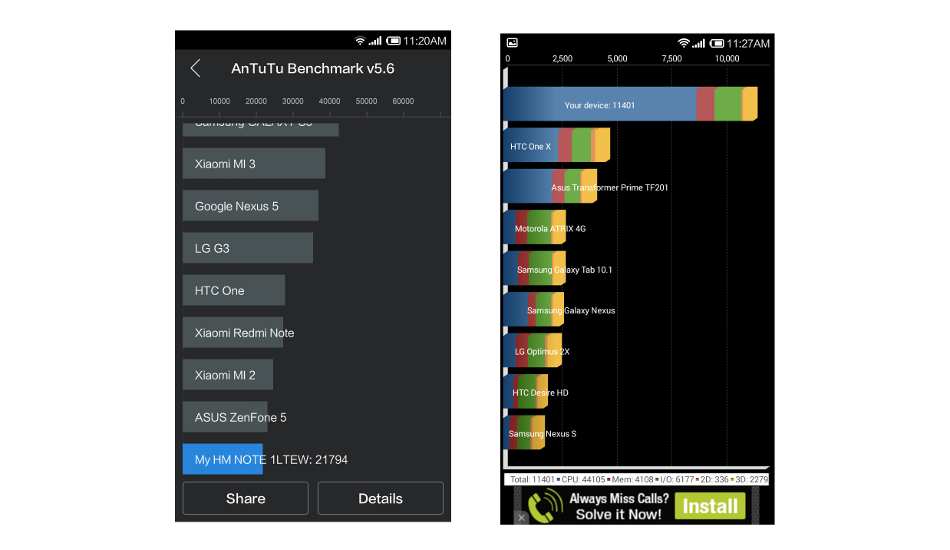 When it comes to video playback, the device offers about six hours of back up; consuming about 15 per cent charge in an hour with full brightness and volume. And similarly, in YouTube browsing, the phone consumes just about 15 per cent in an hour over WiFi.
Images by Sushil Kumar