Oppo's latest mid-premium flagship to join its product portfolio in India is the Oppo Reno 6 Pro 5G. The Reno 6 Pro 5G from Oppo comes as a successor to the Oppo Reno 5 Pro which we reviewed earlier this year. We loved that phone. However, it did lack the punch when it came to cameras.
The next generation in Oppo's Reno series is all about the premium experience and Oppo doesn't seem to have cut any corners when it comes to Oppo Reno 6 Pro 5G. So let's dive in deep to find out what Oppo has in stores next for us.
Design & Display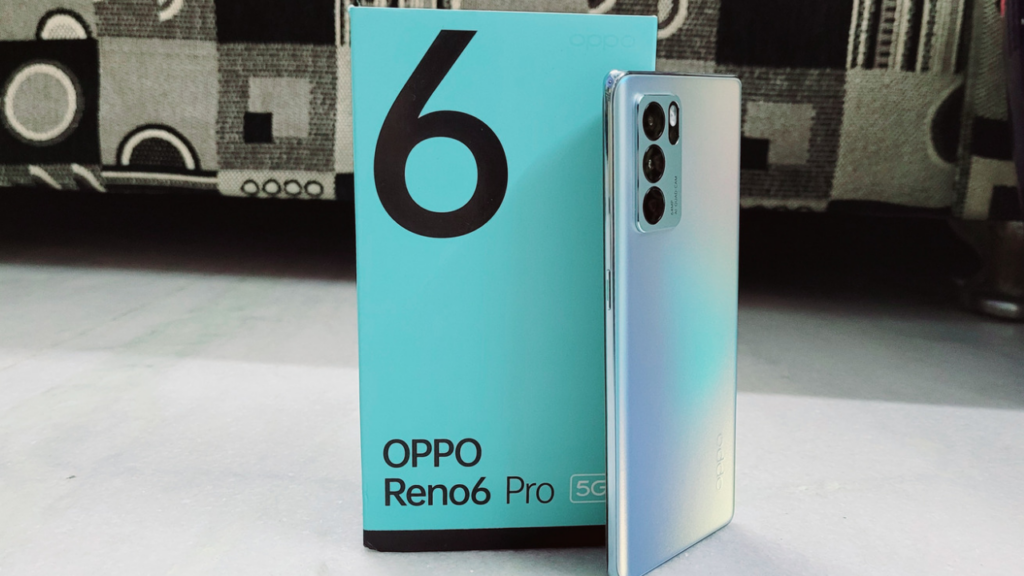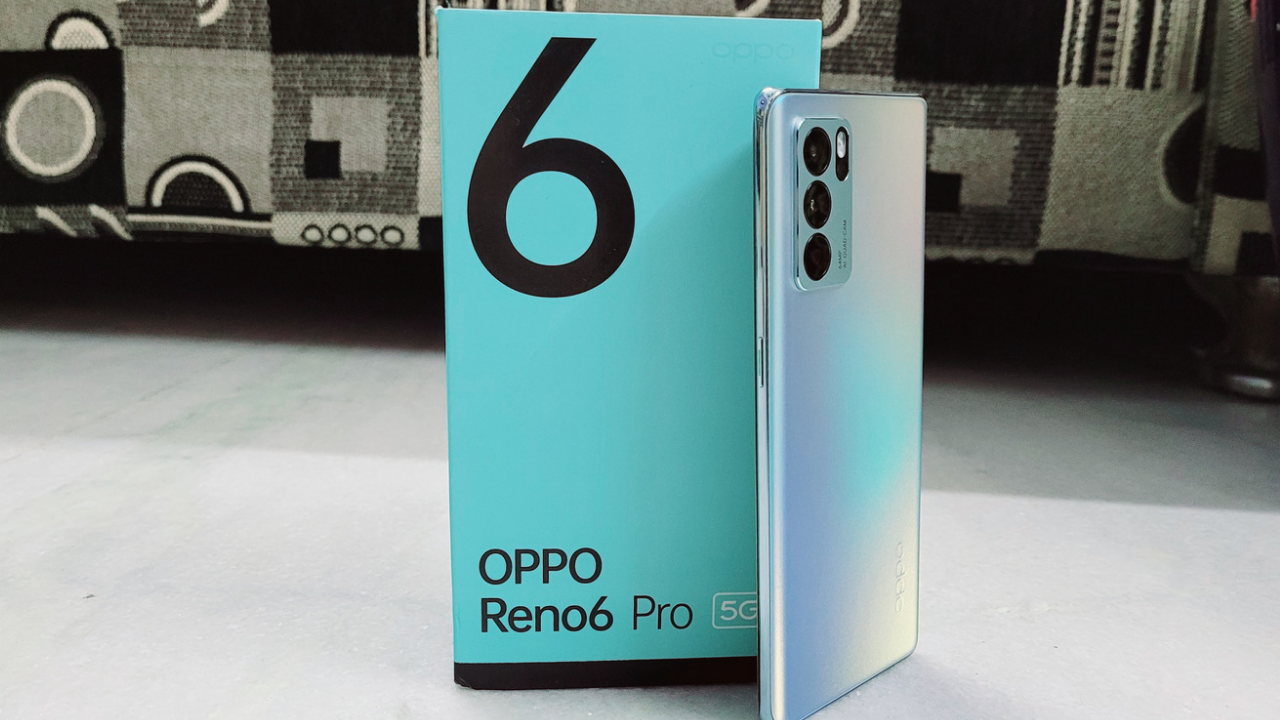 Oppo has used special AG Glass material to build this device to give you both a shiny look and a matte finish. With the material used, the Reno 6 Pro feels nothing short of premium. With just 7.6mm of thickness, a metal EDGE frame and a curved display on the front, the Oppo Reno 6 Pro 5G screams premium when you hold it. We got the Aurora colour from Oppo, which has shades of golden, blue and purple. Depending on where the light shines on it, the phone looks impressive from every angle.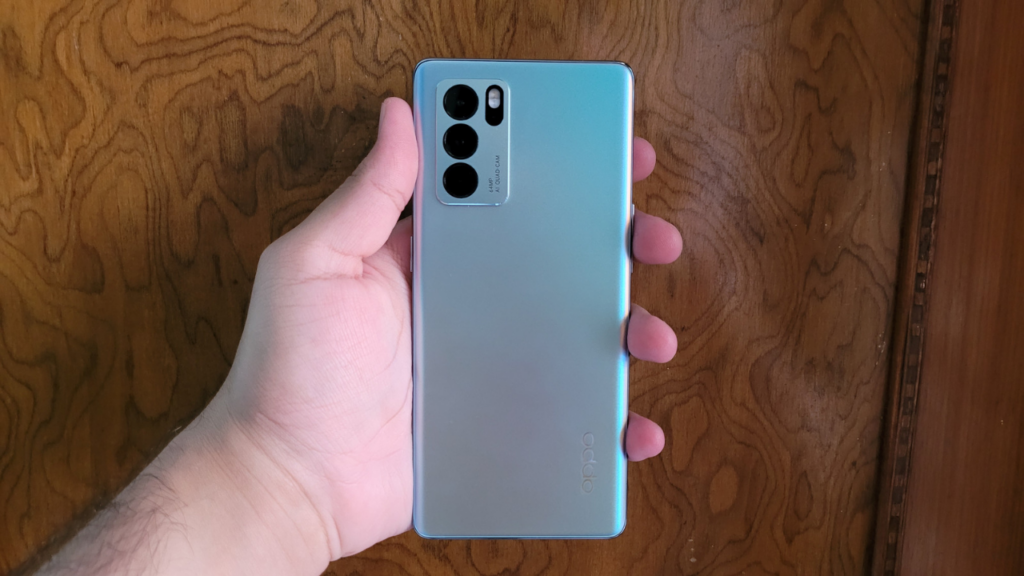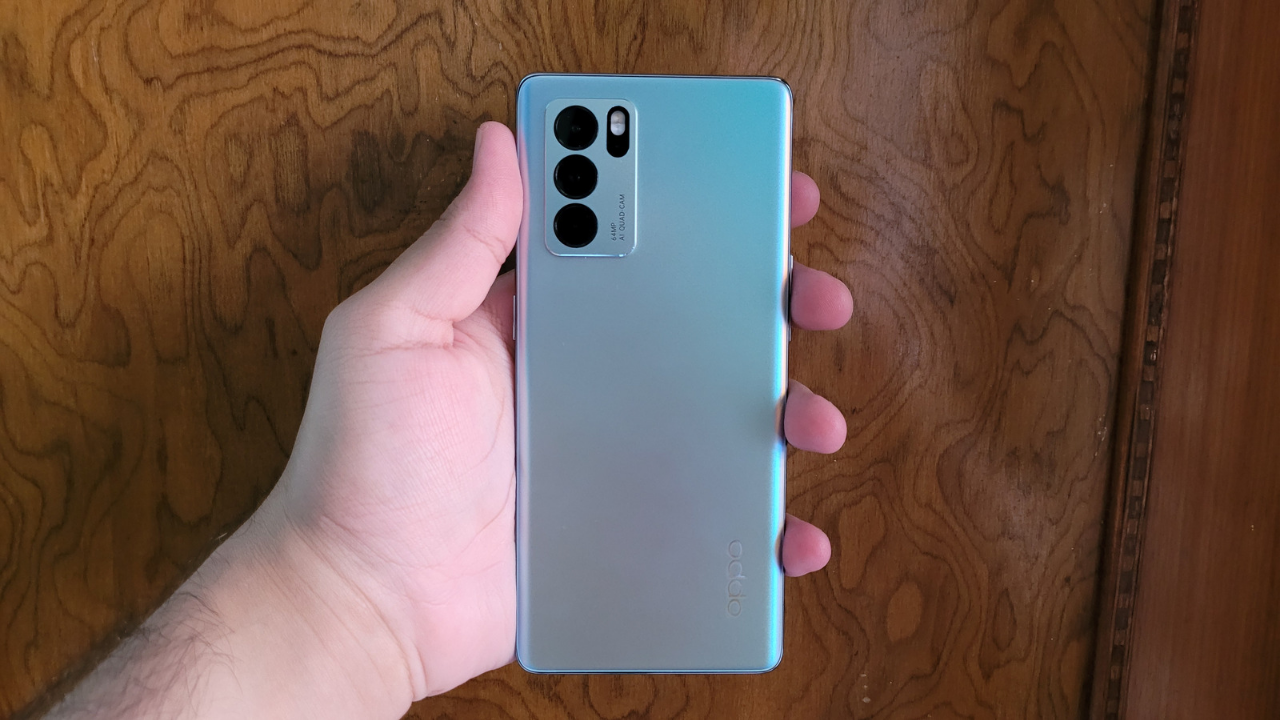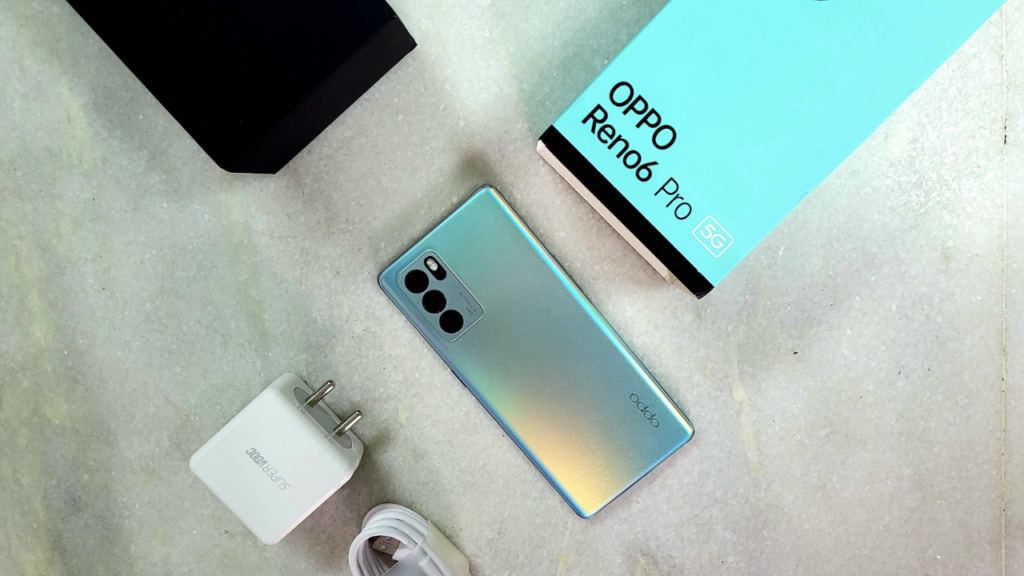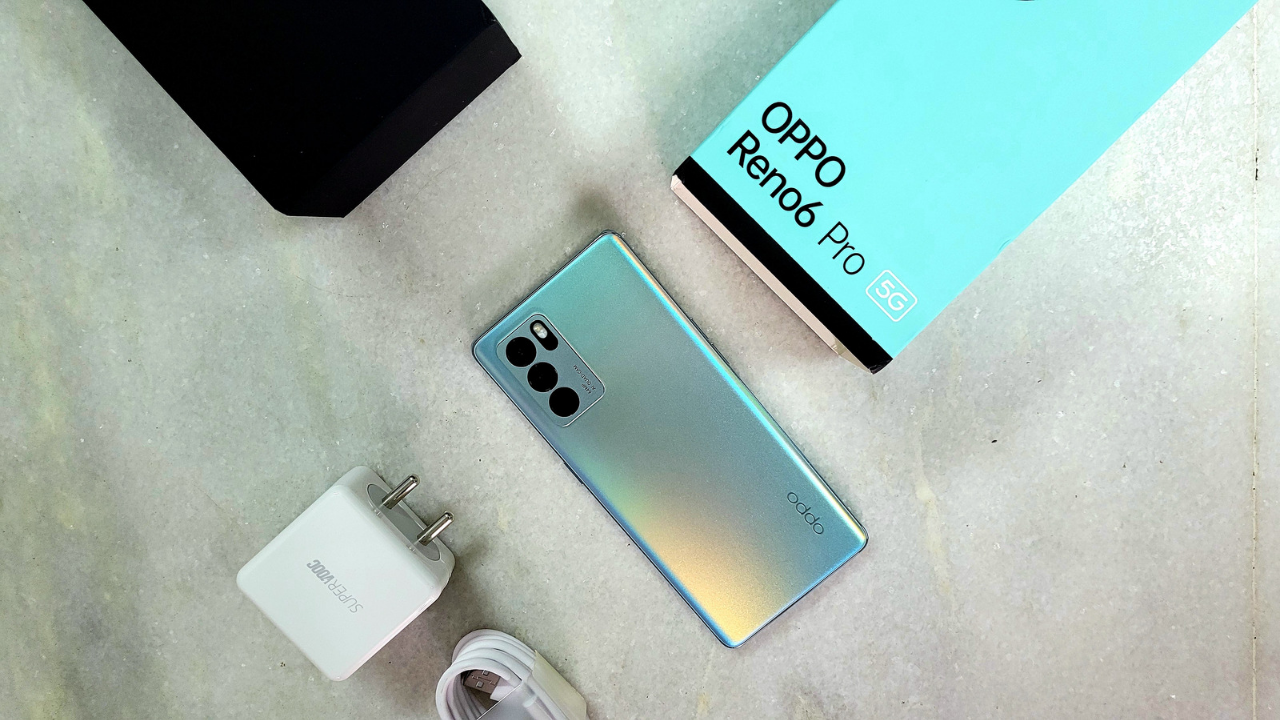 Even though the design looks similar to the Oppo Reno 5 Pro, Oppo has done a good job refining it further with good quality hardware. The keys feel tactile while clicking and not wobbly.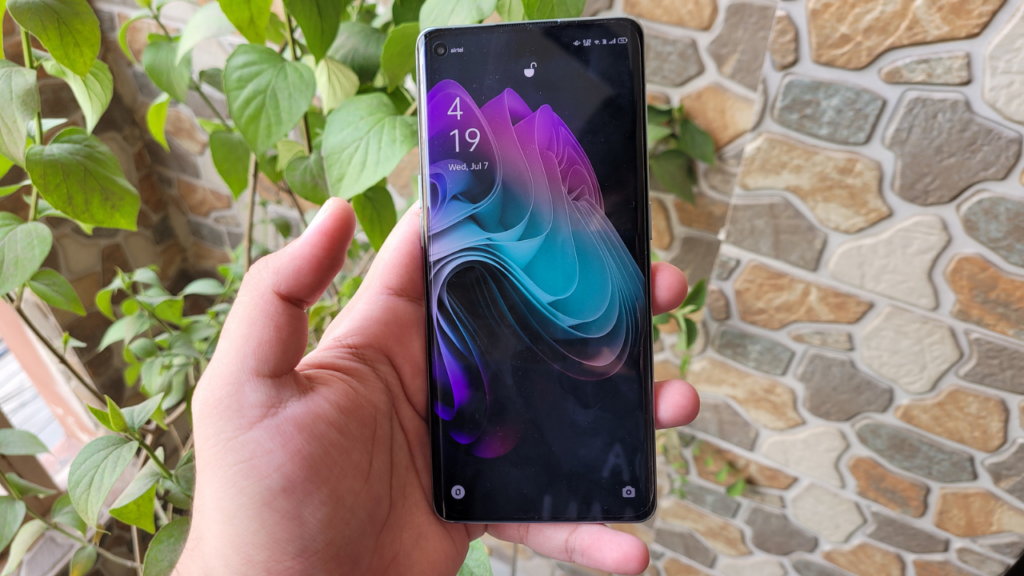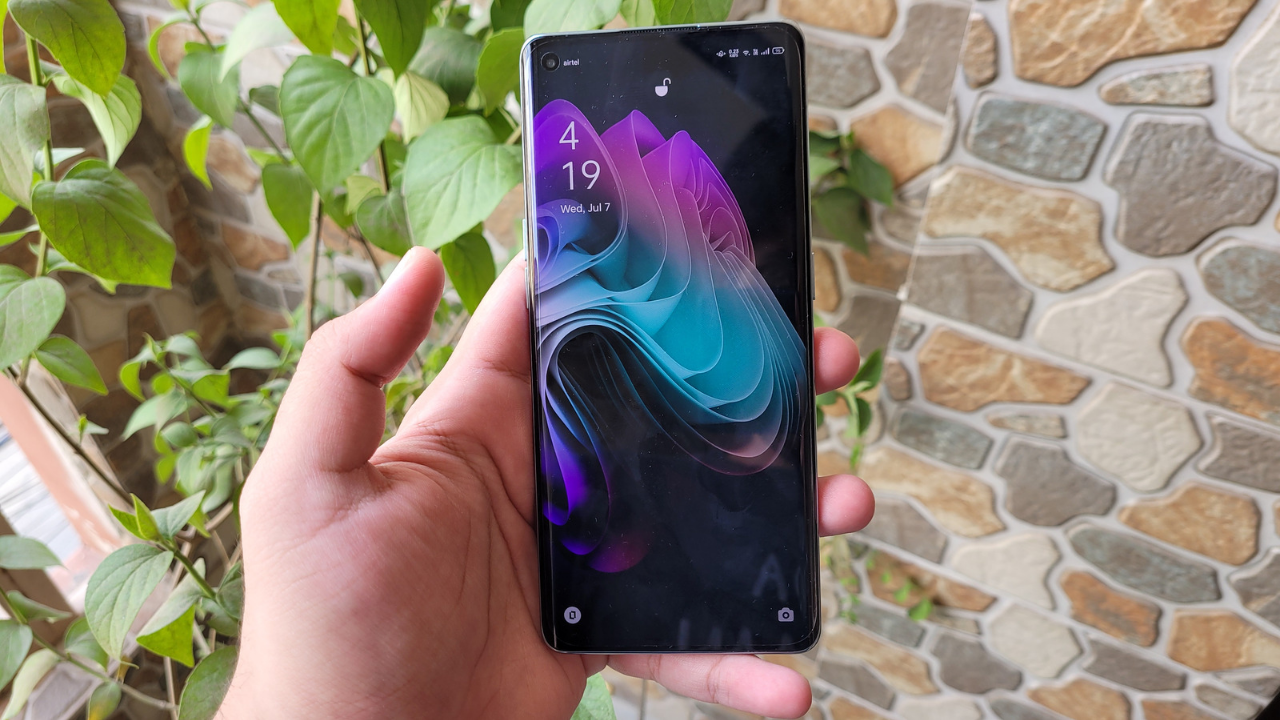 Talking about the 6.55-inch AMOLED curved panel on front, it can output up to 90Hz high Refresh Rate with up to 180Hz touch sampling rate. There's 100% DCI-P3 colour gamut and 404 ppi. The screen can get plenty bright in real world usage, and I was comfortable viewing it indoors even below half level. Under direct sunlight, the screen performs well and gets bright enough.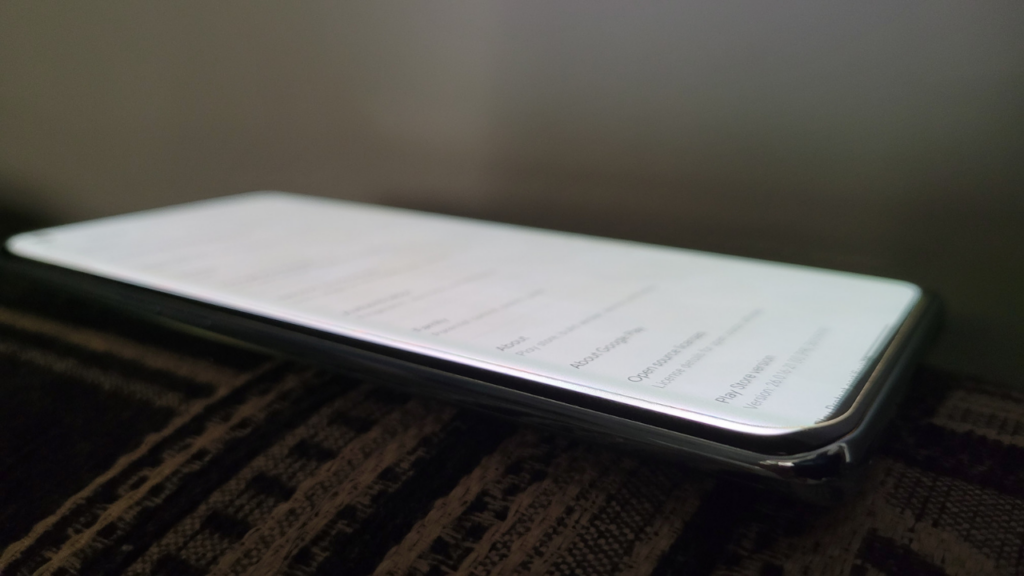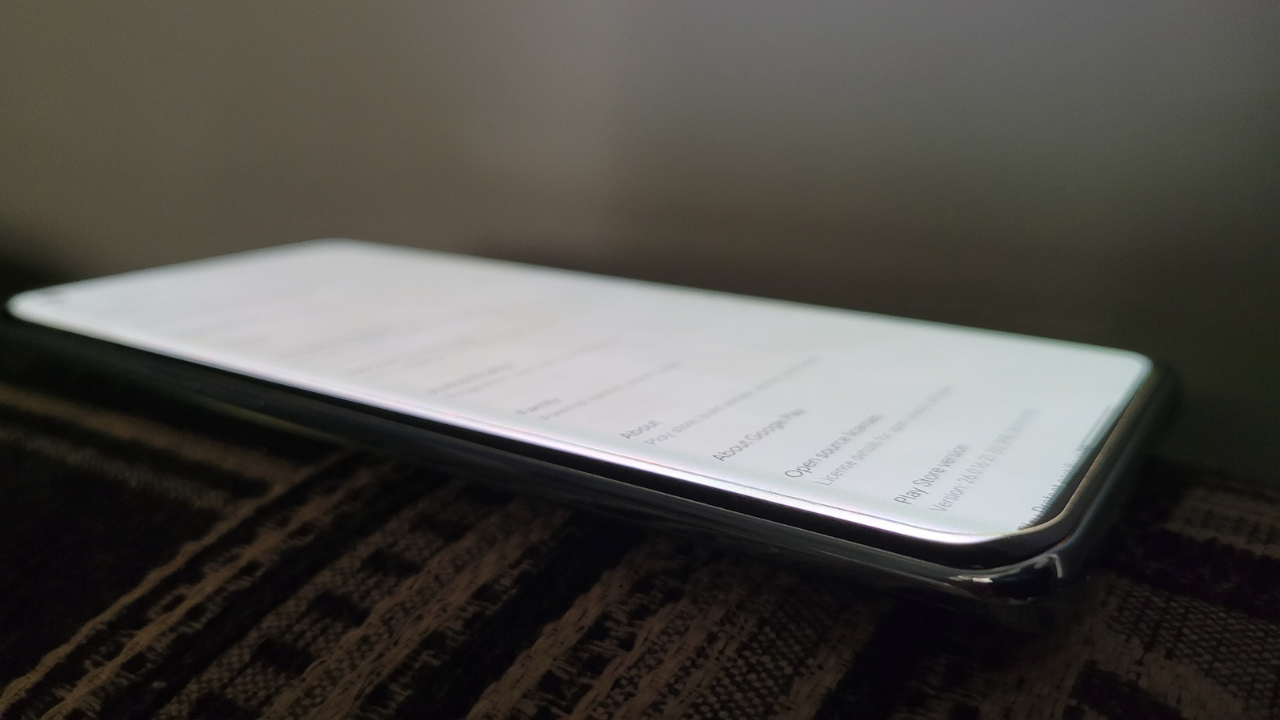 The colours look punchy and accurate, however, we had an issue with the display that is quite surprising. There was a slight green tint on the upper half of the screen which was clearly visible when I was using the dark mode system theme. The viewing angles also weren't that great as then, the tint runs across the whole screen. When using the light system theme, the viewing angles worsen, and a lot of colour shifting occurs. Although the screen performs decent in other aspects, the viewing angles and the green tint did disappoint us.
Performance and Software
As it's a mid-premium flagship, one of the most efficient choices of Processor in this segment is the Dimensity 1200 SoC. We know that devices equipped with this processor have performed well in the past and the Oppo Reno 6 Pro 5G isn't an exception.
The Reno 6 Pro just handled every single heavy task I threw at it, with ease. The phone doesn't seem to stutter in any scenario, be it high-graphics gaming or browsing. Multitasking was also a breeze with this one as you also get the RAM expansion feature with this one. The variant we had got 12GB of RAM and if you go into the 'About Phone' section, you can click on RAM and then expand it up to a whopping 7GB.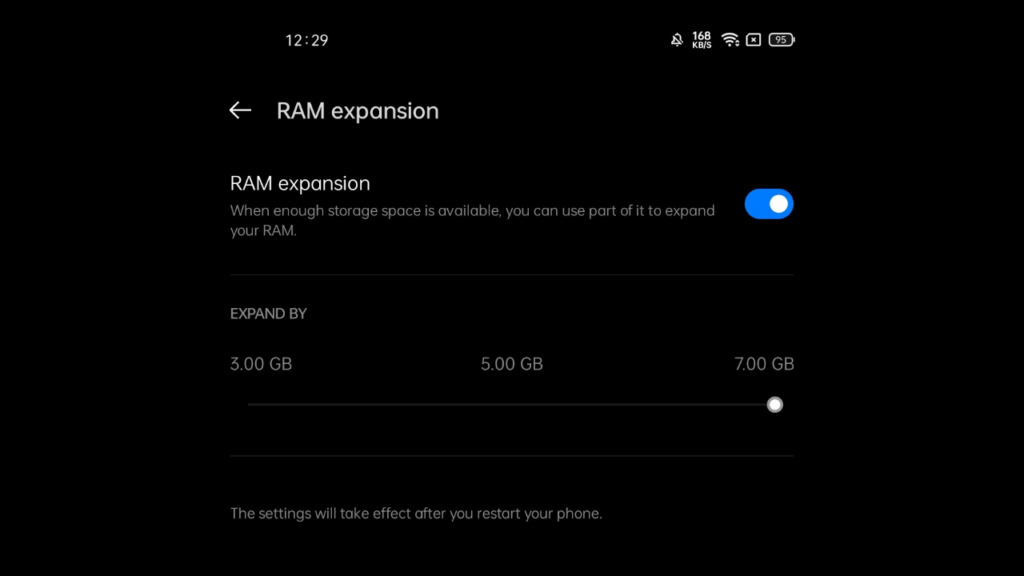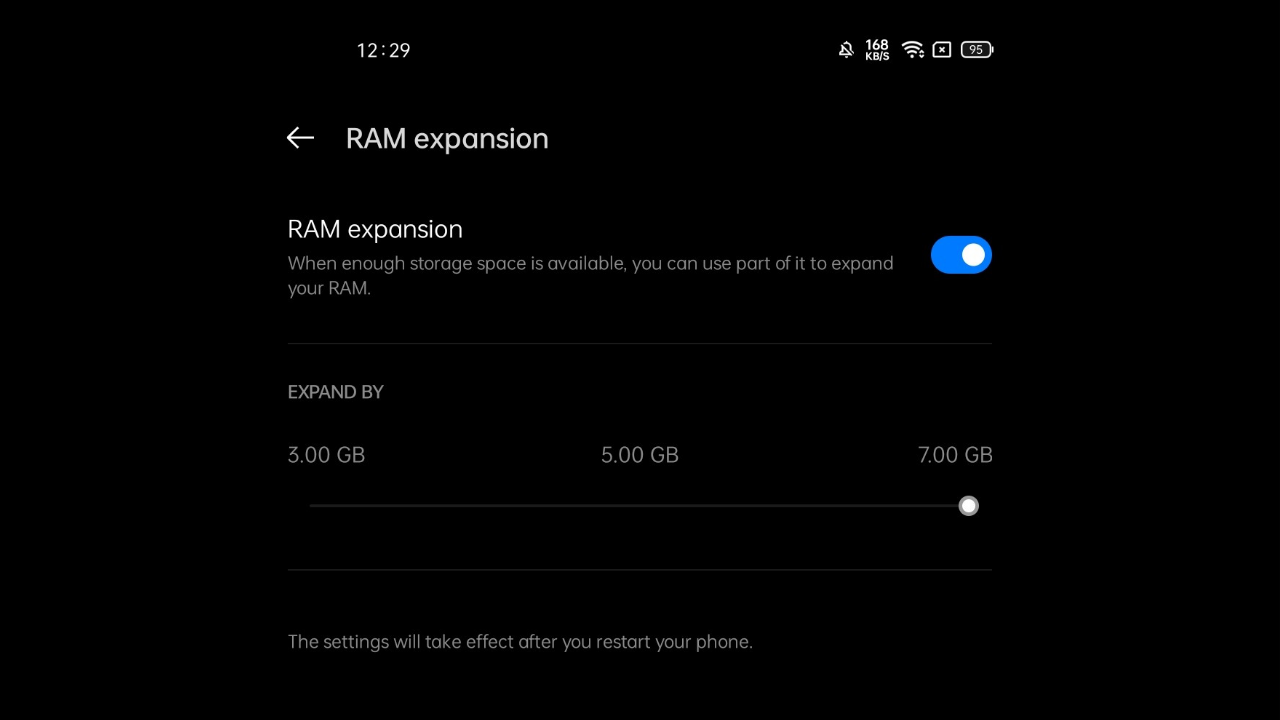 Basically, what Oppo does is that it starts using the internal storage of the phone on the basis of the specified amount of extra RAM. We get three values for expanding the RAM including 3GB, 5GB and 7GB. When using 7GB of extra RAM with 12GB of RAM, equalling to 19GB, the phone kept the oldest of apps in memory so they didn't have to reload whenever I opened them.
The phone will intelligently use this feature based on how much free space you have. So, for example, if the phone detects you have less storage available, it may prompt you to lower the amount of extra RAM you have specified to use.
Talking about ColorOS 11.3 based on Android 11, we have already appreciated in the past about how Oppo has worked on its software. This time, Oppo again managed to score well in the software segment. The software gets plenty of features while maintaining the fluency. The phone has a plethora of customization options when it comes to theming your phone. From Always-on display to the fingerprint unlock animation, the phone can customize every bit of the software.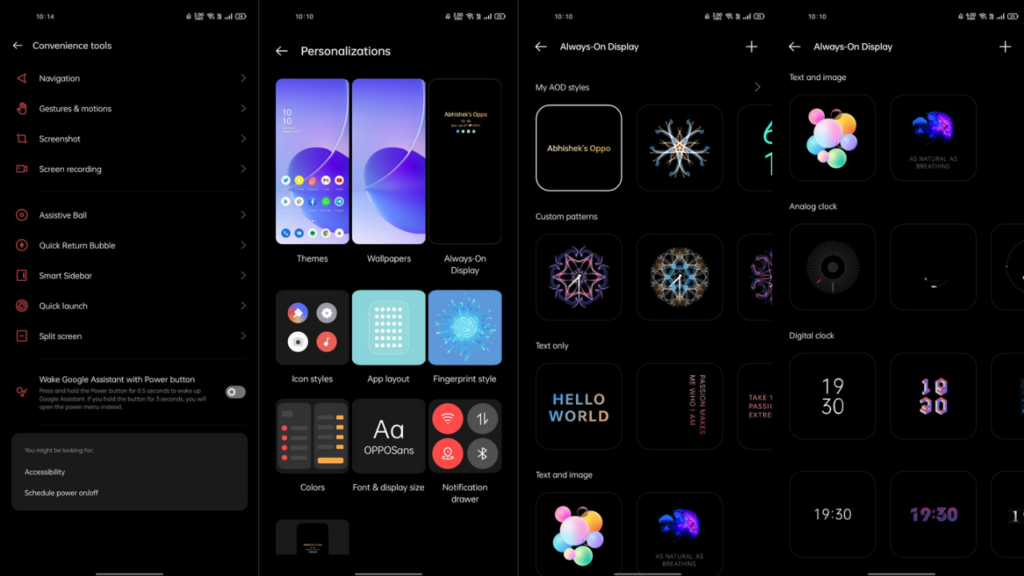 You also get features like Assistive Ball, Quick Return Bubble, Smart Sidebar, Quick Launch, and Split Screen functions for a better multitasking experience.
The phone does come with some amount of bloatware including apps like Facebook, Netflix and more. Most of it can be uninstalled which is appreciable.
Though I did face a few minor bugs with the UI here and there, the phone was smooth in handling everything. I also tried Call Of Duty Mobile at max graphics and as I had expected, the phone ran the game without any frame drops or graphics issues. Our unit did get warm during the gameplay but that was expected considering I was playing with the highest level of graphics available.
I do want to point out that the Haptics of the phone are strong and accurate as well. While typing, you can feel the vibration of every single key press. The phone can sync vibration with the preloaded ringtones and the vibration is pretty strong. Oppo has tried to provide you with the best possible premium experience with the haptics as well. Even if you adjust the volume, the phone gives you small vibration feedback when you raise or lower the volume.
There's nothing Oppo is leaving out on even when it comes to security. Of course, you get the June security patch and Google Play System update. Other security features include Payment protection, App lock, Private Safe and more. The fingerprint sensor, as well as Face unlock, were again accurate and quick in unlocking the phone.
We didn't face any sort of issues with connectivity as well. The phone supports 5G connectivity which for obvious reasons, we weren't able to test. There is support for Dual-Band Wi-Fi as well. When connected to a 5Ghz network, there were no network drops or network speed problems.
Read More: Oppo Reno 5 Pro 5G Review: Is it an Allrounder?
Battery
The Oppo Reno 6 Pro 5G packs a 4500mAh battery that is split into two cells. It is done to achieve 65W SuperVOOC 2.0 fast charging. With heavy usage, including a bit of gaming along with Chrome browsing, media streaming and more, the device ended the day with 21% battery left. I got 6 hours of screen-on time.
While I still had 21% left, the phone could go on for another hour. That could have taken the screen-on time up to 7 hours which is decent for a battery of this size. With light usage, the phone may even last you more than a day. As the phone supports 65W charging, the device went from 21 to 100% in mere 25 – 30 minutes.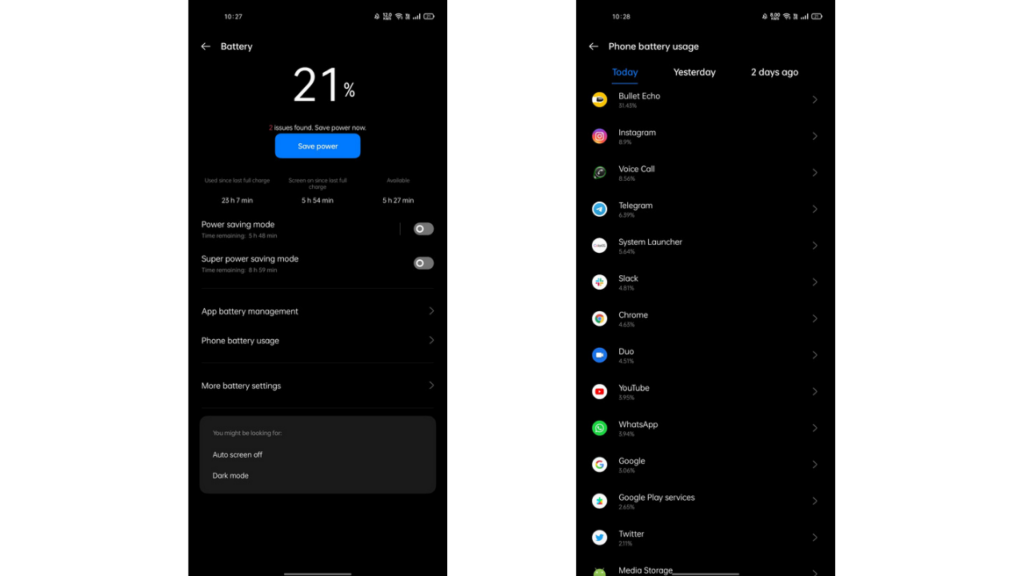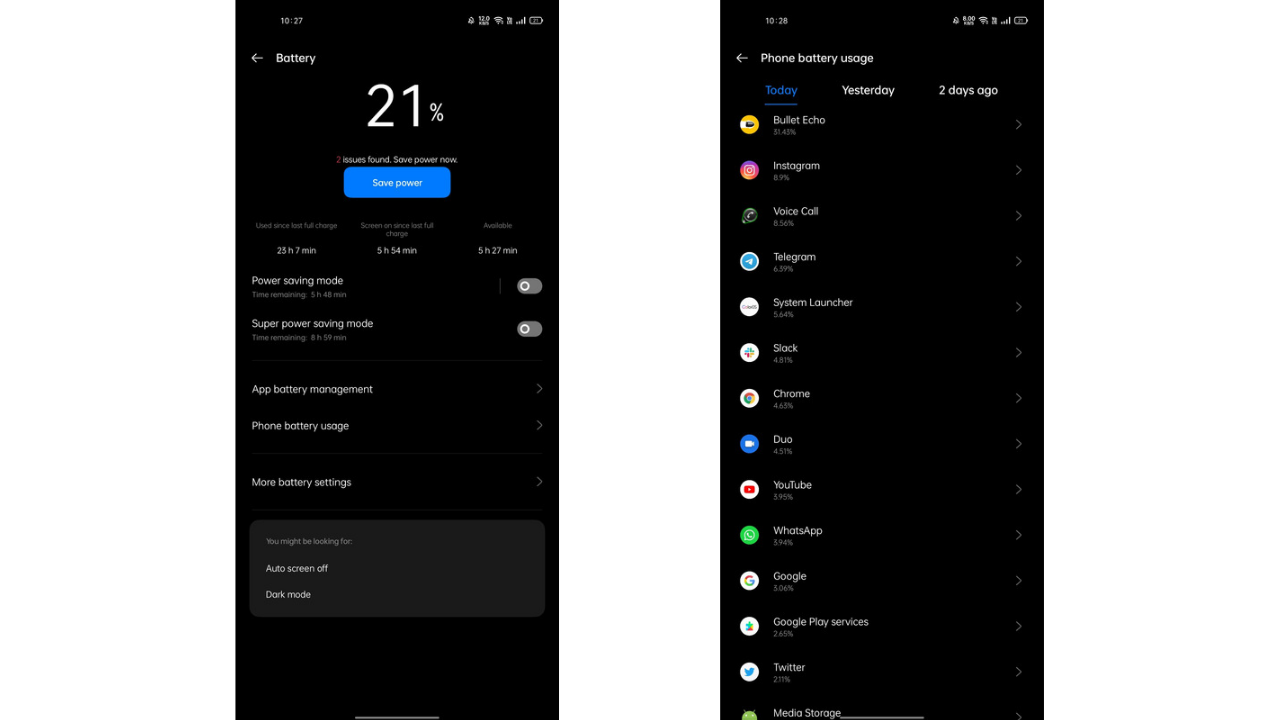 Oppo also provides a few features so you can increase the battery backup considerably. You get an 'Optimize battery use' feature so you can set which app can run in the background and which one isn't allowed to. The Sleep Standby Optimization feature will automatically optimize the apps that are consuming power in the background while you are asleep.
The Optimized Night Charging feature will learn your charging patterns, control and reduce the current in the night, and charge your phone accordingly. This is done to prevent overcharging and is surely a welcome feature for those who put their phone on charge before going to sleep.
Cameras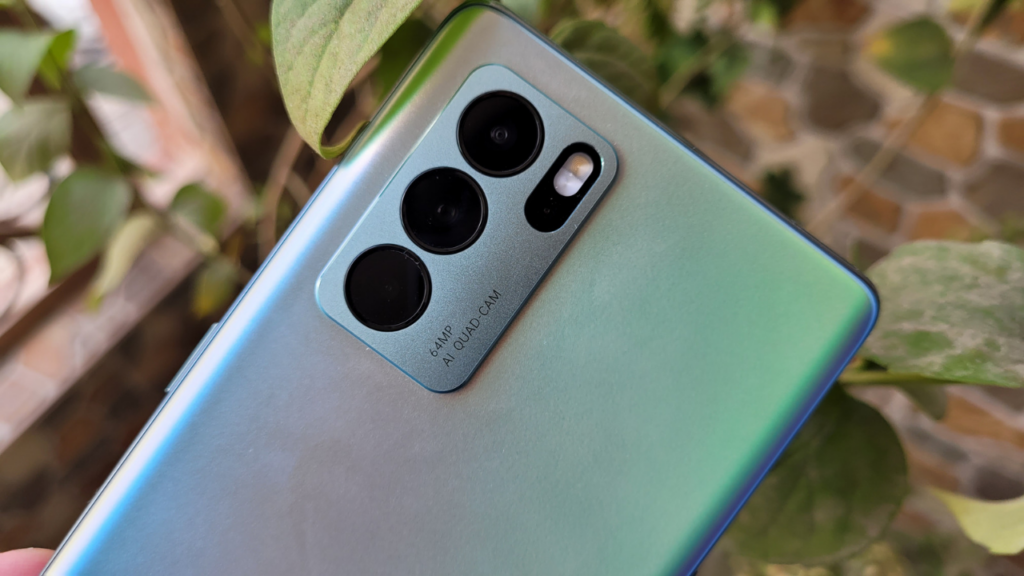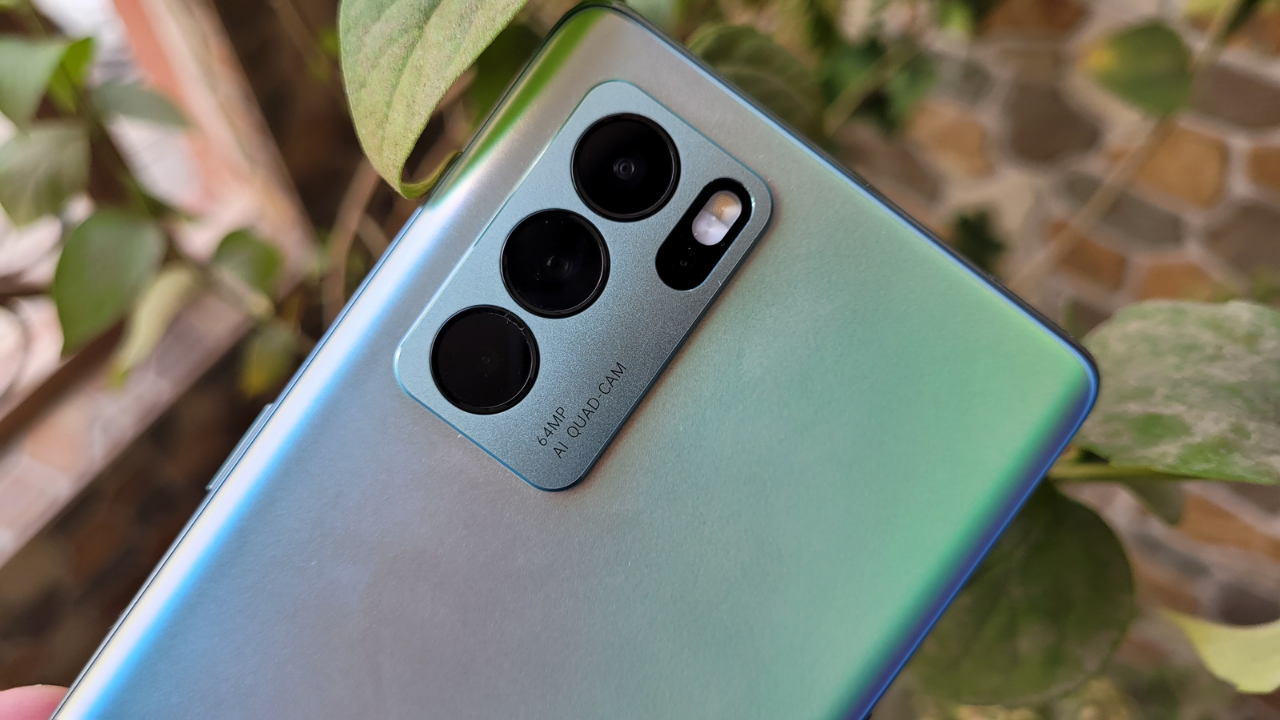 The Oppo Reno 6 Pro 5G has a total of 4 cameras at the rear. These Sensors include a 64-megapixel OmniVISION OV64B primary lens with an f/1.7 Aperture and an 8-megapixel IMX355 ultra-wide lens with 120-degree FoV a 2-megapixel OmniVISION OV02B10 Macro lens and a 2-megapixel mono portrait lens with f/2.4 aperture. On the front, there is a 32-megapixel selfie camera with an f/2.4 aperture.
As far as video shooting is concerned, the Oppo Reno 6 Pro 5G does a decent job in shooting videos both outdoors and indoors. The video from the rear camera came out to be filled with details and good looking colours. There was some amount of noise but it is manageable. The portrait effect while shooting videos from the rear camera did a nice job with edge detection as well as the amount of blur. However, when shooting video with front camera, the bokeh was a bit too much making it look weird.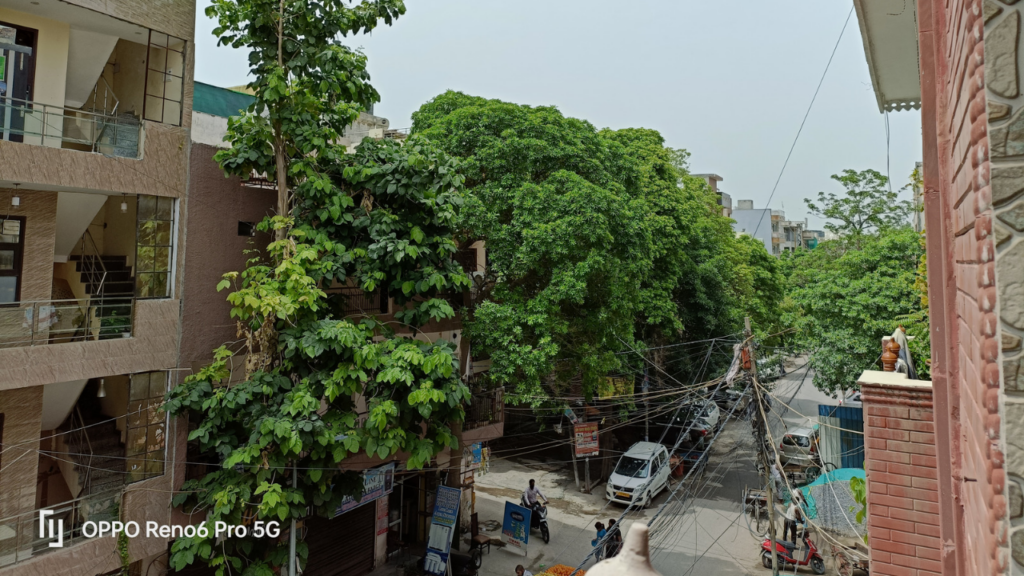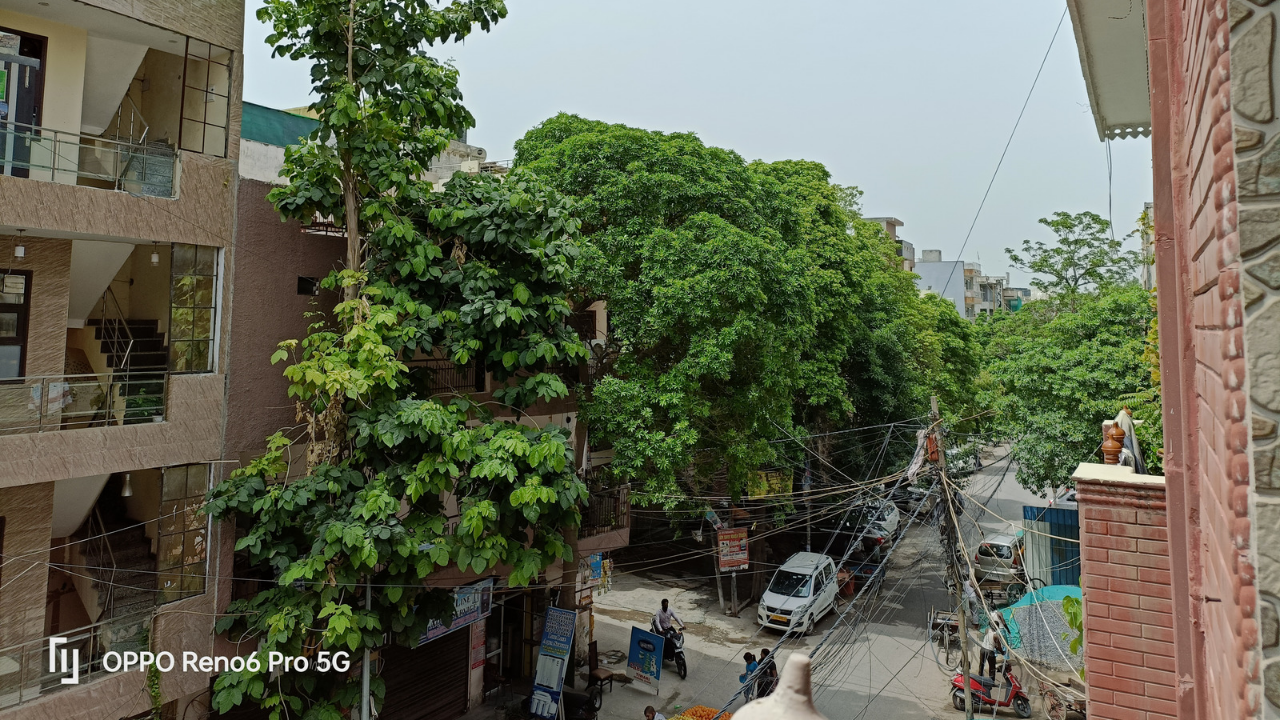 Talking about the cameras in general, they performed well in most scenarios. Shots taken in outdoor lighting looked very impressive with adequate amount of detailing and super natural looking colours. The dynamic range could have been a bit better in our opinion. The HDR was a bit overdone we think and the photos were less exposed. The photos with the primary camera could have been a bit brighter because even though it was a bright sunny day in the picture above, it looks like overcast weather conditions. These are some things that can be fixed with a software update but for the most part, the final output doesn't look disappointing in any case.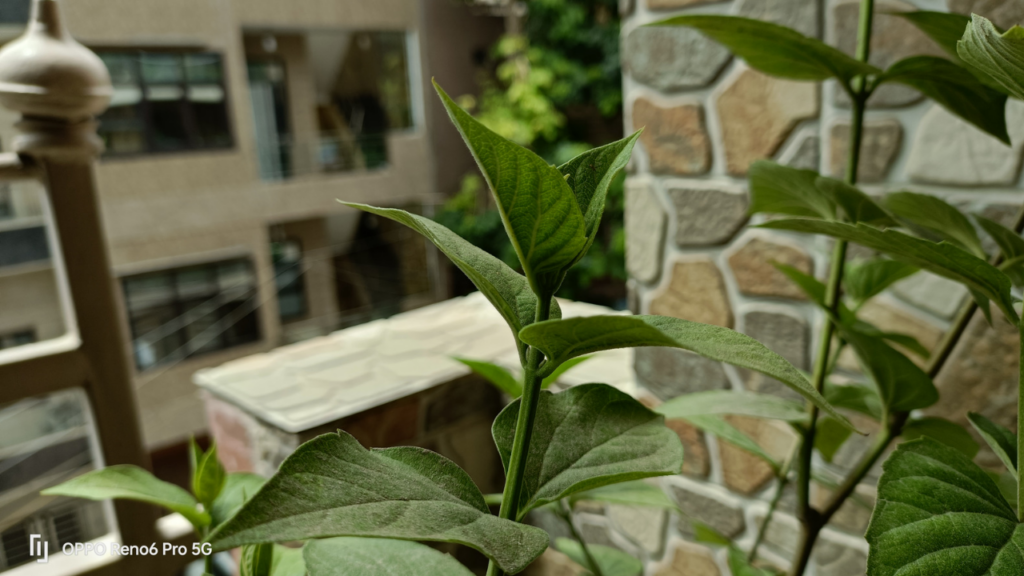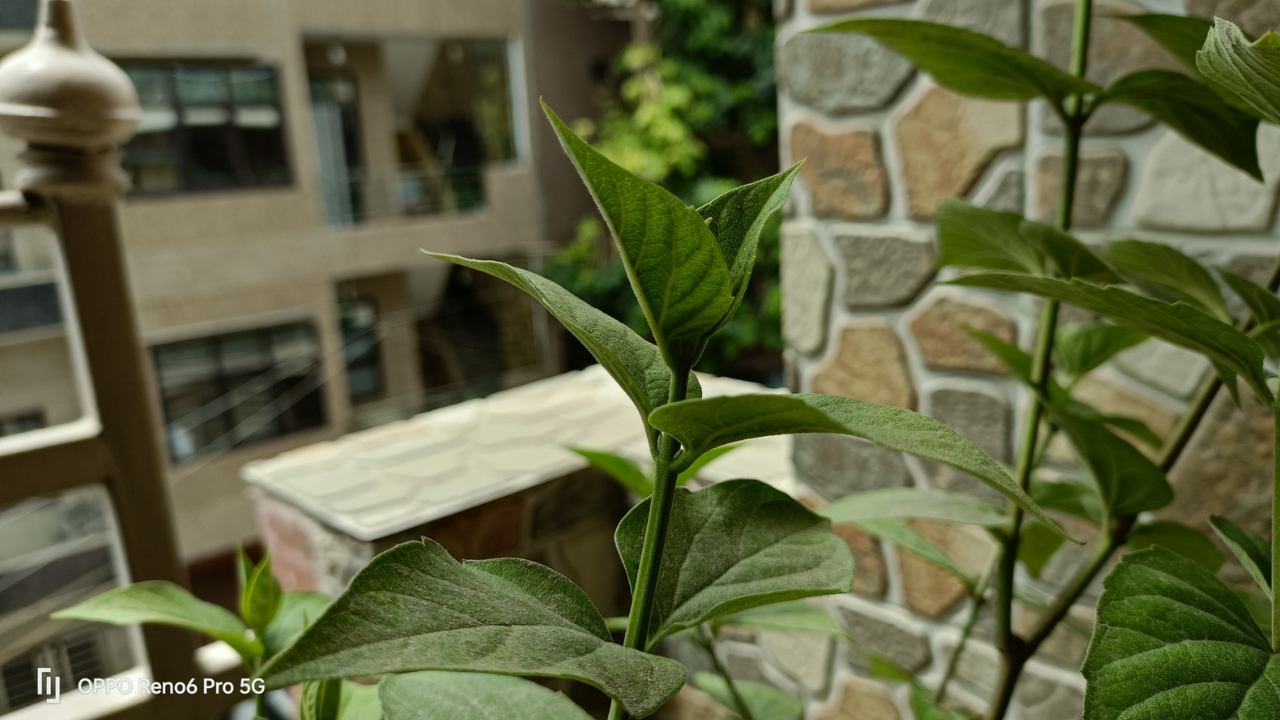 The portrait shots had great detailing and accurate edge detection with the right amount of blur. The camera focused in an instant on what I wanted to focus on. But again, the cameras are not playing well with exposure and I feel the portraits were under-exposed as well. Because of this, a photo taken in well-lit conditions also looks dark.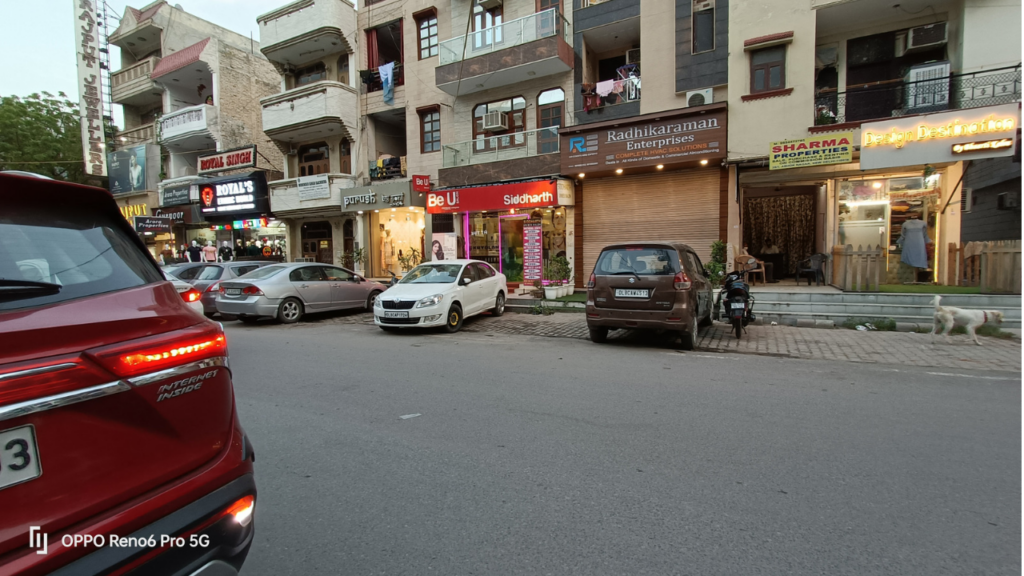 Wide-angle shots were again impressive with colours and details but the edge distortion was a bit aggressive. However, the phone did not lose out on sharpness and colours. The colour shifting from primary cam to Wide-Angle was very less and that's how it should be. The exposure problem was present here as well and the brightness again looked dim.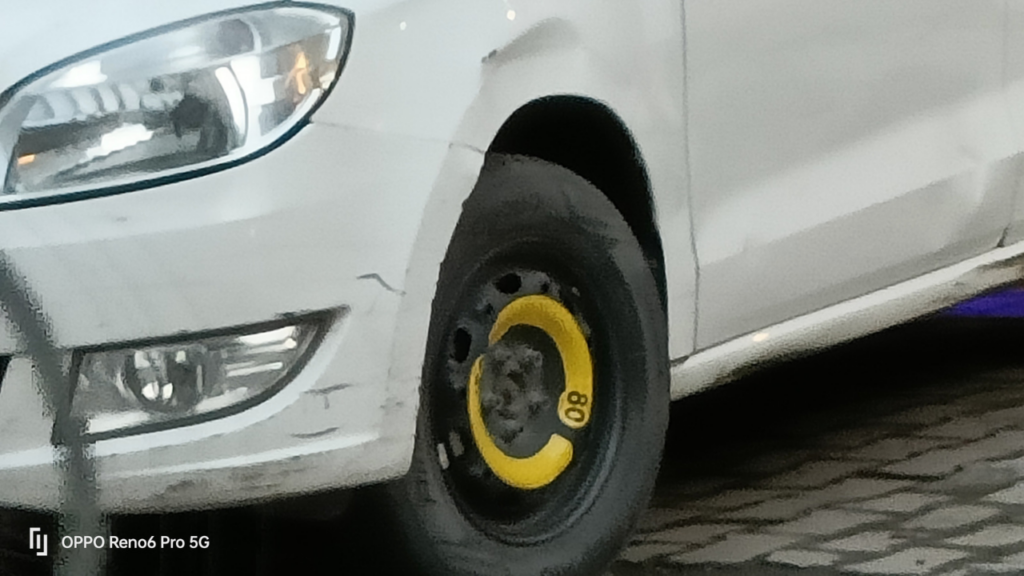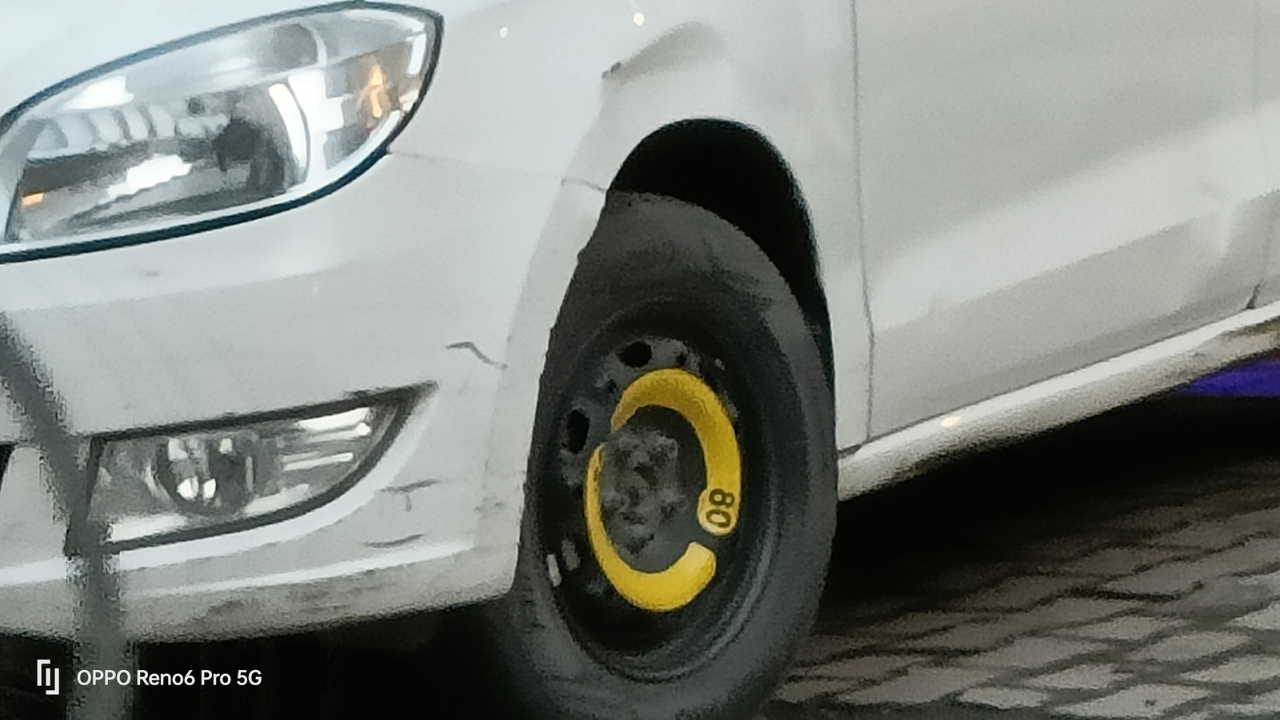 You also might not want to click zoomed in photos with the phone. There's a lot of smudging when you zoom in even a bit and there's no amount of sharpness. Shots that were taken while zoomed in straight up looked disappointing. When shooting under low-lighting, the resulting photos were nice. The detailing and sharpness is on point and the phone does surprisingly well in edge detection in low lighting conditions. We were really impressed with what we were able to achieve with the Reno 6 Pro under these lighting circumstances.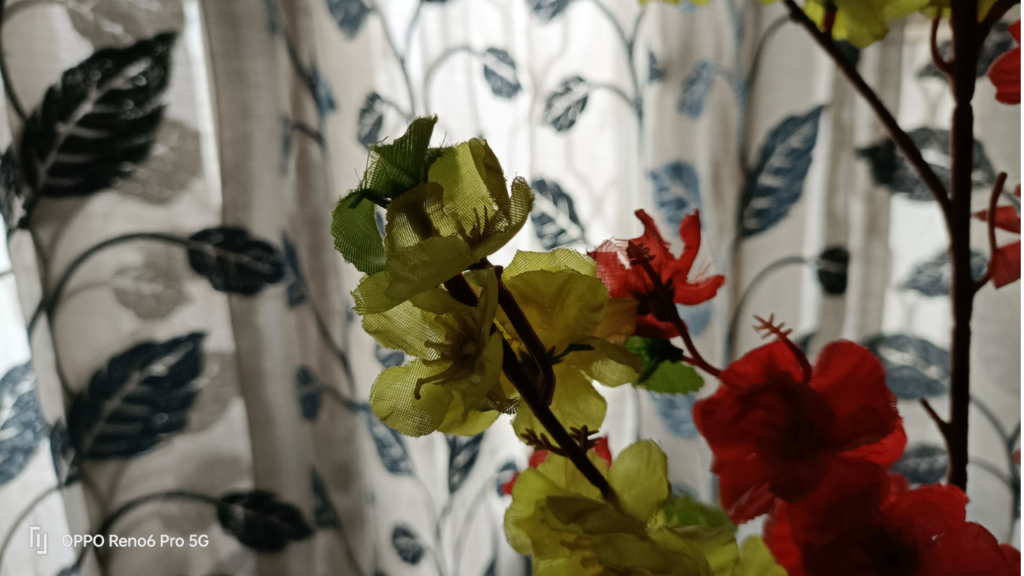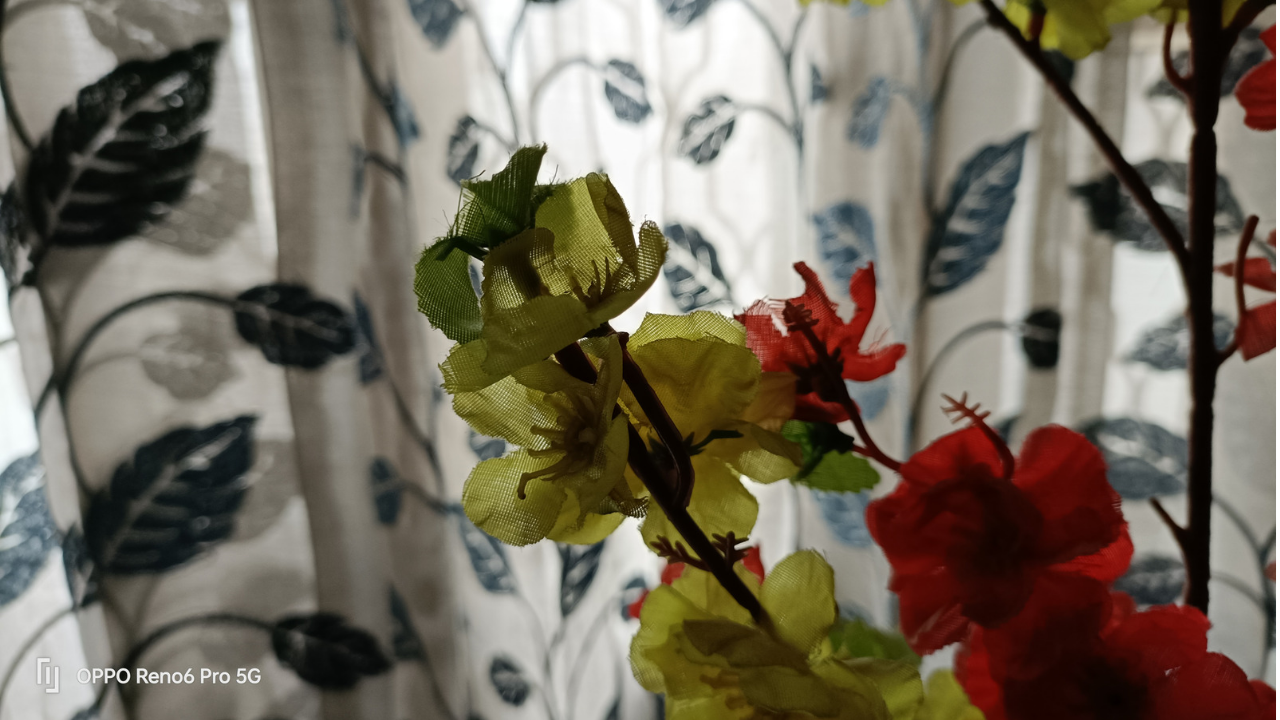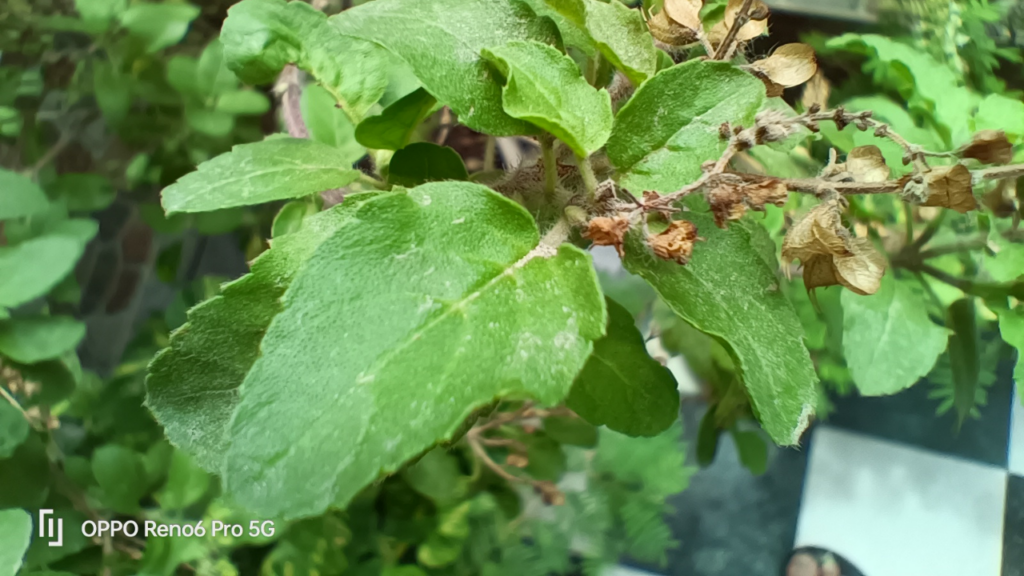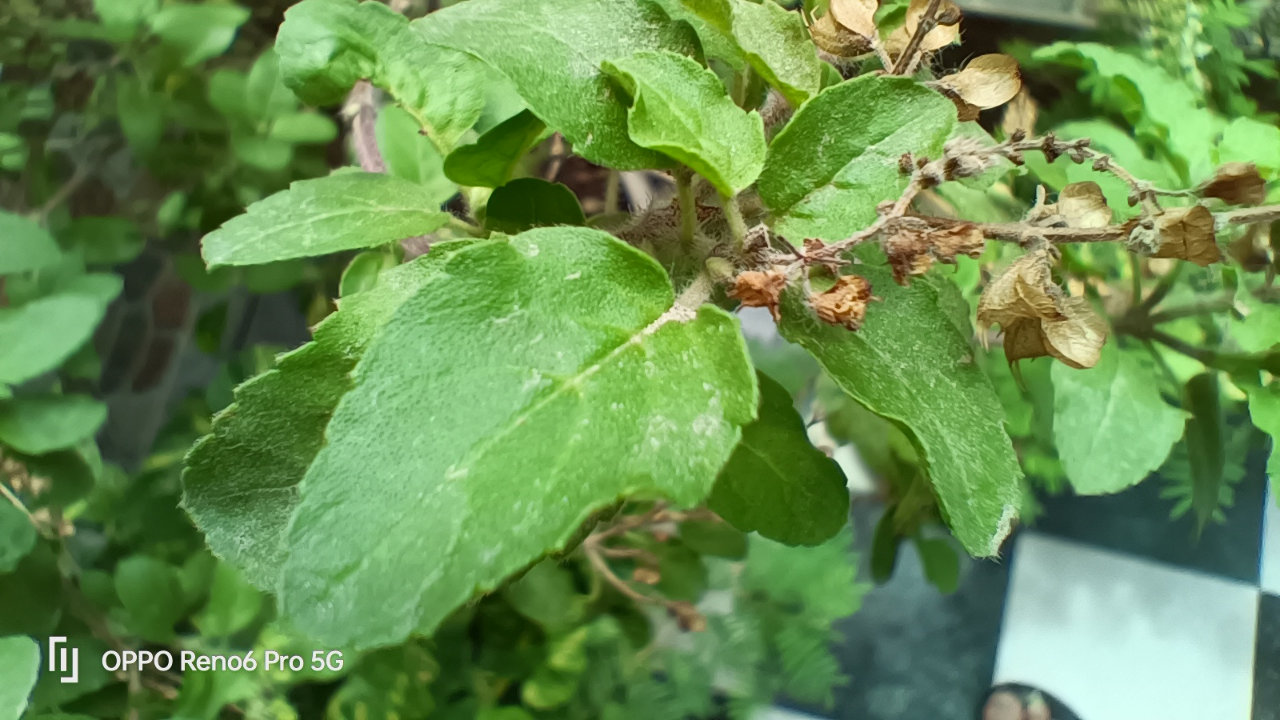 Shots clicked under artificial lighting were just as good as the ones taken before. Accurate colours with ample amount of sharpness and colours. Macro shots were not as good as other photos. The colours weren't natural and even the detailing wasn't enough. However, the exposure looked fine in these photos.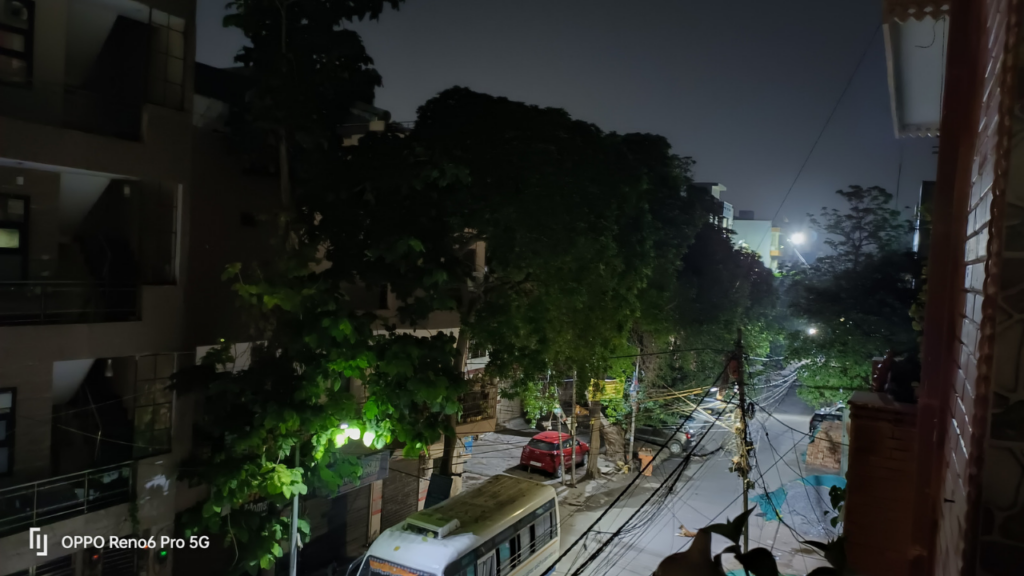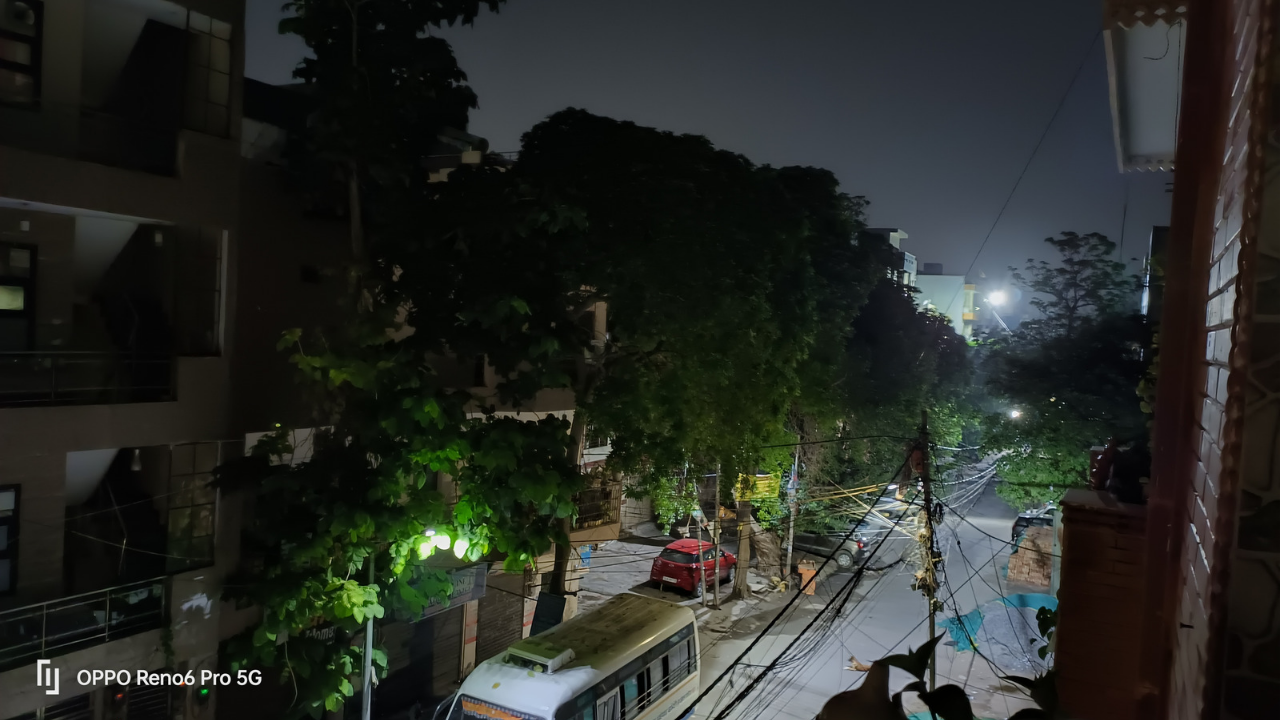 Shots taken under night had a little amount of sharpness although colours were retained to some extent. When Night mode was ON, things got better as the pictures brightened up. Also, the sharpness and detailing wasn't as good but was better compared to the shot I took with night mode OFF.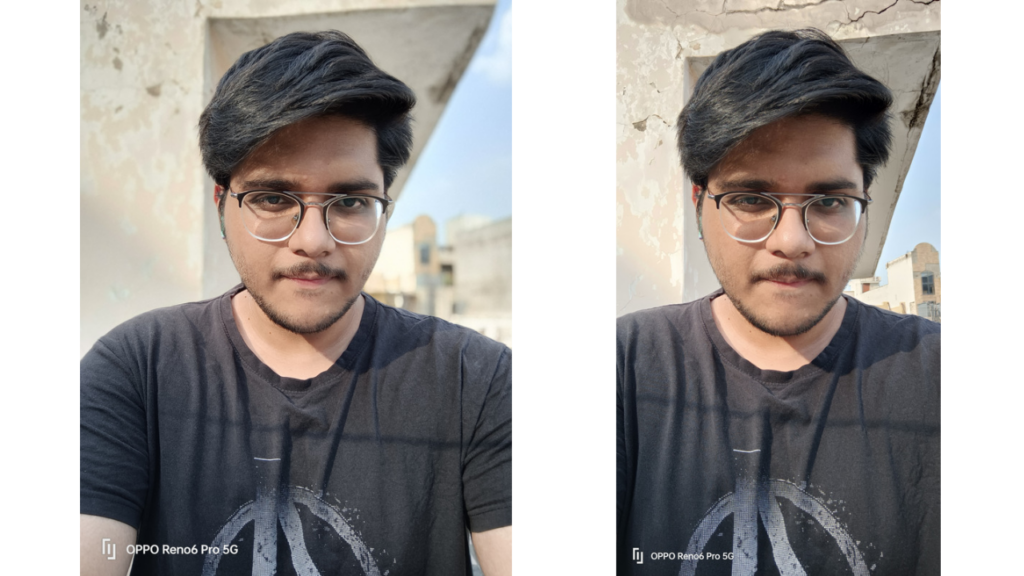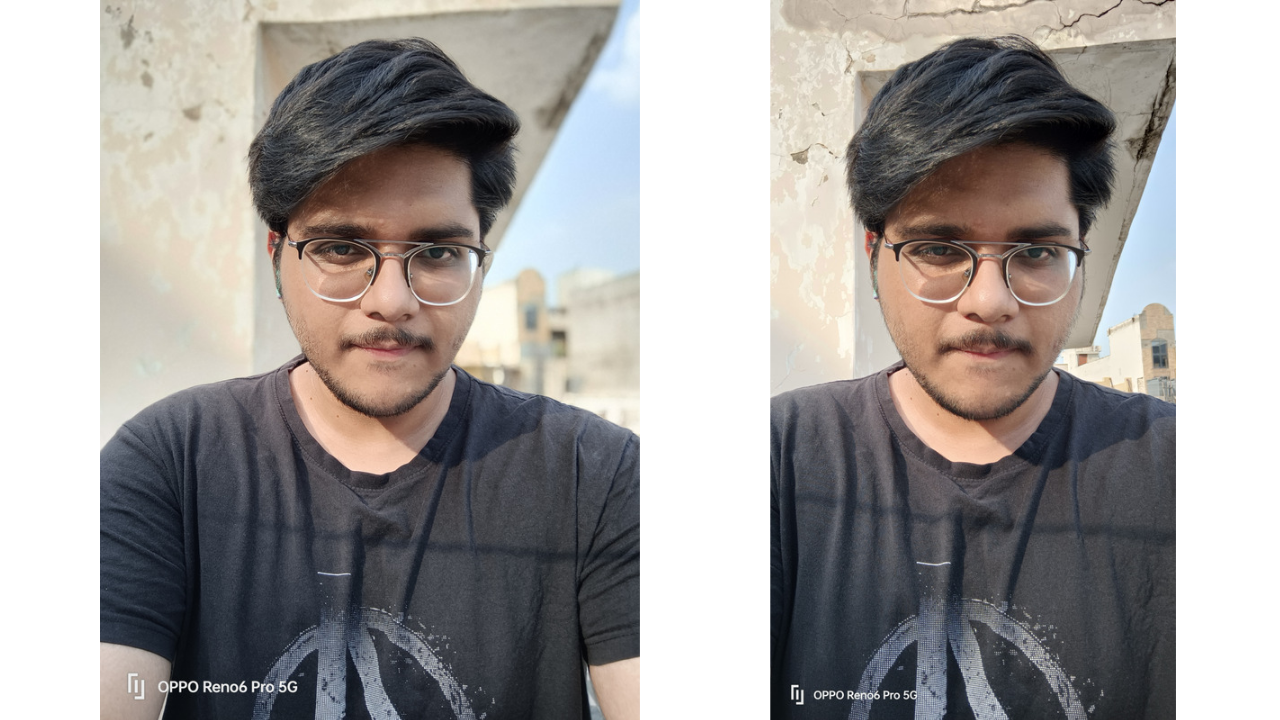 Finally, the selfies on this phone are a major plus point for it. That 32-megapixel sensor can click great photos under low-lighting or outdoor lighting. The skin tone stays natural with accurate edge detection in portraits as well. The colours look amazing with a good level of sharpness and exposure. If selfies are one of your priorities, this is the phone to go for.