Nothing is a fairly new entrant in the smartphone market but has already established its identity where we know that its main focus is going to stay on the design of its products. With Nothing Phone (2), the brand reiterates its commitment towards creating attractive and unique looking devices. However, do the LEDs on the back of the phone give justice to its starting price tag of Rs 44,999 or is there something more than what meets the eye? Have a look at our review of the Nothing Phone (2) and decide for yourself.
Focus is on design, once again
The Nothing Phone (2), as we mentioned, mainly focuses on providing a uniquely designed product. The Phone (2) has definitely evolved from the Phone (1), both in terms of design and specifications. While the build quality of the Phone (2) remains premium, thanks to the aluminum frame and glass back, its glyph interface receives a refresh from what we saw on Phone (1).
While we have already deep dived into the functionality of the glyph, we would say that the LEDs on the back are now better controlled by the software and offer loads of new features. The positioning of the LED strips remains the same but their quantity has increased. The lights are bright enough to catch yours or anybody else's attention when they light up. One can use it as fill light, or to see your Uber ride progress, as a volume indicator, and much more which we have talked about in the Glyph interface review of the Nothing Phone (2).
Talking about the overall in-hand feel, the Phone (2) feels slightly on the heavier side but that's not an issue because it feels as premium as some of the other top-end phones out there. The grip is also strong, thanks to the flat frame which is also thinned down a bit compared to Phone (1) and the moderately curved rear panel, which was also completely flat on the predecessor. The buttons lie in their perfect positions and have a tactile feel to them when clicked.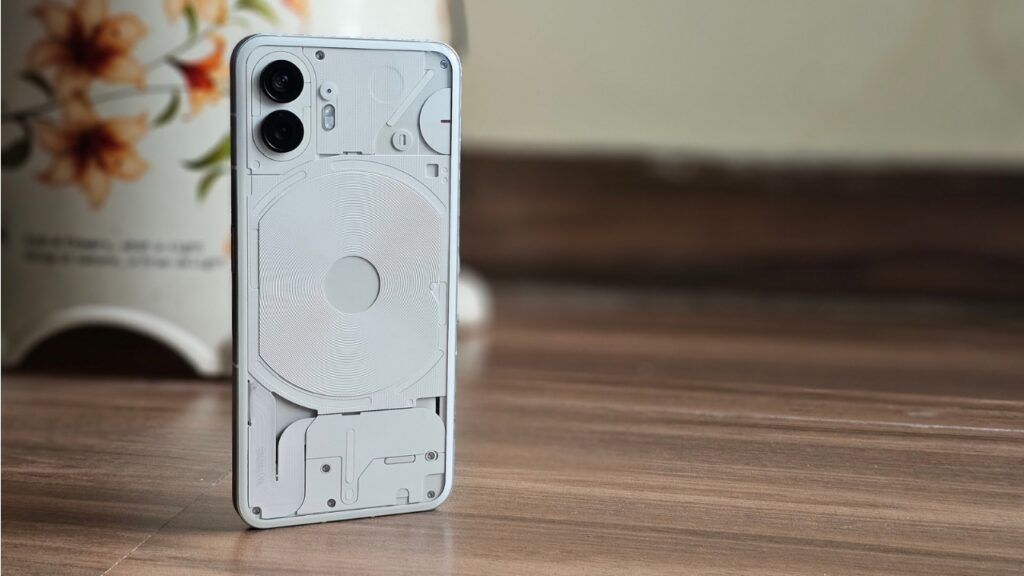 The white colour stays the same as before, and we agree it would be a little difficult to recognise which one is Phone (1) or (2) at first glance. However, the darker shade, that was black on Phone (1), has now slightly changed and is dark gray, allowing for a better look at the glyph interface compared to how it looked on the Phone (1). There have been no issues with the build quality so far, which Phone (1) buyers faced initially last year, such as dust particles under the rear panel after a day of use, green tint on the display, etc.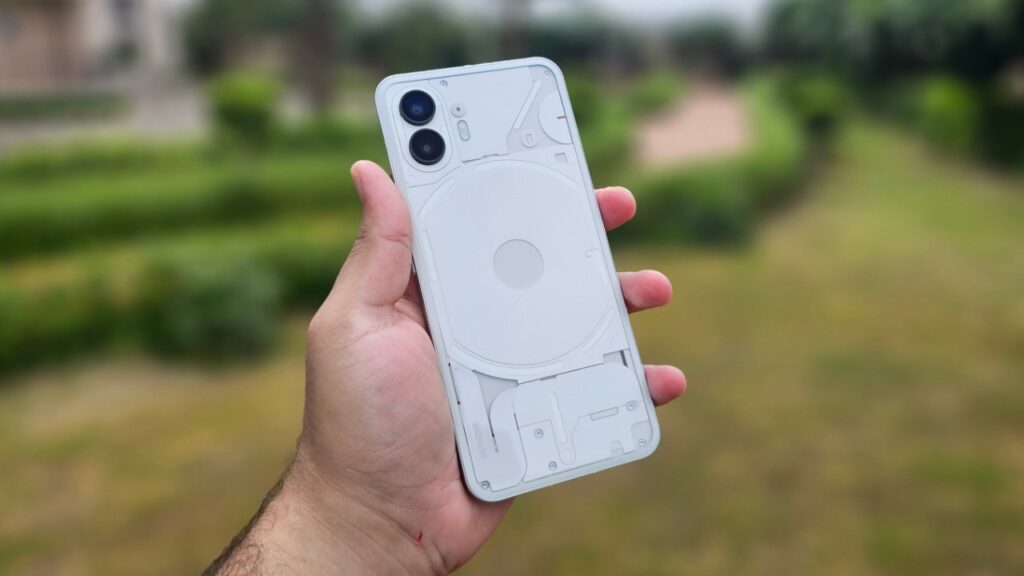 The Haptics remain more or less similar to last year. They are decent and strong, but do not come close to what I have felt in some other flagships, such as the OnePlus 11. As for the stereo speakers, they could have easily been better as they are highly treble-driven which can sometimes make the vocals shrill to hear. You cannot expect a lot of bass, however loudness remains on par.
A flagship grade display
On the front, the Nothing Phone (2) equips a 6.7-inch full-HD+ OLED display which has adaptive 120Hz Refresh Rate support, 10-bit colour depth, HDR10+, 1600 nits peak Pixel brightness and 240Hz touch sampling rate. The panel is protected with Corning Gorilla Glass.
The panel is also an improved one from what we saw on Phone (2)'s predecessor. It now has an adaptive refresh rate which works as it should. Most of the time, the panel was quick to reach 120Hz and never did I feel that the refresh rate was being pulled down.
The colours also look drastically better than what we saw on Nothing Phone (1) and are punchy enough. Next, the viewing angles are also impressive but what could have been improved are the brightness levels.
The device reaches 1600 nits only while viewing HDR content while outdoor viewing brightness remains at 1000 nits which is also quite disappointing considering most flagships and other devices at this price point have a higher brightness level. Due to this, the readability takes a hit under bright sunlight.
As for the sharpness, the display doesn't disappoint, however, I was surprised to find out that Phone (2) doesn't support HDR in Netflix, at least as of yet. That could change in future via a software update.
Nothing OS 2.0 is what OxygenOS could have been
For performance, the Nothing Phone (2) relies on last year's most powerful chip from Qualcomm, the Snapdragon 8+ Gen 1. The device gets up to 512GB storage and up to 12GB of RAM. This chip has never failed in our other reviews and it does give wings to the Phone (2) as well, as far as performance is concerned.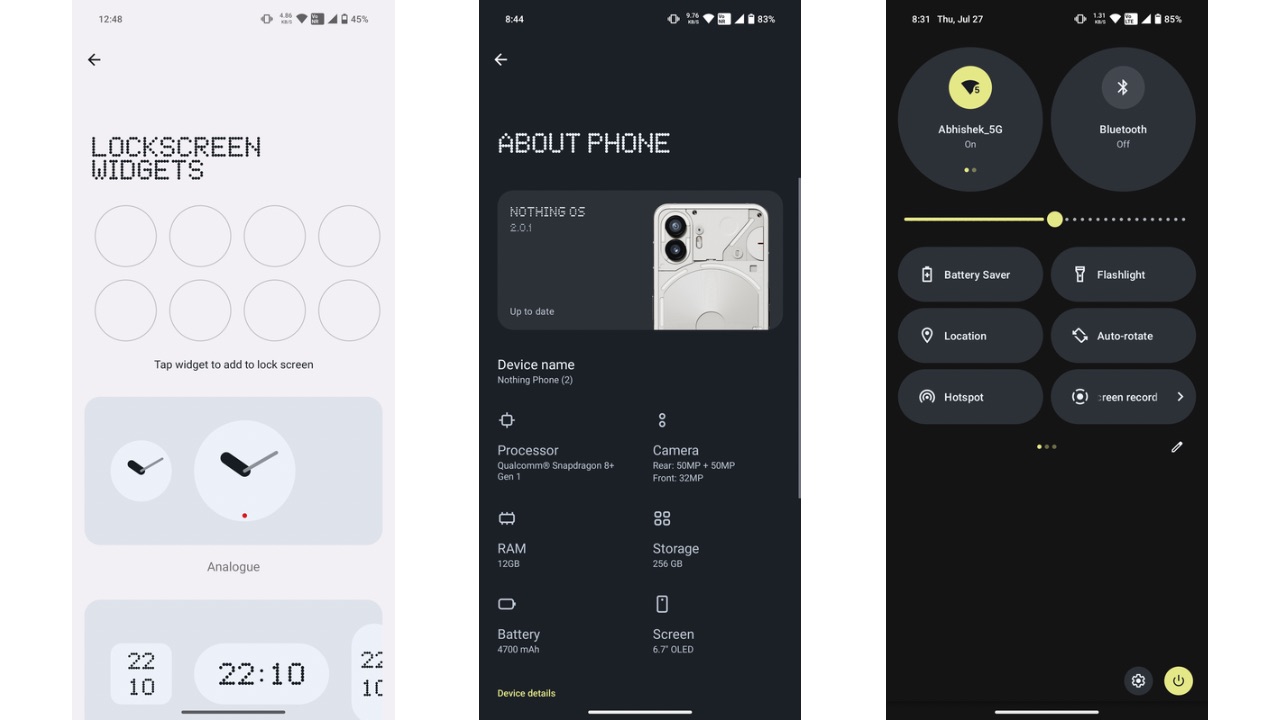 The Phone (2) handled every task we threw at it without any hiccups, while RAM management remained optimum. The Processor is also known to run cool and that stands true on this handset as well, as the device didn't heat up once during regular usage. Phone (2)'s main competitor, iQOO Neo 7 Pro, also performs similarly but software is where the Phone (2) takes the lead. We already have a detailed comparison between the two handsets live so you may want to check it out.
Coming back to Phone (2)'s performance, the animations were all smooth and it didn't stutter or lag once during our review period. In fact, the Phone (2) actually showed traits of a Pixel device when it came to animations so there's that. We compared it with a Pixel because we feel Google' Pixel smartphones are amongst those that have one of the smoothest animations as far as Android phones are concerned. Credit also goes to Nothing OS 2.0 which has been well optimized for the Phone (2).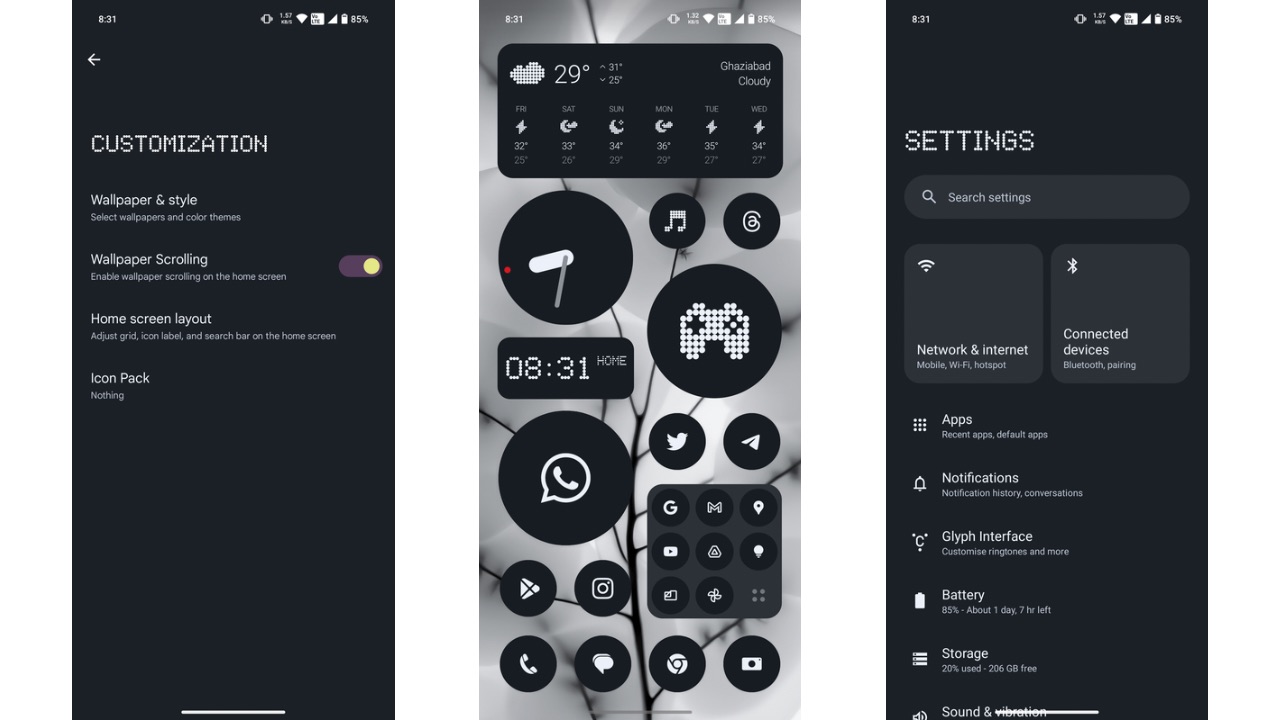 Yes, it still has some bugs to be resolved, such as a speaker issue where the volume would suddenly decrease in all apps and would come back to normal levels on its own after a while. Another bug I faced was that the system UI colour which I set would change to the default colour after every restart. I also faced an App crash where YouTube just shut off while watching a video but that happened only once during my review period of three weeks. For the most part, the overall experience of using the device remained as fluid as possible.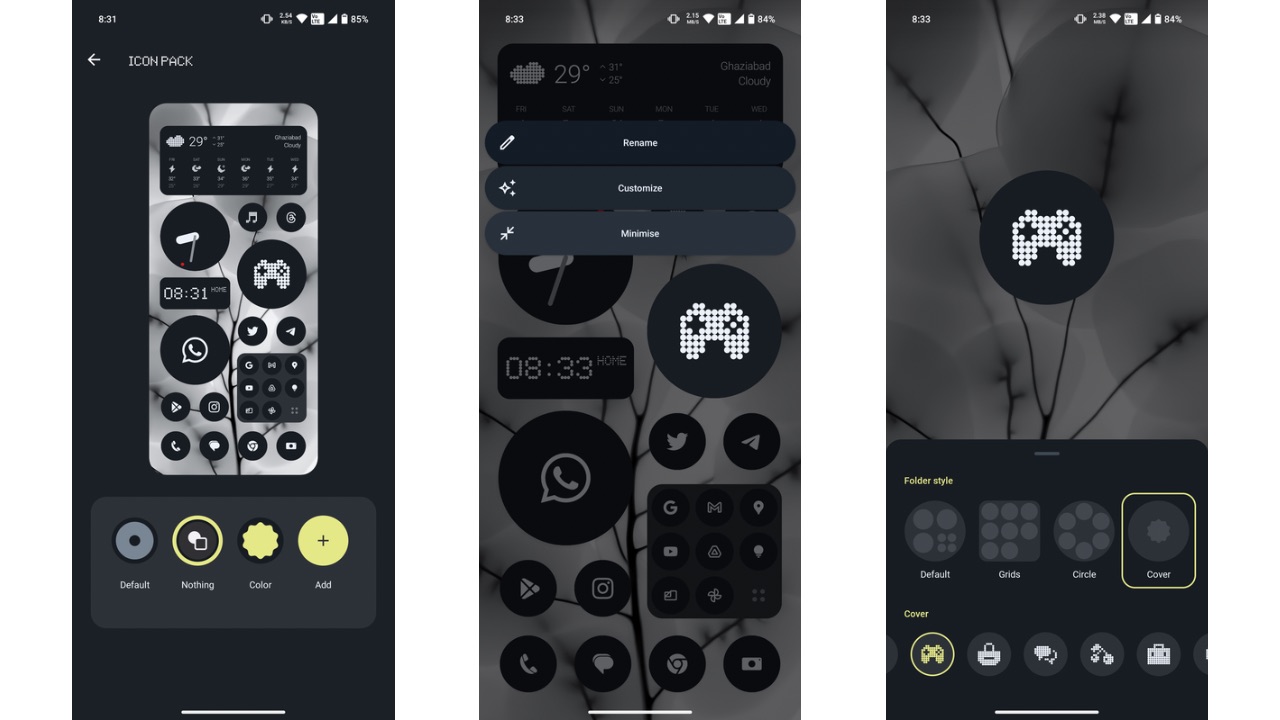 The Nothing OS 2.0 still seems like a forked version of Stock Android skin but that's not a bad thing. It now has more character with the dot matrix font spread across the UI. It's good that it hasn't been overused which could have been a disaster. It also packs its own set of unique features, such as lock screen widgets. For instance, you can put up a flashlight widget on the lock screen and use it directly from there.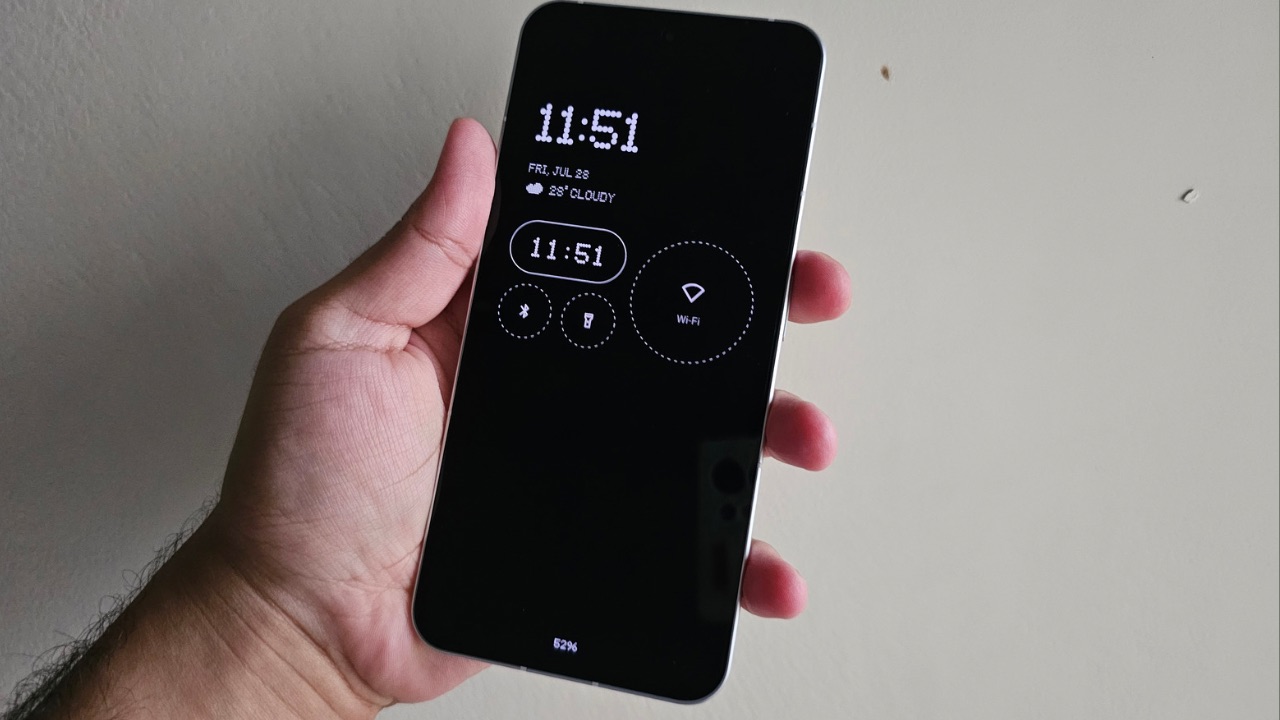 The widgets also appear on the Always-on display with a cutout design which looks neat. Then there's an all new Monochrome mode where all the icons follow the system theme colour, and with certain wallpapers, can make it black and white. This does help in designing a unique home screen setup, because Nothing launcher also allows you to resize the folders or even app icons on the home screen. Not only that, you can also change the folder style as well as the folder icon.
With the Nothing icon pack, app icons that aren't themed are also changed to a themed one for bringing consistency so the non-themed icons do not look odd in your setup. It works well for some icons but does make some icons look odd even while themed.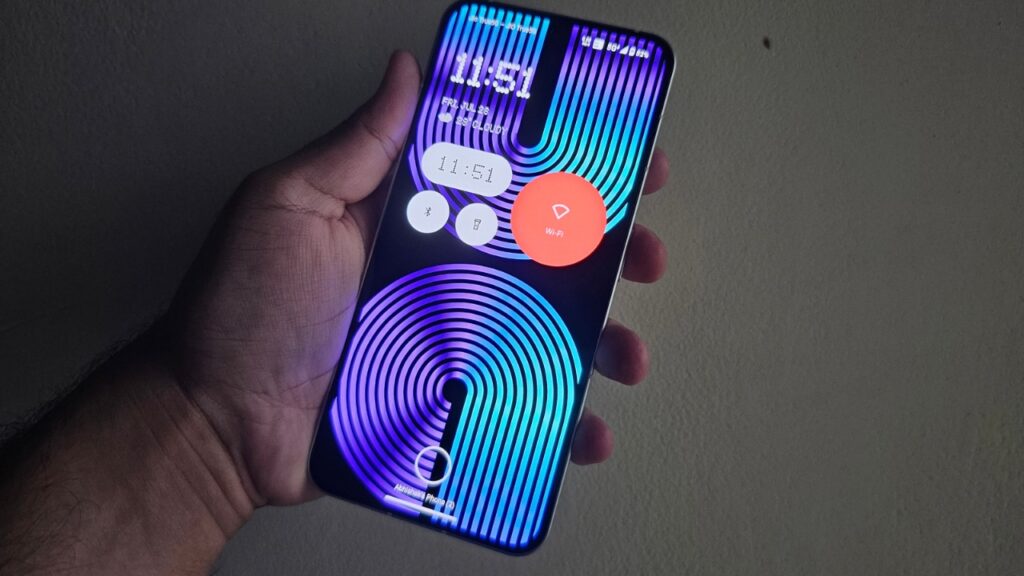 Customisation options are not at One UI level but as we mentioned, the UI is more of what we expect from Nothing and is shaping up to be a potential competitor against OxygenOS (or ColorOS) and One UI. It gives you all the necessary customisable options, yet while remaining close to stock Android and not losing out on the core elements of it, something that used to describe the early versions of OxygenOS as well. No wonder the team behind the original OxygenOS is creating a strong competitor for it now. Maybe, if OxygenOS wasn't taken over by ColorOS, it could have been what Nothing OS is, in its current state.
As for software update policy, Nothing claims to provide users with 3 major OS upgrades and 4 years of bi-monthly security patches. This is on par with what some of the competitors are offering, however, some of them provide 4 years of OS upgrades. We received a total of three updates since we got the device and in a matter of two weeks.
Out of these, one was a major upgrade while the second and third one were minor 2MB updates which seemed like small patch fixes. We didn't receive a security patch update but the device comes pre-loaded with the June patch which is a bit surprising since it came out earlier in July.
Connectivity performance including Wi-Fi and 5G remained optimum. There were no network drops but Bluetooth performance can be improved further as I always heard breaks in the sound 5 minutes after connecting to a device, be it any device it is connected to. Later on, it wouldn't happen again but it's an issue that needs to be rectified.
Security wise, the in-display optical fingerprint reader on the Nothing Phone (2) performs nicely. The speed could have been better but the accuracy of it detecting the fingerprint is on point.
As for gaming performance, most of the games, including graphic heavy ones, worked without any issues. However, the phone does tend to get warm if you play games like Call of Duty Mobile and that's the only situation where I felt the device's temperature increase. While the gaming experience is already decent, you can further elevate it by following our guide on how to improve the gaming experience on Phone (2).
Long-lasting battery
The Nothing Phone (2) gets a 4700mAh battery cell with 45W fast wired charging along with wireless charging also. The competition certainly does better with a bigger battery, faster charging speed, and also includes the charger in the box. However, in Nothing's case, you do not get a charger but a unique looking cable which has transparent ends.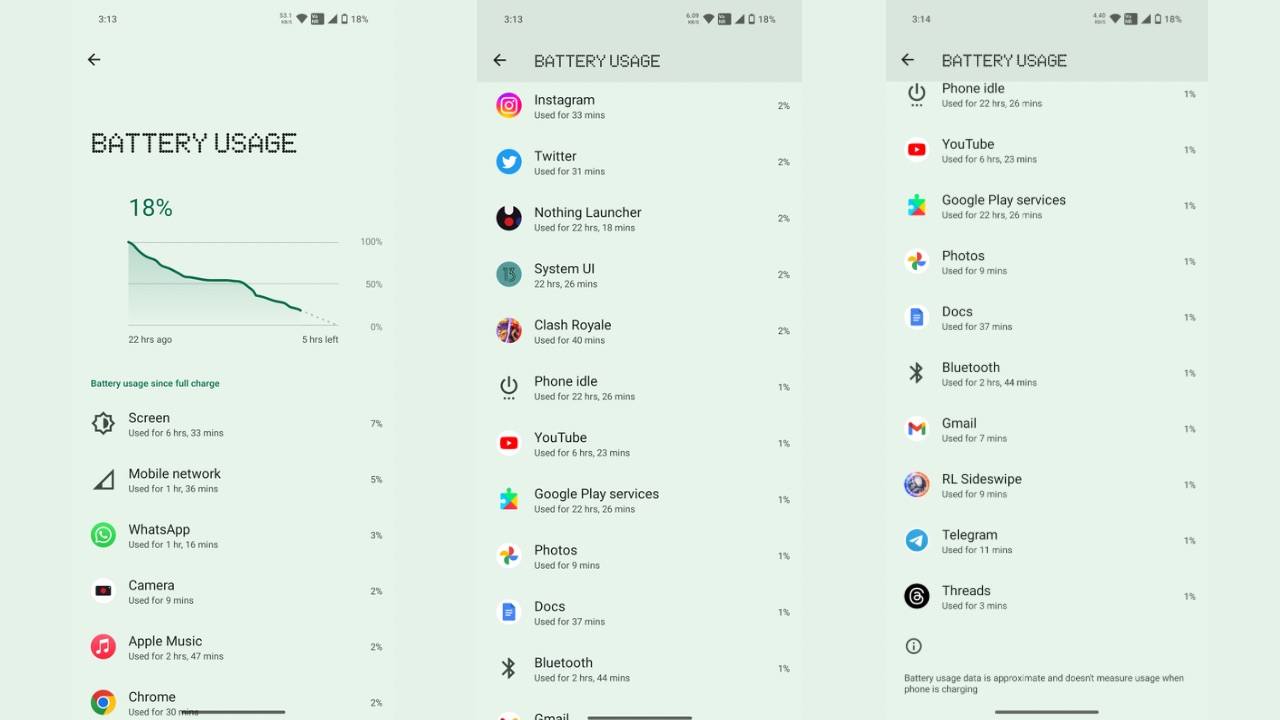 The battery backup on the device doesn't disappoint, as I was consistently getting 7 hours of screen-on time and sometimes beyond that. My usage included some gaming, chatting, calling, streaming, browsing social media and surfing Chrome. That's certainly excellent battery backup and the Phone (2) can easily get you through a day without breaking a sweat.
Talking of charging speeds, the device took around an hour to charge from 0 to 100% in our testing, as advertised by Nothing.
Acceptable cameras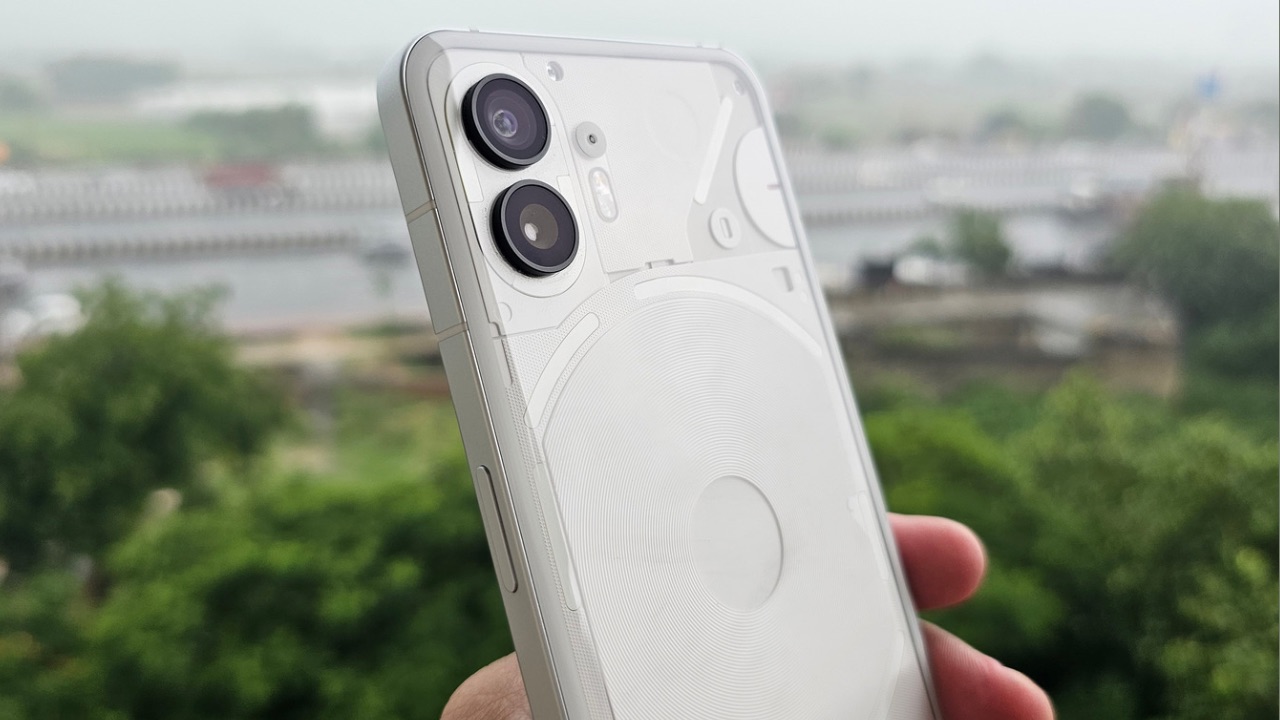 As for the optics, the Nothing Phone (2) sports dual rear cameras including a 50-megapixel Sony IMX890 f/1.88 primary sensor and a Samsung JN1 50-megapixel f/2.2 ultra-wide angle sensor with a 114-degree Fov. At the front, the device gets a 32-megapixel Sony IMX615 sensor. For videography, you can shoot up to 4K videos at 60fps with both EIS and OIS support.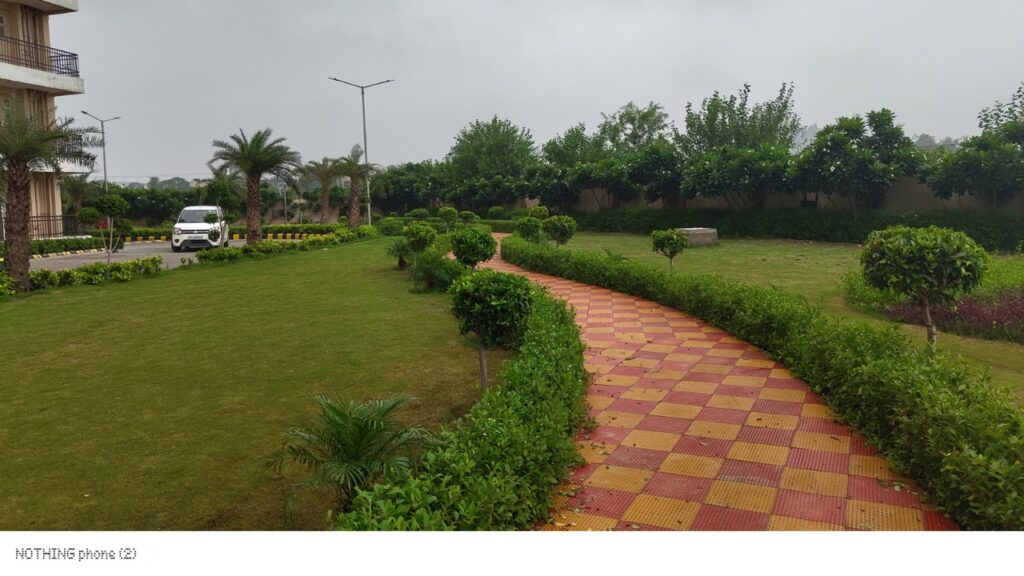 The primary rear camera and the front facing sensor have been upgraded from Phone (1) while the ultra-wide angle sensor remains the same as last year. When given enough light, the Nothing Phone (2) won't disappoint you with its vibrant shots with on-point dynamic range. Yes it does have a tendency to boost colours while taking an off-route from being natural. But that works for the photos taken outside.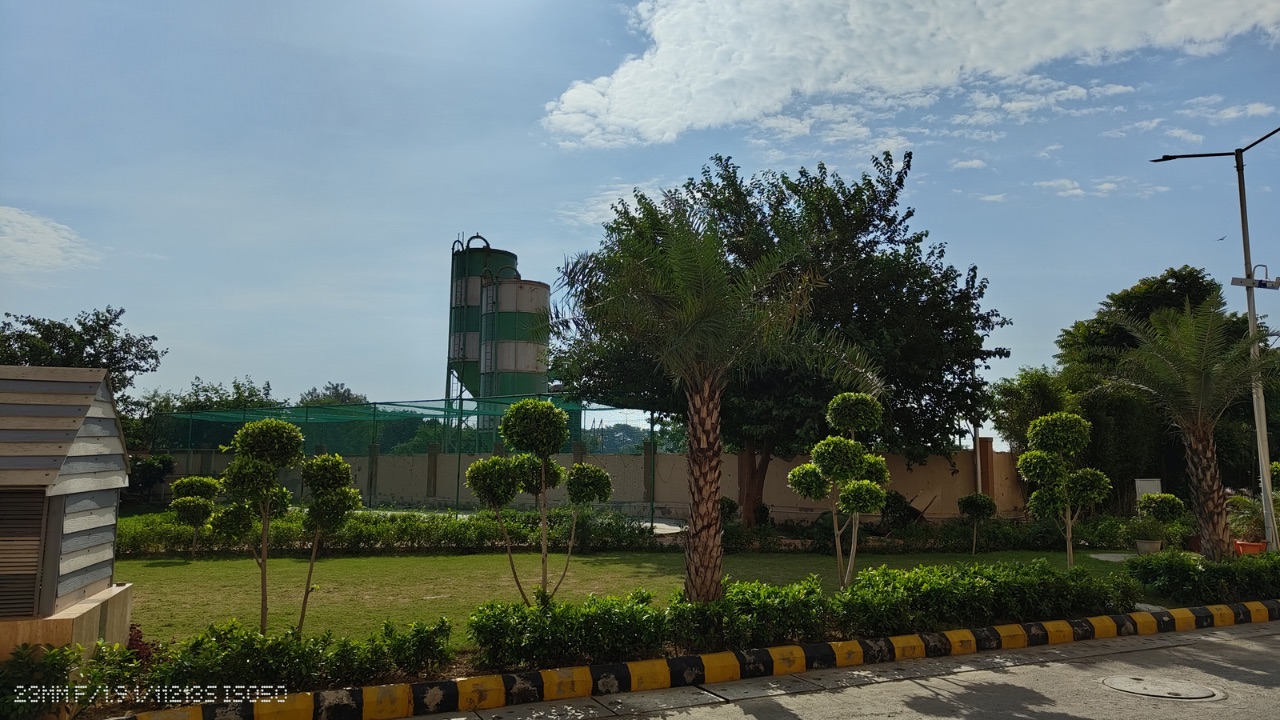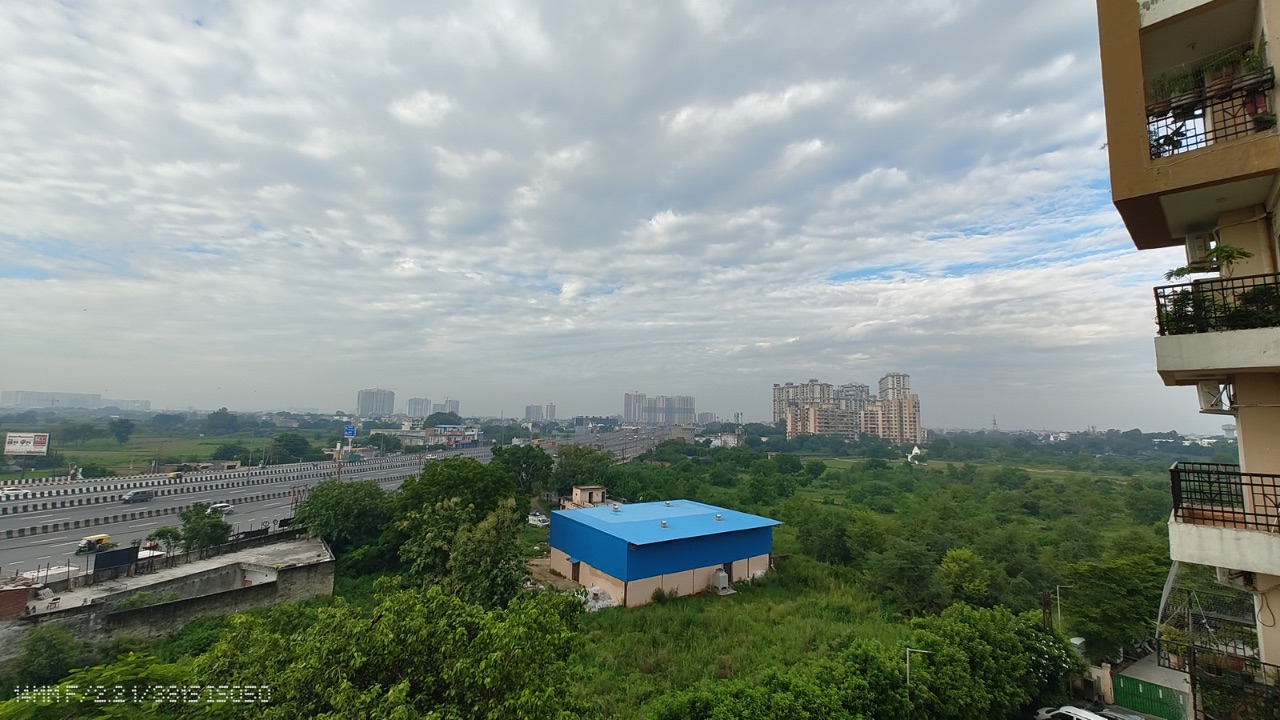 We did receive a major camera update which claimed to improve the performance of the sensors. The update surely left some good results, as the camera was inconsistent earlier but post update, the situation got better.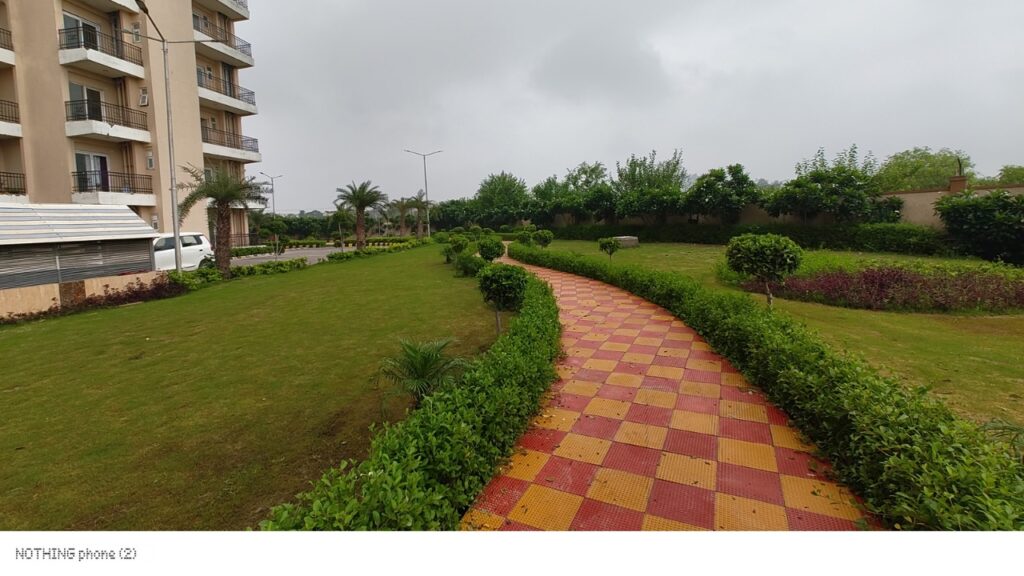 As for the ultra wide angle sensor, these photos have a comparatively warmer tone and the EDGE distortion in these photos is quite noticeable. The details also aren't as good as in shots from the main sensor. However, it has been improved from last year thanks to improvements in software tuning, as Phone (1)'s wide angle shots were even worse. It may not be on par with other flagships, but the ultra Wide-Angle sensor gets the job done in a brightly lit environment.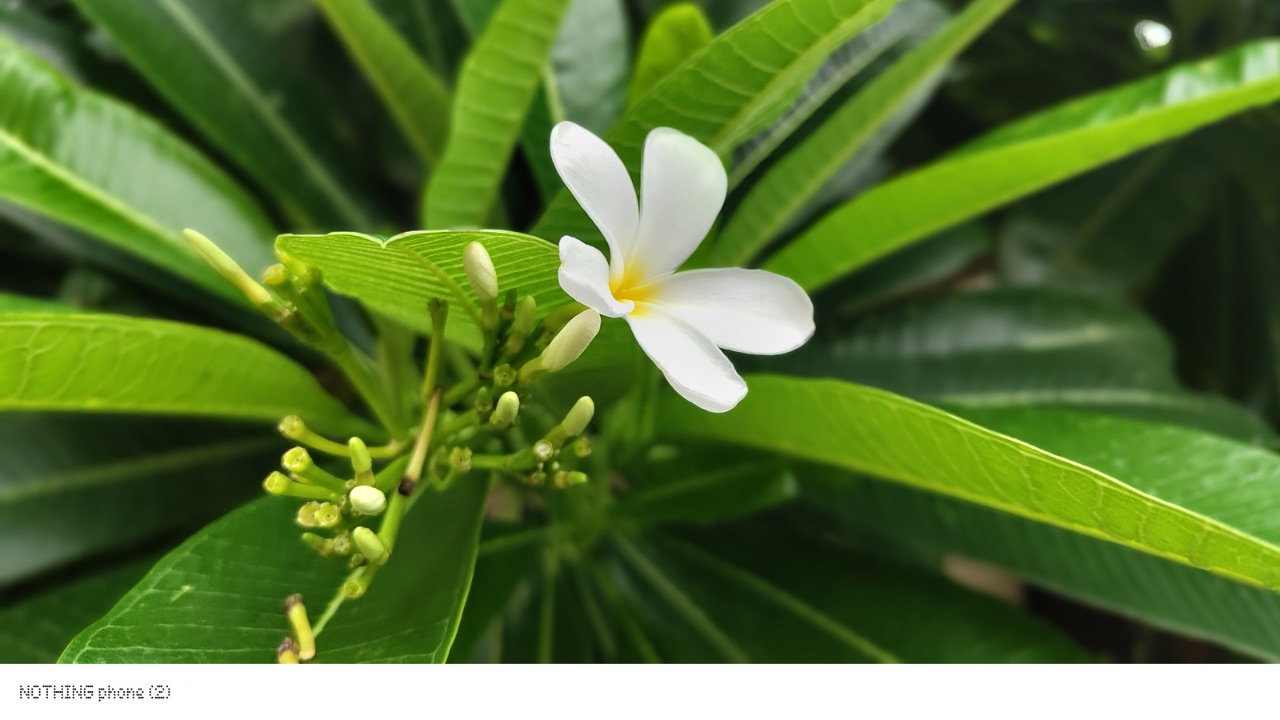 The portrait photos from the main sensor are again very decent and appealing to look at. The colours pop and the details are satisfactory. The edge detection could have been better but that can be improved with software updates.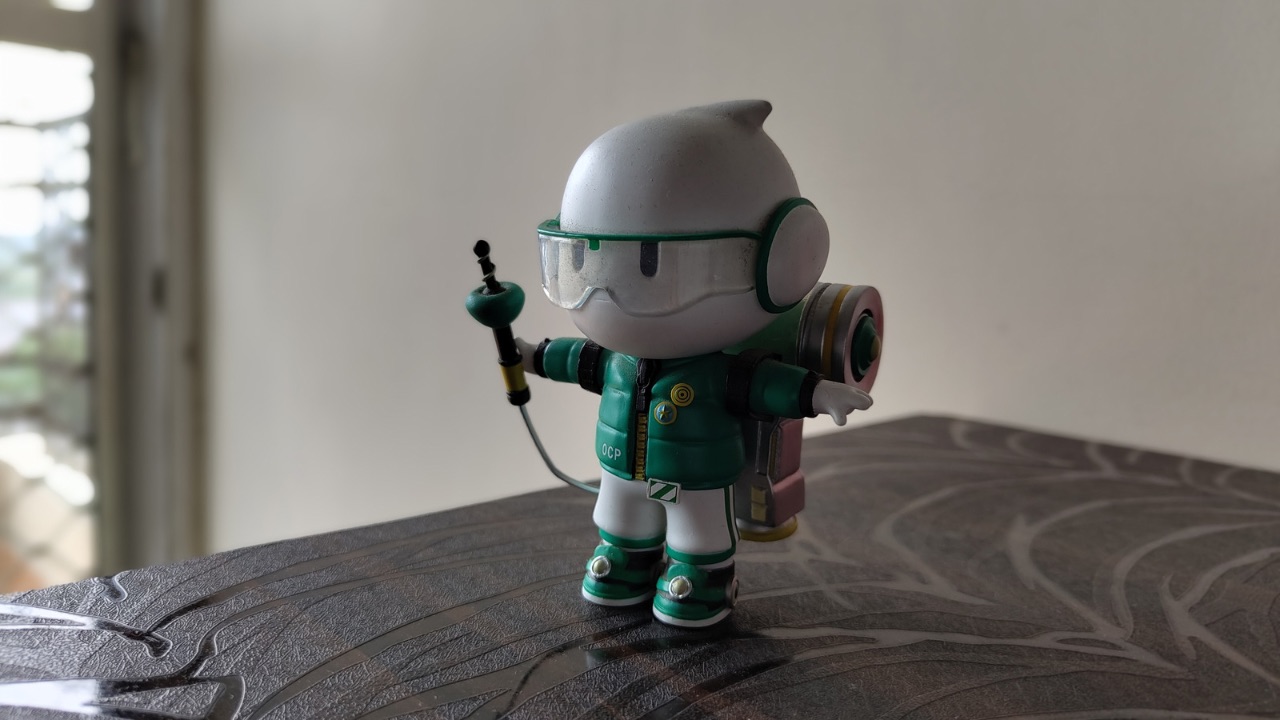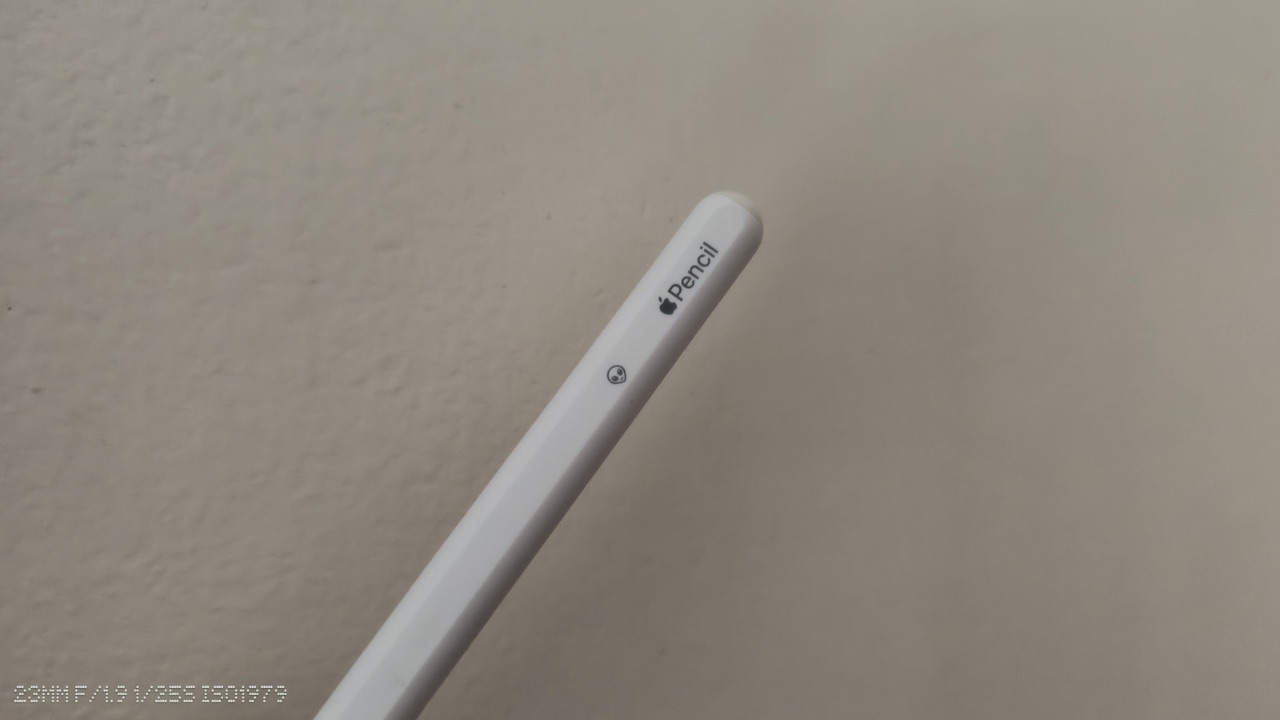 Shots under artificial lighting are great to look at, thanks to impressive detailing and sharpness. The colours are also on point, however, in some situations, I could see the camera boosting the colours quite a bit, resulting in shots that had way too much contrast. Shots under low lighting have a little smudgeness and look soft. There's also some bit of noise in such shots.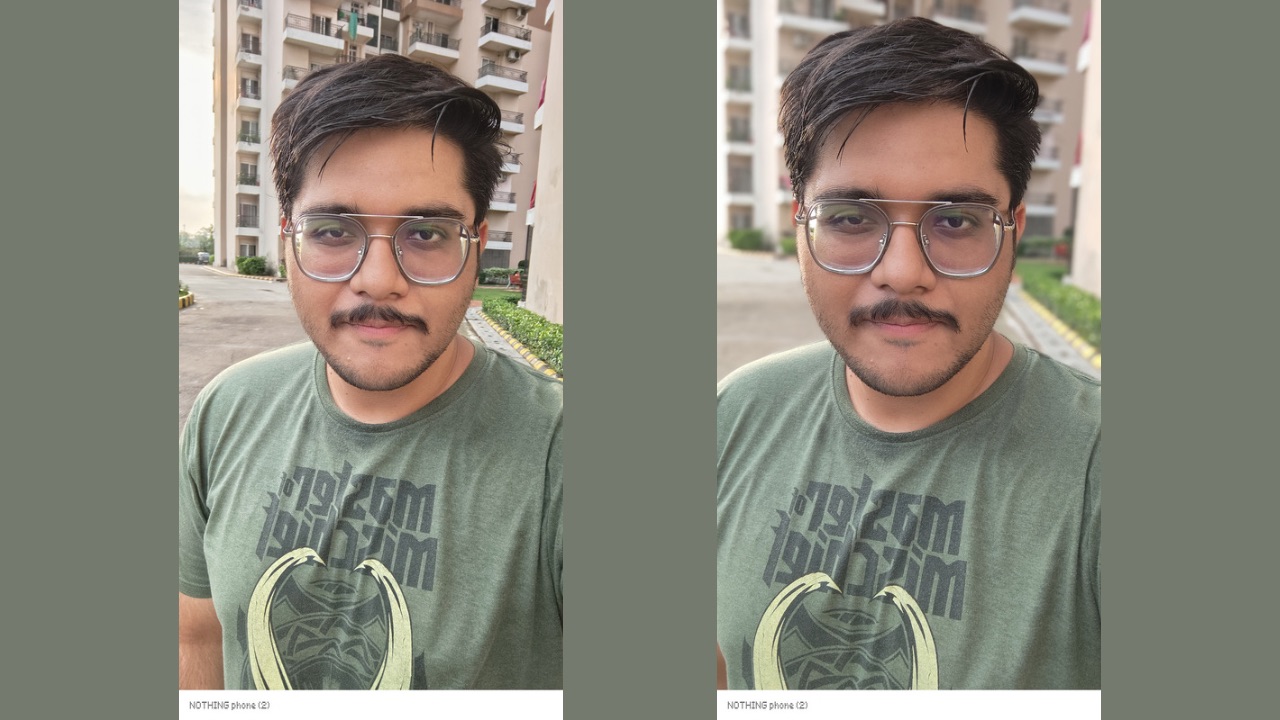 Night shots look fine for the most part, be it with or without night mode. The Night mode does help in toning down the bright areas so they aren't blown out but that's about it. Selfies were also decent, with a good level of detailing. Skin tones looked slightly deviated from natural ones but that's not much of an issue. Portrait selfies also had accurate edge detection.