There are few issues with Motorola Moto X Play but it still can be considered as one of the best phones under Rs 20,000.
Advertisement
Pros
Superb battery back up
Lag free performance
Expandable storage
Screen isn't immune to scratches despite having Gorilla Glass


Cons
Camera has focussing issues
Motorola, since its comeback last year, has been consistently churning out good smartphones in various price brackets. Recently it launched the Moto X Play in India in 16 GB and 32 GB internal storage variants which are priced at Rs 18,499 and Rs 19,999 respectively.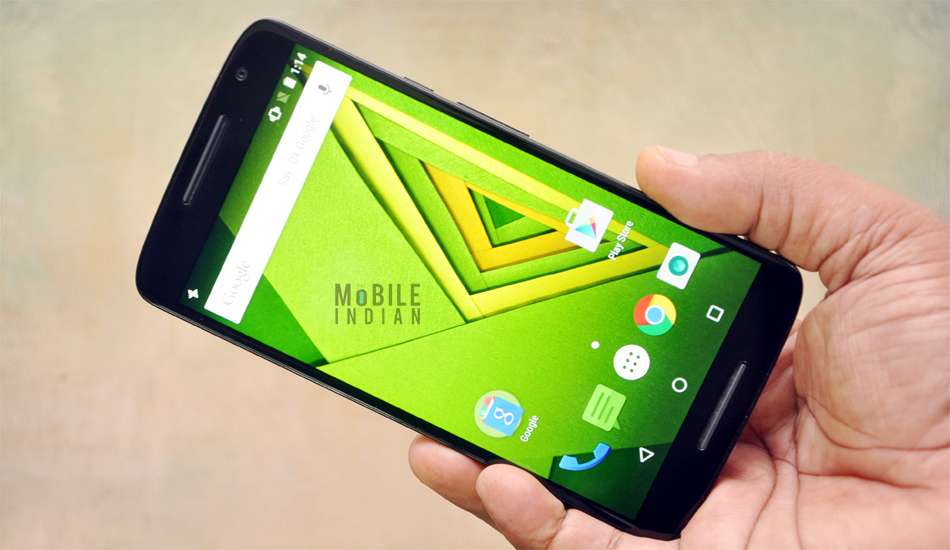 On paper, it looks decent with 5.5 inch FHD display, octa core processor, Android Lollipop operating system, 21 megapixel primary camera, 5 megapixel secondary camera, 3630 mAh battery etc.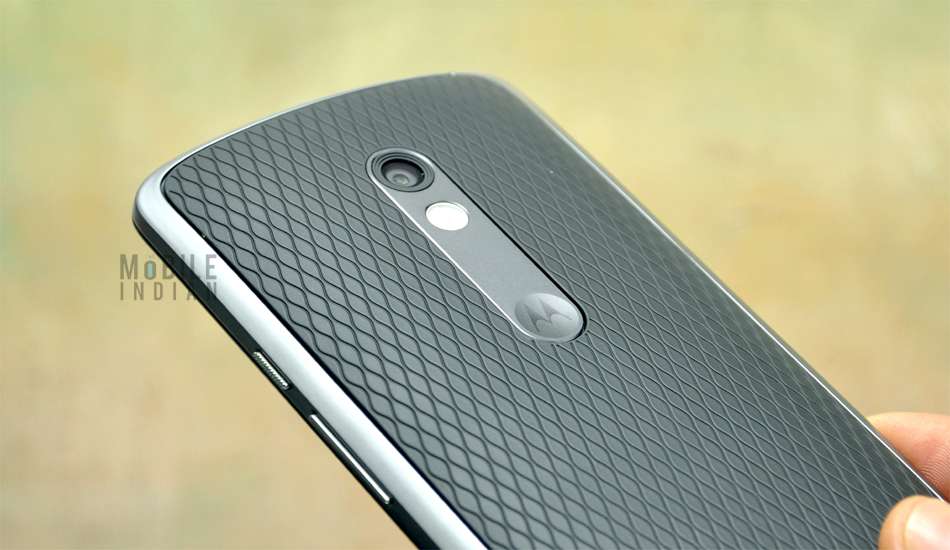 We have used the phone for about a fortnight and here is what I have found about the Moto X Play.

Design

It has the same design language as was introduced by the Motorola with the Moto X last year (https://www.themobileindian.com/picture-story/151_New-Motorola-Moto-X-In-Pics#Connectivity). Ofcourse, Motorola has improved the design a bit to make it more user-friendly.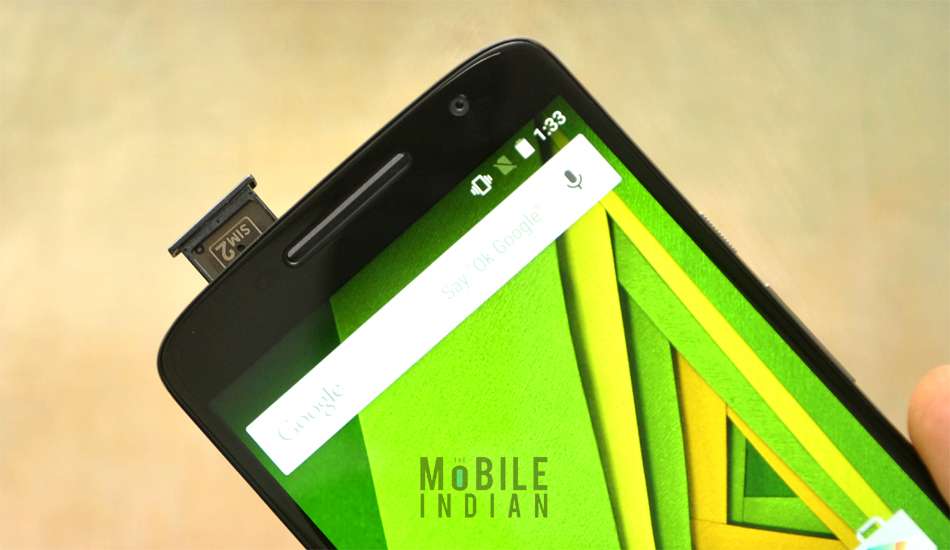 The Moto X Play comes with thicker side panels. Unlike in the original Moto X, in the Play the side panels are broader and encroaches some part of the rear panel. Motorola has made the back panel removable to allow users to customise their device - you can replace the default black/white back panel with colourful panels (you have to buy these separately). Under the rear panel lies a non-removable battery. Unlike what you have seen in most smartphones, the SIM and micro SD card slots are not located under the rear panel; instead there is just one tray at the top panel that holds both the SIM slots (nano SIM) as well as the micro SD card slot. There is a pin in the box itself to open this tray.

The rear cover is made of plastic and comes in pattern design-4. Its just a bit slippery but overall is quite okay. Most importantly, it does not look cheap.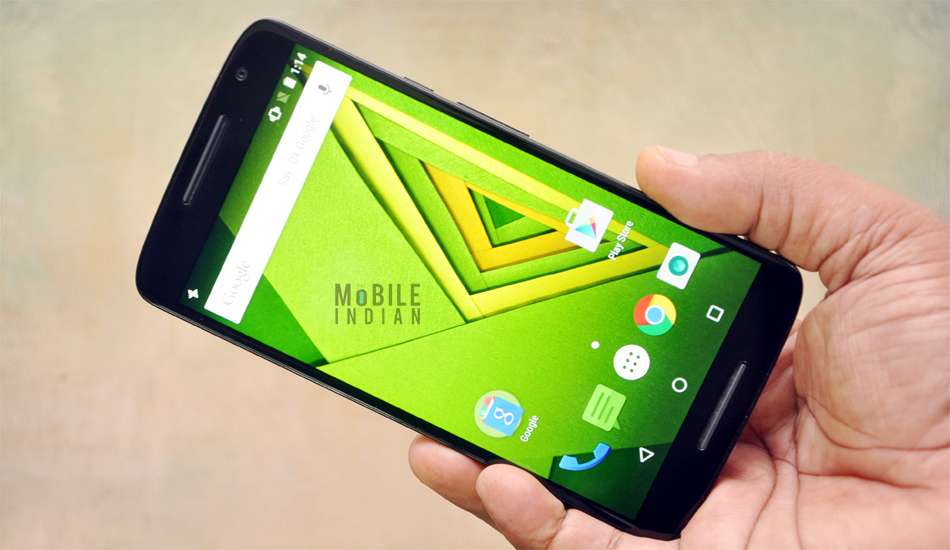 In the Moto X Play, the treatment to rear camera panel is also quite distinct. Instead of a horizontal panel, the rear camera panel comes as a vertical unit – first the camera unit, below which lies the flash light and below that lies the Motorola logo.

The volume rocker is placed just below the power button. However, you won't get confused between the two as the power button has a rough texture while the volume rocker has a smooth finish. The 3.5 mm jack is at the top while the micro USB port is at the bottom.

In the front, there are two speaker grills – one each at the bottom and top of the display. The front camera is quite distinguishable.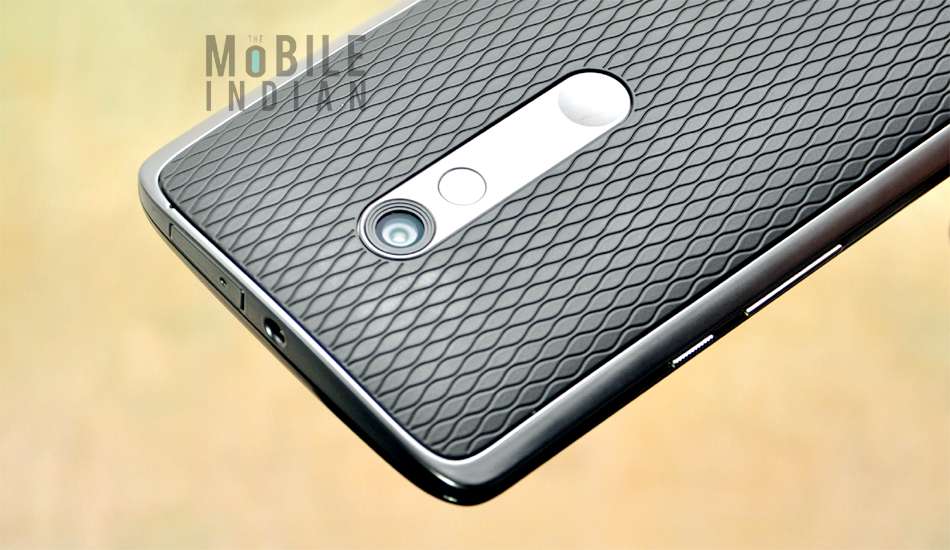 Display

The Motorola Moto X Play comes with a 5.5 inch display. The display has full high definition (1920x1080 pixels) resolution, and thus it offers plenty of details. It also manages to reproduce colours well. There are two types of colour modes – Vibrant and Normal. You will see the best display output in the Vibrant mode but be warned it will consume more battery power at the same time.

Brightness levels are satisfactory but would not be enough for hot summer outdoors. The display has Gorilla Glass as well but it could not prevent the scratches that the display received during the review period.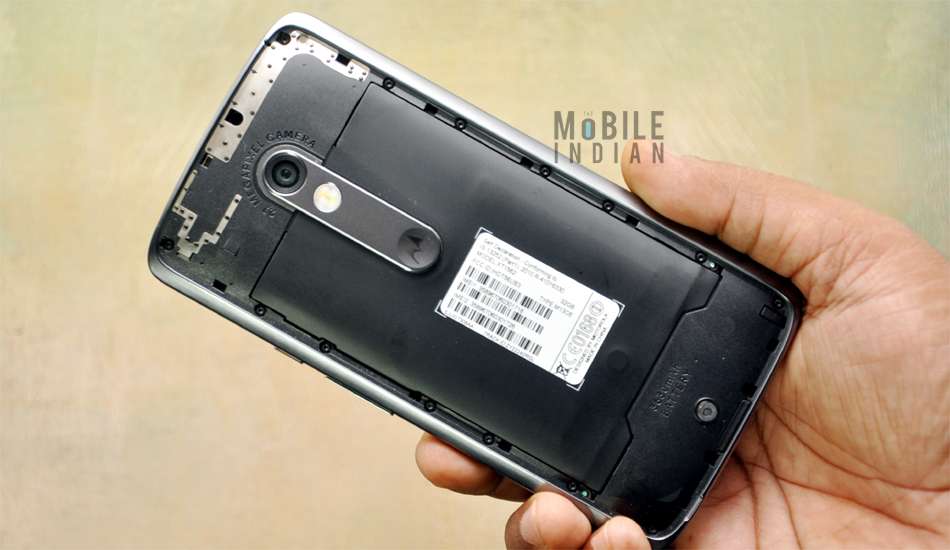 Camera

The Moto X Play has a 21 megapixel rear camera – one of the best resolution that you can get at its price. The camera is endowed with many useful features like slow motion video, burst mode, auto HDR and panorama. The rear camera is quite quick and manages to capture images in a flash. However, focussing is an issue.

In the camera app, actually you will see a circle with a slider on the circumference and a capture icon inside. The slider allows you to control the brightness. To focus on an object, you have to place that capture icon on the intended object and allow the camera to focus otherwise you will get a blurry image. Though most of the time the camera has no issues in focussing on objects, while capturing macro shots from close quarters the app sometimes refuses to focus. Though its not a deal breaker but Motorola should improve the app to make it user-friendly.




The rear camera manages to reproduce colours well and offers plenty of resolution. In low light also its camera output is appreciable. Moreover, there are two LED flash lights to help it out in low light.

For selfies, the Moto X Play offers a 5 megapixel front camera which is decent too.

Performance

The Moto X Play has the Android 5.1.1 Lollipop operating system and offers the vanilla Android interface. It is being run by the 1.7GHz Qualcomm Snapdragon 615 octa-core processor and Adreno 405 graphics processor with the help of 2 GB RAM. Ofcourse at its price, you can get a much advanced processor and even 4 GB RAM but Motorola has optimised the phone well which manages to handle multi-tasking and high end games without any discomfiture.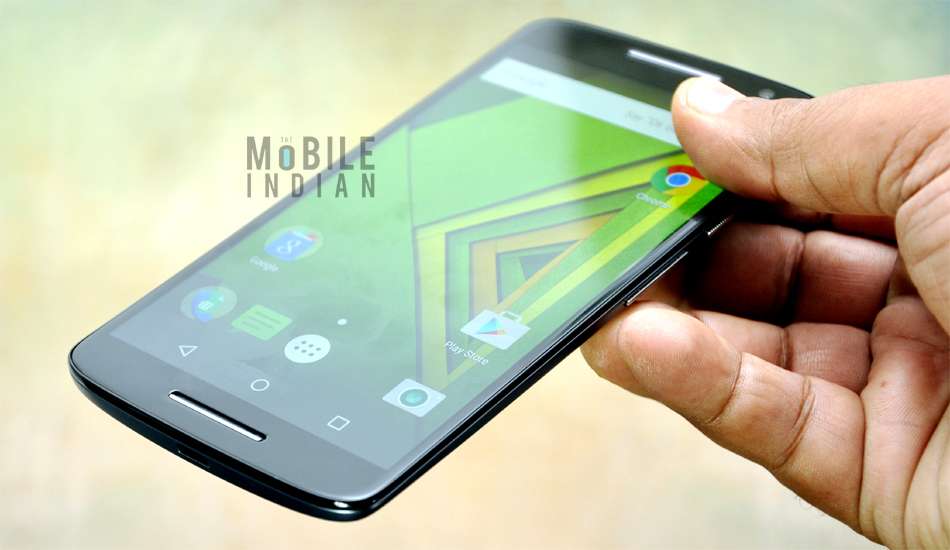 The Moto X Play is especially quite good when it comes to battery back up. Its 3630 mAh battery consistently provided me 24 hours of back up on mixed usage. Even for heavy users, it would manage to sail through the day. Note that during the review I used two SIMs and had almost 10-15 hours of data connectivity (mostly WiFi).

The smartphone also offers plenty of storage space – 16/32 GB internal and 128 GB micro SD card slot. Motorola has also wisely kept two SIM slots in the phone along with a dedicated micro SD card slot, unlike in some recent phones where the SD card slot doubles up as the second SIM slot.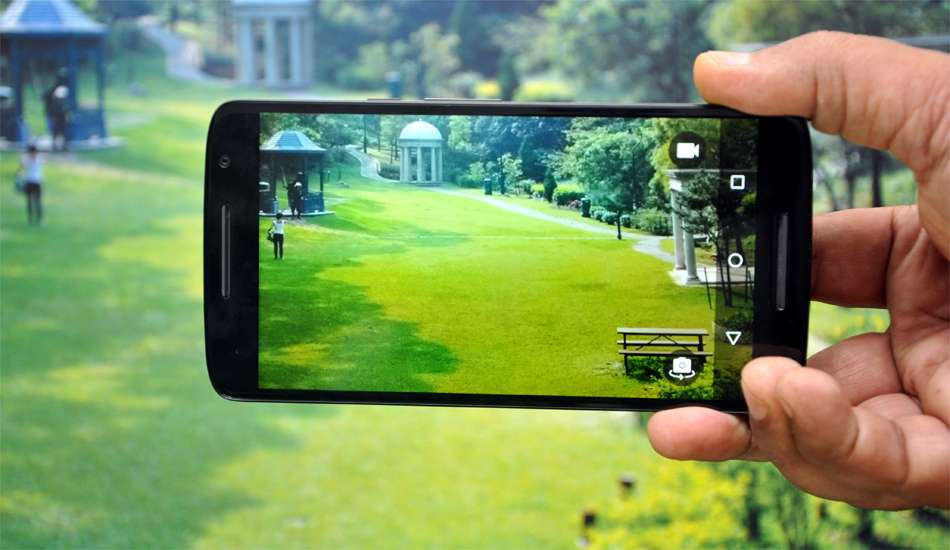 Last but not the least is the connectivity features. As I told you earlier, it has two nano SIM card slots offering 4G connectivity, in absence of which you can have 3G or 2G. I never had any problem whatsoever vis-a-vis calling is concern. Volume levels are quite loud too.

The Moto X Play also offers a micro USB port, Bluetooth 4.0 LE version and NFC to transfer files while dual band 802.11(a/g/b/n) is there for faster data connectivity. The smartphone has GPS for navigation and it quickly latch on to user's location too.
Advertisement
Verdict
The Motorola Moto X Play has a good balance of features and performance. It isn't spectacular on paper as compared to its competitors but in real life it delivers what it promises. If you aren't crazy about specs and desire a not-too-flashy phone that can do the job, go for it.