Motorola Moto G is no stranger these days. It has already been hailed by many as one of the best smartphone under Rs 20,000. During its launch, we had also revealed many aspects of the phone. But ofcourse several performance related aspects of the phone like performance and battery life were not answered at that time.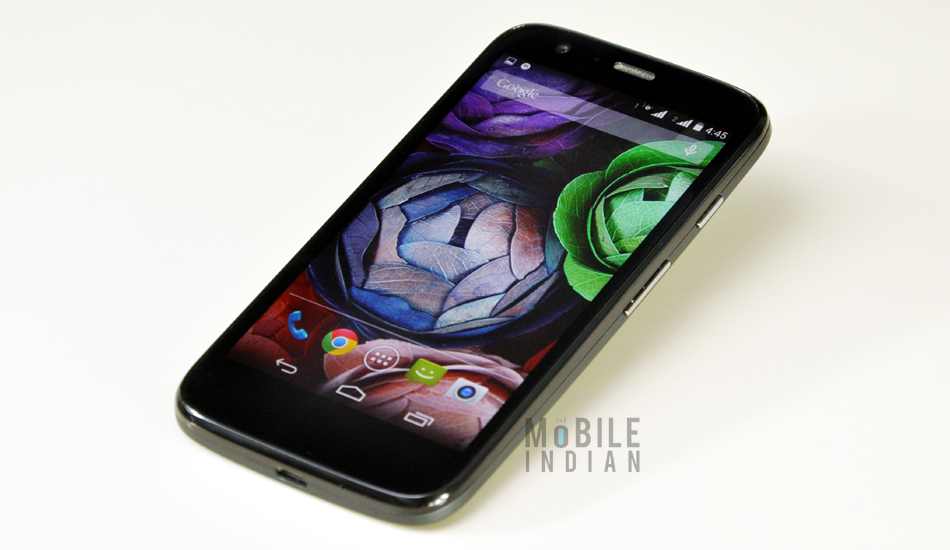 So we had extensively used the phone for over a month to see its behaviour over a long period of time and here is an in-depth analysis of Motorola Moto G.
Specification
The Moto G comes in two versions – 8 GB and 16 GB internal storage. In both the versions, there is no expandable storage slot. It has a 4.5 inch display, Android KitKat operating system, 1.2 GHz Snapdragon 400 quad core processor, Adreno 305 GPU, 5 megapixel auto focus rear camera, 1.3 megapixel front camera, and 1 GB RAM.


You can check out its detailed specification, here here.
Design
These days, there seems to be a competition among device makers for sleek devices. But if you once see Moto G, you will not perhaps again fall for the "slimmest and lightest phone" gimmick.
True, the Moto G is one of the thickest handset to be launched recently. But instead of falling to the marketing gimmick, Motorola has wisely made the phone user friendly. To start with, it has got a curved back panel which makes the phone quite comfortable to hold. Most importantly, the back panel has rubberised finish which gives an excellent grip. Especially, in hot and humid areas, such back panels are a bliss as they do not get sweat and dust easily. However, it could have made a bit lighter.


In the back panel, there is a camera unit, below which lies a flash light. Below the LED light, there is a groove with Motorola icon engraved. The groove is not that useful but ofcourse it gives a style statement. A speaker grill is besides the camera unit. Here I would like to point out that the camera lens is at a lower level than the back panel and there is a metallic strip as well around the lens. This protects the camera lens from getting scratches.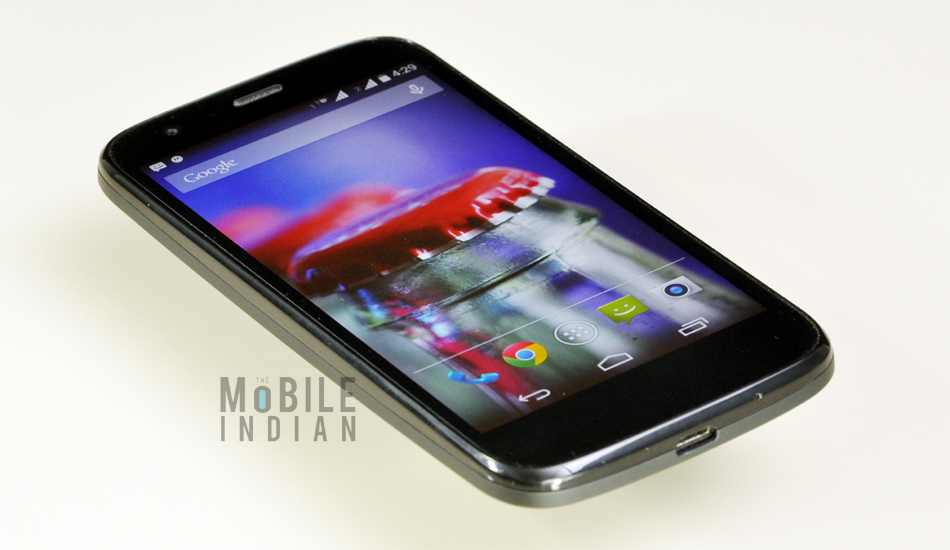 Note that, Motorola is providing several changeable back panels (of course those are not free and you have to buy them) for the Moto G including Red, Violet, Royal Blue, Lemon Lime, Turquoise, white etc.We had the black panel unit of Moto G which too was gorgeous to look at.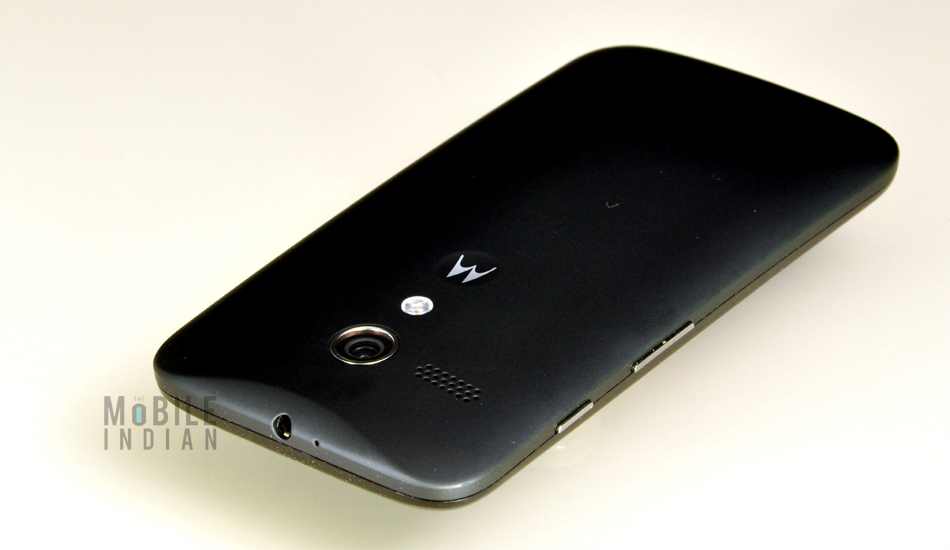 In the phone, the volume rocker and the power button are made of aluminum and are conveninetly placed side by side in the right hand side. The micro USB port is at the bottom while the 3.5 mm jack is at the top. Though the phone has pretty broad bezel at the bottom of the display, Motorola has not armed it with any off-screen keys. The three usual Android keys – Return, Menu, and Recent tab – are located in the display itself.
In Moto G, the battery is not removable but the back panel is (perhaps to allow users to try different coloured back panels). Upon removing the rear case, you will find the micro SIM slots – one on the right hand side while the other on the left.
Rating for design: 7/10
Display
The Motorola Moto G comes with a 4.5 inch display. This IPS LCD panel has high definition resolution, which means it has very good 326 ppi pixel density. Needless to say, it produces vivid images.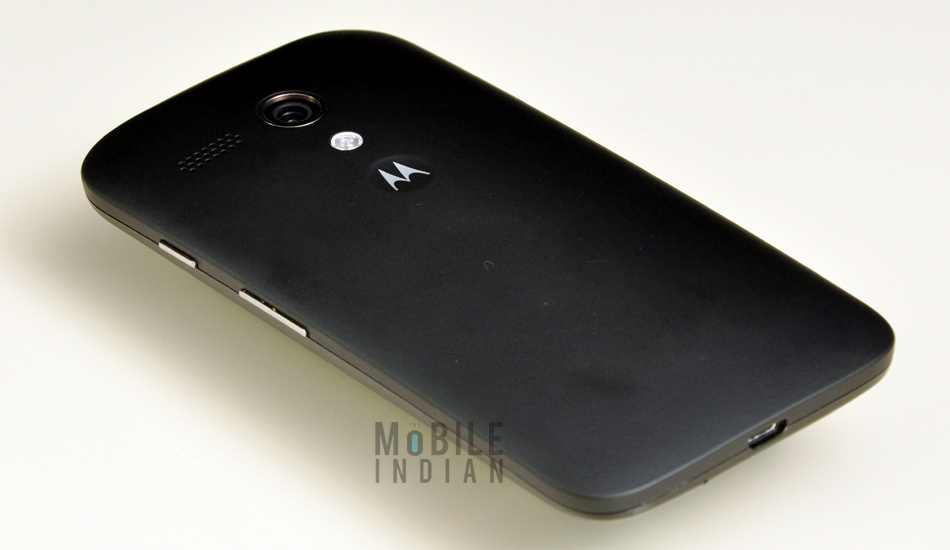 On top of that the display has Corning Gorilla Glass 3 protective coating which safeguards the display from daily wear and tear. The touch response of the display is also top notch.
Rating for display: 9/10
Preloaded apps
First of all, the Moto G comes with the Android 4.4.2 Kitkat operating system – perhaps the only device in its price range to have the latest operating system. Motorola has decided against overlaying any custom user interface on top of the Android UI. This was expected to result in faster boot up and general navigation. Ofcourse the Moto G is quite fast thanks to its quad core processor and 1 GB RAM but the vanilla Android OS does not seem to have any effect in boot up. For instance, the Samsung Galaxy Grand 2 does boot up much faster than this (having said that we do not mean that Grand 2 is faster than Moto G).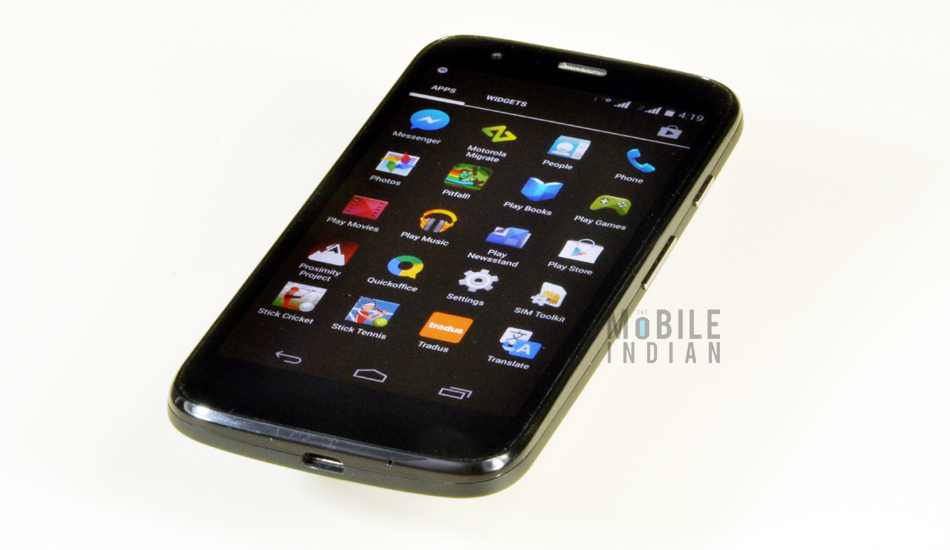 But, the vanilla Android Kitkat is undoubtedly uncluttered and thus easy to use. To start with, it has got the normal screen lock features including Slide, Face Unlock, Pattern, PIN, and Password. Note that even without unlocking the phone you can go to the camera app to shoot something but after that you have to unlock the phone to see the clicked picture or to access other apps/widgets installed.
It has got the normal Android notification bar but sadly you cannot delete or include other shortcuts to the bar. As I said earlier, there are three on-screen touch buttons at the bottom of the display, namely Return, Home, Recent tab. If you press and slide the home tab it will open the Google Now – the Android personal assistant like Apple Siri that tracks your online activity and offers many information in a card format.
Battery and Performance
The Motorola Moto G comes with Qualcomm MSM8226 Snapdragon 400 quad core processor which has a clockspeed of 1.2 GHz. Its Cortex A7 chip has Adreno 305 graphics processor unit and 1 GB RAM.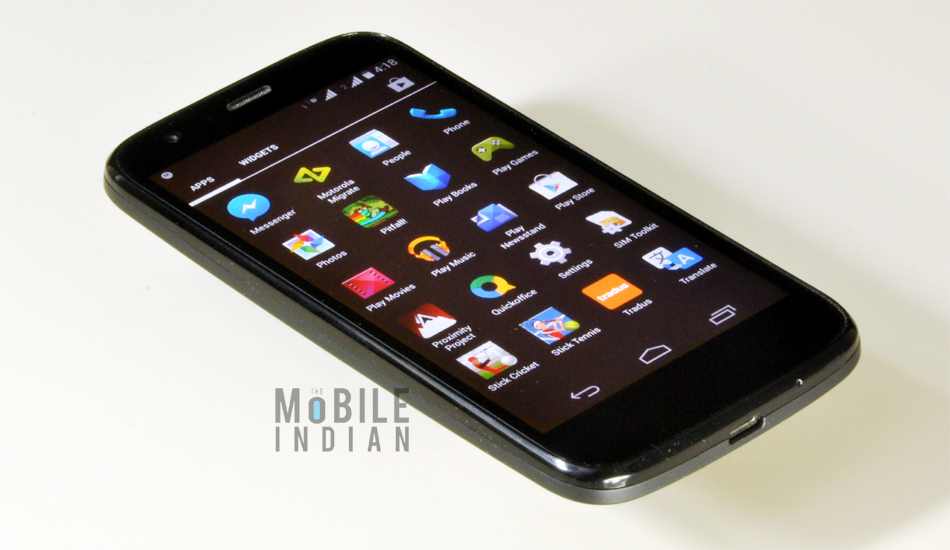 This combination is nothing great but the phone nonetheless provides a fluid performance. It manages to open apps quickly. During multi-tasking also the phone did not face any lag. Note that during multitasking we opened a browser, two games (Dead Trigger 2 and Pitfall). Infact, while playing Dead Trigger 2 at highest setting also it never showed any problem.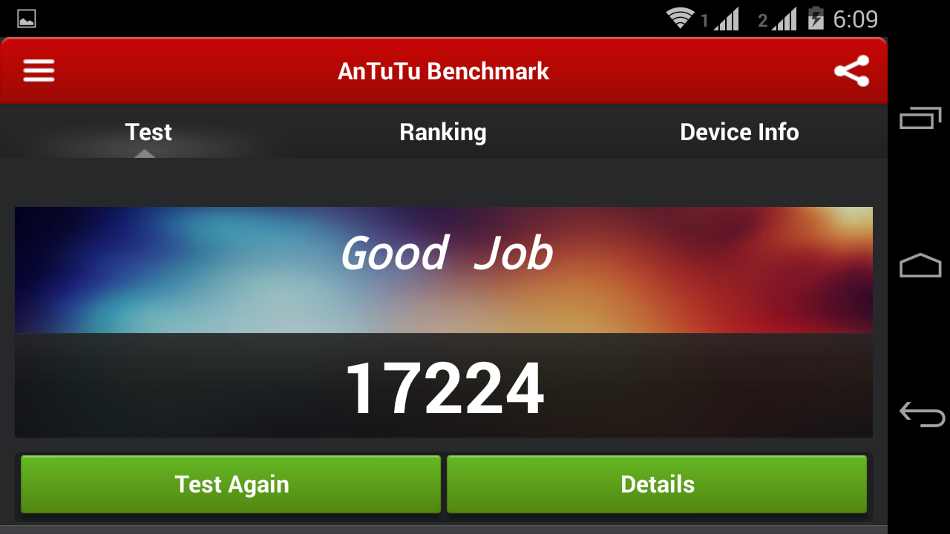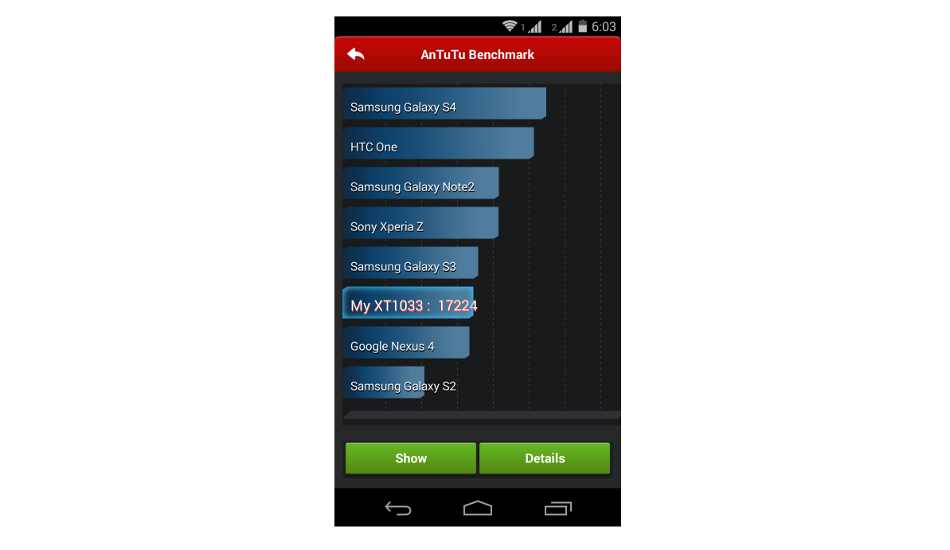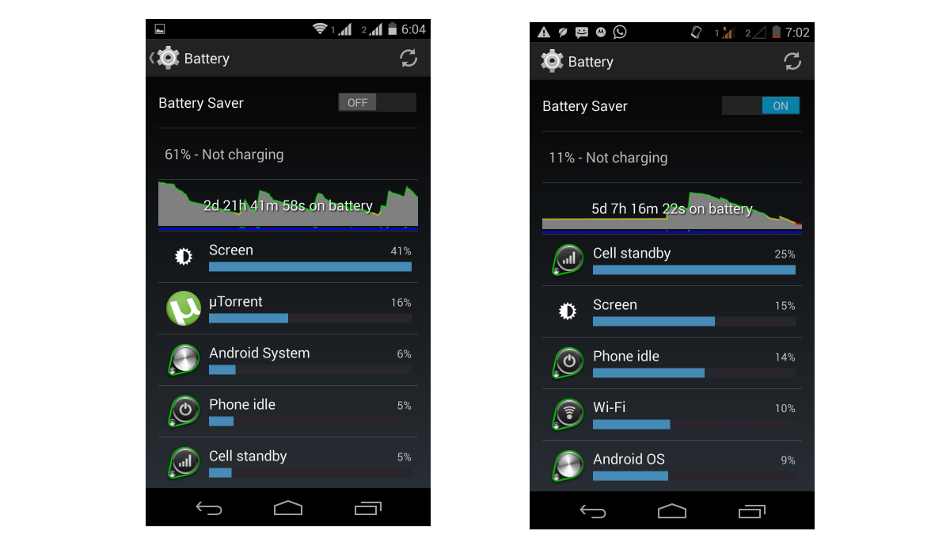 Moto G also impresses when it comes to battery life. Its 2070 mAh battery comfortably provides back up for over 24 hours on light to medium usage. Even if you are a heavy user, you would able to get 12 hours of back up. To give you some prospective, at maximum brightness and volume, we watched YouTube videos on Moto G for half an hour during which it lost only 7 per cent charge.
Rating for performance: 9/10
Camera
The Moto G is armed with a 5 megapixel rear camera. This camera is able to capture high definition videos at 30 frames per second. This rear camera is quite quick to focus on subjects. It has also several camera features like HDR, Panorama, and Burst Mode. I would like to point out that it comes with the Slow Motion video recording capability which is not found in most handsets below Rs 20,000.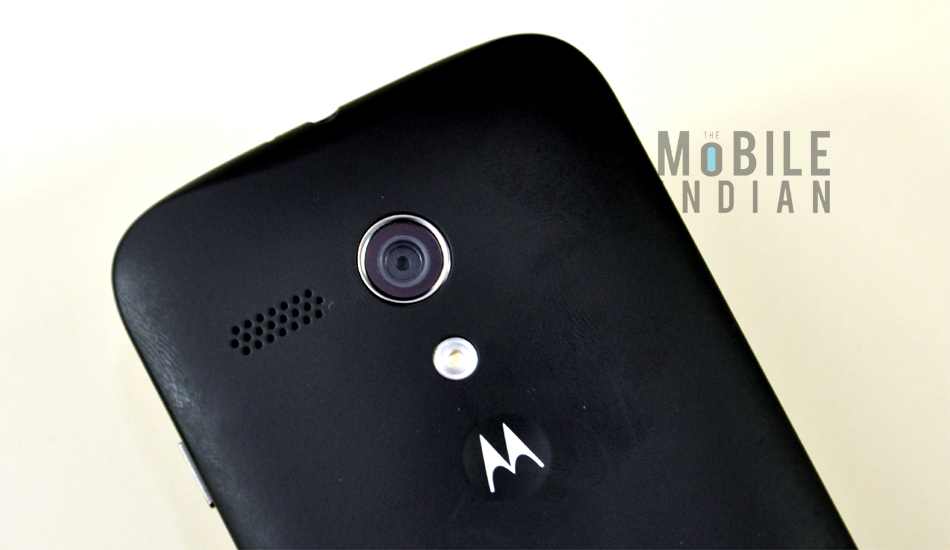 The rear camera though may not sound great on paper, it does a wonderful job in reality. We had captured several pictures under the blazing sun but the pictures weren't flooded with the surrounding light. It manages to capture the shadows perfectly. Colour output was superb too.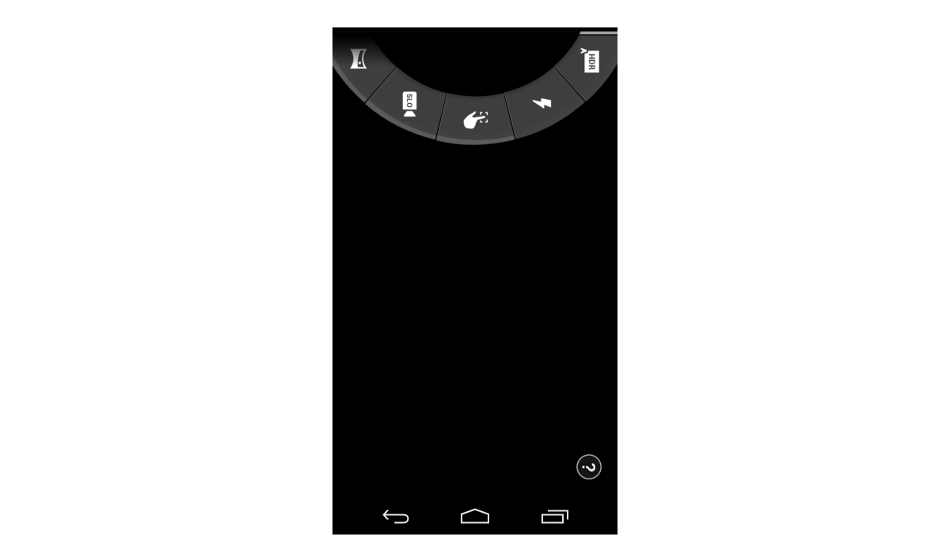 The LED flash light also does a wonderful job in illuminating closer objects. The front camera is also quite good for selfies and video calling.
We have already posted several pictures in different conditions which you can check out here.
Rating for camera: 9/10
Connectivity
The Moto G comes with two micro SIM slots and both SIM cards offer 3G access. There is WiFi (b/g/n) and Bluetooth 4.0 in the Moto G. It also comes with USB on the go functionality that allows a pen drive to be used with it directly. Using its WiFi Hotspot feature you can also create a hotspot in your surrounding.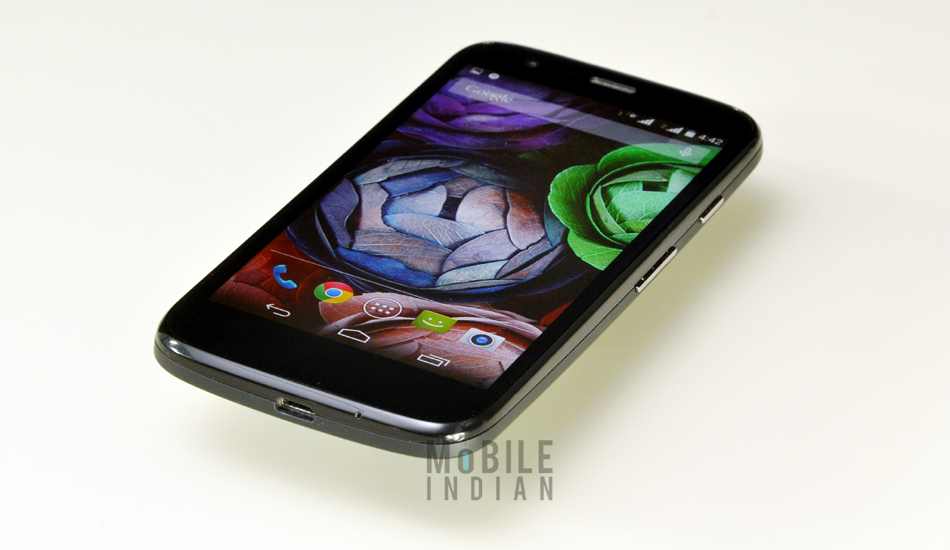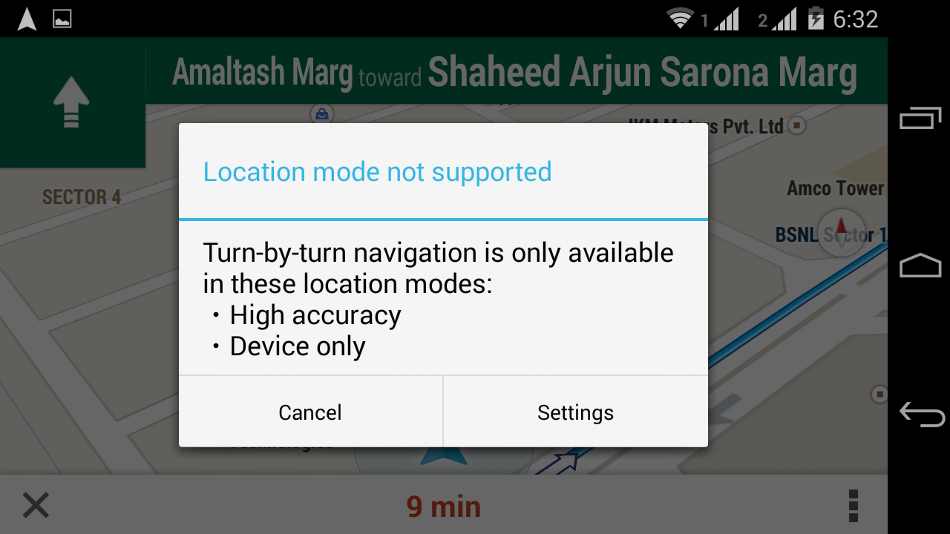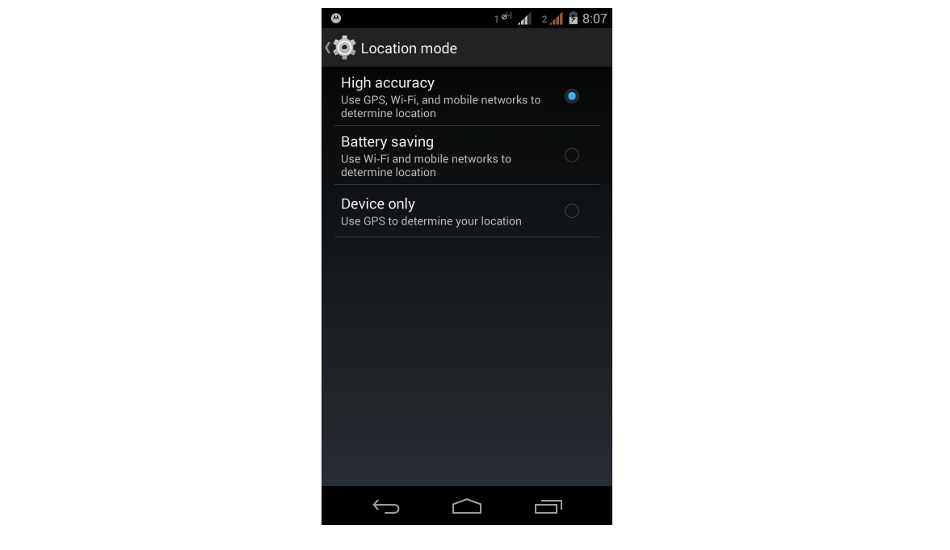 For navigation, the Moto G has got GPS with A-GPS feature. There are three modes in the Moto G for using its GPS feature- high accuracy, battery saving mode, and device only mode. For turn by turn navigation, you have to use high accuracy and device only mode. For all other navigational purpose, battery saving mode is sufficient. As the name suggests, the high accuracy mode quickly locates onto your location but if you are low on battery or are in a area where there is no mobile network, you can use the device only mode which too is quite fast in pin-pointing the location.
Rating for connectivity: 8/10
Storage
Sadly, the phone has no expandable storage slot so you have to contend with the internal storage. In the 8 GB version, which we received for review, 5.5 GB was available for users to store their files which is just enough these days. Thus the 16 GB Moto G is a much better option as it costs just about Rs 2,000 more.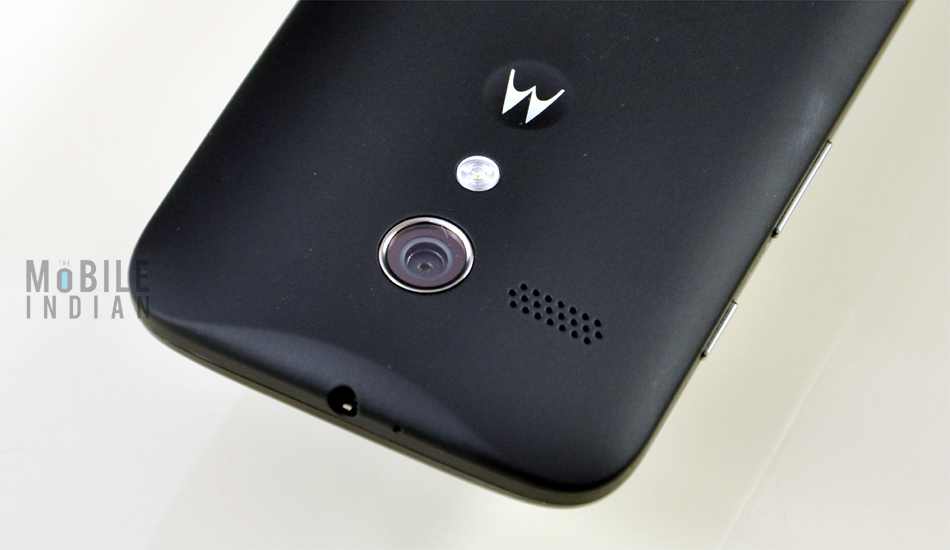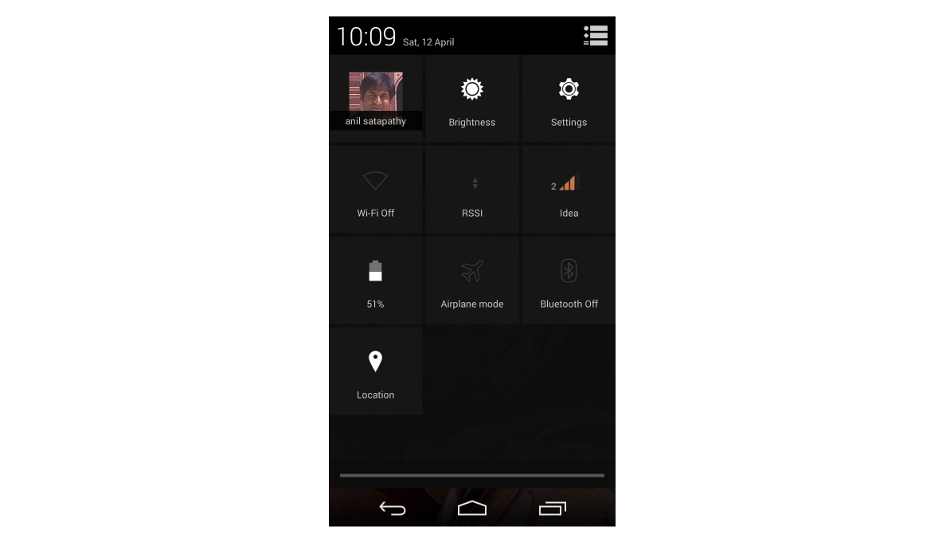 On the contrary, even under Rs 10,000 Android smartphones come with atleast 4 GB ROM and 32 GB micro SD card slots while new age devices from Samsung and HTC offer 64 GB micro SD card slots.
Rating for storage: 5/10
Images by: Sushil Kumar