Wickedleak, a new player in the Indian mobile business, has introduced a series of new handsets in the market. Its latest is the Wammy Titan which is available for Rs 13,000 and comes with good features such as Android Jelly Bean operating system, 5.5 inch capacitive touchscreen, dual camera, 1 GB RAM, dual core process etc.
Here is our take on this handset.
Body
At first sight, you may mistake it for a Samsung handset; in that case also, we won't blame you as the Wammy Titan comes with a home button that is synonymous with Samsung handsets. Anyway, the Wickedleak Wammy Titan is quite slim at 9.9 mm and has a width of 81 mm that makes its handling easy. The original back panel is quite slippery but a supplied back panel cum cover provides good grip as well as protection to the display.


The Wammy Titan is however feels a bit heavy and why not as it weighs 160 grams but that is probably due to its large size as well as due to its huge 2800 mAh battery.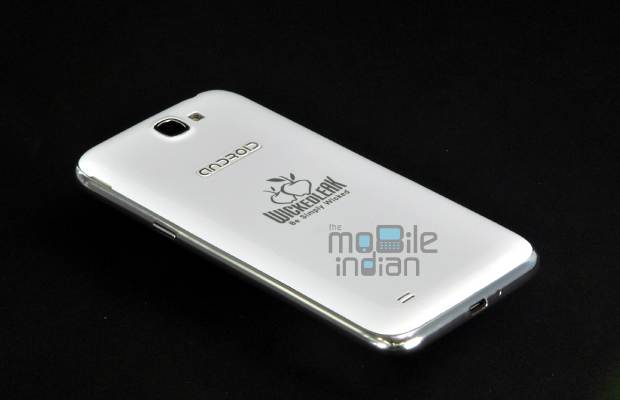 The back panel nonetheless feels strong while a thick metallic panel would definitely save the inner parts from accidental drops to some extent. The power on/off button is on the right side middle area while the volume rocker is on the left hand side towards the middle area. The placement of power key is definitely good as you can also reach it out while operating the handset in one hand. However, if you are using the supplied flip cover than using the volume rocker becomes a bit tricky as the flip cover folds on the left hand side too and thereby covers the volume keys as well.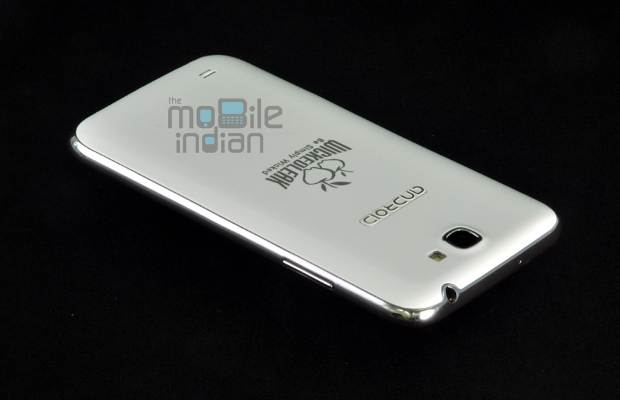 It comes in full white, which we got for the review, and in black colours. Though the white Wammy Titan was elegant, we think the black colour version would be a better one.
Display
It comes with a huge 5.5 inch display; the size makes it a very hot contestant in the Indian handset market which is witnessing launch of mobile phones with big displays. Also, the display comes with QHD resolution (960×540 pixels) which is again good as most other handsets in this price range come with WVGA resolution (800×480).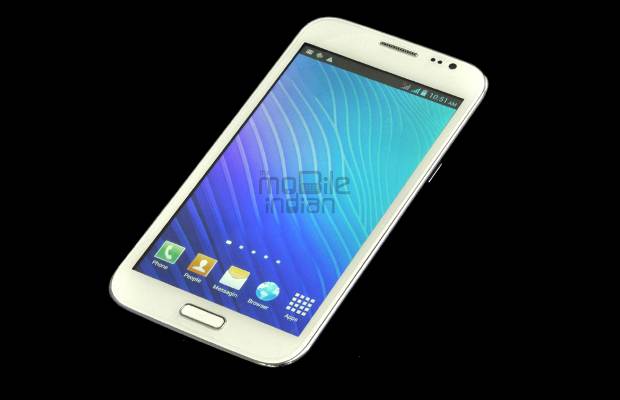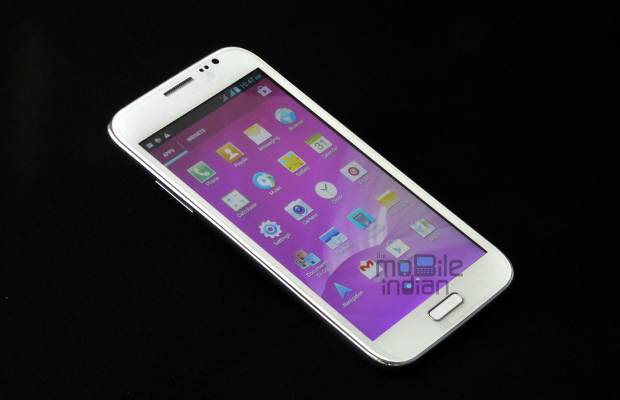 Also, the display used in Wickedleak Wammy Titan's display is made of In-Plane Switching (IPS) technology that aides wide angle viewing. During our review, the display most of the time responded well to commands and is quite bright enough to be used in daylights as well. But, the stylus being provided with the Wammy Titan is outright useless and of poor quality.
Battery
Since it has a big 5.5 inch display, Wickedleak has aptly fitted a big 2800 mAh battery in the Wammy Titan. Though the official figures of three working days is doubtful, the battery provides good run time. After charging it fully, we used it for about half an hour gaming and another half an hour on listening to music. While doing so we kept WiFi on as well, but all these drained out 30 per cent of charge only while the device showed another five and half hours of battery juice left.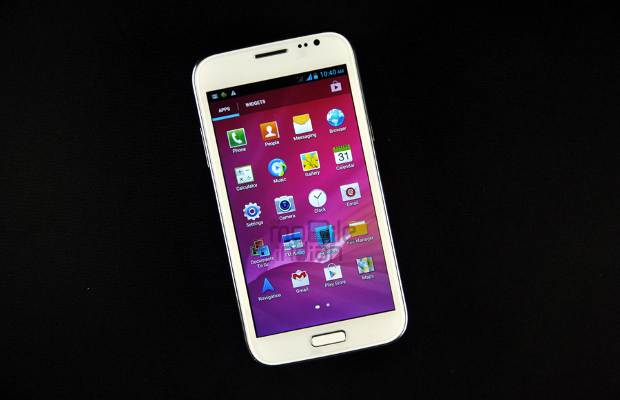 Though, the figures are not overwhelming, but are definitely satisfying.
Camera
It comes with two cameras – an eight megapixel camera in the rear and a two megapixel front camera. The camera comes with burst mode, smile shot and panorama feature which led us to expect high from it. But like most of its competitors, the Wammy Titan failed to impress us even a bit with its camera capability.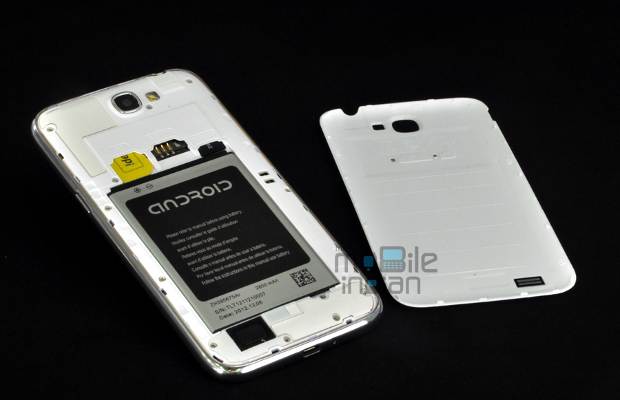 The pictures shot look awful washed out despite having tried every possible settings tweak. The burst mode feature is of very little use as the auto focus capability of the camera is under par. The front camera can be used for both self-portrait images as well as for video chats.
Performance
Wickedleak Wammy Titan comes with a dual core MTK 6577 processor with a clock speed of 1 GHz. Moreover, it has huge 1 GB of RAM and the latest Android Jelly Bean operating system. Besides, it has the PowerVR SGX 531 graphics processing unit.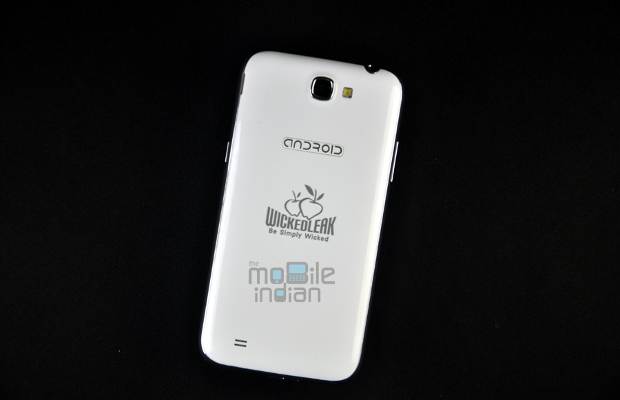 The combination looks awesome and is perhaps the best in the segment. We had played few games on it and faced no problem. There are many games in the Google Play store though which are not optimised for Android Jelly Bean and those games hence would not play on the phone.
The Gravity sensor was good but slightly off balance like the proximity sensor.
Others
The Wickedleak Wammy Titan impresses with its connectivity features like dual SIM, WiFi, Bluetooth, and GPS. Sound levels were also good in the Wammy Note.
Verdict
Wickedleak is a new entrant in the handset business in India which may go against it. However, feature wise, the Wammy Titan is well equipped and gives a tough contest to the competitors.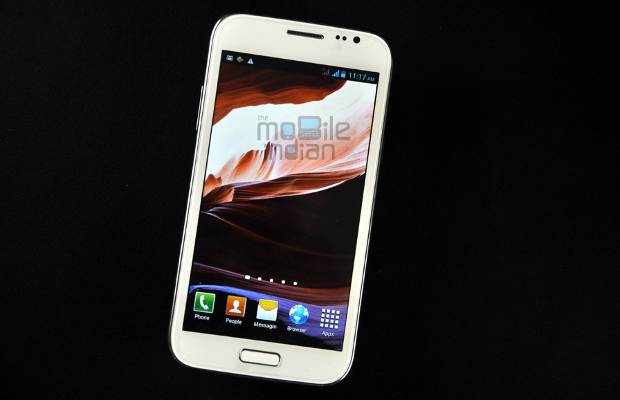 If you forget its weight and poor cameras, then the Wammy Titan will impress you with its gaming performance.