When Samsung launched its Galaxy Grand, many people like us were skeptical, not about its performance but about its price tag as quad core processor smartphones are available for as low as Rs 14,000. I had also highlighted the fact while comparing the Micromax Canvas HD with the Samsung Galaxy Grand, about which you can read here.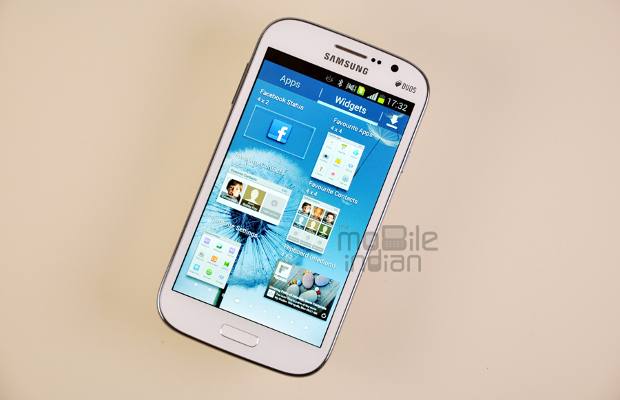 At Rs 21,500, the Samsung Galaxy Grand does look a bit expensive considering its specifications, like a 5 inch screen, Android Jelly Bean operating system, dual core 1.2 GHz processor, 1 GB RAM etc. But such specifications are also present in devices of around Rs 15,000 and less. Before you jump to any conclusions read this review, which might be an eye opener.
Build
Samsung's handsets come with similar designs, which makes them look alike. But when it comes to build quality, Samsung never leaves any room for complaint. The Galaxy Grand is a burning example of this. The Samsung Galaxy Grand has a shiny body, which adds to its look and is not too slippery either. There is a solid metal strip, which surrounds the phone on all sides and can easily withstand a few falls. The back panel is a bit plasticky, and that made me nervous sometimes while opening it to insert my SIM cards. It is so thin that it feels like it might break.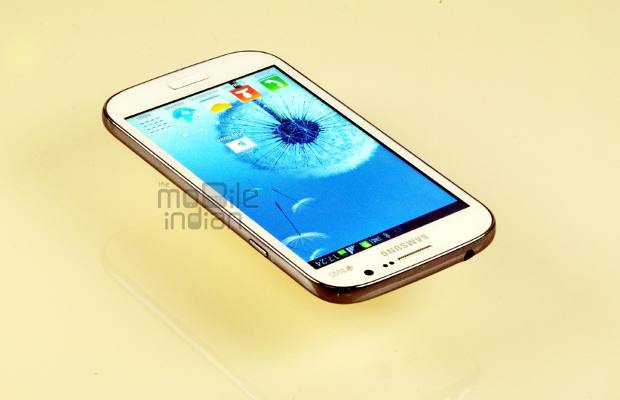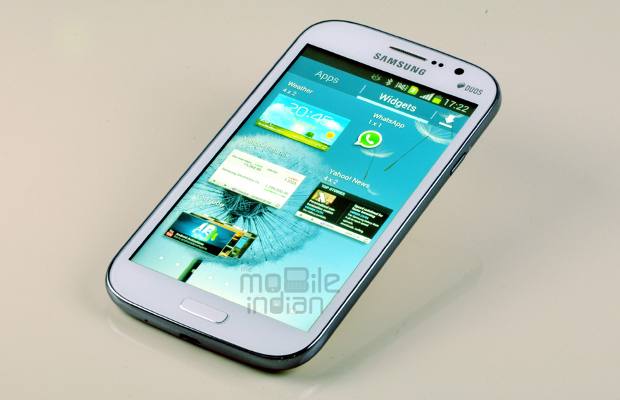 There is no gap between the back panel and the inner hardware, which makes the device solid. At 161 grams, it feels a bit heavy. According to Samsung, the Galaxy Grand is just 9.6 mm thin, but it does not feel like that. All in all, it is a decent device vis-Ã -vis build quality and looks. The placement of the volume rocker (on the top left side), the power button (on the right hand top), a 3.5 mm jack and micro USB port (both on the top) are well planned.
Display
The Samsung Galaxy Grand has a 5 inch screen similar to the Micromax Canvas HD. However, it has only 480 x 800 (WVGA) pixel resolution against 1280 x 720 pixel resolution of the Micromax handset. The figures are definitely against the Galaxy Grand. However, in actual life, the results are completely in favour of the device. I had reviewed the Canvas HD as well, which you can read here.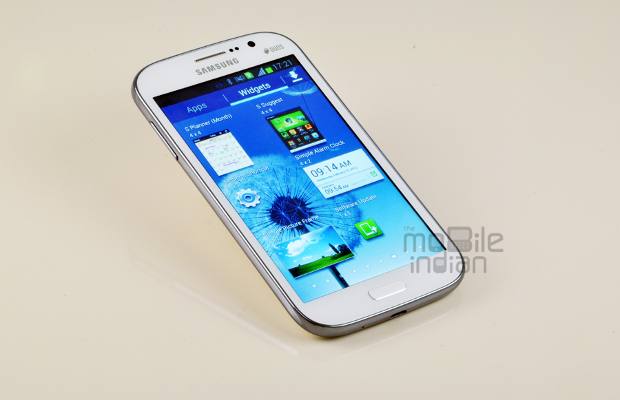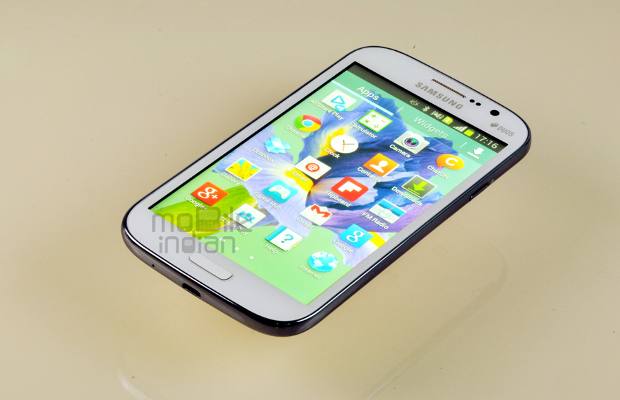 However, pictures and videos were just so amazing on the Galaxy Grand that we forgot that it has only WVGA resolution. In some instances, we found the Galaxy Grand's display even better than the Canvas HD's screen. The touchscreen of Galaxy Grand operated flawlessly.
User Interface
This is where the Samsung Galaxy Grand beats all its competitors hands down. I would not hesitate to name it the junior Galaxy SIII as it has many features of the latter. As you turn on the power, you can see the notification bar on the top, which you can pull down to make adjustments without even unlocking the handset. There are three shortcut menus on the screen as well, to which you can go directly as you unlock the phone. You can change the shortcut menus from the settings page but you can keep a maximum of three shortcut menus. You can also keep news and weather bars on the lock screen, so you don't have to lock the phone to check them. There are several screen lock options as well. Unlike many other devices, its face unlock feature also works great and recognizes even in low light.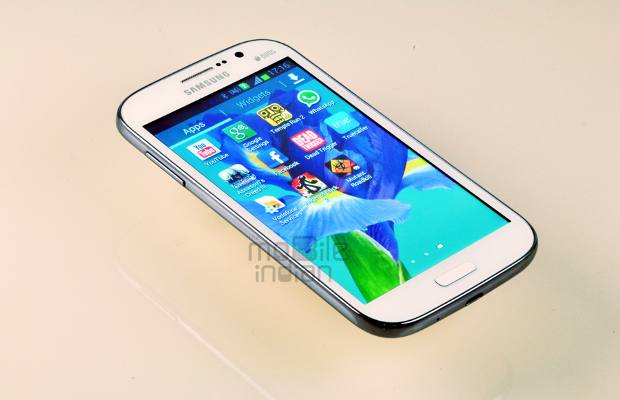 The settings menu can be accessed from the notification bar of from the capacitive buttons, which are situated just below the screen. Anyway, there is a settings app, which you can place on the home page itself. There are several innovative features in the Galaxy Grand like Blocking mode, which you can activate to block all incoming notifications and calls while making a few exceptions. You can also set the time during which this blocking mode will be activated. There is a Multi Window feature as well, which brings a notification bar like thing on the left hand side, that you can use to access various apps like Gmail, message, Gallery and Facebook while doing any other task, including gaming. It also has the famous Video Pop up, S Voice and Stay Awake features. All in all, the Galaxy Grand is a well equipped handset and can be said to be the most user friendly phone in this price category.
Camera
The Galaxy Grand comes with an 8 megapixel rear camera and 2 megapixel front camera. There is an LED flash beside the rear camera. The 8 megapixel camera can record 1920 x 1080 pixel video at 30 frames per second.


We have no qualms whatsoever regarding the camera of the Samsung Galaxy Grand. The rear camera is exceptional at close quarters as it has a good ability to focus. You just need to touch the area you need to focus on and the camera will do the rest. Colours are reproduced as they are. The darker areas seem to be even more dark, but that could be changed a bit if you increase the exposure.
Battery
Samsung Galaxy Grand has a normal 2100 mAh battery, which, officially, provides 610 minutes (10 hours) of talktime over 2G/3G networks; while the standby time is 440 hours. It gets charged fully from scratch within one hour, but can hold on to that charge for a very long time. Unlike any other smartphone, we had kept the WiFi hotspot on for around 4 hours and played games for another 45 minutes.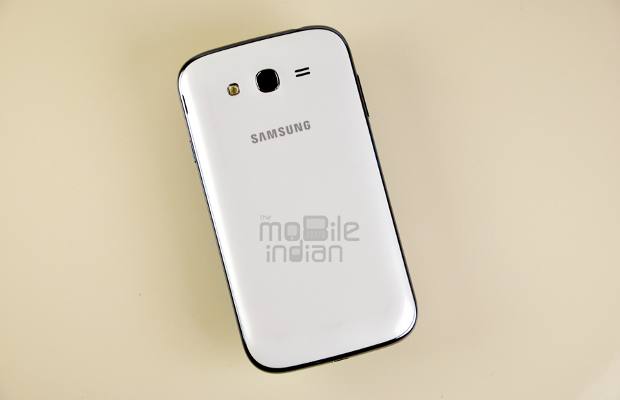 Still the phone lasted for another 12 hours. This is incredible for a smartphone. With normal usage, involving 2-3 hours of music, an hour of WiFi/mobile data usage and another hour of gaming, the Galaxy Grand can hold on to the charge comfortably for a day or more.
Performance
The Galaxy Grand has a 1.2 GHz dual core processor, which is supported by Android 4.1 Jelly Bean and 1 GB RAM. The combination is decent but not ultimate. The phone managed to play games easily, and without much hiccup, but if you open 2-3 apps at a time, then the phone shows some sluggishness, which should not happen considering that it has a 1 GB RAM. We did not face the same situation in Canvas HD, but if you keep a tab on running applications, and close them when they are not in use, then you won't feel a pinch at all.
Storage
There is 8 GB internal storage in the Galaxy Grand, which also has a slot for up to a 64 GB micro SD card. Out of 8 GB around 4 GB is available for storage. Hence, we give full marks to the Samsung Galaxy Grand vis-Ã -vis storage facility.
Connectivity
In terms of connectivity, too, Samsung Galaxy Grand has many options. Not only does it come with dual SIM facility, it has micro USB 2.0, WiFi with hotspot capability, WiFi Direct, and Bluetooth. It has A-GPS and Glonass support too. Besides, the phone has an accelerometer, and geo-magnetic, gyro and proximity sensors.
Conclusion
The Samsung Galaxy Grand is a well-equipped handset and is perhaps among the few at this price range that look complete with all requisite features. It impressed us immensely with its innovative user interface and battery life, while its display and camera quality were appreciable. There is enough storage in the Galaxy Grand; its performance is good, but not extraordinary.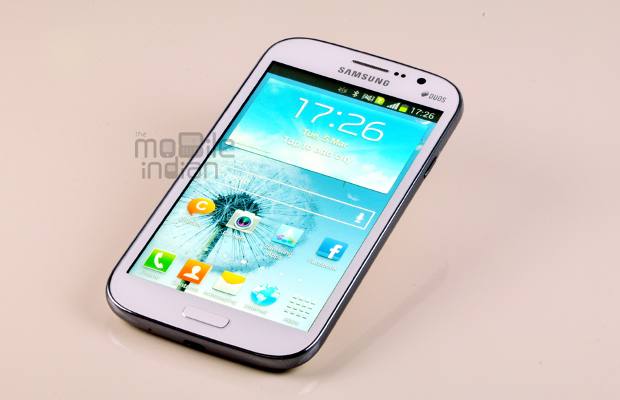 At around Rs 20,000 there are many good handsets available in the market. For instance, the LG Optimus Vu, which comes with a 1.5 GHz quad core processor, is now available for Rs 21,999. You can read the review of Optimus Vu here. You can also consider the Sony Xperia P and LG Optimus L9, which are available for a couple of thousands less than Galaxy Grand, but have almost the same features. There is of course the Micromax Canvas HD, which is good, but is currently not available in the market. One thing I want to underline is that you won't regret buying the Samsung Galaxy Grand even if you buy it now for Rs 21,500.