Byond, a new Indian handset manufacture, has recently launched a slew of handsets in the country including this 4.5 inch smartphone. Named Byond B63, this handset comes with very high end features like Android Jelly Bean operating system, 1.2 GHz dual core processor, 8 megapixel camera etc. Despite having such high end features, the Byond B63 is available for around Rs 9,500.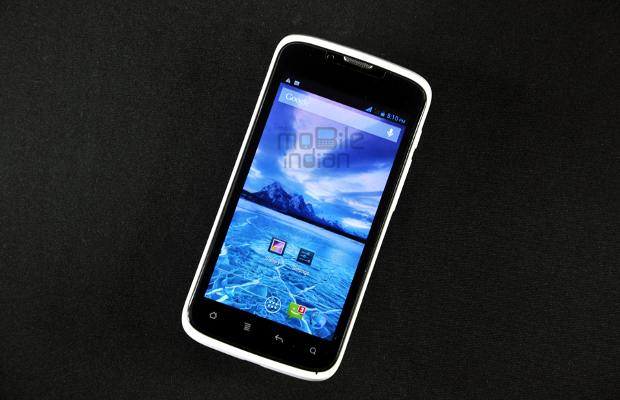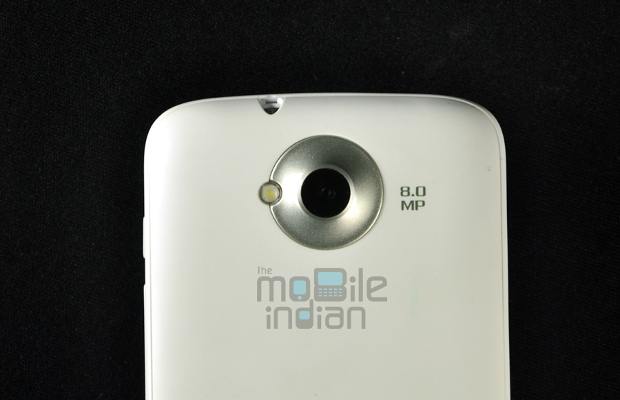 Since many mobile phones of Indian brands do not perform according to their features, we were initially suspicious of the actual performance of the smartphone. Thus we did a thorough review of the handset and here are our findings.
Body
The first thing we noticed about the B63 was the big camera bezel and HTC One X like styling. When you touch it too you get the feel of the HTC One X. And don't be surprised if people take it for an HTC handset. It weighs 164 grams, thus naturally you will find it a bit heavy in the hands, but it has a really good back panel that is not slippery.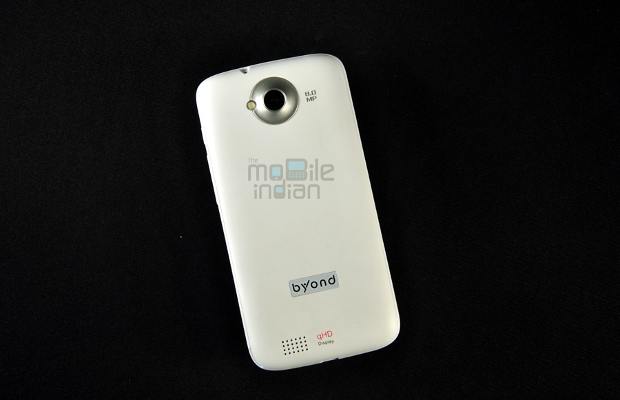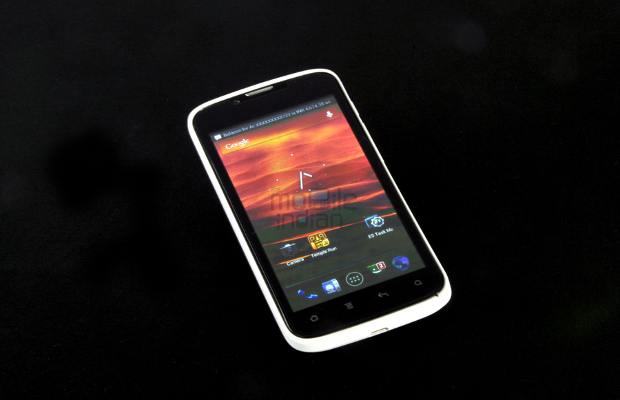 The big camera bezel in the rear panel also gives it a premium look. The power button and the volume rocker are placed side by side at the top right. They are so closely placed that we felt very awkward and most of the time we ended up pressing the wrong button. There is a speaker grill at the bottom of the rear panel that we think also helps you hear the caller's voice clearly.
Display
The device has a 4.5 inch display with 540 x 960 pixel qHD resolution, which means the display has a decent 240 ppi (pixels per inch) resolution. This resolution is good, but it is not the best. If you have ever been exposed to higher end smartphones, then you will be disappointed with the resolution as games and pictures appear washed out.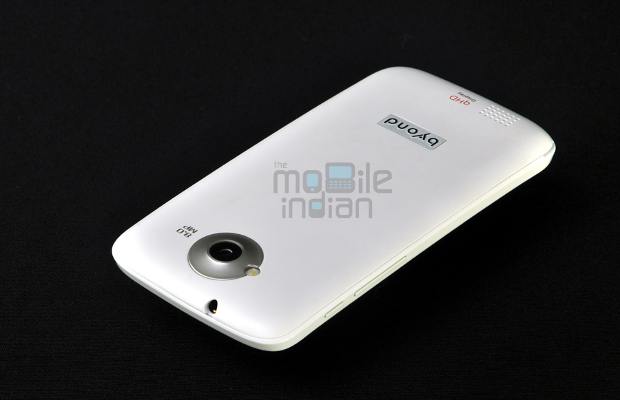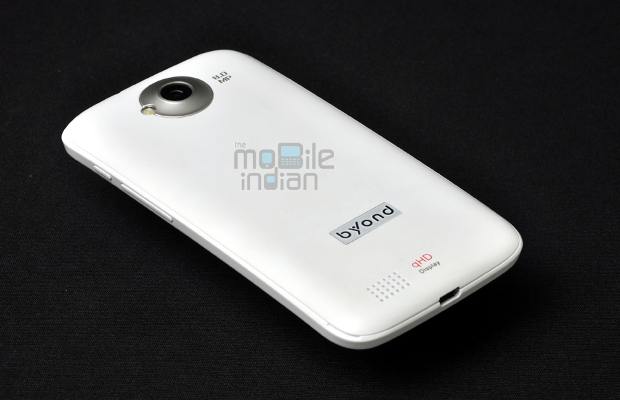 The display is not scratch resistant either, so you better put a scratch guard on it. The Byond B63's brightness seemed fine in well lit rooms and was okay even in bright daylight. The display, however, has a very low viewing angle.
Performance
The phone comes with a good dual core ARM v7 processor clocked at 1.2 GHz, and it has only 512 MB RAM. Though its RAM does not inspire much confidence, to our surprise, the phone worked very well. We played good games like Temple Run 2, Shine Runner, Riptide GP etc, and most of the time the device played them with ease. Of course, the display's low resolution does not allow the phone to show all the details of the games, but it did not hang mid-way; nor did the phone crash even once, despite the fact that we had opened many applications with the games.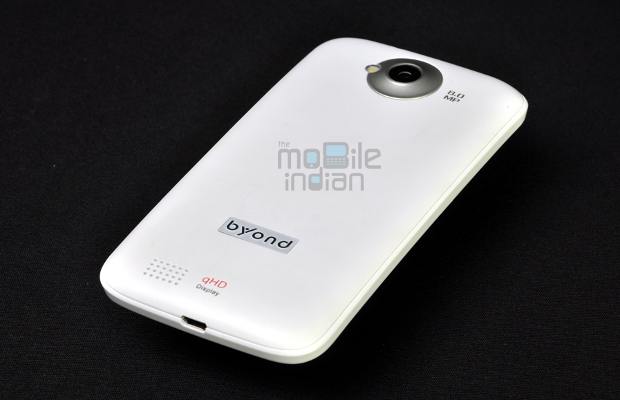 The device scored 6229 on AnTuTu Benchmark, which is well over 4890 of Micromax Canvas II (reported) which too has a dual core processor, 512 MB RAM, and comes at the same price point as the Byond B63.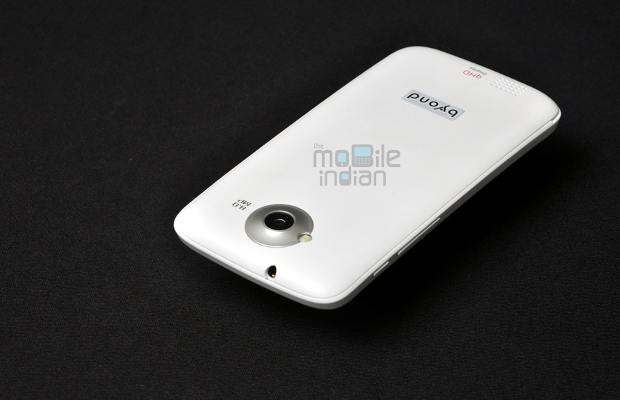 Notably, Byond B63 comes with Android 4.1 Jelly Bean, making it perhaps the only handset in its category to have the latest Android operating system.
Camera
The Byond B63 comes with a decent 8 megapixel rear camera and a 0.3 megapixel front camera. We clicked a few pictures inside a room. Though the front camera seemed okay for video chats, during our short interaction, the 8 megapixel rear camera did not satisfy us fully.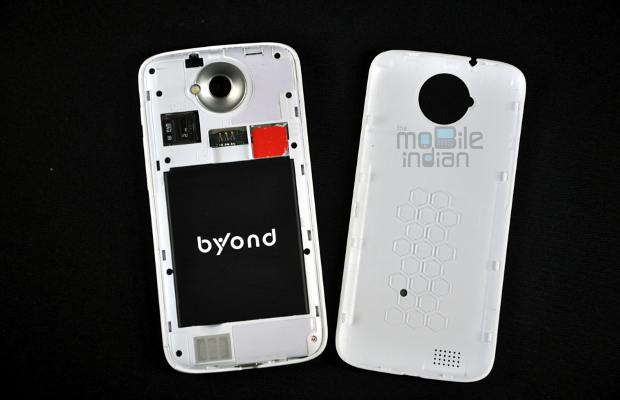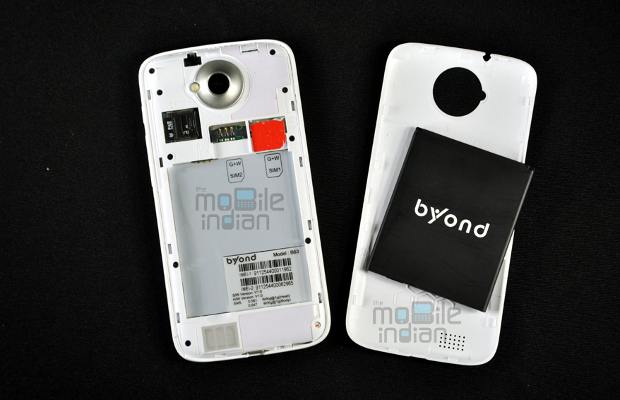 The camera app was quite fast but the pictures taken with the rear camera did not show the real colours and gave a feeling that it was more of a 5 megapixel unit. Saying so, we do also insist that it is a total disappointment and Byond B63 is at par with some of the top camera handsets under Rs 10,000.
Battery
Byond has fitted a good 2000 mAh battery in the B63, which is very good from a smartphone point of view. Officially, it provides six hours of talktime over 2G, which is a bit odd considering that it has a good battery.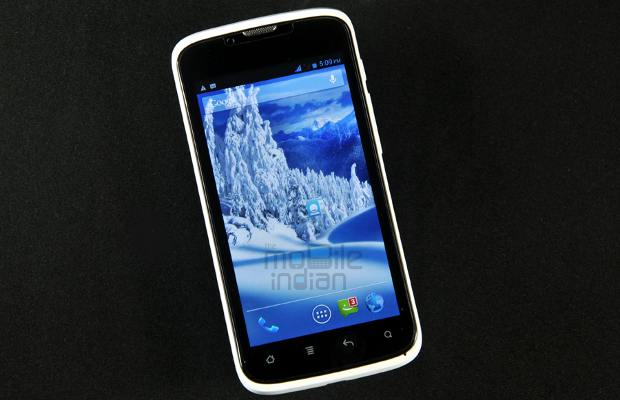 It also takes time to charge, but if you use it properly like by turning off WiFi when not needed, you can run the device for 24 hours by charging just once with average usage that includes an hour or so of music, half an hour of web surfing over WiFi and another half hour of games.
Other features
It has 4 GB of internal memory of which around 2 GB is available for users. Like other Android smartphones, it too comes with 32 GB of expandable memory. Byond B63 also has 3G, WiFi, micro USB, Bluetooth and a 3.5 mm jack. It has a G-sensor, light sensor and proximity sensor. We found no problems with either of its sensors or connectivity features during the review. Like in most low cost handsets, the G-sensor felt a little off balance and was not giving results as it should have, which becomes apparent while playing games like Riptide.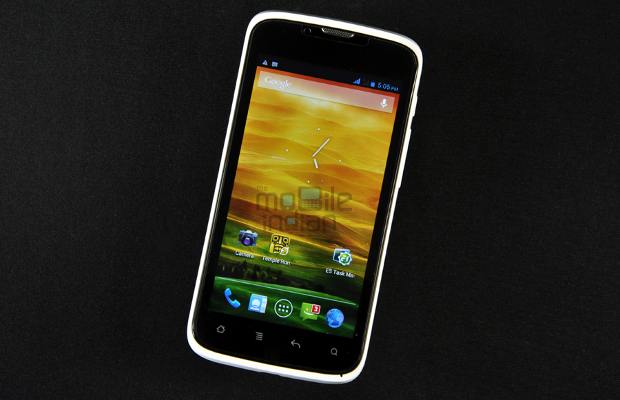 It played videos and music files well but due to its low viewing angle it is quite a frustrating experience to watch videos on this handset. The FM radio's reception was good and so was the level of sound output. Call reception was good too.
Conclusion
Byond B63 is priced at Rs 12,499 but is available for less than Rs 10,000 from major online retailers. At this price the phone has Android Jelly Bean operating system and a dual core processor, which is praise-worthy. Moreover, it is a dual SIM smartphone and comes with 4 GB of internal memory, unlike most of its competitors, which have quite negligible internal memory of 1 GB or less.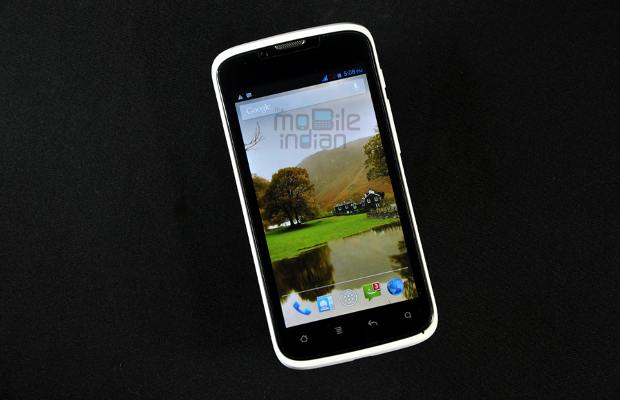 If you take out the display part, then the phone gives decent performance in all other areas vis-Ã -vis its processor, and is stacked with features and performs beyond our expectations.