Canvas Doodle 2 is the costliest phone of Micromax till now. Though launched for Rs 19,990, the Doodle 2 is now available for around Rs 18,000 but still it is right in the den of stalwarts of the handset giants like Samsung, Sony, and HTC. Especially, it is in direct confrontation with Samsung Galaxy Mega 5.8.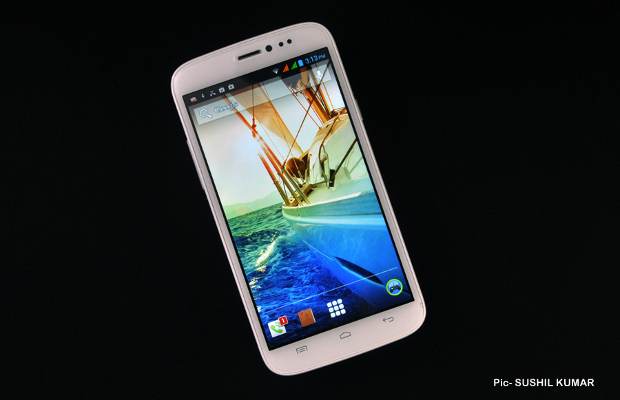 But keeping its competitors apart, we reviewed it in detail to see how it fares in day to day usage.
Design & Display
With a huge 5.7 inch display and 2600 mAh battery, the Micromax Canvas Doodle 2 is expected to be bulky. However it isn't. Though Micromax has not revealed its dimensions, but it must weigh around 170 grams as the Galaxy Mega 5.8. However, if you use the supplied flip cover (which is made of very strong plastic) the weight increases significantly but if you want a bit of protection you have to overlook the weight aspect. The supplied flip cover (I expect the flip cover to be a part of the handset though I could not found any mention of the same in listings by any online retailers) is very sturdy and protects the phone well besides giving solid grip which is not the case with the metallic panel of the Doodle 2.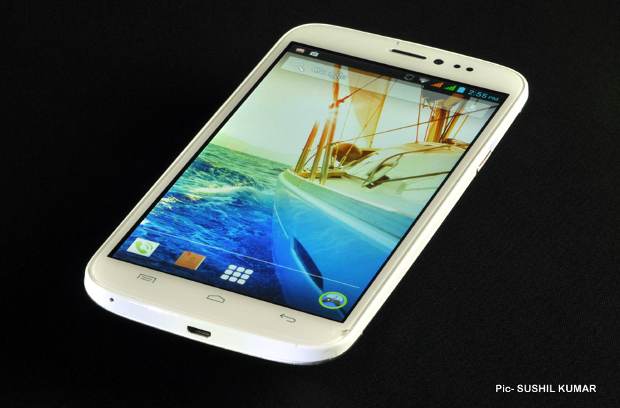 The phone has a non-removable back panel but the upper part of the back panel (surrounding the rear camera) is removable and it houses SIM card and micro SD card slots. The metal back panel gives it a very affluent look. Also despite being so big, it feels very easy to operate even in one hand.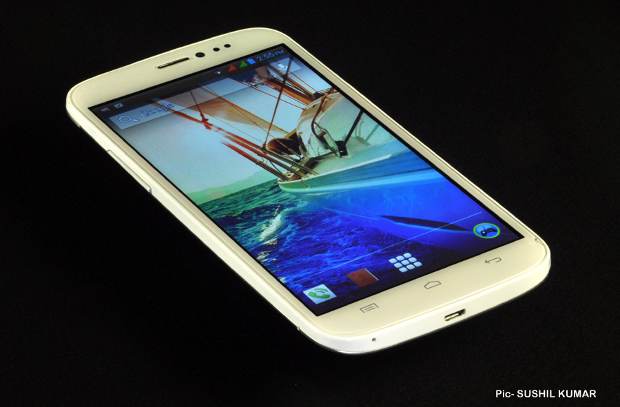 The 5.7 inch display of Micromax Canvas Doodle 2 comes with 1280×720 pixels resolution. Though numerically speaking High Definition looks lot less as devices today come with Full HD resolution, but I won't like to make much fuss about it as I found the display quite bright and it able to produce colours as they are. Also, the IPS display gives very good viewing angle.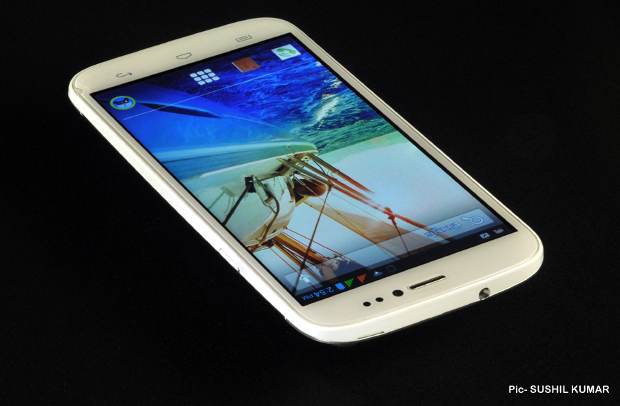 Though the touch response was decent, but I found few blind spots on the display. Especially, during plying games, the display refuses to react to some touches for a split second.
Battery
Micromax aptly armed the Canvas Doodle 2 with a 2600 mAh battery as its huge screen and quad core processor are bound to consume lot of power. I still though was quite apprehensive as most such big devices come as total failure when it comes to battery back up.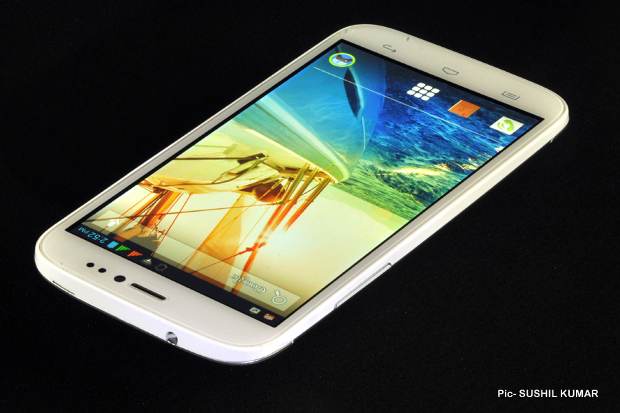 However, Doodle 2 did surprise us greatly. It able to manage a whole day without much fuss with usage involving watching a movie of two hours, listening to songs for another an hour, and then using camera for half an hour, besides making few calls of odd 20 minutes. To be specific, I watched a movie for an hour with maximum brightness and used a Bluetooth headset, and after that hour it lost 15 per cent charge which is quite appreciable.
Camera
It has a 12 megapixel rear camera and a 5 megapixel front camera. The rear camera is assisted by two LED flash lights for low light imaging. The rear camera is quite good in low light conditions as well as in well-lit conditions. Focusing capability is okay too.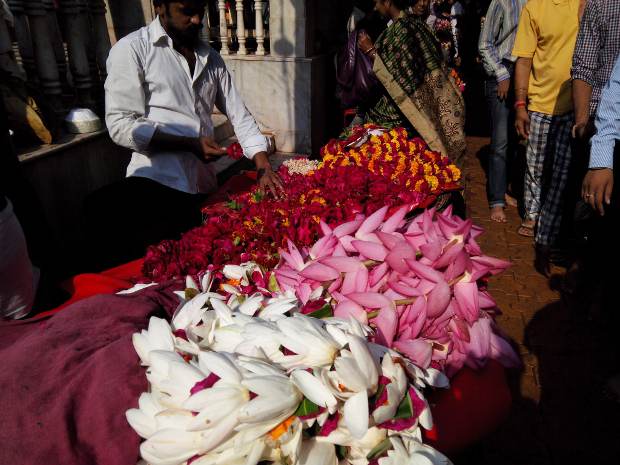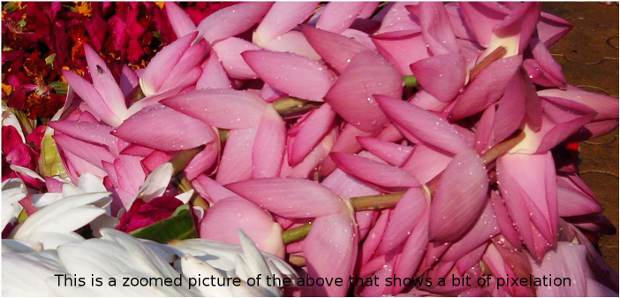 However, the rear camera of Doodle 2 is not able to capture details as a true 12 megapixel camera should have. We have captured few images which would give you a decent idea about the camera quality of Micromax Canvas Doodle 2 (refer captions for more explanation).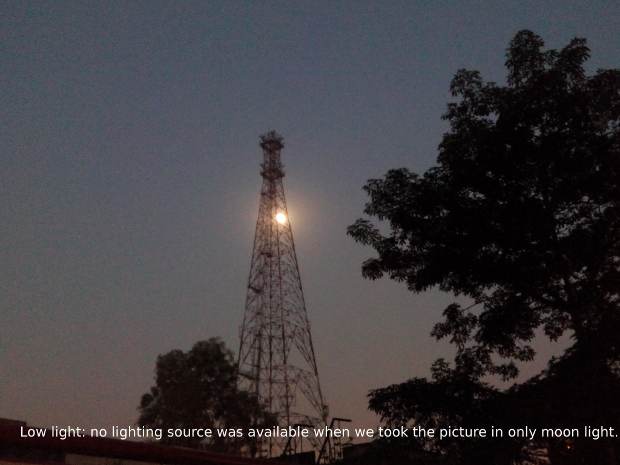 The 5 megapixel front camera though is good for both self-portraits as well as video callings.
Performance
The Micromax Canvas Doodle 2 comes with the 1.2 GHz quad core Mediatek 6589 processor. It is assisted by Android 4.2.1 Jelly Bean operating system and 1 GB RAM. To test its mettle, we played few games like Frontline Commando D Day, Dead Effect, Riptide GP2, NFS Shift but the handset never show any lack of processing power. I neither faced any lag while using multi-tasking either.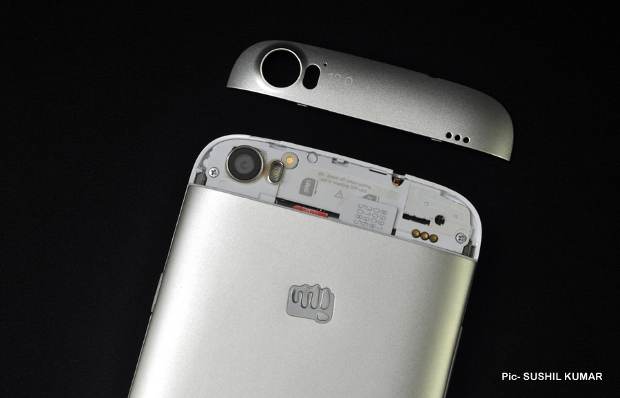 On Antutu benchmark it scored 13756 which is considered as a good score. In the tough 3D Mark Ice Storm test,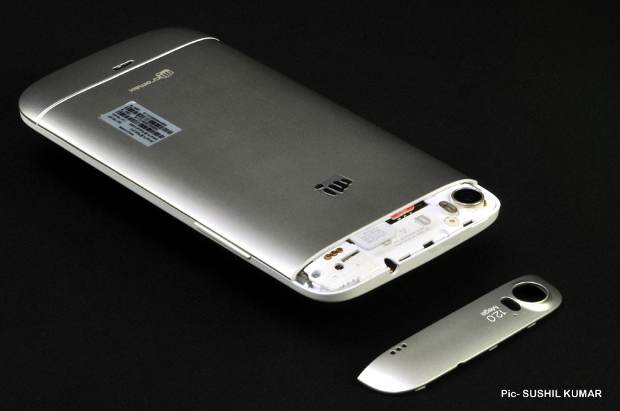 There seems to be some issues with the proximity sensor of the review unit that creates problems in receiving calls but that may be an issue of this specific unit; even otherwise a minor upgrade would solve that.
Memory
The Micromax Canvas Doodle 2's best aspect is its internal storage. It comes with 16 GB ROM of which 12.64 GB is available for users to store their content. However, there is no expandable memory slot which means you are stuck with the internal memory and you have to use that to your best effect. Though 12.64 GB is not less by any means but in such a huge device many would want to store couple of movies for on the go entertainment besides thousands of songs. Moreover, these days high end games often come with more than 1 GB file size (some even comes with around 2 GB file) which means that store 2-3 games like that and half of your internal storage is gone.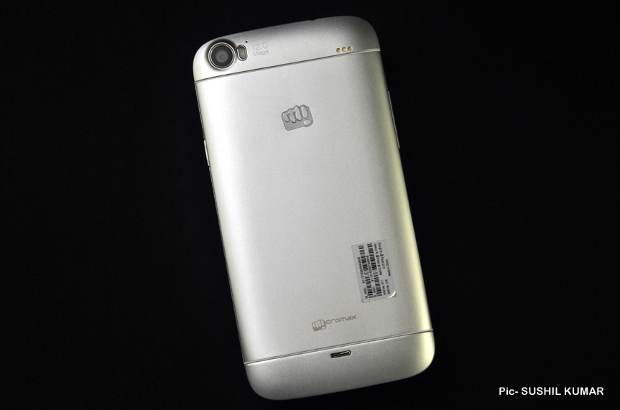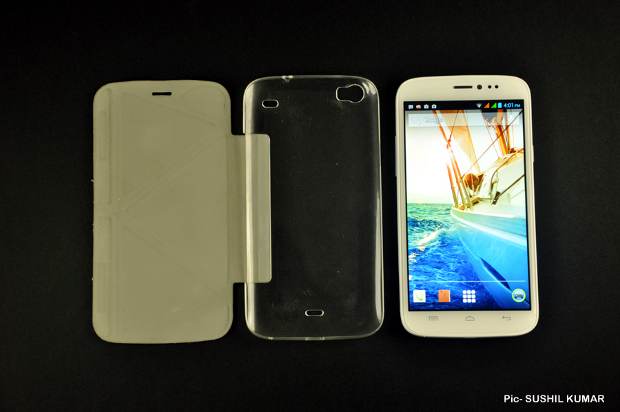 On top of that Micromax has filled the Doodle 2 with a lot of unnecessary apps. For instance, for an FPS game lover, Fruit Devil is a joke. Also, there are apps Hike, Evernote, Skitch apart from a dozen of Micromax's own applications like M! Security, M! Doodle, M! Live etc which unnecessarily clutters the space, apart from eating the precious internal memory.
Images By Sushil Kumar