Sometime back LG V40 ThinQ was released in India for Rs 49, 990. It may be recalled that worldwide it was made available in October last. Is this smartphone good enough to spend money on? Let us find out.
Specifications:
TheLG V40 ThinQhas a 6.4-inch (3120 x 1440 pixels) FullVision OLED display with 537ppiof pixel density. It runs on Snapdragon 845 processor with Adreno 630 GPU which is paired with 6GB of RAM and 128GB of storage.
| | |
| --- | --- |
| Specs | LG V40 ThinQ |
| Display | 6.4-inch (3120 x 1440 pixels) FullVision OLED |
| Processor | Qualcomm Snapdragon 845 SoC |
| Rear Camera | 12MP + 16MP + 12MP |
| Front Camera | 8MP + 5MP |
| Memory | 6GB + 128GB |
| Battery | 3300mAh |
| Operating System | Android 8.1 Oreo |
It hasthree cameras on the rear and two on the front. The rear setup is a combination of12-megapixel primary lens with f/1.5 aperture and Optical Image Stabilisation, 16-megapixel super wide camera with f/1.9 aperture and a 12-megapixel telephoto camera with f/2.4 aperture and supports 2x optical zoom. The dual front camera has an 8-megapixel primary camera with f/1.9 aperture and a secondary 5-megapixel wide-angle camera with f/2.2 aperture.
There's also a 3,300 mAh battery packed which supports Qualcomm QuickCharge 3.0 support and USB-C. It runs on Android 8.1 (Oreo) with LG UX and is expected to get an update to Android 9.0 Pie in thesecond quarter of 2019. The LG V40 ThinQ also features an IP 68 rating andMIL-STD-810G certification. There's also a fingerprint sensor on the rear, face unlock, a dedicated Google Assistant button.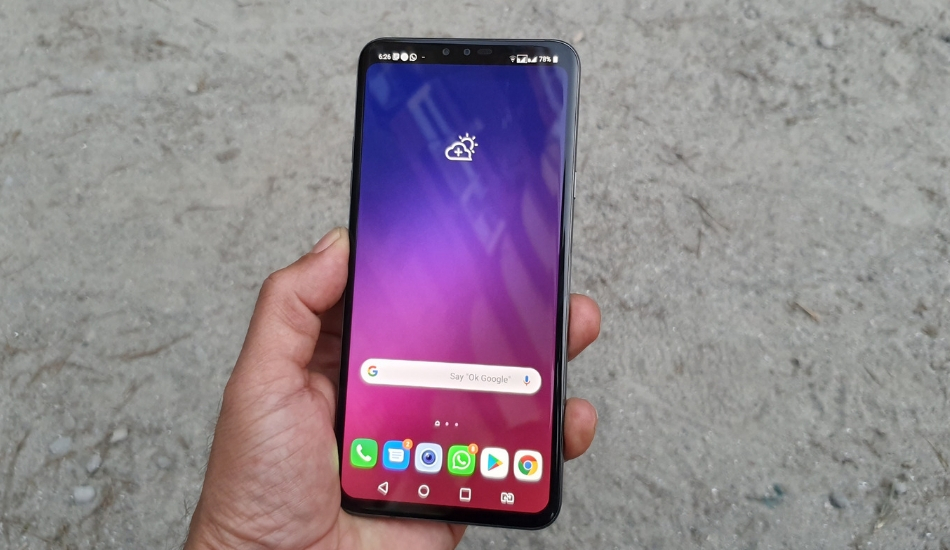 Well Done:
LG V40 ThinQ has an impressive overall build quality and finish. This phone looks and feels superior as compared to other flagships launched by LG so far. Even the matt finish of the metal frame and the glass rear which doesn't attract fingerprints is worth noticing. It is among the few flagships that have a 3.5mm headset jack. Besides, it has a Type-C port as well.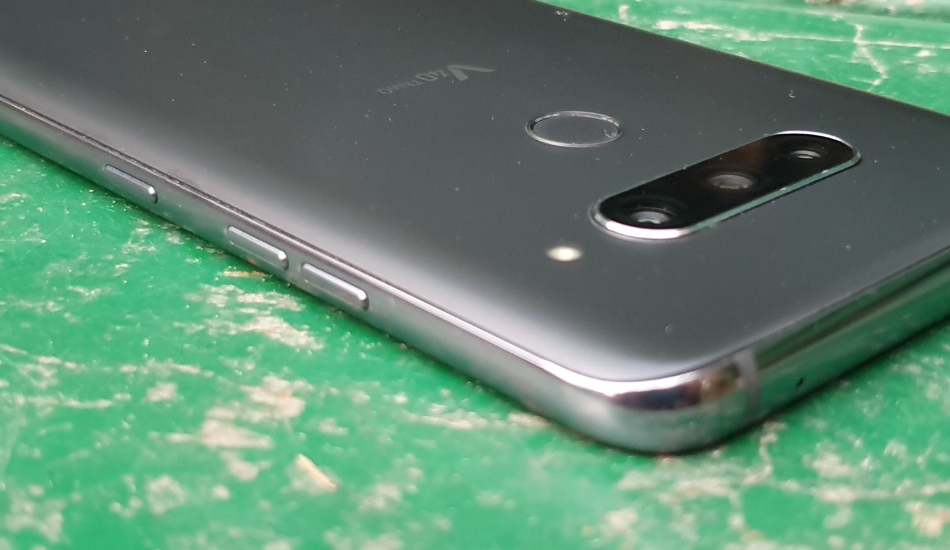 In the front panel, there isn't a lot of chin at the bottom, which looks great. The notchon the top has managed to squeeze two cameras along with an earpiece without making it too wide.
The fingerprint sensor on the back works nicely for authentication. As far as the UI is concerned, the home screen can be a single layered or one can have an app drawer. The LG V40 ThinQ does not have a LED notification, but one can view notifications on the always on display.
General performance of the device is excellent. There's considerable Memory for handling multiple apps to run in the background, and multitasking is handled nicely too. Games which not graphics intensive are handled smoothly.
In the camera department, the primary camera in decent lightingpicks up quite excellent details andcolourtones in landscapes and close up shots.HDR kicks in when required, also, and tapping your subject in the viewfinder locks the focus.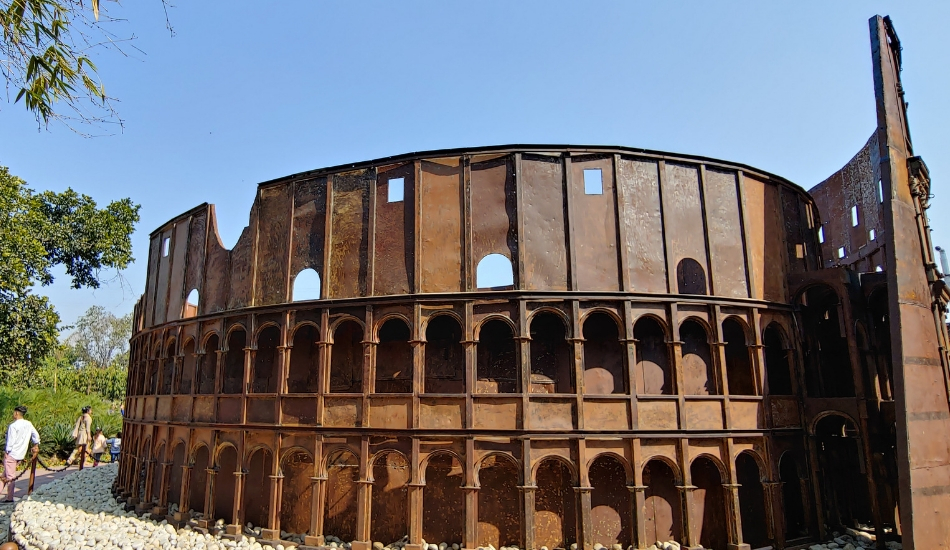 The wide angle lens also does a good job. Noise is at the minimum and detailing is up to the mark. In daylight and artificial lighting conditions portraitmode that does a wonderful task with edge detection for objects and human faces. Coming to the selfie cameras, snaps captured using the primary camera in broad daylight come out well with excellent detailing.
Now let's talk about video capabilities of the LG V40 ThinQ. This phone can take up to 4K resolution, either at 30fps or in 60fps. The quality of the video recorded in daytime is excellent, and footage is stabilised using a combination of electronic and optical stabilisation. With thewide-anglecamera, you can shoot up to 1080 p, but picture quality dips.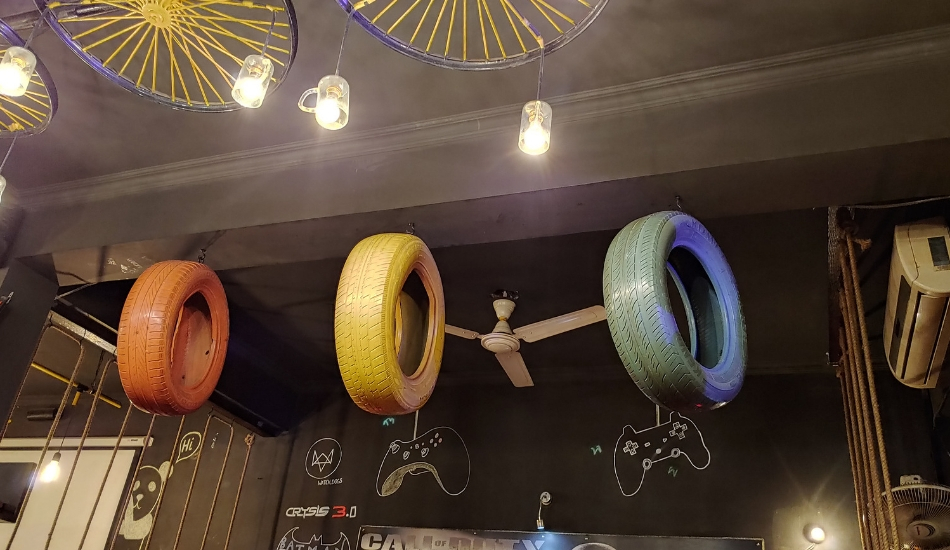 There is a Triple Shot feature in the camera app as well that lets you shoot pictures with all three sensors ( primary, telephoto and wide) at once, providing you with three different viewpoints. It's helpful at times whenever you want to capture multiple scenarios. One can also switch between the three sensors while shooting anytime from the app.
V40 ThinQ has a quad Hi-Fi DACs to drive high impedance headphones. It also supports DTS: X Surround for headphones. The speakers have been tuned by Meridiansound,and the output is decent. The bundled headset provides betteroutput than the speakers, and sound quality is worth appreciating.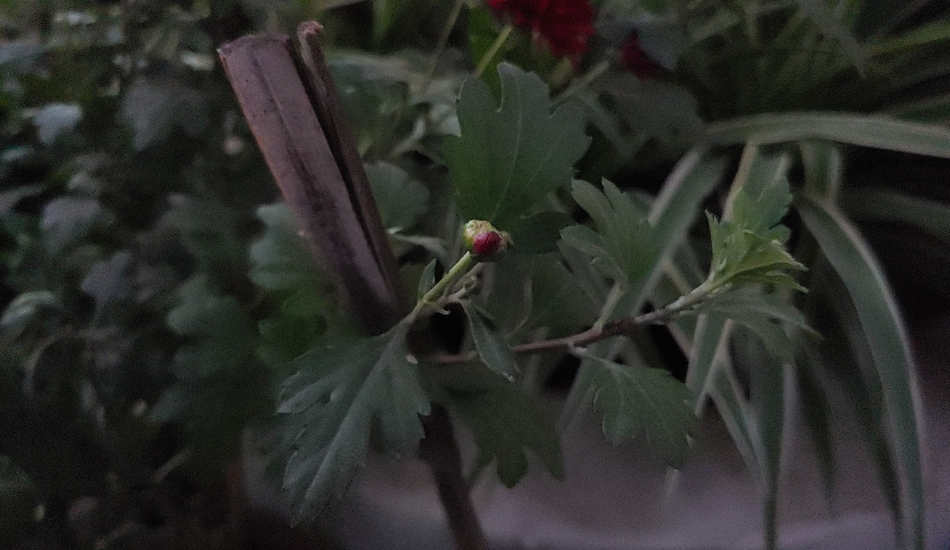 The 3, 300mAh capacity is good enough to keep your smartphone running for a day for normal usage. Heavy usage may give around seven hours of poweron a full recharge. The V40 ThinQ supports Qualcomm Quick Charge 3 and takes less than two hours to get fully charged.
Found Wanting:
Yes theLG V40 ThinQ looks beautiful, but it is very slipping. Even one hand operation is a bit tough and since it has a huge displayreaching physical buttons ( power and volume rocker) on each side of the telephone is not a pleasurable task. It has a dedicated button for Google Assistant butit is not customisable.
The 6.4 inches QHD+ display dominates the front of thephonebut does not feel too immersive because of the comparatively thick black bezels on the sides. Strangely LG has stuck with Android 8.1 Oreo in this device, which is really bad.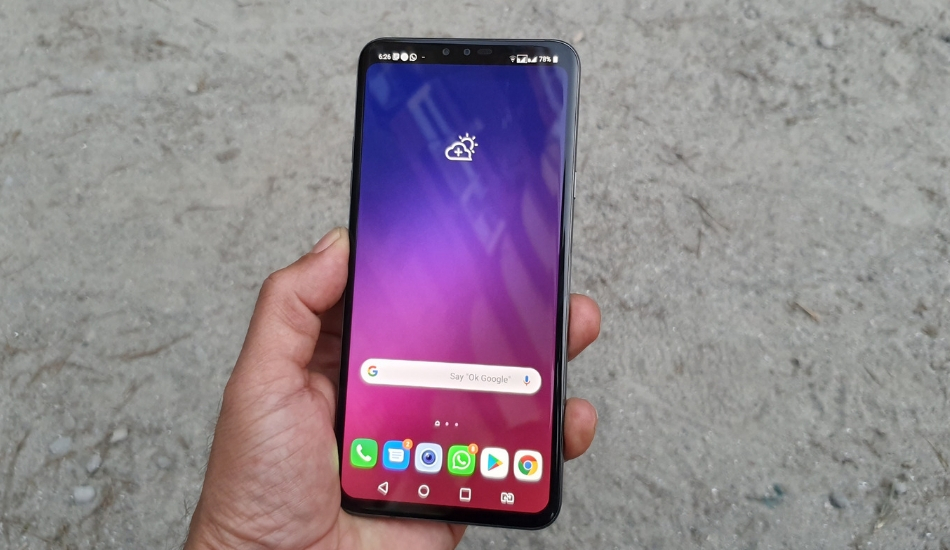 The smartphone tends to get warm when playing gamers or prolonged usage of the camera. Also if the video recording stretches beyond 5 minutes metal frame tends to heat up as well.The 16 MPwide-anglecamera with an aperture of f/1.9 doesn't support autofocus. In the selfies, white areas and highlights seem to be overexposed and burnt out. Low light photography is patchy and inconsistent.