Long back when I had compared the Micromax Canvas HD A116 and the Karbonn Titanium S5 (albeit on the basis of their said features only), I had no idea about their actual real world performance, even a bit. But we got to review both the phones thereafter.


We had already discussed the performance of the Canvas HD in length in its review. So now it's time to review the Karbonn Titanium S5 -which has a Snapdragon processor and not the MediaTek which is becoming synonymous with cheap quad core phones.
Body
Before I would highlight the chinks in its armour, I would like to tell you one thing very clearly – the Karbonn Titanium S5 is a looker. It is available in Deep Blue, White and Black colours. We don't know about the other two but the black colour one is really good to look at. Plus, its shiny body adds to the charm, though you have to clean it every now and then to remove the finger prints.


Karbonn has not officially revealed its weight but as per our measurement, Titanium S5 weighs around 150 grams which is quite good considering the fact that Micromax Canvas HD too weighs 156 grams. Moreover, the Karbonn Titanium S5 has 8.95 mm of thickness as compared to the 10.7 mm of the Canvas HD.
The phone feels solid in hands despite the plastic back panel. However, the micro SD card slot which is placed inside the back panel seems to be a bit loose but that may be the case with our particular model only. Unlike many other 5 inch display based handsets, the Karbonn Titanium S5 is quite easy to operate as it is much taller (143 mm) but less wide (74 mm) just like the Canvas HD. There are two SIM slots which are placed alongside the micro SD card slot and are accessible after removing the back panel.
Display
Having discussed the body, it is imperative for us to throw some light on its big 5 inch display which is becoming synonymous with Android smartphones today. True, today under Rs 15,000 there are many smartphones with 5 inch display but not many come with good resolution. As a result, despite having a big display one is less likely to enjoy a good movie.


But that is not the case with the Karbonn Titanium S5. Its 5 inch display come with qHD resolution of 540 x 960 pixels. Okay, this figure does not sound good as compared to the High Definition resolution of Micromax Canvas HD but let me tell you, the IPS technology based display of Titanium S5 is as good as the Canvas HD; you won't feel much difference between the two.
Quad Core Muscle
But all comes down to this segment – the power of its quad core processor. As all of you know, the Karbonn Titanium S5 comes with the Qualcomm Snapdragon 200 MSM8225Q (earlier we presumed it to be Snapdragon S4 MSM8225Q version) processor -the same is used in the Samsung Galaxy Win. Announced last year, the processor is rated a bit lower than the MediaTek MT6577 processor used in handsets like Micromax Canvas HD and Xolo Q800. The Karbonn Titanium S5 has though 1 GB of RAM.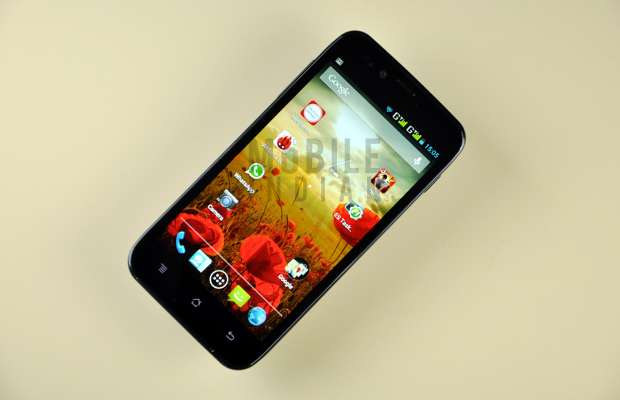 As is speculated, the Snapdragon 200 processor gives just a bit lower performance than the Canvas HD's MediaTek processor. The Karbonn Titanium S5 does able to play games like Dead Trigger and Temple Run Oz with ease but you will feel a bit of slackness while opening tasks. It surely isn't as fast as Canvas HD but is good than most other handsets below Rs 10,000.
Camera
The Karbonn Titanium S5 comes with an 8 megapixel rear camera and a 2 megapixel front camera. Besides the auto focus rear camera there is an LED flash as well.
As such these figures are becoming common in the low end segment and as we often opined, the camera of Titanium S5 does not deliver as such. However, having said that, the Karbonn Titanium S5 does much better than many of its competitors.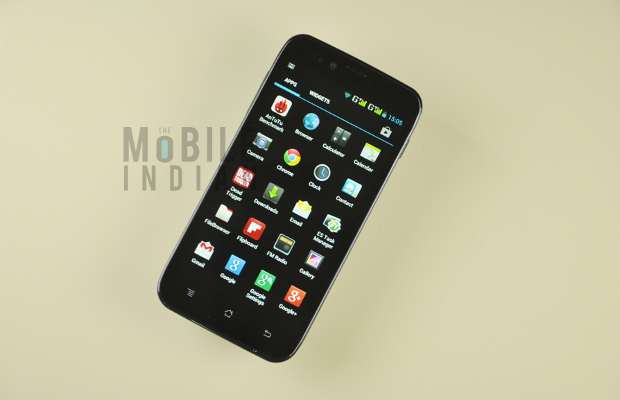 Especially, its low lighting photography ability is much better than other low end smartphones. But at the same hand, its sensors tend to attract more sunlight and hence in broad daylight pictures' colours may not appear as they are.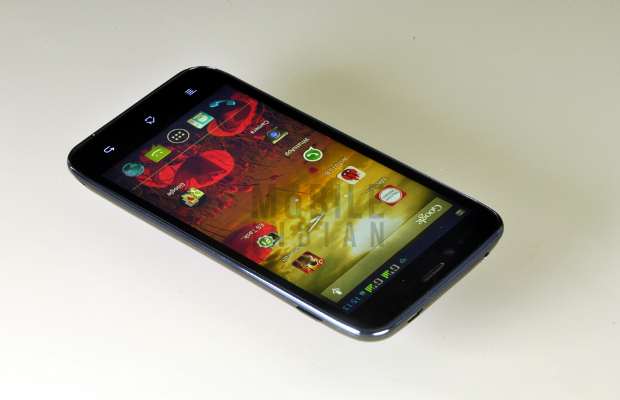 Though the smartphone does able to capture true colours, but the pictures are best in the handset only. As soon as you transfer into your PC, you can see the pixels very clearly. But in a nutshell, it delivers okay results considering the price of the phone.
And don't get swayed by the latest ad of the Titanium S5 which shows a person taking a beautiful image through its front camera. Ofcourse, its 2 megapixel front camera is a good one but is good for video chatting and as the ad shows, only if some girls standing behind and you are just dying to get her clicked without her noticing!
There are few handsets, like Xolo X500, which are much better than this when it comes to camera functionality.
Storage
It has 3.68 GB of internal user available memory and an external micro SD card slot for expansion of its memory to upto 32 GB. Hence no complaint in this regard as most of the Android smartphones come with similar storage options.
Battery
The Titanium S5 comes with a decent 2000 mAh battery which claims to provide 13 hours and 11 hours of talktime over 2G and 3G network respectively. Its battery claims to have 200 hours of standby time.
We have no objection to the standby time claims, and even the said talktime may be achieved if you use it in ideal conditions like not using WiFi or Bluetooth and keeping its brightness to the lower side.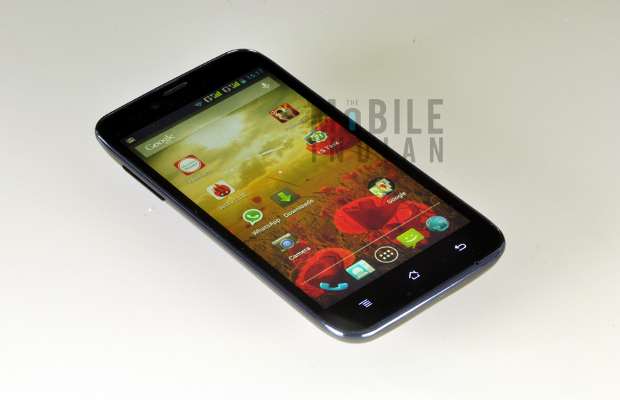 However, if you play a lot of games then you must take a charger with the Titanium S5. At max, it would give you two hours of gaming in ideal conditions. Alternatively, you could use its camera for continuously for an hour.
But the Titanium S5 is not the only quad core phone to have battery woes; the Canvas HD too has battery back up issue.
Connectivity
As I said above, the Karbonn Titanium S5 is a dual SIM handset. However, out of the two, only one is able to connect to 3G network while the other can only access 2G networks. This is fine for most of us but few who use 3G network on both their SIMs, this can cause a bit of heartburn.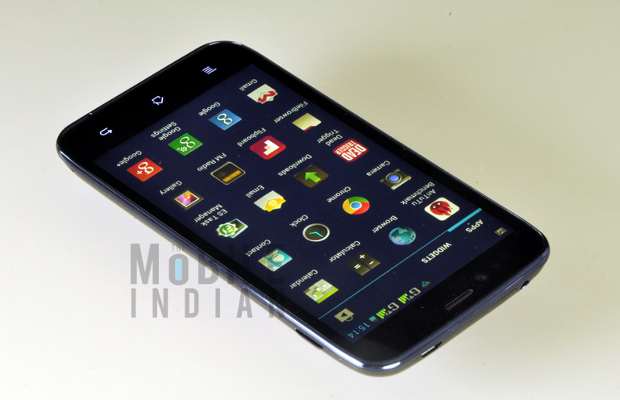 The handset though can access WiFi, Bluetooth and micro USB connectivity. There seems to be a problem with the microphone of the phone too as a result many callers complained of lack of voice quality; I had to put the lower end of the phone (where the microphone is located) very close to the mouth.
It has also GPS and a 3.5 mm jack.
Conclusion
There are several quad core phones in the market under Rs 15,000 which includes the Micromax Canvas HD A116, Xolo Q800, Intex Aqua Wonder Quad Core, Spice Stellar Pinnacle Pro, Gionee Dream D1 etc. Many of these quad core handsets come with similar specifications like 5 inch screen, Android Jelly Bean operating system, 1 GB RAM etc. But as a matter of fact, most of the handsets with 1 GB RAM are priced above Rs 13,000 and come with MediaTek processor.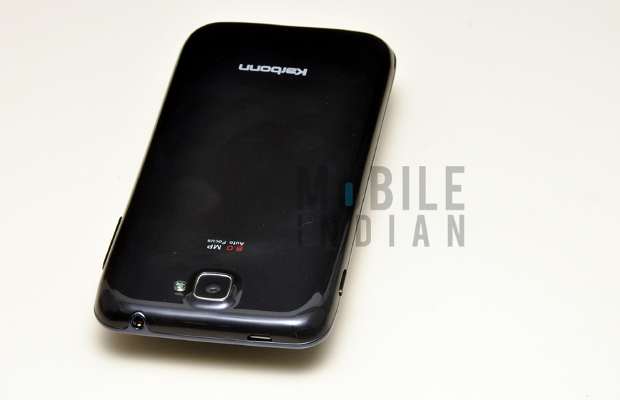 The Karbonn Titanium S5 has a Snapdragon processor and is thus priced quite less at Rs 11,990.
Certainly, price is on the side of the Titanium S5 which gives a very good performance in almost all the areas. Had it given a better battery output we would have love to give it atleast 9 rating but now it has to contend it with 8 rating as it is mildly slow (considering its quad core processor) as well as has some minor problems mentioned above.