The Android game Dragon Fly is the story of baby dragon running away from the nest and is pursued by the mother. The baby dragon needs to collect diamonds during the game, both to progress up on different levels and to learn flying.
Controlling the dragon in the game is extremely simple – users just need to tap and hold to screen to increase the speed of the dragon. Once it is at the lowest point of the drop, the gamers have to release the screen and the dragon flies and soars yet again, covering large distances. That's how the dragon manages to keep a decent distance between the pursuer and the dragon baby. The baby dragon is too young to fly and that's why he needs efficient handling by the gamers to fly over the hills.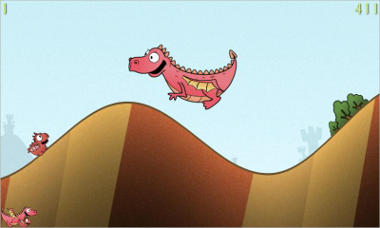 Those who are looking for a more complicated control will be glad to know there isn't any. There is no need to press any complicated key combinations, the users just have to make a choice when to tap and when not to tap. A similar game, which is present on iPhone and iPad, is Tiny Wings though the game plot of it is slightly different.
The skills required at every level of Dragon Fly are slightly different though. Either users may have to perform swoosh three times one after another, or collect 100 diamonds or collect 10 speed flasks. The users may need to keep playing the game in order to improve their game and progress across the levels. The game has been designed so well that the users feel inclined to play it time and again.
Those who are new to the game may take some time to fine tune their tap and release screen actions along with the flight of the baby dragon. The physics of the game is smooth, which anyway is necessary for the gamers to get the timing right. The landscapes are generated a new every day to ensure the game remains fresh for the mobile gamers playing the game.